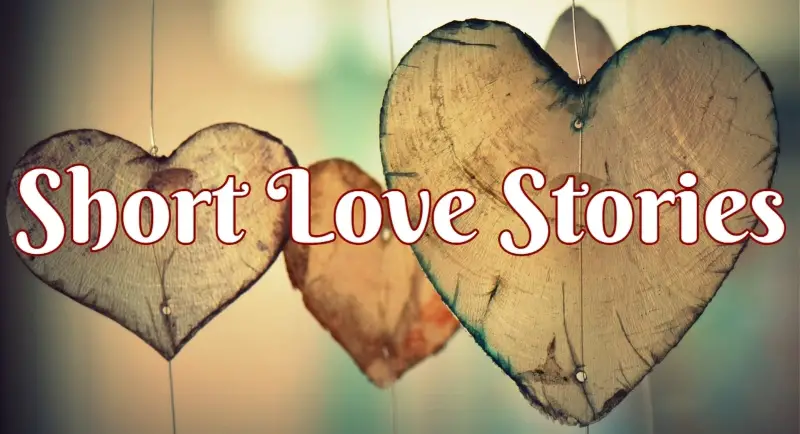 These stories offer a treatment of love, from the light-hearted to the serious. The relationships in these stories could romantic, flirty or passionate, or unhappy. See also:
Short Stories About Relationships & Love
"Seventh Day of the Seventh Moon" by Ken Liu
Yuan tells her younger sister, Se, a bedtime story. Se wants to hear about the Qixi Festival because it's tonight. In the story a young woman and young man fall in love, get married and have two sons. The woman neglects her duties as a weaver of sunset clouds. The Emperor of Heaven separates the couple as a punishment. When the story ends, Yuan leaves the apartment to go meet Jing. It's her last night in China.
Most of this story can be read in the Amazon preview above. It's the second entry. If you read it, I bet you'll have to find out how it ends, like I did.
Flotsam | Deborah Eisenberg
Charlotte is reminded of when she first came to New York after breaking up with Robert. He grew tired of her, annoyed that she never seemed to want or do anything. Charlotte's friend arranged for her to be roommates with Cinder. She spends time with Cinder, the men Cinder sees, and her friend Mitchell. Charlotte feels uncertain of herself.
"Flotsam" is the first story in the Amazon preview of The Collected Stories of Deborah Eisenberg.
Sarah Cole: A Type of Love Story | Russell Banks
Ron stops in for a drink at a high-end bar. He's fairly young and very good looking. He's approached by Sarah, who's older than he is, and the most unattractive woman he's ever seen in person. They start talking about their lives. Weeks later, they meet again at the same place.
This is the first story in the preview of The Scribner Anthology of Contemporary Short Fiction. (14% into preview)
What We Talk About When We Talk About Love | Raymond Carver
Two married couples sit at the McGinnis's table, drinking and talking about real love. They use their own, and second-hand experiences, to try to define it. (Analysis & Themes)
Read "What We Talk About When We Talk About Love"
The Answer (Bridesmaids) | Patti Callahan
Lachlan waits for Beatrice's answer, but she doesn't give one right away. He asked a simple question, but there's a lot to consider. They love each other, but still, she's uncertain.
"The Answer", the first part of Bridesmaids, can be read in the Amazon preview of Reunion Beach: Stories Inspired by Dorothea Benton Frank.
Descent | Alexander McCall Smith
Molly is going on a parachute jump. She thinks she might meet someone. Her friend doubts this will happen, but the instructor, nicknamed Drop-Dead Gorgeous, is very handsome.
"Descent" is the first story in the Amazon preview of Tiny Tales: Stories of Romance, Ambition, Kindness and Happiness.
The Lady with the Pet Dog | Anton Chekhov
Dmitri is unhappily married, unfaithful to his wife, and has a low opinion of women. While on vacation he meets a young woman, also married, and they have an affair. After Dmitri returns to his routine he finds that he can't stop thinking about her.
This story can be read in the preview of Stories of Anton Chekhov. 
"I'm Alive, I Love You, I'll See You In Reno" by Vylar Kaftan
A woman narrates her history of missed connections with her first love. They met as children and were friends as teenagers, although she loved him. She continues their relationship history, which included near-lightspeed travel that caused them to age at different rates.
This story can be read in the preview of Lightspeed: Year One. (7% in)
"The First Seven Years" by Bernard Malamud
Feld is a shoemaker who wants his daughter, Miriam, to marry Max, a young man pursuing his education. After Feld tries to set them up, his assistant, Sobel, quits. (Summary)
"Nobody Knows" | Sherwood Anderson
George leaves work carefully just before eight at night. He's nervous; there's been something on his mind all day. He surreptitiously makes his way through the back alley and the streets. His motivation for this adventure was a letter he had received earlier that day.
This story can be read in the preview of Collected Stories.
"Hidden Ribbon" by John Shirley
It's 2044 on the rooftop shack town of the BP building in Los Angeles. Giorgio cautiously crosses a swaying rope bridge. He leaps into an open window as a bullet hits the concrete behind him. He's met at gunpoint by Banker, the landlord, who orders him out. He doesn't want any trouble; he can see Limmy and his second-in-command pursuing Giorgio.
Some of this story can be read in the preview of Brave New Love. (33% in)
The Love-Philtre of Ikey Schoenstein | O. Henry
To ensure his planned elopement goes smoothly, a man goes to a druggist for a love potion. The druggist also loves the woman in question, so he tries to derail the man's plan.
This is the fifth story in the preview of The Selected Stories of O. Henry. 
"Tom" by Paul Cornell
Earth has been visited by the Carviv, a species with an affinity for the water. The females are comfortable on land, as well, while the males stay submerged. Many of the females seek work as guides on the Great Barrier Reefs, and the company's are glad to have them. The narrator was one of the first to become acquainted with a Carviv woman, Swav. Because of the different customs, the narrator had an unusual experience that was confusing for a time.
This story can be read in the preview of Solaris Rising 2: Book of Science Fiction.
Tea | Saki
James, a bachelor, feels the public pressure to settle down and find a wife.
This is the third story in the preview of The Toys of Peace and Other Papers.
"Modern Love" by T. C. Boyle
A man and woman start seeing each other. He thinks everything is fine, but she's very sensitive to the level of cleanliness everywhere they go. It seems extreme to him, but he caters to her preferences. The relationship progresses slowly, but he holds out hope that it will be normal.
This story can be read in the preview of T. C. Boyle: Stories. (8% in)
"Ike and Nina" by T. C. Boyle
A source with inside information reveals the facts around the secretive love affair between President Dwight Eisenhower and Madame Nina Khrushcheva, wife of the Soviet premier. They had met before and had a limited amount of contact over the years. Paderewski was an assistant to a junior staffer. One day, he was called in to the Oval Office and made special aide to the president during the duration of the Soviet visit.
This story can also be read in the above preview of T. C. Boyle: Stories. (19% in)
The Steadfast (Brave) Tin Soldier | Hans Christian Andersen
A boy gets a set of toy soldiers as a gift. One of the soldiers falls in love with a paper ballerina, but they're kept apart when he falls from the windowsill and lands outside.
This story can be read in the preview of The Complete Stories and Fairytales.
"The Three-Day Blow" by Ernest Hemingway
Nick walks through an orchard to a cottage at the top of a hill. He meets up with Bill. They drink and talk about the wind, reading, baseball and their fathers. Then the conversation turns to something that Nick has recently dealt with.
This is the second story in the preview of 50 Great Short Stories. (Pg. 16)
Helen O'Loy | Lester del Rey
The narrator, Phil, relates the events of many years ago, when he lived with his roommate, Dave. He unpacked a beautiful robot, whom they named Helen. She was an upgrade on the previous model. Phil and Dave had long conversations about endocrinology and robotics. Phil has to go away on a job the day before Helen is activated. When he returns, there's an unusual dynamic between Phil and Helen.
This is the third story in the preview of The Science Fiction Hall of Fame: Vol 1. (81% into preview)
"Nothing to Declare" by Richard Ford
Sandy McGuinness is having drinks at a bar along with many other lawyers. A woman, Miss Nail, is attracting a lot of attention on the other side of the room. They make eye contact a few times. Sandy recognizes her as Barbara,  a woman from his college days with whom he took a spring break adventure in Reykjavik.
This story can be read in the preview of Sorry for Your Trouble. (10% into preview)
"The Ballad of the Sad Café" by Carson McCullers
Miss Amelia was a rich woman, having inherited a store from her father. She also operated a still that produced the best liquor in the county. She was solitary, and most of her days were the same, apart from a ten-day stretch when she was married. Things changed when Miss Amelia was thirty. Late one night, a hunchbacked stranger, barely over four feet tall, came to her store. He said he was looking for Miss Amelia because they're related. He sat on the steps and cried. The few onlookers had no doubt Miss Amelia would run this stranger off her property and out of town.
Some of this novella can be read in the preview of The Ballad of the Sad Café: And Other Stories. (18% into preview)
"The Triumph" by Clarice Lispector
Luísa wakes up at nine but doesn't get out of bed. It's unusually silent. It hits her suddenly that he left yesterday. They'd fought again. She had begged him to stay before, and he always had. She thinks about the fact that he's gone.
This story can be read in the preview of Complete Stories. (33% into preview)
"Warm River" by Erskine Caldwell
A driver lets a man out at a suspended footbridge and points out the house in the distance. The bridge creaks and swings, and he wants to get across it quickly. Gretchen is out on the front porch, waiting for him.
This story can be read in the preview of The Stories of Erskine Caldwell. (75% in)
"Story" by Lydia Davis
A woman gets a message from her boyfriend. He's busy and won't be coming over, but he'll call later. She waits for a while, then goes to his place.
This story can be read in the preview of The Collected Stories of Lydia Davis. (15% in)
"God Mode" by Daniel H. Wilson
The narrator's thoughts are fractured, but he remembers Sarah amid all the forgetting. He's a twenty-year-old university student, learning to make video games. He's on a tram headed for the beach when he sees Sarah faint. She hits her head and is unconscious for a few seconds. That's the day the stars start disappearing.
This story can be read in the preview of Press Start to Play. (25% in)
"Miss Dollar" by Machado de Assis
Miss Dollar, a little Italian greyhound, goes missing. The owner puts an ad in the paper, offering a reward for her return. Dr. Mendonça, a dog lover, finds Miss Dollar and takes her home. He reads the ad the next day and decides to return her.
This story can be read in the preview of The Collected Stories of Machado de Assis. (22% in)
"Falk: A Reminiscence" by Joseph Conrad
An experienced ship commander relates a story from when he was a young captain. He didn't enjoy the company of his crew, and the previous captain seems to have been involved in some shady dealings. Moored nearby is a ship captained by a man named Hermann. Also on board are his wife and four children, and his nineteen-year-old niece who is perfectly attractive. Falk, another visitor, feels a rivalry toward the young captain over the niece.
This story can be read in the preview of Complete Short Stories. (45% in)
The Chaser | John Collier
A merchant sells a love potion for a surprisingly low price, but he sells another item at a much higher price to make up for it. (Summary & Analysis)
"Forbidden Fruit" by Roshani Chokshi
The Mountain, Dayang, likes to lean over and stare at the mortals, who are beautiful for their fragility and evanescence. Her father from the clouds warns her not to lose her heart. One day she goes in human form to a small pool and encounters a young man, Bulan. The villagers wonder at his long absence.
This story can be read in the preview of A Thousand Beginnings and Endings. (17% in)
"Hateship, Friendship, Courtship, Loveship, Marriage" by Alice Munro
Johanna goes to the train station and arranges to send a load of furniture to Gdynia, and to buy a ticket for herself to the same place. Johanna is the housekeeper for Mr. McCauley and his granddaughter, Sabitha. Sabitha's mother is dead and her father, Ken, lives elsewhere. Johanna and Ken have corresponded a bit through Sabitha's letters. Johanna is making big plans although nothing definite has been agreed to.
Some of this story can be read in the preview of Hateship, Friendship, Courtship, Loveship, Marriage. (20% into Kindle preview)
"EPICAC" by Kurt Vonnegut
The narrator tells the story of his friend, EPICAC, a seven ton computer that covered about an acre of the physics building at Wyandotte College. EPICAC  was a government project designed to make the myriad fast and precise calculations needed for war. EPICAC  ended up working slower than expected. The narrator and his future wife, fellow mathematician Pat Kilgallen, worked together on the project. She wasn't interested in marrying him at the time because he lacked warmth. One night, the narrator asked EPICAC  what to do. Surprisingly, the computer was interested in helping.
The Boarding House | James Joyce
Mrs. Mooney, who runs a boarding house, angles to marry off her daughter to one of her boarders.
"A Middle-Sized Artist" by Charlotte Perkins Gilman
As a little girl, Rosamond loves reading picture books, particularly when the illustrations bring the story to life perfectly. She's disappointed when they under-represent the text or are inaccurate. Her father, a publisher, explains that there aren't many good artists for that kind of work. Rosamond is determined to become such an artist when she grows up. At twenty-one, when she's close to achieving her goal, she falls in love with a reader for her father's publishing house, Allen Goddard.
"How" by Lorrie Moore
The narrator describes the progression of a relationship, with some possible variations, from the first meeting to its dissolution.
Yours | Mary Robison
Allison and her husband, Clark, who is much older than she, spend an evening carving pumpkins until early the next morning.
Springtime a la Carte | O. Henry
A young woman has an arrangement to type the daily menu of a restaurant; one day, the menu makes her cry.
Schools and Schools | O. Henry
A young woman goes to live with her uncle, forming a love-triangle with his adopted son and step-niece.
The Whale | Yves Theriault
A fisherman hooks a whale, but it escapes before he gets back. Of course, no one believes his story, and he's laughed at—by everyone except Gabrielle, a young woman he's in love with. He's determined to prove he's telling the truth, to impress her.
Marriage Is a Private Affair | Chinua Achebe
A young man from the Ibo tribe in Nigeria who lives in the city, returns home to tell his father he's engaged. His father is dead set against the marriage and cuts off his son.
Read "Marriage is a Private Affair"
Federigo's Falcon | Giovanni Boccaccio
A rich man spends all his money trying to woo a married woman. She isn't interested in him. Later, as a widow, she wants a favor from him that could help her sick son.
The Horse Dealer's Daughter | D. H. Lawrence
A horse dealer dies, leaving his family of three sons and a daughter, destitute. The sons are making plans for their future, but the daughter refuses to discuss it.
Regret | Guy de Maupassant
A sixty-two year old bachelor thinks about his lonely life, and of a woman that he has always loved.
My Life with the Wave | Octavio Paz
A man gets seduced by an ocean wave. It finds its way home to him and they have a tumultuous love affair.
The Fall of Edward Barnard | W. Somerset Maugham
Bateman returns from a trip to Tahiti and goes to see Isabel with news of his friend Edward. After becoming engrossed in native life and culture, Edward has decided not to come back even though he was engaged to Isabel.
Read "The Fall of Edward Barnard"
A Telephone Call | Dorothy Parker
A woman frets over a late phone call and wonders if she should call him instead.
The Kiss | Anton Chekhov
A man at a dinner party is mistaken for someone else and kissed by an unknown woman in the dark. It affects him deeply and fires his imagination.
The Memento | O. Henry
Tired of the men she has to deal with as a vaudeville performer, Rosalie Ray retires to a small town.
The Count and the Wedding Guest | O. Henry
Mr. Donovan comforts a fellow boarder, Miss Conway, who is mourning the death of her fiancé.
Read "The Count and the Wedding Guest"
The Romance of a Busy Broker | O. Henry
Amid the rush of a workday, Harvey Maxwell, a broker, is overcome with feeling for a stenographer, Miss Leslie.
Read "The Romance of a Busy Broker"
Lost on Dress Parade | O. Henry
Mr. Chandler, a man of modest means, saves his money for an occasional night out. On one such excursion, he helps a young woman who has fallen, and asks her to dine with him.
Just Good Friends | Jeffrey Archer
Roger's significant other chronicles their history and relationship.
The Tragedy of a Comic Song | Leonard Merrick
A poet and a composer write a song for a woman whom they both love. The song is a big success.
The Pace of Youth | Stephen Crane
Two carnival workers steal glances at each other during work, angering the woman's father, the carnival owner.
The Coming-Out of Maggie | O. Henry
Maggie, a wallflower, is escorted to a dance by a man who attracts a lot of attention.
Read "The Coming-Out of Maggie"
Some Like Them Cold | Ring Lardner
After a chance meeting with Mabelle at a Chicago train station, Charles, now pursuing a songwriting career in New York, writes to Mabelle. They correspond, presenting themselves as people of good character, ideal choices for marriage, and generally flirting.
Broken Chain | Gary Soto
Alphonso is a seventh-grade boy who is concerned about his looks. After helping a boy who is stuck on a fence, Alphonso asks the boy's sister to go bike riding with him. Her bike has a flat tire, so Alphonso says he can borrow his brother's bike for her. His brother doesn't want to lend his bike.
Dusky Ruth | A. E. Coppard
A traveler arrives in a country town and enters an inn. After supper he goes to the smoke-room where a woman is sitting by the fire. Her presence stirs his passion.
Crush | Bonnie Burnard
A teenage girl is painting at home with her mother on a hot day. They're expecting a delivery soon from Adam, a man whose children the girl babysits. She thinks she's in love with him. Her mother warns her to make sure she's covered up before Adam arrives.
LuLu's Triumph | Matilde Serao
Lulu meets a young man at the races, Roberto Montefranco, and they start courting. Lulu talks about her expectations to her sister, Sofia, who is older and more serious than she.
Prue | Alice Munro
Prue lived with Gordon when he left his wife for sixteen months. After he got a divorce, they lived together on and off. Prue is likable and looks on the bright side, not taking the disappointments of life and relationships too seriously. The possibility arises to continue her relationship with Gordon.
Cavalleria Rusticana | Giovanni Verga
Turridu comes home after soldiering to find that Lola is in love with another man. Lola marries the other man but when he travels, Turridu visits Lola, causing complications.
The Derelict | Pauline Johnson
Cragstone was full of promise, but proved to be mediocre in all his endeavours. After becoming an Anglican priest, he falls in love with Lydia, a mixed-blood woman who had been dismissed from her post, accused of theft.
The Paring Knife | Michael Openheimer
While a man and the woman he loves are cleaning house, he finds a knife under the fridge. He remembers how it ended up there.
Yogurt | Ronald Wallace
A couple who have been fighting a lot are walking home from a yogurt shop when they hear someone running up behind them.
Why You Shouldn't Have Gone in the First Place | Samantha Schoech
The narrator tells "you" why you shouldn't meet up with a married man, and how you'll feel if you do anyway.
Read "Why You Shouldn't Have Gone in the First Place"
Bullhead | Leigh Allison Wilson
The narrator's mother likes to tell a story about the love of her life. As a teenager she fell in love with the boy next door, and one night they got some time alone with each other.
The Underground Gardens | T. Coraghessan Boyle
Baldasare Forestiere is a thirty-two-year-old Italian American immigrant living on seventy acres of California land. He tries to grow his own vineyard, but the land isn't fertile. He works for other people to make some money, and starts digging more rooms in his underground home. He eventually meets Ariadne, giving him a new goal – to get her to marry him.
My Date with Neanderthal Woman | David Galef
The narrator describes how his date went with a neanderthal woman, such as what he brought her, where they went, and how they communicated.
Love and Other Catastrophes: A Mix Tape | Amanda Holzer
The song titles on a mix tape are used to tell the story of someones search for love.
The Fatalist | Isaac Bashevis Singer
Benjamin Schwartz, a man in a small town, earns the nickname Benjamin Fatalist. He believes that everything in a person's life, every trifle, is predetermined. There is an attractive young woman in town with many admirers, but she rejects them all. Benjamin tells her it is fated that they should marry.
Fedora | Kate Chopin
A thirty-year-old woman, Fedora, is headed to the train station to pick up Miss Malthers. Fedora is in love with this woman's brother, Young Malthers. One day she noticed suddenly that he had become a man, and he has been on her mind ever since.
The Assignation | Karoly Kisfaludy
The Major in a regiment stationed near Lake Como falls in love with a young Italian maiden. Her parents are against the match and they keep them apart. After several months, the Major is dejected and the girl's infatuation is at a high point. Her parents take action.
Rust | Guy de Maupassant
Hector is in his fifties and has loved hunting all his life. He regularly visits his neighbors, the Courvilles, telling them stories of his quarry. When he gets sick, his routine is interrupted, prompting the Courvilles to come up with a way of improving his life.
The Legacy | Virginia Woolf
Gilbert Clandon's wife, Angela, died six weeks ago. He is waiting for a visit from Sissy Miller, his wife's former secretary. He has a keepsake of his wife's to give her. She had little tokens prepared to give all her friends in case of her death. Gilbert finds it strange that Angela had everything so organized.
Witches' Loaves | O. Henry
Miss Martha is a forty-year-old woman who owns a small bakery. She has a regular customer, a middle-aged man who always buys two loaves of stale bread, never anything else. She takes an interest in him, and tries to find a way to get to know him.
Head and Shoulders | F. Scott Fitzgerald
Horace Tarbox is a seventeen-year-old Yale student interested only in reading and his studies. He meets a flirty young woman, Marcia, who invites him to watch her perform at the theatre. Horace begins thinking of Marcia often.
Seventh Grade | Gary Soto
It's Victor's first day back at school. He's preoccupied with Teresa, trying to get in her classes and run into her. His friend, Michael, is experimenting with a method of attracting girls.
Germelshausen | Friedrich Gerstäcker
A young artist, Arnold, is out walking, when he meets a beautiful girl, Gertrud. She's waiting for Heinrich, her love. She doesn't expect him  until their day comes again. Arnold isn't sure what to make of this. He accompanies her to her village.
The Voice | Silvina Ocampo
The narrator, a young woman, goes to her boyfriend's house with her new cat. She doesn't want to marry Romirio. She can't stand his voice.
Jon | George Saunders
Jon lives in a research facility with other young people. They test the marketability of products. Jon has a relationship with Carolyn that makes them think about their futures with the company.
Sense of Humour | V. S. Pritchett
Arthur, the narrator, is a traveling salesman in a new town. He goes to church to make a good impression. He meets Muriel, a hotel clerk. She has a boyfriend, Colin, a mechanic who rides a motorcycle. Arthur is more polished and has a car. Muriel starts to prefer Arthur's company.
A Memory | Eudora Welty
The narrator recounts a day from her youth when she rested at a lake after a swim. She's thinking of a boy she secretly loves, remembering interactions they've had. A family arrives at the lake, intruding on her reverie.
Not a Good Girl | Perri Klass
The narrator, a biochemist, is visiting Harvard for a seminar. She meets Eric, a grad student, who wants to spend the night with her. She accepts the offer. They get together again the next night. She doesn't want anything serious.
A Lickpenny Lover | O. Henry
A wealthy aristocrat tries to woo a ditsy salesgirl.
Old Light | Barry Targan
A young art student does portraits of tourists. One of her customers is Corporal John Palmer, a young man who repeatedly returns. He plans on getting back to boat building after the war. They start seeing each other regularly.
One of Cleopatra's Nights | Théophile Gautier
Cleopatra is in a boat on the Nile, returning home after a festival. She is bored, and feels oppressed by Egypt. A handsome young man is following her procession in a small boat. When Cleopatra arrives at the palace, he climbs the banks and continues to follow.
Read "One of Cleopatra's Nights"
Puttermesser Paired | Cynthia Ozick
Ruth, an attorney in her fifties, is alone. She's a big fan of novelist George Eliot, who found a seemingly perfect intellectual match and lover in George Lewes. Ruth wants to duplicate this in her own life. One day, she notices a younger man who manifests what she's looking for.
Pretty Ice | Mary Robison
Belle's fiancé, Will, is coming to visit. He's a plant taxonomist and has been doing research. The night before, Belle is up doing calculations. Her mother picks her up early in the morning to go pick up Will at the train station.
The Secret Lives of Dieters | Perri Klass
Polly, an artist at Ground Zero Graphics, is stuck at home, recovering from an illness. Her coworker, Donald, who lives in the building across from hers, brings her food and some work. He talks about work, his girlfriend and the diet they're on. Polly falls in love with Donald. She thinks of him all the time and starts drawing scenes from his life.
The Unexpected | Kate Chopin
Randall must leave Dorothea, his beloved. He has necessary business to attend to and will be gone a month. The separation is a cruelty to both of them, and they can hardly bear the parting. The write to each other daily. As the month nears its end, Randall contracts an illness.
Read "The Unexpected"
How I Met My Husband | Alice Munro
The narrator, Edie, tells the story of her first job. She was fifteen. The Peebles bought a house outside of town. She helped look after the children. One day a plane flew right over the house and landed across the street. The pilot, Chris Watters, goes from town to town giving plane rides for a dollar. Edie meets him when the family is away.
About Love | Anton Chekhov
When some friends are talking about love, Alehin tells his own story on the subject. After University he returned to his father's farm to pay off the debt. When he's elected an honorary justice of the peace, he makes the acquaintance of Luganovitch, vice-president of the circuit court. He also meets Luganovitch's young wife, Anna, whom he finds lovely and fascinating. He thinks of her often.
Read "About Love"
Over Insurance | John Collier
Alice and Irwin are a very happy young couple and madly in love. They think of each other all the time and spend all the time they can with each other. It's a perfectly rapturous existence. One day while rushing home to Alice, Irwin is nearly hit by a taxi. He's appalled with the possibility of being separated from his love like this.
---
I'll keep adding short stories about relationships and love as I find more.