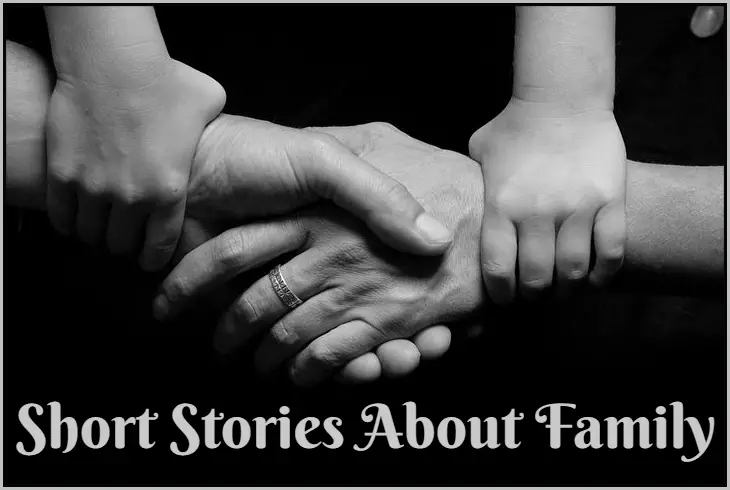 The major interactions in these short stories are carried out by members of the same family. They deal with families coping with outside problems and with each other. They might also show the closeness of the family unit, the demands family members place on each other, or the mistakes they make in dealing with each other.
If you're looking for a specific family relationship, there are separate pages for:
The first group of stories are in the general "family" category. There's a separate section at the bottom for Grandparents. See also:
Find a Short Story About Family
A married couple argue one morning before work. One of their sons, Roger, fakes being sick so he can stay home by himself. He ends up being bored. He looks through his parents room, trying to get some insight into romantic matters. He decides to set out for Birch Creek to do some fishing.
This story can be read in the preview of Where I'm Calling From: Selected Stories.
"Sticks" by George Saunders
A father has a pole in his yard that he dresses according to the occasion. He's a stingy man and his family lives on edge. (Summary & Analysis)
This is the second story in the preview of Tenth of December: Stories. 
"Goodbye, My Brother" by John Cheever
A mother and her four grown children and their families gather at Laud's Head, their family-owned summer house. The youngest brother, Lawrence, is the outsider of the siblings. Everyone mingles but Lawrence's presence creates some tension. They talk, drink and play games.
"Goodbye, My Brother" is the first story in the Amazon preview of The Stories of John Cheever.
"Timothy's Birthday" by William Trevor
Charlotte and Odo, an elderly married couple, prepare for a birthday visit from their son, Timothy. They don't see him often, but he does visit on his birthday each year. Charlotte prepares his favorite meal, and Odo makes sure the gin and tonic is ready to serve. Meanwhile, Timothy tells Eddie that he isn't going to go.
This is the third story in the preview of Selected Stories. (50% into preview)
Find a Short Story About Family, Cont'd
"Royal Beatings" by Alice Munro
Rose lives with her father and stepmother in a poor area. Her stepmother relates the story of a local man who gets attacked. She also threatens Rose with a "royal beating."
This is the first story in the preview of Alice Munro's Best: Selected Stories. (25% into preview)
"Half a Moon" by Renée Watson
The seventeen-year-old narrator remembers when her Dad left when she was seven. Her Mom doesn't think she remembers her Dad, but she does. She remembers lots of things from back then. She works at Oak Creek Campgrounds on spring break to help with the bills. She'll be going to college next year, so she wants her last year on the job to be good. When the sixth-grade girls arrive, she recognizes one of them—Brooke, her Dad's daughter.
This story can be read in the preview of Black Enough: Stories of Being Young & Black in America. (19% into preview)
"Relative Stranger" by Amanda Witt
Glory is working in the kitchen when the doorbell rings. Through a window, she catches a glimpse of  her husband, Owen on the step. When she opens it and he fully faces her, she's surprised to see it's not him. He knows her name and says Owen told him to come inside. Glory is unsettled, but she can't lock him out. Her boys are outside.
This story can be read in the preview of When a Stranger Comes to Town. (39% in)
"Curly Red" by Joyce Carol Oates
Lili Rose wasn't allowed to return home until her father was weakened and dying at seventy-three. She was exiled at thirteen, sent to live with an aunt and uncle. She had four older brothers who were often in trouble. Things changed when a local boy was attacked and beaten, and died soon after from his injuries. Lili Rose overheard some conversation. She made a decision that alienated her from her family.
This story can be read in the preview of I Am No One You Know: And Other Stories. (9% in)
Find a Short Story About Family, Cont'd
"Why I Live at the P.O." by Eudora Welty
The narrator's sister, Stella-Rondo, comes home with her husband and two-year-old daughter for a visit. The family's communication is dysfunctional, with much petty arguing.
"Today I Am Paul" by Martin L. Shoemaker
A Medical Care Android capable of emulation attends to Mildred as she lies ill. She thinks her son Paul is present, so the android emulates him. While emulating, the android is bound by the personality of the person, but can override if Mildred's health is at risk. Her family has hired staff to help care for her. The android's emulation net—an expensive add-on—allows Mildred to have her family around even when they aren't there.
This story can be read in the preview of The Best Science Fiction of the Year Volume 1. (15% in)
"Every Little Hurricane" by Sherman Alexie
Victor's parents are hosting a New Year's party. A hurricane hits the Spokane Indian Reservation where they live. While the winds rage outside, two of Victor's uncles start fighting inside.
Some of "Every Little Hurricane" can be read in the preview of The Lone Ranger and Tonto Fistfight in Heaven.
"Simple Arithmetic" by Virginia Moriconi
A teenage son and his divorced parents correspond by mail. He has trouble reaching his mother, and his father nags him about various things.
Read "Simple Arithmetic" This story can be found in the anthology Other People's Mail: An Anthology of Letter Stories.
Find a Short Story About Family, Cont'd
"Calved" by Sam J. Miller
A father sees his son, Thede, after being away on a job for three months. Thede has changed; he's a teenager so he's grown some, but more importantly his demeanor is different. His eyes are flat and joyless. They have trouble connecting. Thede's mother says he's having some trouble at school with bullies. The dad has a sentimental gift for Thede that he hopes will turn the tide.
This story can be read in the preview of The Best Science Fiction of the Year: Volume 1. (32% in)
Johnny and Roy live across the street from a mass of natural rock, known as the rockpile. It's a popular play spot for the neighborhood kids. The boys are warned to stay away from it by their parents, who think it's dangerous. One day while sitting on the fire escape, some of Roy's friends ask him to come with them.
This story can be read in the preview of Going to Meet the Man: Stories. (14% in)
"The Secret of Life, According to Aunt Gladys" by Bruce Coville
When a woman is told her brother called, she gets pale. Her son didn't know she had a brother. Her husband only found out about him from a picture. He's coming to visit. The boy looks forward to having an uncle. The mother wants to avoid the visit.
"The Secret of Life, According to Aunt Gladys" is in Dirty Laundry: Stories About Family Secrets.
"Tomorrow and Tomorrow and Tomorrow" by Kurt Vonnegut
In future New York, the extended Schwartz family live together in an apartment suite. A tonic that stops aging, anti-gerasone, has stopped death from old age leading to overpopulation. The family patriarch, Gramps, is 172 years old. He's the only one with his own room, and he gets the best food and chair. He maintains control by threatening to disinherit anyone who bothers him. He keeps saying he will stop taking anti-gerasone to make way for the younger ones, but he always puts it off. One day, his grandson, Lou, makes a smart remark, which Gramps can't let go unpunished.
"Home" by Gwendolyn Brooks
A family waits on the front porch for the man of the house to come home. He's trying to get an extension on the mortgage payments, so the family is worried about losing their house.
Find a Short Story About Family, Cont'd
A man, Mikey, returns home. The place is untidy, his Ma is watching her language because she works at a church now, and she's living with a new man, Harris, who is unemployed. Mikey had done something while away that got him in trouble. He visits his dysfunctional family.
Doug's father is a rocket man, an astronaut, who's coming home after three months in space. Doug's mother wants her husband to stay home with them, but he always feels the pull of space and leaves again. He is torn between his family and his love of space.
"Simple Recipes" by Madeleine Thien
The narrator relates some memories from her childhood. She learned a special way of cooking rice from her father. Her mother worked at Woodward's. Her older brother was more distant with their family. They immigrated to Canada from Malaysia before the narrator was born.
Mrs. Hayashi is a Japanese immigrant living in America. She writes haiku, but her daughter, Rosie, can't read Japanese, so they don't connect through her poems. Rosie is attracted to Jesús, a Mexican boy at her high school.
Find a Short Story About Family, Cont'd
"Graveyard Day" by Bobbie Ann Mason
Waldeen is divorced from Joe Murdock, the father of her ten-year-old daughter, Holly. Joe McClain spends a lot of time with them and wants to marry Waldeen. She is uncertain and finds the dynamics of shifting family relationships confusing.
"A Primer for the Punctuation of Heart Disease" by Jonathan Safran Foer
The narrator explains the meaning of many different unusual punctuation marks that are used in communication, mostly with family.
Read "A Primer for the Punctuation of Heart Disease"
"How I Contemplated the World from the Detroit House of Correction and Began My Life Over Again" by Joyce Carol Oates
A sixteen-year-old girl relates the events that lead her to a house of correction. Looking for love and attention at home, she engages in petty crimes, which escalates to her running away.
Find a Short Story About Family, Cont'd
"Oliver's Evolution" by John Updike
Oliver was born later in his parents' lives when they didn't have much energy for raising him. They made some mistakes with him, and he has some close calls as he grows up.
"Miles City, Montana" by Alice Munro
A wife, husband, and their two young daughters are driving to visit the grandparents in Ontario. The wife, who is the narrator, remembers an incident from her childhood when a local boy drowned. During the drive, there are some squabbles and the family gets very hot, causing them to look for a cool spot to take a break.
"In the White Night" by Ann Beattie
Carol and Vernon have lost their daughter to Leukemia. Their friends, Matt and Gaye Brinkley, are having difficulties with their daughter. Vernon compares his and his wife's situation to the Brinkley's.
"The Peasant's Will" by Antonio Fogazzaro
An old man lies dying on a hay bed up in a loft. A lawyer visits to draw up the man's will. He can't speak but is able to make signs to indicate his wishes.
Find a Short Story About Family, Cont'd
"Likes" by Sarah Shun-lien Bynum
A father scrolls through his daughter's Instagram, trying to get a sense of how she's doing. She doesn't talk to him much. He drives her to physical therapy twice a week for joint problems. Her mood varies, and she doesn't feel like she has friends. She's going to try out for a part in the "Nutcracker."
Dicky is almost always a good boy. He has rare times when he gets into a mood and rebels. Dicky's mother is entertaining Mrs. Spears one afternoon when Dicky starts acting up. He breaks a plate and runs off. Mrs. Spears offers some child-rearing advice.
"How to Talk to Your Mother (Notes)" by Lorrie Moore
The narrator covers events in the life of the protagonist starting in 1982 and working back to 1939. It relates significant moments with her mother, father, brother, and her interactions with men.
Read "How to Talk to Your Mother (Notes)"
"Midnight Raid" by Brady Udall
The narrator, a six-foot-three Apache Indian, is in the backyard of his ex-wife. He's brought a goat for his son. There's a restraining order against him so he wants to sneak into the house unnoticed. He relates some of his history with his ex.
Story About Family: Grandparents 
"An Hour with Abuelo" by Judith Ortiz Cofer
Arturo doesn't want to visit his grandfather in a nursing home during his summer vacation, but he gives in to his mother's urging. His grandfather's body is giving out but his mind is sharp. He tells Arturo the story of his life, which included teaching, the army, farming, and a love of books and learning. (Summary & Analysis)
An old man tries to hold on to a beloved bird and a beloved granddaughter. (Summary)
"My Flamboyant Grandson" by George Saunders
A boy loves show-tunes and singing and dancing, which alienates him from his peers and many adults. His grandfather accepts him and brings him to New York to see a show. He obtains a Promissory Voucher and they head to the Eisner Theater. Upon arriving he finds this isn't enough. He also needs Proof of Purchases from at least six of their sponsors and the real tickets from the Redemption Center. (Summary)
"The Jade Peony" by Wayson Choy
The narrator, a Chinese-Canadian, remembers when his Grandmama died at 83. The family is waiting for some kind of sign, according to their tradition, that her life had ended well. He relates some experiences with her during her later years, including how they would go hunting in the neighborhood for glass fragments and old jewelry.
"The Medicine Bag" by Virginia Driving Hawk Sneve
Martin, a Native American boy in his early teens, visits his great-grandfather every summer at his South Dakota reservation. Martin and his sister talk proudly to their friends about the reservation. One day his great-grandfather shows up unexpectedly in his Iowa neighborhood.
---
I hope you found a great short story about family. I'll continue to add more short stories about family as I find them.