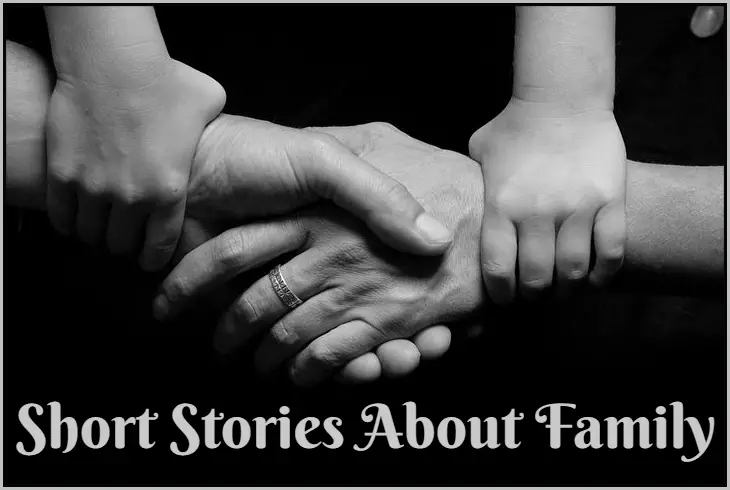 The major interactions in these short stories are carried out by members of the same family. They deal with families coping with outside problems and with each other.
They might also show the closeness of the family unit, the demands family members place on each other, or the mistakes they make in dealing with each other.
The first group of stories are in the general "family" category. There are separate headings for the following subcategories:
Brothers
Sisters
Brothers & Sisters
Fathers & Sons
Mothers & Daughters
Fathers & Daughters
Mothers & Sons
Stepparents
Grandparents
There's overlap between the categories. I've tried to divide them by the dominant relationship depicted. See also:
Short Family Stories 
"Nobody Said Anything" by Raymond Carver
A married couple argue one morning before work. One of their sons, Roger, fakes being sick so he can stay home by himself. He ends up being bored. He looks through his parents room, trying to get some insight into romantic matters. He decides to set out for Birch Creek to do some fishing.
This story can be read in the preview of Where I'm Calling From: Selected Stories.
"Sticks" by George Saunders
A father has a pole in his yard that he dresses according to the occasion. He's a stingy man and his family lives on edge. (Summary & Analysis)
This is the second story in the preview of Tenth of December: Stories. 
"Timothy's Birthday" by William Trevor
Charlotte and Odo, an elderly married couple, prepare for a birthday visit from their son, Timothy. They don't see him often, but he does visit on his birthday each year. Charlotte prepares his favorite meal, and Odo makes sure the gin and tonic is ready to serve. Meanwhile, Timothy tells Eddie that he isn't going to go.
This is the third story in the preview of Selected Stories. (50% into preview)
"Royal Beatings" by Alice Munro
Rose lives with her father and stepmother in a poor area. Her stepmother relates the story of a local man who gets attacked. She also threatens Rose with a "royal beating."
This is the first story in the preview of Alice Munro's Best: Selected Stories. (25% into preview)
"Relative Stranger" by Amanda Witt
Glory is working in the kitchen when the doorbell rings. Through a window, she catches a glimpse of  her husband, Owen on the step. When she opens it and he fully faces her, she's surprised to see it's not him. He knows her name and says Owen told him to come inside. Glory is unsettled, but she can't lock him out. Her boys are outside.
This story can be read in the preview of When a Stranger Comes to Town. (39% in)
"Curly Red" by Joyce Carol Oates
Lili Rose wasn't allowed to return home until her father was weakened and dying at seventy-three. She was exiled at thirteen, sent to live with an aunt and uncle. She had four older brothers who were often in trouble. Things changed when a local boy was attacked and beaten, and died soon after from his injuries. Lili Rose overheard some conversation. She made a decision that alienated her from her family.
This story can be read in the preview of I Am No One You Know: And Other Stories. (9% in)
"Today I Am Paul" by Martin L. Shoemaker
A Medical Care Android capable of emulation attends to Mildred as she lies ill. She thinks her son Paul is present, so the android emulates him. While emulating, the android is bound by the personality of the person, but can override if Mildred's health is at risk. Her family has hired staff to help care for her. The android's emulation net—an expensive add-on—allows Mildred to have her family around even when they aren't there.
This story can be read in the preview of The Best Science Fiction of the Year Volume 1. (15% in)
"Every Little Hurricane" by Sherman Alexie
Victor's parents are hosting a New Year's party. A hurricane hits the Spokane Indian Reservation where they live. While the winds rage outside, two of Victor's uncles start fighting inside.
Some of "Every Little Hurricane" can be read in the preview of The Lone Ranger and Tonto Fistfight in Heaven.
"Simple Arithmetic" by Virginia Moriconi
A teenage son and his divorced parents correspond by mail. He has trouble reaching his mother, and his father nags him about various things.
Read "Simple Arithmetic" This story can be found in the anthology Other People's Mail: An Anthology of Letter Stories.
"The Secret of Life, According to Aunt Gladys" by Bruce Coville
When a woman is told her brother called, she gets pale. Her son didn't know she had a brother. Her husband only found out about him from a picture. He's coming to visit. The boy looks forward to having an uncle. The mother wants to avoid the visit.
"The Secret of Life, According to Aunt Gladys" is in Dirty Laundry: Stories About Family Secrets.
"Tomorrow and Tomorrow and Tomorrow" by Kurt Vonnegut
In future New York, the extended Schwartz family live together in an apartment suite. A tonic that stops aging, anti-gerasone, has stopped death from old age leading to overpopulation. The family patriarch, Gramps, is 172 years old. He's the only one with his own room, and he gets the best food and chair. He maintains control by threatening to disinherit anyone who bothers him. He keeps saying he will stop taking anti-gerasone to make way for the younger ones, but he always puts it off. One day, his grandson, Lou, makes a smart remark, which Gramps can't let go unpunished.
"How to Talk to Your Mother (Notes)" by Lorrie Moore
The narrator covers events in the life of the protagonist starting in 1982 and working back to 1939. It relates significant moments with her mother, father, brother, and her interactions with men.
Read "How to Talk to Your Mother (Notes)"
"Midnight Raid" by Brady Udall
The narrator, a six-foot-three Apache Indian, is in the backyard of his ex-wife. He's brought a goat for his son. There's a restraining order against him so he wants to sneak into the house unnoticed. He relates some of his history with his ex.
"Home" by Gwendolyn Brooks
A family waits on the front porch for the man of the house to come home. He's trying to get an extension on the mortgage payments, so the family is worried about losing their house.
A man, Mikey, returns home. The place is untidy, his Ma is watching her language because she works at a church now, and she's living with a new man, Harris, who is unemployed. Mikey had done something while away that got him in trouble. He visits his dysfunctional family.
Doug's father is a rocket man, an astronaut, who's coming home after three months in space. Doug's mother wants her husband to stay home with them, but he always feels the pull of space and leaves again. He is torn between his family and his love of space.
"Simple Recipes" by Madeleine Thien
The narrator relates some memories from his boyhood. He learned a special way of cooking rice from his father. His mother worked at Woodward's. His older brother is more distant with his family. They immigrated to Canada from Malaysia before the narrator was born.
"Graveyard Day" by Bobbie Ann Mason
Waldeen is divorced from Joe Murdock, the father of her ten-year-old daughter, Holly. Joe McClain spends a lot of time with them and wants to marry Waldeen. She is uncertain and finds the dynamics of shifting family relationships confusing.
"A Primer for the Punctuation of Heart Disease" by Jonathan Safran Foer
The narrator explains the meaning of many different unusual punctuation marks that are used in communication, mostly with family.
Read "A Primer for the Punctuation of Heart Disease"
"How I Contemplated the World from the Detroit House of Correction and Began My Life Over Again" by Joyce Carol Oates
A sixteen-year-old girl relates the events that lead her to a house of correction. Looking for love and attention at home, she engages in petty crimes, which escalates to her running away.
"Oliver's Evolution" by John Updike
Oliver was born later in his parents' lives when they didn't have much energy for raising him. They made some mistakes with him, and he has some close calls as he grows up.
"Miles City, Montana" by Alice Munro
A wife, husband, and their two young daughters are driving to visit the grandparents in Ontario. The wife, who is the narrator, remembers an incident from her childhood when a local boy drowned. During the drive, there are some squabbles and the family gets very hot, causing them to look for a cool spot to take a break.
"In the White Night" by Ann Beattie
Carol and Vernon have lost their daughter to Leukemia. Their friends, Matt and Gaye Brinkley, are having difficulties with their daughter. Vernon compares his and his wife's situation to the Brinkley's.
"The Peasant's Will" by Antonio Fogazzaro
An old man lies dying on a hay bed up in a loft. A lawyer visits to draw up the man's will. He can't speak but is able to make signs to indicate his wishes.
Dicky is almost always a good boy. He has rare times when he gets into a mood and rebels. Dicky's mother is entertaining Mrs. Spears one afternoon when Dicky starts acting up. He breaks a plate and runs off. Mrs. Spears offers some child-rearing advice.
• Brothers •
"Goodbye, My Brother" by John Cheever
A mother and her four grown children and their families gather at Laud's Head, their family-owned summer house. The youngest brother, Lawrence, is the outsider of the siblings. Everyone mingles but Lawrence's presence creates some tension. They talk, drink and play games.
"Goodbye, My Brother" is the first story in the Amazon preview of The Stories of John Cheever.
"Crown Jewel" by Joseph S. Walker
Keenan Beech is driving to his twin brother Xavier's ramshackle house in the country. Xavier has Keenan's White Album—one of them, because Kenan has many more. Keenan made the mistake of telling him about it, and Xavier went and got it himself. He's going to steal it back. Xavier will be out partying tonight.
This story can be read in the preview of Moonlight & Misadventure: 20 Stories of Mystery & Suspense. (26% in)
"The Rich Brother" by Tobias Wolff
Pete is stable and successful as a realtor, and looks healthy. He has a family and lots of money. His younger brother, Donald, moves around a lot, sometimes staying at communes, and looks gaunt. Donald writes regularly. When his letters stop, Pete looks into what's happening.
"The Scarlet Ibis" by James Hurst
The narrator, Brother, reminisces about the time a rare bird landed in his family's garden, and about his brother, Doodle, who was physically disabled and mentally challenged.
The narrator, a high school teacher, reads in the paper that his younger brother, Sonny, has been arrested for dealing heroin. Their lives have gone quite differently—Sonny, a jazz musician and drug user, and the narrator who is educated and living in a middle-class neighborhood—so the narrator feels guilt over not having been able to help his brother more.
"The Farmer's Children" by Elizabeth Bishop
Two young boys on a farm have to sleep in the barn to keep an eye on the equipment. Usually the hired hand, Judd, sleeps in the barn, but he is in town on this night.
See also "The Rockpile", under Stepparents & Stepchildren, below.
• Sisters •
"Half a Moon" by Renée Watson
The seventeen-year-old narrator remembers when her Dad left when she was seven. Her Mom doesn't think she remembers her Dad, but she does. She remembers lots of things from back then. She works at Oak Creek Campgrounds on spring break to help with the bills. She'll be going to college next year, so she wants her last year on the job to be good. When the sixth-grade girls arrive, she recognizes one of them—Brooke, her Dad's daughter.
This story can be read in the preview of Black Enough: Stories of Being Young & Black in America. (19% into preview)
"Twin Study" by Stacey Richter
A woman, along with her twin sister, is part of a study of twins. It's been four years since the last meeting when she saw her sister. She compares herself to her sister.
The beginning of this story can be read in the preview of Twin Study: Stories.
"Why I Live at the P.O." by Eudora Welty
The narrator's sister, Stella-Rondo, comes home with her husband and two-year-old daughter for a visit. The family's communication is dysfunctional, with much petty arguing.
• Brothers & Sisters •
"The Gay Old Dog" by Edna Ferber
Jo Hertz is a plump, lonely bachelor of fifty. The narrator tells us Jo's story from the age of twenty-seven when his mother died and she got him to promise to put his life on hold until his three sisters were cared for.
This is the first story in the preview of 100 Years of the Best American Short Stories.
Neil Yanicky attends a self-help conference at the Hyatt. The audience wears paper hats colored to reflect how much help they need. The Gold Hats who have mastered life are gathered together. A scene that illustrates the forces holding people back is acted out on stage. Tom Rodgers, the founder of the Seminars, tells his story of personal growth and success, which involved getting rid of someone who was holding him back. Neil feels the same way about his sister.
• Fathers and Sons •
For a relevant book, you might be interested in Fathers and Sons: An Anthology.
"The Treasure of Lemon Brown" by Walter Dean Myers
Greg Ridley is a fourteen-year-old student in danger of failing math. His father tells him he can't play basketball anymore. While out walking one night, Greg takes refuge in an abandoned tenement building. He finds a local homeless man there, Lemon Brown. (Summary & Analysis)
The narrator tells the story of being with his father in Italy and France when he worked as a jockey. His father had an argument with some people after winning a race in Italy. In France he eventually buys his own horse to train and ride.
This is the third story in the preview of 100 Years of the Best American Short Stories.
"Brazzaville Teen-ager" by Bruce Jay Friedman
Gunther's father is uncommunicative. He believes that his father would open up if he was in a bad situation, but when he gets a potentially fatal disease, Gunther finds that his father remains stoic. Gunther gets the irrational idea that performing an embarrassing, self-esteem damaging act will save his father.
This story can be read in the preview of The Collected Short Fiction of Bruce Jay Friedman. (25% in)
"Scar Tissue" by Tobias S. Buckell
Your "son" is going to be delivered tomorrow and you think you might have made a big mistake. You lost a forearm and a leg in a forklift accident at work. The money from this project will allow you to pay for the expensive regrowth procedure. Your "son" is a robot that will take six months to reach maturity.
This story can be read in the preview of The Best Science Fiction of the Year: Volume 6. (40% in)
"Calved" by Sam J. Miller
A father sees his son, Thede, after being away on a job for three months. Thede has changed; he's a teenager so he's grown some, but more importantly his demeanor is different. His eyes are flat and joyless. They have trouble connecting. Thede's mother says he's having some trouble at school with bullies. The dad has a sentimental gift for Thede that he hopes will turn the tide.
This story can be read in the preview of The Best Science Fiction of the Year: Volume 1. (32% in)
A family is gathered around a baby in a basket, doting over him and admiring his little features. They try to figure out who the baby looks like. (Summary and Analysis)
"The Harness" by Ernest Buckler
Art and David are father and son; David is seven-years-old. They are friends as well, and Art has never whipped his son. David seems keenly aware of his father's moods. One day they fix the fence around the pasture, which tests the boundaries of their relationship.
"Powder" by Tobias Wolff
A father and son are on a skiing trip just before Christmas. The mother wants the boy home on Christmas Eve for dinner. The father assures her he will be back. When it comes time to leave, they try to get a few more runs in.
"Penny in the Dust" by Ernest Buckler
A father gives his son a shiny new penny. The boy plays with it outside, burying it and digging it up again, but one time he can't find it.
"Cages" by Guy Vanderhaeghe
The narrator is seventeen and has just gotten a suspended sentence for obstructing a police officer. He tells the story of what led to this, including some of his childhood. His dad is a miner, and his older brother Gene gets in trouble a lot.
"A Gentleman's C" by Padgett Powell
An English professor's father is enrolled in his class. He feels his father had been hard on him so he returns the favor by giving him a C.
"The Father" by Hugh Garner
Johnny's father goes with him to a Boy Scout banquet, but his behavior at the event causes some embarrassment.
• Mothers & Daughters •
"Girl" by Jamaica Kincaid
In this prose/poem hybrid, a mother gives her daughter some advice about how to behave and on becoming a woman. (Summary and analysis of story)
"Girl" is the sixth story in the Amazon preview of The Penguin Book of the Modern American Short Story.
"Rules of the Game" by Amy Tan
Lindo is a mother and a Chinese immigrant. Her daughter, Waverly, is American born. Their mother/daughter relationship is explored as the daughter learns to play chess and progresses from her first tournament at age eight and continues as she becomes a stronger player. (Summary and analysis of story.)
This is the second story in the preview of Growing Up Ethnic in America: Contemporary Fiction About Learning to Be American.
"Seven Birthdays" by Ken Liu
Mia and her dad are at the park on her seventh birthday. They've been waiting, but her mother hasn't arrived yet. She's away a lot. Mia flies her kite. Her mother arrives. She was delayed with important work, bringing an ambassador up to speed on a solar management plan. There's tension between Mia's parents. She tries to smooth things over. The narrative continues with Mia's relationship with her mother—and the future of humanity.
This story can be read in the preview of The Year's Top Hard Science Fiction Stories.
"Zikora" by Chimamanda Ngozi Adichie
When Zikora, a Nigerian lawyer living in DC, gets pregnant, her lover leaves. Her mother comes to town for the birth. Their old dynamic asserts itself. Zikora thinks about her and her mother's struggles.
The beginning of "Zikora" can be read in the Amazon preview.
"Love Letters" by Patricia Zelver
Emily's daughter, Rebecca, turns fifteen. Her aunt sends a card saying she'll send along her mother's old love letters. Emily doesn't remember the letters. Her husband is a Social Scientist and her grown sons are moving to a commune.
A girl relates interactions with her mother, and the evolution of their relationship. It includes some unusual experiences and transformations.
"I Stand Here Ironing" by Tillie Olsen
While a remarried mother of five irons, she thinks about how she raised her first child, Emily, and what she would do differently.
Some of this story can be read in the preview of Tell Me a Riddle, Requa I, and Other Works.
"The Kid's Guide to Divorce" by Lorrie Moore
A young daughter is visiting her mother. They watch movies and have popcorn.
Read "The Kid's Guide to Divorce"
"The Leap" by Louise Erdrich
The narrator's mother, Anna, is the surviving member of a blindfolded trapeze act. Anna is blind now but still moves with certainty. The narrator relates some of her mother's life, including a time when her home caught on fire.
"Seventeen Syllables" by Hisaye Yamamoto
Mrs. Hayashi is a Japanese immigrant living in America. She writes haiku, but her daughter, Rosie, can't read Japanese, so they don't connect through her poems. Rosie is attracted to Jesús, a Mexican boy at her high school.
"An Amateur's Guide to the Night" by Mary Robison
Lindy is a high school student about to graduate. She has her own telescope and is an amateur astronomer. She goes on double-dates with her mother, Harriet, who like to pass herself off as Lindy's sister. She doesn't provide much guidance for her daughter. Lindy's grandfather also lives with them, but he's not the most mature, either.
"Approximations" by Mona Simpson
Melinda, a teenager, relates events from her childhood. She and her mother, Carol, ice-skated regularly. She didn't know her father until she was seven. He calls and invites her and her mother to go with him to Disneyland. He's a waiter, and lives with three roommates. Soon after, Carol marries Jerry, a professional skater.
• Fathers & Daughters •
Sadako's father is visiting from San Francisco. They talk at the breakfast table. Her husband has gone to work and the baby is napping. Sadako tries to encourage communication but her father and husband are reluctant. (Summary and Analysis)
Old Dudley leaves his boarding house in the South to live with his daughter in her New York apartment. Dudley is unhappy with the change, and spends a lot of time looking out the window at a geranium on a neighboring windowsill.
This is the first story in the preview of The Complete Stories.
"Itsy Bitsy Spider" by James Patrick Kelley
Jennifer finds out her father, Peter Fancy, is still alive and living at Strawberry Fields. He was an actor who played several Shakespearean roles. He left the family when Jennifer was young. Her mother didn't have bad feeling towards him, and always encouraged her to find him again. The door is answered by a little girl with an unusually mature voice. Jennifer realizes she's a bot.
This story can be read in the preview of the anthology Robots. (26% into preview)
"Rain" by Sangu Mandanna
Anna's mother was killed a few months ago in a car accident. Her aunt Mynah invites her and her father to come visit for a while. They make the trip from England to America, where her aunt lives on Hungry Heart Row, a neighborhood with many food establishments. Anna's relationship with her father has changed due to their grief.
This story can be read in the preview of Hungry Hearts: 13 Tales of Food & Love. (14% into preview)
"Portraits of His Children" by George R. R. Martin
A package is delivered to Richard Cantling's door. It's a painting, obviously from his daughter, Michelle. They've had a falling out, and this is a nice gesture. She had destroyed a self-portrait before making an accusation and storming out. No doubt this is a replacement. Cantling is angered to find the painting isn't of Michelle. It's of someone else he knows very well, although he's never seen the person before.
Some of this story can be read in the preview of Future on Ice. (62% into preview)
Maurice Rosenfeld, an actor, returns to his small apartment where he lives with his wife and grown daughter. His wife is out working, so he fixes himself something to eat. His daughter's boyfriend, Ephraim, a plumber, is coming over.
This story can be read in the preview of The Complete Stories. (40% in)
"Fish" by Jill McCorkle
A dying man's youngest daughter remembers his life, including time they spent together and his depression.
"The Homecoming Stranger" by Bei Dao (Zhao Zhenkai / Shi Mo)
Lanlan is in her mid-twenties when she and her family get the news that Papa has been released from prison after twenty years of being held as an enemy of the state. The Communist Party moves the family into a bigger apartment. Lanlan isn't eager to see her father, feeling alienated from him after so long apart.
"Old Rogaum and His Theresa" by Theodore Dreiser
Mr. Rogaum, a butcher, tells his daughter to get home earlier at night, but she wants to stay out with her friend and two young men of the neighborhood. Mr. Rogaum threatens to lock her out next time.
"Able, Baker, Charlie, Dog" by Stephanie Vaughn
Gemma relates episode from her life, with a focus on her father, Zachary, a military officer. He was an alcoholic, which caused a lot of tension between her parents. He made a point of teaching Gemma lessons he thought would benefit her. Her grandmother also lived with them.
• Mothers & Sons •
"The Old Dictionary" by Lydia Davis
The narrator talks about a very old dictionary she owns which she is very careful with. It occurs to her that she treats it with more care than she does her son.
"The Paper Menagerie" by Ken Liu
The narrator, Jack, remembers when he was a young boy. His mother folded origami animals for him. She was able to breathe life into them. His mother was a mail-order bride from China. As Jack grows up, he draws away from his mother, preferring American toys and food. He won't answer her if she speaks Chinese. He's embarrassed by his mom.
"The Burglar's Christmas" by Willa Cather
Two shabby young men talk about getting some food. One decides to walk to a saloon where he knows the owner, hoping to get something from him. The other, Crawford, isn't up for the walk so they split up. Crawford has reached his breaking point; he can see that he's failed and there's no hope. He thinks about what has led him to this point. He decides to steal something.
Read "The Burglar's Christmas"
• Stepparents & Stepchildren•
"The Rockpile" by James Baldwin
Johnny and Roy live across the street from a mass of natural rock, known as the rockpile. It's a popular play spot for the neighborhood kids. The boys are warned to stay away from it by their parents, who think it's dangerous. One day while sitting on the fire escape, some of Roy's friends ask him to come with them.
This story can be read in the preview of Going to Meet the Man: Stories. (14% in)
"Remembering Orchards" by Barry Lopez
The narrator lived with his stepfather from twelve to seventeen, and they weren't close. He was a highly skilled orchardist and farmer, who brought serenity to the home. The narrator talks about his stepfather and his assistant, Ramon. He appreciates his stepfather now, and knows what he's lost.
See also "Approximations"  in Mother & Daughter
• Grandparents •
"An Hour with Abuelo" by Judith Ortiz Cofer
Arturo doesn't want to visit his grandfather in a nursing home during his summer vacation, but he gives in to his mother's urging. His grandfather's body is giving out but his mind is sharp. He tells Arturo the story of his life, which included teaching, the army, farming, and a love of books and learning. (Summary & Analysis)
"My Flamboyant Grandson" by George Saunders
A boy loves show-tunes, singing and dancing, which alienates him from his peers and many adults. His grandfather accepts him and brings him to New York to see a show. He obtains a Promissory Voucher and they head to the Eisner Theater. Upon arriving he finds this isn't enough. He also needs Proof of Purchases from at least six of their sponsors and the real tickets from the Redemption Center.
This story can be read in the preview of In Persuasion Nation. (55% in)
"The Jade Peony" by Wayson Choy
The narrator, a Chinese-Canadian, remembers when his Grandmama died at 83. The family is waiting for some kind of sign, according to their tradition, that her life had ended well. He relates some experiences with her during her later years, including how they would go hunting in the neighborhood for glass fragments and old jewelry.
"The Medicine Bag" by Virginia Driving Hawk Sneve
Martin, a Native American boy in his early teens, visits his great-grandfather every summer at his South Dakota reservation. Martin and his sister talk proudly to their friends about the reservation. One day his great-grandfather shows up unexpectedly in Martin's neighborhood in Iowa.
---