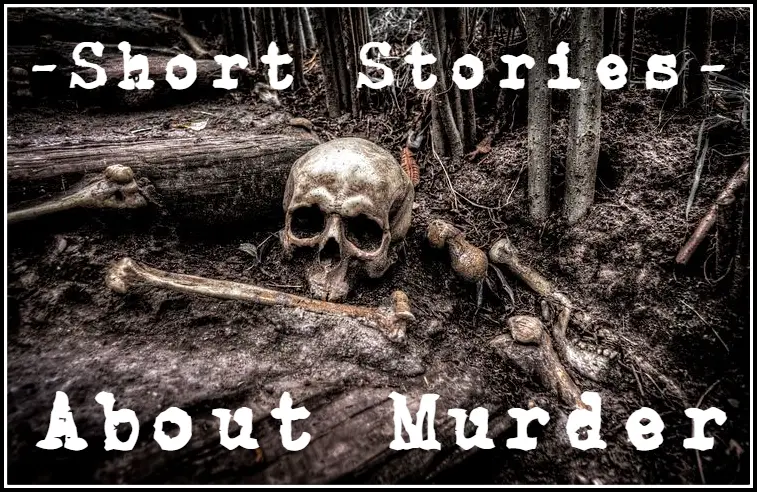 In these murder stories there is a killing early on, someone is accused of murder, a character has murderous plans, or there's a murder attempt. Some of them are murder mystery short stories and in others there isn't any mystery around the identity of the guilty party. See also:
Murder Stories
"If You Want Something Done Right . . ." | Sue Grafton
Lucy is picking up some medication for her husband, Burt, a successful divorce attorney. He needs to stock up while Lucy is away. They were going to go on vacation together for their twenty-fifth anniversary, but Burt pulled out from fear of catching something in India. He also has a history of infidelity. She reaches her breaking point when she hears some news from their estate attorney.
This story can be read in the preview of Deadly Anniversaries: A Collection of Stories From Crime Fiction's Top Authors.
Get Deadly Anniversaries Free on Audible
"Just to Watch Him Die" by Holly West
David Severance drowned in the Spokane River, a probable suicide. His estranged wife doesn't think he was suicidal. She went to his apartment, a hopeless place, to arrange his things. She found a picture of David with people she'd never seen before. They look like a family.
This story can be read in the Amazon preview of The Eviction of Hope.
"The Two Bottles of Relish" by Lord Dunsany
A salesman tells a story that those in the know want to hush up. A woman, suspected of being murdered, completely disappeared. A man named Steeger was the prime suspect. He's in possession of the money she had. He says she left the country. The salesman relates all the details to his flat mate, who has a knack for seeing what others miss.
This story, one of the most famous murder mysteries ever, can be read in the preview of The Black Lizard Big Book of Locked-Room Mysteries. (61% into preview) But only if you're ready.
"An Almost Perfect Crime" by William F. Smith
A man entered a telephone booth, closed the door, and fell over dead a few minutes later with an ice pick in his back. A thorough report has been filed, recording every detail about the scene. It's handed over to Detective Stone.
This story can be read in the preview of The Mammoth Book of Perfect Crimes & Impossible Mysteries.
The narrator and Toth are driving fast on an empty road. There's no cops yet. They've just come from robbing a drugstore, and it didn't go well—someone ended up getting killed. They see pulsing lights up ahead. They turn off and head for a town that Toth knows where they can find an empty house and wait it out.
This story can be read in the preview of The Best of the Best American Mystery Stories: The First Ten Years. (52% in)
"The Royal Californian" by Tod Goldberg
Shane left the hospital before the police could get there. Now his car has broken down, and his foot is too swollen for a shoe. He doesn't have much cash on him. He needs to get somewhere he can rest and hide out.
A lot of this story can be read in the preview of The Low Desert: Gangster Stories.
Murder Short Stories, Cont'd
"A Touch of Petulance" by Ray Bradbury
Jonathan Hughes met his fate in the form of an old man while he rode the train home from work. He noticed the old man's newspaper looked more modern than his own. There was a story on the front page about a murdered woman—his wife. His mind raced.
This story can be read in the preview of Killer, Come Back To Me: The Crime Stories of Ray Bradbury.
The narrator lives at his country house, twenty miles from Chicago. There is an old man in the area that the people call insane. When the old man hears a news story he always claims to be related to the person in question. The Chicago papers are reporting that a man murdered his wife for no apparent reason.
This is the second story in the preview of 100 Years of the Best American Short Stories.
"De Mortuis" by John Collier
Mr. Rankin is in his cellar, doing some patchwork on the floor. He hears his door closing upstairs, and then the voices of Bud and Buck, calling out to him. They want him to come fishing, but he's not feeling particularly sociable.
This is the second story in the preview of Fancies and Goodnights: Vol 1.
An unnamed narrator describes how he killed a man; he tries to convince his listener of his sanity and wisdom.
This is the second story in the preview of Great American Short Stories.
"And Miles To Go Before I Sleep" by Lawrence Block
After being shot on his front lawn, a man has disconnected memories of the event and aftermath. He can't explain it, but while on the operating table he is aware of his surroundings and has an out-of-body experience. He comes into the presence of a Being of Light.
This story can be read in the preview of Enough Rope. (31% in)
Murder Mystery Short Stories, Cont'd
"Ricochet" by Angela Noel
Owen sets up the gun in his cottage. His brother Huw will be over later and everything will be settled then. There's nothing else for him to do at this point. He's lost too much. (Summary)
"A Jury of Her Peers" by Susan Glaspell
When a farmer in Dixon County is found dead in his bed—strangled—his wife is held on suspicion of murder. The local authorities investigate while two of their wives collect some items for the accused.
This story can be read in the preview of A Moment on the Edge: 100 Years of Crime Stories by Women.
The narrator tells the story of his parents. His father manufactured dog oil and his mother disposed of unwanted babies. The narrator would assist his father by procuring neighborhood dogs and his mother by carrying away the remains of her work. One day, he inadvertently improves his parents' businesses. (Summary)
"The Terrible Old Man" by H. P. Lovecraft
Three thieves decide to visit the Terrible Old Man, known for being rich and feeble. There are many rumors about him in Kingsport and people usually stay away. The three thieves aren't from Kingsport, so they see him only as a target.
This story can be read in the preview of Complete Lovecraft. (select in table of contents)
The narrator hates John Claverhouse especially his optimistic view of life, his laugh, and his name. He knows that it's an irrational hatred, but instead of ignoring the man, he obsesses over him, making it his aim to destroy Claverhouse's life.
This is the first story in the preview of Moon-Face & Other Stories.
"All the Signs and Wonders" by Denise Mina
Claire pulls a knife on William Halligan. He doesn't think she's going to do anything, because she has no reason to. He doesn't know her history, though. She's killed the king before. The change happened when she was fourteen. She walked in on her father kicking her mother in the stomach. Normally, she would have left, but that time was different.
This story can be read in the preview of Invisible Blood. (21% in)
Murder Short Stories, Cont'd
"Turning Point" by Jeffery Deaver
Michael sits in the back of a taxi. He has his backpack and wears a stocking cap and gloves. He's unemployed but there's still work to do. He gets out at a dark, empty lot. His real destination is about twenty minutes away. He's checked his backpack; he has everything he'll need.
The beginning of this story can be read in the Amazon preview of "Turning Point"
"A School Story" by William Trevor
Markham tells his classmates the same story over and over, and they always want to hear it. He asked his father how his mother died. He said they were out hunting with a group in Florence. His gun went off accidentally, killing his wife. Markham doesn't believe the story. Within six months, his father married his deceased wife's sister.
This story can be read in the preview of The Collected Stories. (58% into Kindle preview)
"Foxy and Tiggs" by Justina Robson
Foxy, a humanoid foxling, and Tiggs, a velociraptor, are on the scene of a murder. They're detective inspectors for the hotel where it took place, so this is a big case for them. The victim seems to have been drowned, then dropped from a height.
This is the first story in the preview of Infinity's End. (23% into preview)
"The Cat's Paw" by Stanley Ellin
Mr. Crabtree has taken a room in a boarding-house because it's near the public telephone in the hallway. This allowed him to include the phone number on a job application. He was a perfect match for the job description, and he's anxiously awaiting a response. Two weeks later, a call with a job offer comes through. It seems an ideal position.
This story can be read in the preview of The Speciality of the House. (53% into Kindle preview)
"The Five-Dollar Dress" by Mary Higgins Clark
Jenny's grandmother died three weeks ago, and she's been clearing out her apartment near Union Square. Drifting into dementia before she died, her grandmother said something about a Sarah who was killed—not by Barney but by Vincent. When going through her grandmother's hope chest, Jenny finds a picture of Sarah with a note. There are also some news clippings that shed some light on the situation.
This story can be read in the preview of Manhattan Mayhem: New Crime Stories from Mystery Writers of America. (34% in)
"#8" by Jack Ritchie
A man and his young redheaded passenger listen to a news report about someone who's killed seven people. The police are searching the area and have roadblocks set up. The young passenger is impressed with the killer, and talks about his motivation and how smart he is.
This story can be read in the preview of Alfred Hitchcock's Mystery Magazine Presents Fifty Years of Crime and Suspense. (65% in)
Murder Mystery Short Stories, Cont'd
"Not a Laughing Matter" by Evan Hunter
Blair hates his manager, Mr. Atkins, the most. Blair used to be a successful actor and now he's been reduced to this. Atkins calls him Nick out of disrespect and revels in his fall from grace. Blair's at his breaking point.
This story can also be read in the above preview of Alfred Hitchcock's Mystery Magazine Presents Fifty Years of Crime and Suspense. (71% in)
"Unreasonable Doubt" by Stanley Ellin
Mr. Willoughby is on vacation to calm his nerves and relax, on the advice of his doctor. While resting on a train, he overhears an experienced lawyer telling the story of the most interesting case he ever worked on. Hosea Snow, the richest man in town, was found murdered; one of his nephews, Ben, was arrested for the crime.
This story can be read in the preview of Mark Twain's Medieval Romance. (22% in)
"Bargain in Blood" by Lawrence Block
A beautiful woman is paying attention to Benny. He really wants her and she can tell. She says she broke up with Moe because he wouldn't prove how much he wanted her. If things are going to progress with Benny, she needs proof of his desire.
This story can be read in the preview of One Night Stands and Lost Weekends. (78% in)
"Never Have I Ever" by Karen M. McManus
Grace is at Katie's party after curfew, but it's ok because her parents are away. They start playing Never Have I Ever, and Grace gets teased a bit for not having any fun because she hasn't done any of the things that come up. The group gets a surprise when they hear the voice of Caleb Manning, who's known for getting into trouble. Grace invited him.
This story can be read in the preview of Up All Night: 13 Stories Between Sunset and Sunrise. (8% in)
Doree, twenty-three years old, works as a chambermaid at a motel away from her old town. She enjoys her work, and no one seems to know her story there. She occasionally sees Mrs. Sands to talk about what happened. Doree is on her way to visit Lloyd; it takes her three buses to get there. The last two times she went, he wouldn't see her. She doesn't know if she'll keep going back. She met Lloyd when she was sixteen and her mother was dying.
Some of this story can be read in the preview of Too Much Happiness. (Go into Hardcover preview, then select Kindle)
"Free Radicals" by Alice Munro
Nita, sixty-two, lives alone now that her husband, Rich, who was almost twenty years older, has died. They thought she would be the first to die, as she was diagnosed with cancer. Sympathy for her has fallen off because Rich was buried cheaply without a funeral service, as he wanted. She's very aware of his absence and hasn't gone through his things yet. They fell in love while Rich was married to his first wife, Bett. One day, when Nita opens the door for some air, she gets a visit.
Murder Short Stories, Cont'd
"The Mystery of the Red Balloons" by Thomas Narcejac
Ellery Queen is summoned by his father, Inspector Queen of the police, to a New York apartment building. A forty-two year old stockbroker was found stabbed in his bedroom. The room is in order, there's no murder weapon, and no fingerprints. Most unusual of all is that a red balloon was found on the balcony. Ellery deduces that it was left on purpose.
Some of this story can be read in the preview of The Misadventures of Ellery Queen. (42% in)
"Night Run" by Shannon O'Cork
Brad has reached the eight mile of a twelve mile race. He's in the lead, but he hears the footfalls of someone gaining on him. Only Patterson could challenge him at this point, but Patterson must be dead by now. Brad maintains his pace and thinks about his grudge against Patterson.
"Night Run" is in Tales From Ellery Queen's Mystery Magazine.
"So Much Water So Close To Home" by Raymond Carver
Claire's husband doesn't want to answer the phone and doesn't want to be judged by anyone. His name and the names of three friends are on the front page of the paper. While they were on a fishing trip, they found a dead woman. They reported the incident to the police, just not right away. (Summary)
Read "So Much Water So Close To Home"
"Justice" by Pamela Blackwood
William can't sleep. He's sore from work and his bed is empty. He gets up, goes outside, and sits on his front porch. He imagines Hannah coming back to him. There's a terrible barking of dogs down the road.  The next day, he hears there was a killing near his place.
The first few pages can be read in the Amazon preview of Best American Mystery Stories 2020.
"An Eye for an Eye" by Jeffrey Archer
Sir Matthew Roberts has been engaged to defend Mary Banks at her murder trial. She maintains her innocence, claiming a blow from her husband caused blindness and that she was in the hospital at the time of his death. Sir Matthew believes a manslaughter plea is preferable. (Summary)
"Triangle" by Jeffery Deaver
Pete and Mo Anderson sit on their front porch. Mo's boss, Doug, has invited them both to his place in Baltimore for the weekend. Mo has a baby shower to go to, but Pete is thinking of going to visit. Mo pretends to be indifferent but Pete knows she wants him to go. He overheard them talking about him, saying that something had to be done. Pete has been reading and rereading a true crime book he stole—so nothing could be traced back to him. It's about a man who killed his wife's lover and almost got away with it. Pete plans to learn from the man's mistake.
Murder Mystery Short Stories, Cont'd
"Markheim" by Robert Louis Stevenson
Markheim goes to a shop under the guise of looking for a present for someone. He really has murder on his mind, so he can then steal the dealer's money and goods.
"The Caballero's Way" by O. Henry
A ranger, Lt. Sandridge, searches for the Cisco Kid, a murderer with a quick temper and quick draw.
A married man who's having an affair sees a man leaving the home of his mistress. He confronts her and they argue, leading to him accidentally killing her. Another man is arrested for the crime.
An extended family is headed to Florida for a vacation. The grandmother wants to go to Tennessee instead, so she talks about an escaped murderer—The Misfit—who is suspected to be on his way to Florida.
"Blue Boots" by Carol Newhouse
The narrator, living in Yellowknife, Canada, fantasizes about murdering annoying people. But living in a small town makes it more difficult to get away with crimes.
Ernest Cotton murders Jack Houston over an injustice. He tries to dispose of the body and feign ignorance about what happened.
"The Sheriff's Children" by Charles Waddell Chesnutt
In the small town of Troy in North Carolina, Captain Walker is murdered. A mulatto man had been seen at the Captain's house the previous night, so he is apprehended. The men feel that they should mete out justice themselves and decide to lynch him. The sheriff hears about the plan.
"Flight" by John Steinbeck
Nineteen-year-old Pepe Torres gets sent into town by his mother to buy some supplies. While in town, he stays at the home of a family friend, and quarrels with another man there. Pepe stabs the man and has to flee to the mountains.
Murder Short Stories, Cont'd
"Han's Crime" by Shiga Naoya
Han, a circus performer, severs his wife's carotid artery during their knife throwing act; she dies immediately. Han is arrested and, along with the circus manager and stagehand, is questioned by a judge about the death. He tries to determine if it was premeditated or accidental.
Mr. Princey has his daughter, Millicent, go over the details of a serious occurrence—so serious that he believes she could be put in a criminal-lunatic asylum, or possibly hanged. There's a dead body in the stable, and Mr. Princey has to figure out what will be done with it.
"The World and the Door" by O. Henry
Mr. Hedges is out drinking with two younger friends, Merriam and Wade. Hedges gets quarrelsome and swings a chair at Merriam. He ducks and shoots Hedges, killing him.
"The House Behind" by Lydia Davis
There is a house in front with spacious apartments inhabited by people with higher incomes, and a house behind with more cramped apartments and lower income residents. The narrator, who lives in the house behind, tells the story of a murder that happened in the courtyard a year ago.
"Fondly Fahrenheit" by Alfred Bester
A search party finds a dead child. She has android blood under her nails, and on a bronze stake is written the name Vandaleur. This confuses the searchers, because androids are designed not to kill. Meanwhile, the owner, Vandaleur, takes his android and flees.
"Night Drive" by Will F. Jenkins
As Madge is getting ready to drive to Colchester, she gets a phone call from Mr. Tabor, who asks her if she would drive his niece Eunice back home. She agrees but is uncomfortable—Mr. Tabor's wife was killed on the Colchester road along with another woman. Madge picks up Eunice. She finds her off-putting and unsettling.
"Mr. Mumsford" by Larry French
Bibs, a janitor at a school, takes a bat from the equipment room and hides in wait for the principal.
The narrator sees the name Springheel Jack in the newspaper. It reminds him of his time eight years ago at New Sharon Teachers' College when a female student was found murdered in a campus parking lot.
Murder Mystery Short Stories, Cont'd
"An Ideal Craftsman" by Walter de la Mare
A boy wakes up at night unsure if the noise he heard was real or from a dream. He gets some things together and carefully goes downstairs. Everything is quiet. As he approaches the kitchen he can tell someone is there.
"The Child by Tiger" by Thomas Wolfe
The narrator relates events that took place in his home town twenty-five years earlier. In the town lived a Negro man, Dick Prosser, who worked for the father of one of his young friends. Dick was a former soldier, very tidy, an excellent worker, religious, a crack shot, and he addressed the boys with respect. One day the boys entered Dick's room and found a surprise that he was planning for the town.
"A Municipal Report" by O. Henry
The narrator goes to Tennessee for a meeting with Azalea Adair. He represents a literary magazine that is interested in publishing Adair's work. During his stay he meets Major Caswell, a widely disliked man considered a nuisance and loafer. The narrator remarks that if he had been able to avoid associating with Caswell a murder wouldn't have occurred.
"We Can Get Them For You Wholesale" by Neil Gaiman
Peter Pinter is a moderate man who loves a bargain. When he finds out his fiancé, Gwendolyn, is seeing another man, he takes out a "contract" on her life. He arranges a meeting in a seamy pub to discuss the details.
Read "We Can Get Them For You Wholesale"
"Punishment" by Rabindranath Tagore
Dukhiram and Chidam, brothers, work out in the field while their wives argue at home. They return home one evening after an unusually hard work day, exhausted. Dukhiram asks for some food; his wife responds harshly. Dukhiram flies into a rage.
Read "Punishment" (PDF Pg. 4)
A poor widow's son, Antoine, is murdered by a man who then flees to Sardinia. The boy's mother vows to take revenge against her son's killer. He has no male relative to carry out the vendetta; the mother ponders the problem herself.
"The Delicate Prey" by Paul Bowles
Three Filala leather merchants set out for Tessalit. This will mean passing through territory contiguous to the dangerous Reguibat tribe. They decide that their small group won't attract much attention. They are also armed in case they're confronted.
"The Murder" by John Steinbeck
Jim is married to Jelka, a foreign woman. She is perfectly agreeable and caters to all his needs. She doesn't speak much. Jim feels there is a barrier between them.
Murder Short Stories, Cont'd
"When the Women Come Out to Dance" by Elmore Leonard
Lourdes is working as Mrs. Mahmood's personal maid. Lourdes was a mail-order bride whose husband died under highly suspicious circumstances. Mrs. Mahmood is interested in hearing about what happened. She talks of some concerns about her own husband.
"The Fall River Axe Murders (Mise-en Scène for a Parricide)" by Angela Carter
The Bordens are a prosperous family who live in a small, comfortless house. Mr. Borden is a miser. Mrs. Borden is a joyless glutton. The weather is intolerably hot. Lizzie Borden murders her parents one morning.
Read "The Fall River Axe Murders"
"The Knife" by Richard Adams
Philip gets a beating from the prefect of his school. Another one is on the way. While walking on the grounds he finds a knife. He starts thinking about the possibilities.
"To Have and To Hold" by Ken Bruen
Charlene is in police custody being interviewed. While Foley's partner is out of the room, she starts telling the story of the time she met Johnny Cash.
"The Outlaws" by Selma Lagerlöf
Berg kills a monk and flees into the woods. He develops extreme physical abilities from his new, challenging environment. Tord, an accused thief, has also fled to the woods. They end up in a cave. Tord looks up to Berg. They get by in the forest by hunting, fishing, and gathering whatever they need.
"The Hand" by Guy de Maupassant
In the wake of an unsolved murder, a judge relates an inexplicable incident from his past. An Englishman moved to a villa in France with a servant. Rumors spread about the man, so the judge found a way to get to know him. One evening the man shows the judge into his parlor, which contains an interesting item.
"The Whole Town's Sleeping" by Ray Bradbury
Lavinia and Francine walk to Helen's house. Francine is worried about the Lonely One, someone who's been strangling women in the area. Lavinia is dismissive of the danger. They take a short cut through the ravine. They come across the body of a missing woman. Francine is distraught; Lavinia convinces her to continue their evening.
Read "The Whole Town's Sleeping"
"The Small Assassin" by Ray Bradbury
Alice Leiber thinks she's being murdered. No one else knows—not her husband, David; or the doctors and nurses. She's been targeted by a small assassin. Doctor Jeffers tells David that Alice is going to need lots of support to get through these feelings.
Murder Mystery Short Stories, Cont'd
"The Easter Egg" by Saki
Lady Barbara is in Knobaltheim for Eastertide. The Prince of said township will be making a public appearance. As a woman of note, Lady Barbara is consulted about how to make the event worthy of the distinguished guest. An acquaintance suggests dressing up her child as an Easter angel and having him present the Prince with a large decorative egg.
Read "The Easter Egg"
"Back For Christmas" by John Collier
Dr. and Mrs. Carpenter are hosting a farewell get together before they leave for the doctor's lecture tour in America. His friends want him back in England for Christmas; Mrs. Carpenter assures them she will see to it. She has a habit of promising him for social gatherings and always follows through. They leave tonight. Mrs. Carpenter takes care of the last minute details. Dr. Carpenter has other plans.
Erik Lonnrot investigates a series of murders that involve Red Scharlach, a criminal who has sworn to kill Lonnrot. It begins when a rabbi is found dead in his room near the door with a stab wound to the chest. The police commissioner offers a simple explanation—a robber went to the wrong place and had to kill the rabbi. Lonnrot believes there's a complex mystery to uncover. Supporting this theory is a message found in the typewriter.
Read "Death and the Compass" (PDF Pg. 8)
"The Worst Crime Known To Man" by Reginald Hill
The narrator, Colley, remembers a time from his childhood. A younger man named Boff used to come over to his place to play tennis with his father. Colley tells the story of the day the two played their last match. He was appointed the line-judge for the contest. Boff and Colley's father played that day with an unusual ferocity. After a while, they noticed that a group of spectators had gathered.
"A Death" by Stephen King
Jim Trusdale is sitting in his shack reading when Sheriff Barclay and his deputies arrive. Barclay wants to know where Jim's hat is; Jim doesn't know. He's ordered into the back of the wagon. Some of the men search Jim's shack but they don't find anything. Jim admits to being in town that afternoon. He's taken to a cell and searched. He's charged with the murder of Rebecca Cline.
"Furious Seasons" by Raymond Carver
Iris is brushing her hair after a bath. Farrell is flipping through a magazine. Iris tells him she's pregnant. He asks what she's going to do, and goes into the bathroom to shave. The narrator relates incidents involving his wife, sister and friend Frank.
"The Partridge Festival" by Flannery O'Connor
Calhoun is visiting his great-aunts in Partridge. The Azalea Festival is going on, and his aunts assume that's why he's come. Calhoun is interested in what happened ten days ago. A man named Singleton had shot five town dignitaries and one bystander, who was hit with the bullet intended for the mayor. Prior to this, Singleton had been put in a makeshift jail for refusing to buy an Azalea Festival Badge. Now he's back in custody for the killings. Calhoun wants to write a sympathetic piece about Singleton, as an individual who was persecuted by the community.
Murder Short Stories, Cont'd
"In a Grove" by Ryunosuke Akutagawa
A woodcutter finds the body of a samurai in an out-of-the-way grove. It had a single sword cut to the chest, and the blood was dried. There was no weapon present, only a rope and a comb. The police commissioner receives testimony from several other sources in an attempt to get to the truth of the crime.
Read "In a Grove"
"Lamb to the Slaughter" by Roald Dahl
Mrs. Maloney's husband comes home from work in a bad mood. He eventually tells her that he's leaving her. She is dazed by the news. She automatically starts getting supper ready. She selects a frozen leg of lamb from the deep freeze.
"The Women in the Club" by P. Jo Anne Burgh
Every year in May, Ellen Simmons sends out the cards. This year, the ribbon is blue for all their sons. Ellen receives many friendly return cards. Sometimes she gets threatening ones as well. It's Mother's Day, and Ellen's grown sons and their families start to arrive.
"The Touch of Nutmeg Makes It" by John Collier
The narrator and his coworker Logan see a new man at the mineralogical institute. He's solitary and seems unhappy. One day, they invite him to lunch. This leads to some regular association. A friend of Logan's recognizes the newcomer.
Read "The Touch of Nutmeg Makes It"
---
I'll continue to add more murder mystery short stories as I find them.