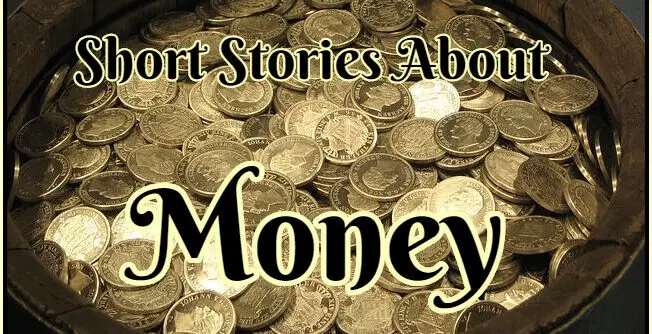 Money, or the pursuit of it, is a major element in these selections. In some, the focus is on accumulating material possessions or characters are dealing with debt. Other might focus more on consumerism. See also:
Short Stories About Money or Materialism
"Cheap at Half the Price" by Jeffrey Archer
Consuela, a former model, is married to her third husband, Victor, a rich American banker. They have flown to London for Victor to close a big deal and for Consuela to look for a birthday present for herself. Consuela searches the usual high-end stores without success. She finds a new shop with an exquisite item, but the price is steep, even for her husband.
This is the second story in the preview of The Short, the Long and the Tall.
"The Rocking-Horse Winner" by D. H. Lawrence
A middle-class woman, successful but perpetually short of money, lives with her two children. She is unlucky, but her son isn't: when he rides his rocking-horse, he's able to work himself into a state where he can pick the winner of a horse race.
This is the first story in the preview of Big Book of Best Short Stories. 
Annabel and Midge work for the same firm and spend a lot of time together. They both still live with their respective families, and have half their incomes to themselves. When they walk on Fifth Avenue, they like to play a game. They imagine they've been left a million dollars on the condition that they spend it all on themselves.
This is the third story in the preview of 50 Great Short Stories. (Pg. 27)
"The Table" by William Trevor
Mr. Jeffs, an antique dealer, makes arrangements to visit Mrs. Hammond to see a table she's selling. He likes to imagine things about the people he deals with—their type, circumstances and motivations. After a misunderstanding, they come to an agreement. Mr. Jeffs soon gets a call from Mr. Hammond.
This story can be read in the preview of The Collected Stories. (48% into Kindle preview)
"Arts and Trades" by Rubem Fonseca
The narrator is one of the new rich. He made his money buying and selling. He's improved his appearance, lives in a mansion, married a woman from a good family and has a mistress. One thing money hasn't been able to fix is his lack of education. He knows that people think he's a dummy. He reads an ad in the paper from a ghostwriter offering to write whatever the client wants. This could solve his problem.
This story can be read in the preview of Winning the Game and Other Stories. (12% into preview)
A boy loves show-tunes, singing and dancing, which alienates him from his peers and many adults. His grandfather accepts him and brings him to New York to see a show. He obtains a Promissory Voucher and they head to the Eisner Theater. Upon arriving he finds this isn't enough. He also needs Proof of Purchases from at least six of their sponsors and the real tickets from the Redemption Center. They're bombarded with ads as they walk. (Summary)
"Mammon and the Archer" by O. Henry
The son of a millionaire is distressed because the young woman he loves is leaving the country in two days. She's an aristocrat with a full social calendar, so he can't even see her and doesn't think his father's money can help. His father disagrees.
This is the sixth story in the preview of The Selected Stories of O. Henry.
"Burning Desire" by KM Rockwood
Aunt Regina throws a party to boost Roger's spirits—his upcoming wedding has been called off. His former bride-to-be is a rich woman. Loss of access to this money is a bigger worry for Roger because he has outstanding debts. The syndicate has demanded a payment of $10,000 by midnight, and he doesn't have it.
This story can be read in the preview of Heartbreaks & Half-Truths: 22 Stories of Mystery and Suspense. (44% in)
"The Mysterious Countess" by Anonymous
Mrs. Paschal goes to the London Police headquarters to meet with the head, Colonel Warner. The Countess of Vervaine is known in London for her lavish spending and possessions. Despite this, she doesn't have any obvious source of income, nor does she have a large balance at any bank. Mrs. Paschal is asked to find the source of these seemingly inexhaustible funds.
This story can be read in the preview of the huge anthology The Big Book of Female Detectives. (6% in)
"The Falling Girl" by Dino Buzzati
Marta, a nineteen-year-old, let's herself fall off a skyscraper balcony after looking at the rich, important people in the city. She doesn't fall in real-time; she has interactions on the way down and sees others falling as well. (Summary & Analysis)
"The Semplica Girl Diaries" by George Saunders
A forty-year-old father of three starts a diary to inform future readers how life is in the present. He chronicles the events leading up to the thirteenth birthday party of his oldest daughter, Lilly. The family is middle-class, but they live beyond their means. The father wants to buy his daughter an expensive present, and also wants a status symbol to show off to the neighbors. (Summary)
"While the Auto Waits" by O. Henry
A young man strikes up a conversation with a young woman on a park bench. She complains about her life of wealth and luxury. (Summary)
Brantain sits in a dim room at the home of Nathalie, who sits by the firelight. He loves her and has made his intentions known during the past two weeks. They talk of inconsequential things. Suddenly, a young man enters the room and, not seeing Brantain in the darkness, walks straight for Nathalie. (Summary)
Jimmy Doyle spends a day with wealthy friends riding in a fancy car, thinking about an investment he made, and attending a formal dinner party.
"The Money Box" by W.W. Jacobs
Two sailors between jobs want to save their money. They get some money advice from an experienced sailor, and he offers to hold their money for them, giving them a moderate allowance so they don't waste it all.
"The Son from America" by Isaac Bashevis Singer
A Jewish man who went to America when he was fifteen returns to his home village in Poland forty years later. The villagers live on very little but they don't want more and life is simple.
"Dip in the Pool" by Roald Dahl
A man on a cruise ship comes up with a plan to win the betting pool. He risked a large sum of money and can't afford to lose.
"Filboid Studge, the Story of a Mouse that Helped" by Saki
An artist wants to marry the daughter of a very rich man. The man's fortunes have recently turned as he stands to lose everything from a failed product launch, a new breakfast cereal. The artist tries to redesign the ad campaign to save the man's business.
Dexter Green is a fourteen-year-old caddy, working for pocket money. He quits one day when Judy Jones, a beautiful eleven-year-old, treats him as an inferior. Years later he goes into business and becomes a success. He has another meeting with Judy Jones.
Monsieur Lantin is a government clerk. He and his wife are very happy. He is amazed by his wife's ability to handle their finances. Madame Lantin has two vices: she loves going to the theatre and she loves jewelry – she comes home nearly every night with a new piece of costume jewelry.
"A Cap for Steve" by Morley Callaghan
Steve Diamond is given a baseball cap by a pro player. He prizes the cap but loses it soon after. One day he sees another boy wearing the cap. Steve and his father visit the boy's home to retrieve it, but the boy is from a wealthy family which complicates the situation.
"Zelig" by Benjamin Rosenblatt
Old Zelig lives in New York's East Side and works in a cloak shop. He moved there from his Russian village when his son fell on hard times. Zelig is miserly and spends much of his time working.
Albert Engelhardt is preparing for his uncle's birthday. He meets up with Judge Hammersley, who is a bit embarrassed because the Engelhardts have fallen in the world. The judge sends some wine to Uncle Albert (the protagonist was named after his uncle—they were born on the same day), and his daughter, Margaret, catches up with Albert when he comes over.
"The Crocodile" by Fyodor Dostoevsky
Ivan goes with his wife and friend, Semyon, to an exhibition to see a crocodile. It swallows Ivan, but he remains alive inside it. There is a discussion about getting him out, but monetary concerns take priority.
"The Treasure in the Forest" by H. G. Wells
Evans and Hooker are on a canoe approaching land. They are looking at a rough map they took from a Chinese man. They overheard him talking about a treasure he had found and reburied.
Read "The Treasure in the Forest"
The narrator and his wife invite the Zumpens over for dinner. Mr. Zumpen is chairman of a committee that awards contracts for housing projects and the narrator wants to win the bid.
"The Brinjal Cut-Out" by Krishan Chander
The narrator and his wife are down to their last bit of money. While preparing lunch his wife cuts a brinjal in half. They are startled to find the seeds arranged to spell 'Allah' in Arabic. Their fortunes change.
"An Anxious Man" by James Lasdun
Joseph and Elise Nagel are on a family vacation. Joseph is distressed because their investments have gone down badly over the past four days. They argue about their situation. After an inheritance left them with a sizable sum of money, Joseph began to think they had to raise their standard of living.
"At the Auction of the Ruby Slippers" by Salman Rushdie
Bidders have assembled for the auction of a pair of famous ruby slippers. There are lots of measures in place—cuspidors for the physically sick and psychiatrists for the sick at heart. Nearby, there are priests, SWAT teams and a supply of straight jackets. Desire for the prized memorabilia is extreme.
Read "At the Auction of the Ruby Slippers"
---
I'll keep adding short stories about money, materialism or wealth as I find more.