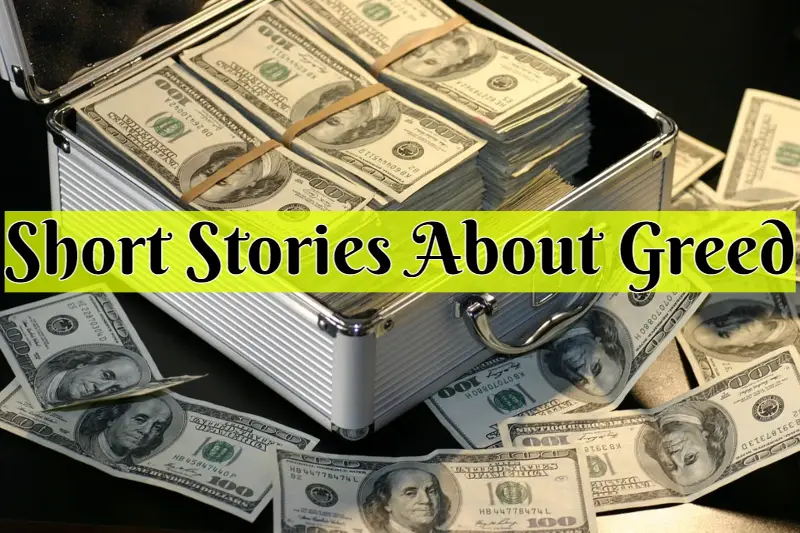 These short stories have characters motivated by greed and selfishness, and often show the effect this has on them and others. See also:
Stories About Greed or Selfishness
The Queen of Spades | Alexander Pushkin
Hermann is an engineer in the Russian army. Tomsky tells him a story about his grandmother, a countess, who won a large sum playing cards because she knows a three card secret. The countess is still alive, so Hermann schemes to learn the secret from her.
This is the first story in the preview of Russian Short Stories from Pushkin to Buida.
"The Standard of Living" by Dorothy Parker
Annabel and Midge work for the same firm and spend a lot of time together. They both still live with their respective families, and have half their incomes to themselves. When they walk on Fifth Avenue, they like to play a game. They imagine they've been left a million dollars on the condition that they spend it all on themselves.
This is the third story in the preview of 50 Great Short Stories. (Pg. 27)
"Child's Play" by Edmund Crispin
Judith has just been hired as governess at the Snyder household. She'll be caring for the three Snyder children—Eve, Tony and Camilla—and Pamela Catesby, who's parents were killed a month ago. Judith has misgivings about Mrs. Snyder and her children, but she likes Pamela immediately. Judith tries to help Pamela acclimate to her new home. She also wants to find out what happened to her parents.
This story can be read in the preview of Bodies in the Library 4. (13% in)
"The Ghost's Touch" by Fergus Hume
Lascelles remembers the terrible Christmas he spent at Ringshaw Grange. He spent it there with the owner, Frank, who inherited the family estate, and Frank's cousin, Percy, who inherited the family money. Percy assisted Frank financially to keep up the dignity of the family. The Grange included a room called the Blue Chamber, which was said to be haunted.
This story can be read in the preview of Crimson Snow: Winter Mysteries. (18% in)
"Clean Sweep Ignatius" by Jeffrey Archer
When Ignatius Agarbi is appointed Nigeria's Minister of Finance no one notices. No previous minister had lasted long or accomplished much. Ignatius vows to root out corruption, even among the highest levels of authority. After catching several offenders, General Otobi gives Ignatius a special assignment. (Summary)
Read "Clean Sweep Ignatius" (Page 9)
"Oil of Dog" by Ambrose Bierce
The narrator tells the story of his parents. His father manufactured dog oil and his mother disposed of unwanted babies. The narrator would assist his father by procuring neighborhood dogs and his mother by carrying away the remains of her work. One day, he inadvertently improves his parents' businesses. (Summary)
The Necklace | Guy De Maupassant
Mathilde borrows a necklace from a rich friend to wear to a party, but a complication arises.
"The Mildenhall Treasure" by Roald Dahl
Gordon Butcher rides his bike to the farm where he left his tractor the day before. Ford hired him but the land belongs to a man named Rolfe. The ground has to be deep-plowed for sugar-beet, which means going down ten to twelve inches. After many hours of work, the plough strikes something and Gordon has to stop to investigate.
Man from the South | Roald Dahl
An older man bets a younger man that he can't light his lighter ten times in a row without missing one. He puts up his Cadillac, but the young man has to risk the pinky of his left hand.
The Visitor | Ray Bradbury
Saul wakes up on Mars, quarantined because of the "blood rust." He longs to be back in New York. He's lonely. The sickness makes it difficult for people to talk. A rocket lands and hastily drops off another exile. Saul runs to meet him. He's a young man named Leonard, still relatively healthy, and he has a valuable ability that everyone wants to benefit from.
The Saint and the Goblin | Saki
A forgotten stone saint occupies a niche in an out-of-the-way spot in a cathedral. Opposite is a stone goblin of some notoriety. They get along. The saint wants to do something for the church mice, who are very poor. While discussing the matter, a bird drops a silver coin right by the saint. He gets an idea.
Read "The Saint and the Goblin"
Witch's Money | John Collier
Foiral is on his way back to his village. He encounters a raving madman. He says he's been walking the area for weeks and now he's found what he was looking for. Foiral doesn't see anything. The man loves what he's seeing in the environment. He wants to stay in the village but Foiral tells him there are no rooms. The madman starts exploring a bit and Foiral tries to keep an eye on him.
"The Great Carbuncle" by Nathaniel Hawthorne
A group of eight people rest in the Crystal Hills after an unsuccessful search for the Great Carbuncle. Although they all have their own motives, they cooperate to build a hut and start a fire. The searchers include an elderly man who's been looking his whole life, a chemist who wants to analyze and write about the Carbuncle, a merchant who wants to sell it, a poet who wants inspiration, a prince who wants it as a family symbol, and young newlyweds who want it as a light in their house.
"The Right Kind of House" by Henry Slesar
A man from New York, Mr. Waterbury, driving a fancy car, enters Aaron Hacker's real estate office in Ivy Corners. He's looking to retire to a quiet town. He saw a house on the outskirts that seems right to him. Hacker is disappointed to find it's the house of old Sadie Grimes. He's had the listing for five years and knows it won't sell due to the exorbitant asking price and her unwillingness to negotiate. Mr. Waterbury thinks if spoke to her personally they could work something out.
The Gold of Tomas Vargas | Isabel Allende
Tomas Vargas is a miserly, adulterous, and abusive man who is disliked by everyone in town. One day a young woman, one of Tomas's affairs, comes looking for him. His wife is furious and finally takes a stand against him.
A Funeral | August Strindberg
Some men sitting in a tavern discuss the funeral procession going on outside. A clerk has died. He labored for his mother and sisters. When he told them he was getting married, they made things difficult for him.
The Green Leaves | Grace Ogot
African villagers look for a group of cattle thieves. One of the villagers tries to steal from one of the dead thieves.
After the Storm | Ernest Hemingway
A fisherman comes across a sunken ship and tries to plunder its riches.
The Pearl | John Steinbeck
Kino is a poor Mexican pearl diver. Kino's baby gets stung by a scorpion but he doesn't have enough money to pay the doctor. He goes diving and finds the "pearl of the world" – the largest pearl he has ever seen. It seems like a great blessing but it brings out the worst in everyone.
This story is a novella.
The Red-Headed League | Arthur Conan Doyle
Sherlock Holmes is visited by Mr. Jabez Wilson, a man with striking red hair. Wilson had responded to an ad in the paper from the Red-Headed League. He was hired to copy from the encyclopedia for four hours a day. One day he showed up for work but the League was gone without explanation.
Captain Rogers | W. W. Jacobs
After a long walk, a stranger enters town and goes to an inn, The Golden Key. He demands to speak to the landlord, whom he calls Rogers. The landlord says his name is Mullet. The stranger says there is a hundred guineas on the head of his old shipmate, Rogers, and demands clothes, food, lodging, and money. The landlord reluctantly starts to accommodate his visitor.
Fat Farm | Orson Scott Card
Mr. Barth, an immensely fat man, enters Anderson's Fitness Center. The receptionist is surprised to see him back so soon—it's only been three years since his last visit. Mr. Barth is a man of pleasure. Food is a major one, but his weight is now interfering with some of his other enjoyments. He's back for his usual procedure, which is illegal, expensive and secretive.
A Mother | James Joyce
Mrs. Kearney arranges for her daughter to play the piano at a series of concerts. The concerts are poorly attended, and Mrs. Kearney worries that her fee will be withheld.
---
I'll keep adding short stories about greed and selfishness as I find more.