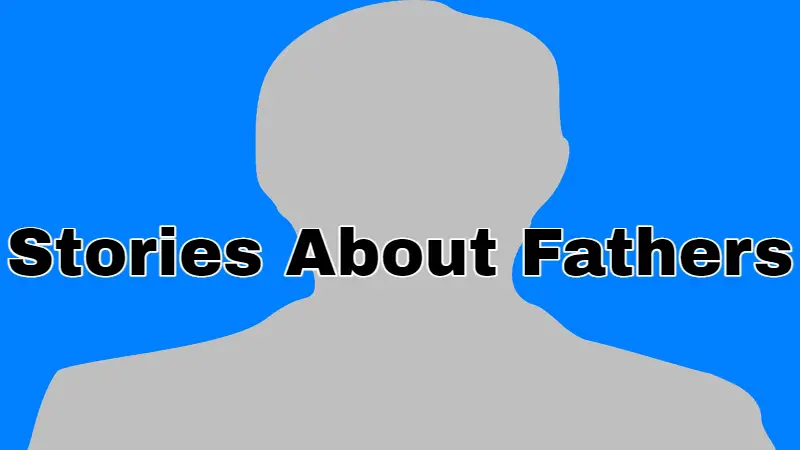 These short stories about fathers have a father as a main character or have characters who are reflecting on their fathers. The first section has stories that are more generally about fathers and their entire families. There are separate sections for Fathers & Sons and Fathers & Daughters where the emphasis is on those relationships.
Short Stories About Fathers
A father has a pole in his yard that he dresses according to the occasion. He's a stingy man and his family lives on edge. (Summary & Analysis)
This is the second story in the preview of Tenth of December: Stories. 
A family is gathered around a baby in a basket, doting over him and admiring his little features. They try to figure out who the baby looks like. (Summary and Analysis)
Short Stories About Fathers & Sons
"Scar Tissue" by Tobias S. Buckell
Your "son" is going to be delivered tomorrow and you think you might have made a big mistake. You lost a forearm and a leg in a forklift accident at work. The money from this project will allow you to pay for the expensive regrowth procedure. Your "son" is a robot that will take six months to reach maturity.
This story can be read in the preview of The Best Science Fiction of the Year: Volume 6. (40% in)
"Calved" by Sam J. Miller
A father sees his son, Thede, after being away on a job for three months. Thede has changed; he's a teenager so he's grown some, but more importantly his demeanor is different. His eyes are flat and joyless. They have trouble connecting. Thede's mother says he's having some trouble at school with bullies. The dad has a sentimental gift for Thede that he hopes will turn the tide.
This story can be read in the preview of The Best Science Fiction of the Year: Volume 1. (32% in)
The narrator tells the story of being with his father in Italy and France when he worked as a jockey. His father had an argument with some people after winning a race in Italy. In France he eventually buys his own horse to train and ride.
This is the third story in the preview of 100 Years of the Best American Short Stories.
Charlie remembers the last time he saw his father. They met for lunch when Charlie was passing through New York as a boy. His father is a successful businessman, and Charlie hasn't seen him in three years. (Summary & Analysis)
"Brazzaville Teen-ager" by Bruce Jay Friedman
Gunther's father is uncommunicative. He believes that his father would open up if he was in a bad situation, but when he gets a potentially fatal disease, Gunther finds that his father remains stoic. Gunther gets the irrational idea that performing an embarrassing, self-esteem damaging act will save his father.
This story can be read in the preview of The Collected Short Fiction of Bruce Jay Friedman. (25% in)
Short Stories About Fathers, Cont'd
"The Treasure of Lemon Brown" by Walter Dean Myers
Greg Ridley is a fourteen-year-old student in danger of failing math. His father tells him he can't play basketball anymore. While out walking one night, Greg takes refuge in an abandoned tenement building. He finds a local homeless man there, Lemon Brown. (Summary & Analysis)
"Simple Arithmetic" by Virginia Moriconi
A teenage son and his divorced parents correspond by mail. He has trouble reaching his mother, and his father nags him about various things.
Doug's father is a rocket man, an astronaut, who's coming home after three months in space. Doug's mother wants her husband to stay home with them, but he always feels the pull of space and leaves again. He is torn between his family and his love of space.
"Simple Recipes" by Madeleine Thien
The narrator relates some memories from his boyhood. He learned a special way of cooking rice from his father. His mother worked at Woodward's. His older brother was more distant with his family. They immigrated to Canada from Malaysia before the narrator was born.
"Midnight Raid" by Brady Udall
The narrator, a six-foot-three Apache Indian, is in the backyard of his ex-wife. He's brought a goat for his son. There's a restraining order against him so he wants to sneak into the house unnoticed. He relates some of his history with his ex.
"The Harness" by Ernest Buckler
Art and David are father and son; David is seven-years-old. They are friends as well, and Art has never whipped his son. David seems keenly aware of his father's moods. One day they fix the fence around the pasture, which tests the boundaries of their relationship.
Short Stories About Fathers, Cont'd
"Cages" by Guy Vanderhaeghe
The narrator is seventeen and has just gotten a suspended sentence for obstructing a police officer. He tells the story of what led to this, including some of his childhood. His dad is a miner, and his older brother Gene gets in trouble a lot.
"The Carnival Dog, the Buyer of Diamonds" by Ethan Canin
Myron Lufkin calls his father, Abe, from medical school and tells him he's not going to be a doctor. Abe doesn't believe in quitting and is stubborn about everything. He believes in a sound and healthy body above all else. We learn about their relationship as Myron grows up.
"A Gentleman's C" by Padgett Powell
An English professor's father is enrolled in his class. He feels his father had been hard on him so he returns the favor by giving him a C.
"The Father" by Hugh Garner
Johnny's father goes with him to a Boy Scout banquet, but his behavior at the event causes some embarrassment.
"Powder" by Tobias Wolff
A father and son are on a skiing trip just before Christmas. The mother wants the boy home on Christmas Eve for dinner. The father assures her he will be back. When it comes time to leave, they try to get a few more runs in.
"Penny in the Dust" by Ernest Buckler
A father gives his son a shiny new penny. The boy plays with it outside, burying it and digging it up again, but one time he can't find it.
Short Stories About Fathers & Daughters
"Morning Rain" by Hisaye Yamamoto
Sadako's father is visiting from San Francisco. They talk at the breakfast table. Her husband has gone to work and the baby is napping. Sadako tries to encourage communication but her father and husband are reluctant. (Summary and Analysis)
Old Dudley leaves his boarding house in the South to live with his daughter in her New York apartment. Dudley is unhappy with the change, and spends a lot of time looking out the window at a geranium on a neighboring windowsill.
This is the first story in the preview of The Complete Stories.
"Itsy Bitsy Spider" by James Patrick Kelley
Jennifer finds out her father, Peter Fancy, is still alive and living at Strawberry Fields. He was an actor who played several Shakespearean roles. He left the family when Jennifer was young. Her mother didn't have bad feeling towards him, and always encouraged her to find him again. The door is answered by a little girl with an unusually mature voice. Jennifer realizes she's a bot.
This story can be read in the preview of the anthology Robots. (26% into preview)
"Rain" by Sangu Mandanna
Anna's mother was killed a few months ago in a car accident. Her aunt Mynah invites her and her father to come visit for a while. They make the trip from England to America, where her aunt lives on Hungry Heart Row, a neighborhood with many food establishments. Anna's relationship with her father has changed due to their grief.
This story can be read in the preview of Hungry Hearts: 13 Tales of Food & Love. (14% into preview)
"Portraits of His Children" by George R. R. Martin
A package is delivered to Richard Cantling's door. It's a painting, obviously from his daughter, Michelle. They've had a falling out, and this is a nice gesture. She had destroyed a self-portrait before making an accusation and storming out. No doubt this is a replacement. Cantling is angered to find the painting isn't of Michelle. It's of someone else he knows very well, although he's never seen the person before.
Some of this story can be read in the preview of Future on Ice. (62% into preview)
Short Stories About Fathers, Cont'd
Maurice Rosenfeld, an actor, returns to his small apartment where he lives with his wife and grown daughter. His wife is out working, so he fixes himself something to eat. His daughter's boyfriend, Ephraim, a plumber, is coming over.
This story can be read in the preview of The Complete Stories. (40% in)
"Likes" by Sarah Shun-lien Bynum
A father scrolls through his daughter's Instagram, trying to get a sense of how she's doing. She doesn't talk to him much. He drives her to physical therapy twice a week for joint problems. Her mood varies, and she doesn't feel like she has friends. She's going to try out for a part in the "Nutcracker."
"Fish" by Jill McCorkle
A dying man's youngest daughter remembers his life, including time they spent together and his depression.
"The Homecoming Stranger" by Bei Dao (Zhao Zhenkai / Shi Mo)
Lanlan is in her mid-twenties when she and her family get the news that Papa has been released from prison after twenty years of being held as an enemy of the state. The Communist Party moves the family into a bigger apartment. Lanlan isn't eager to see her father, feeling alienated from him after so long apart.
"Old Rogaum and His Theresa" by Theodore Dreiser
Mr. Rogaum, a butcher, tells his daughter to get home earlier at night, but she wants to stay out with her friend and two young men of the neighborhood. Mr. Rogaum threatens to lock her out next time.
"Able, Baker, Charlie, Dog" by Stephanie Vaughn
Gemma relates episode from her life, with a focus on her father, Zachary, a military officer. He was an alcoholic, which caused a lot of tension between her parents. He made a point of teaching Gemma lessons he thought would benefit her. Her grandmother also lived with them.
---
I'll keep adding short stories about fathers as I find them.