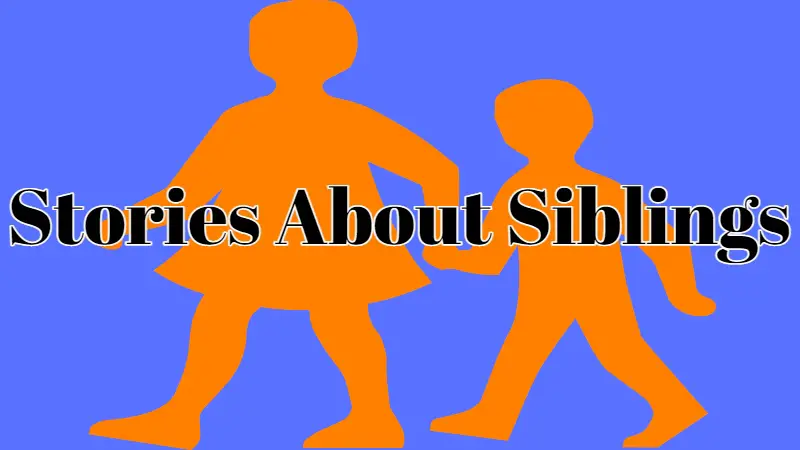 These short stories about brothers and sisters prominently feature interactions between these family members or people who are reflecting on their siblings.
Short Stories About Siblings: Brothers & Sisters
The first section has stories that are about Brothers, the second is Sisters and the last is Brothers and Sisters. There's overlap between the categories, but I've tried to divide them by the most prominent relationship depicted.
Short Stories About Brothers
"Goodbye, My Brother" by John Cheever
A mother and her four grown children and their families gather at Laud's Head, their family-owned summer house. The youngest brother, Lawrence, is the outsider of the siblings. Everyone mingles but Lawrence's presence creates some tension. They talk, drink and play games.
This is the first story in the preview of The Stories of John Cheever.
"Crown Jewel" by Joseph S. Walker
Keenan Beech is driving to his twin brother Xavier's ramshackle house in the country. Xavier has Keenan's White Album—one of them, because Kenan has many more. Keenan made the mistake of telling him about it, and Xavier went and got it himself. He's going to steal it back. Xavier will be out partying tonight.
This story can be read in the preview of Moonlight & Misadventure: 20 Stories of Mystery & Suspense. (26% in)
Johnny and Roy live across the street from a mass of natural rock, known as the rockpile. It's a popular play spot for the neighborhood kids. The boys are warned to stay away from it by their parents, who think it's dangerous. One day while sitting on the fire escape, some of Roy's friends ask him to come with them.
This story can be read in the preview of Going to Meet the Man: Stories. (14% in)
"The Rich Brother" by Tobias Wolff
Pete is stable and successful as a realtor, and looks healthy. He has a family and lots of money. His younger brother, Donald, moves around a lot, sometimes staying at communes, and looks gaunt. Donald writes regularly. When his letters stop, Pete looks into what's happening.
"The Scarlet Ibis" by James Hurst
The narrator, Brother, reminisces about the time a rare bird landed in his family's garden, and about his brother, Doodle, who was physically disabled and mentally challenged.
The narrator, a high school teacher, reads in the paper that his younger brother, Sonny, has been arrested for dealing heroin. Their lives have gone quite differently—Sonny, a jazz musician and drug user, and the narrator who is educated and living in a middle-class neighborhood—so the narrator feels guilt over not having been able to help his brother more.
"The Farmer's Children" by Elizabeth Bishop
Two young boys on a farm have to sleep in the barn to keep an eye on the equipment. Usually the hired hand, Judd, sleeps in the barn, but he is in town on this night.
Short Stories About Sisters
"Half a Moon" by Renée Watson
The seventeen-year-old narrator remembers when her Dad left when she was seven. Her Mom doesn't think she remembers her Dad, but she does. She remembers lots of things from back then. She works at Oak Creek Campgrounds on spring break to help with the bills. She'll be going to college next year, so she wants her last year on the job to be good. When the sixth-grade girls arrive, she recognizes one of them—Brooke, her Dad's daughter.
This story can be read in the preview of Black Enough: Stories of Being Young & Black in America. (19% into preview)
"Twin Study" by Stacey Richter
A woman, along with her twin sister, is part of a study of twins. It's been four years since the last meeting when she saw her sister. She compares herself to her sister.
The beginning of this story can be read in the preview of Twin Study: Stories.
"Why I Live at the P.O." by Eudora Welty
The narrator's sister, Stella-Rondo, comes home with her husband and two-year-old daughter for a visit. The family's communication is dysfunctional, with much petty arguing.
"Maria Times Seven" by Martha Batiz
Doña Toña gives birth to seven healthy baby girls, naming them all Maria. She doesn't sleep for a month as she tries to feed and care for them. People point out that she seems to be getting smaller. The seven Marias have an unusual connection—whatever happens to one seems to happen to all.
Read "Maria Times Seven"
Short Stories About Brothers & Sisters
"The Gay Old Dog" by Edna Ferber
Jo Hertz is a plump, lonely bachelor of fifty. The narrator tells us Jo's story from the age of twenty-seven when his mother died and she got him to promise to put his life on hold until his three sisters were cared for.
This is the first story in the preview of 100 Years of the Best American Short Stories.
Neil Yanicky attends a self-help conference at the Hyatt. The audience wears paper hats colored to reflect how much help they need. A scene that illustrates the forces holding people back is acted out on stage. Tom Rodgers, the founder of the Seminars, tells his story of personal growth and success, which involved getting rid of someone who was holding him back. Neil feels the same way about his sister. (Summary)
---
I hope you found some great short stories about siblings. I'll keep adding short stories about brothers and sisters as I find more.