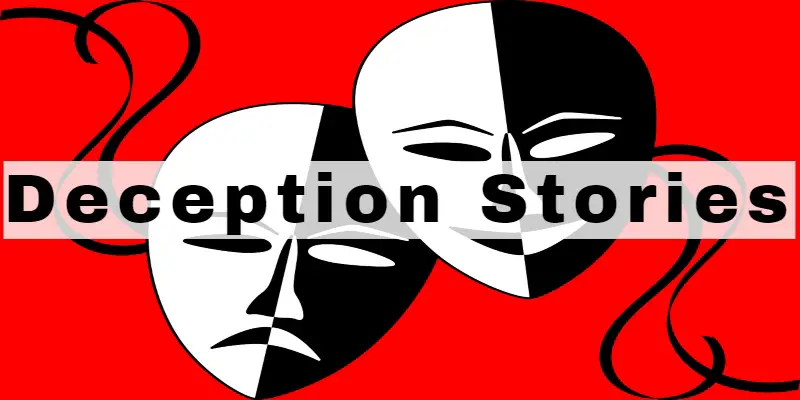 These short stories about deception usually involve a deliberate attempt to deceive, trick, lie to or mislead someone, or the keeping of a secret. The first section has stories where a more deliberate con is being worked. The second section has stories with more general deception, secrets and lies. See also:
Deception Stories: Con Artists & Heists
"Cheap at Half the Price" by Jeffrey Archer
Consuela, a former model, is married to her third husband, Victor, a rich American banker. They have flown to London for Victor to close a big deal and for Consuela to look for a birthday present for herself. Consuela searches the usual high-end stores without success. She finds a new shop with an exquisite item, but the price is steep, even for her husband.
This is the second story in the preview of The Short, the Long and the Tall.
"How Quini the Squid Misplaced His Klobucar" by Rich Larson
The narrator wants Nat to help him rip off Quini the Squid, a man who runs a large criminal empire. They both hate him for different reasons. Nat had a relationship with him that was abusive. The narrator was blamed for someone else's mistake during a job, resulting in a beating and no pay. The dual motives of profit and revenge make it an appealing job for both. Quini is in possession of a valuable piece of art. They'll be able to practice their heist in a virtual environment.
This is the first story in the preview of The Year's Top Hard Science Fiction Stories 5.
"Some Zombie Contingency Plans" by Kelly Link
Soap crashes a party in the suburbs. He talks to an attractive girl, Carly. Soap has been recently released from prison. His friend Mike, who was inside with him, has moved away. Soap thinks a lot about zombies and art. Carly wants to know why he was in prison.
"Some Zombie Contingency Plans" is the first story in the preview of The Living Dead.
"The Cruel Redeemer Lazarus Morell" by Jorge Luis Borges
Lazarus Morell was an evil man who worked near the Mississippi river. He was one of the poor whites during the days of slavery, but he was proud of his "untainted" blood. He engaged in various unethical schemes, but one in particular was shocking in its cruelty.
This story can be read in the preview of Collected Fictions.
"Stuck on You" by Jeffrey Archer
Jeremy met Arabella at a horse race. She gave him a tip that ended up paying out. They're from different social classes, but she asked him to take her to dinner. They're engaged now. Arabella wants Jeremy to do something that he has reservations about. He doesn't want to lose her so he agrees.
This is the first story in the preview of And Thereby Hangs a Tale.
"The Improbable Imposter Tom Castro" by Jorge Luis Borges
Arthur Orton left London as a young man and went out to sea. He was a jovial and gentle idiot. In Sydney, he became acquainted with a servant, Ebenezer Bogle, a moderate and highly intelligent man. They became friends. In 1865, Bogle saw a report in the paper that gave him an idea.
This story can be read in the preview of Collected Fictions.
"The Dog Said Bow-Wow" by Michael Swanwick
A highly enhanced and modified dog, Surplus, arrives in England. He's met by Darger, a man who has a business proposition for him. Over drinks, Darger lays out his plan, which involves an intricately carved box. After coming to an agreement, they set out for Buckingham Labyrinth.
This story can be read in the preview of the anthology Future Crimes. (20% into preview)
"Crown Jewel" by Joseph S. Walker
Keenan Beech is driving to his twin brother Xavier's ramshackle house in the country. Xavier has Keenan's White Album—one of them, because Kenan has many more. Keenan made the mistake of telling him about it, and Xavier went and got it himself. He's going to steal it back. Xavier will be out partying tonight.
This story can be read in the preview of Moonlight & Misadventure: 20 Stories of Mystery & Suspense. (26% in)
Deception Stories, Cont'd
"Circuit City" by J Robert Lennon
The narrator and two coworkers, both named John, suspect that the manager, also named John, is planning to rob the electronics store they work at. They're having a closing out sale, which John decides to make cash-only. It turns out to be a huge success.
This story can be read in the preview of Tiny Crimes: Very Short Tales of Mystery and Murder. (32% in)
"Thieves Fall In" by Anthony Gilbert
Elsie watches a woman, Ada, and a young man, as they get on the bus. The young man helps Ada put her shopping on the rack. When the conductor asks for her ticket, she finds her purse is missing.
This story can be read in the preview of Bodies From the Library 4. (65% in)
"The Celebrated Jumping Frog of Calaveras County" by Mark Twain
Simon Wheeler tells the story of Jim Smiley, a man who would make bets on anything. He had a tenacious dog which had an unusual way of winning fights. He once trained a frog to be an exceptional jumper so he could win bets on it.
This is the first story in the preview of Book of Mark Twain's Short Stories.
"The Frightening Frammis" by Jim Thompson
Mitch is trying to hitchhike back to Los Angeles. He'd recently robbed his wife and some business associates and had nearly twenty thousand dollars. Now, after falling victim to a scam while riding the train, he has nothing. He figures getting back to his wife is probably his best bet. A big Cadillac slows down, and the woman in the passenger seat looks him over. Mitch catches a ride and finds himself with another opportunity.
This story can be read in the preview of Alfred Hitchcock's Mystery Magazine Presents Fifty Years of Crime and Suspense. (13% in)
"The Badger Game" by Lawrence Block
Baron relaxes in a hotel after a successful con. He has a suitcase full of money, and it will be a while before his mark even knows there's a problem. Baron cleans up and goes out for a walk. He spots a group of pickpockets working across the street. He has a good dinner and goes back to the hotel. His mind is on alcohol and women.
This story can be read in the preview of One Night Stands and Lost Weekends. (53% in)
The narrator is a real estate agent. He talks about how those in his profession get treated badly by their clients, more so than those in any other line of work. One of his clients closed their sale privately and then refused to pay the commission. His current problem is selling Mrs. Hellbrunner's house—a huge, expensive place complete with a drawbridge and moat. He's visited by Colonel and Mrs. Bradley Peckham who are interested in the Hurty place, which is also expensive.
"Taste" by Roald Dahl
At their dinners, a wine connoisseur and his host make small bets on whether the expert can identify the wine being served. At one dinner, the betting escalates as both men feel they can't lose.
"Parson's Pleasure" by Roald Dahl
An antiques dealer works a con to buy valuable items from unsuspecting country dwellers. On one trip, he makes the find of his life and tries to get it for next to nothing.
"The Umbrella Man" by Roald Dahl
While waiting for a taxi, a mother and daughter are approached by an older man who wants to sell them an expensive umbrella, cheaply. He explains that he's forgotten his wallet and just needs cab fare to get home.
Deception Stories, Cont'd
"Checkmate" by Jeffrey Archer
A beautiful woman shows up at a chess tournament, sparking a lot of interest among the competitors. The club captain admires her. She gets paired up with the former captain, an old man now past his playing prime. The current captain makes a point of talking to her.
All 4 of the Jeffrey Archer stories on this page are in The Collected Short Stories. Archer has many clever stories with twists and deception. Another excellent book is The New Collected Short Stories.
"You'll Never Live to Regret It" by Jeffrey Archer
David decides to leave everything to Pat. He plays it cool with the insurance agent so it won't look suspicious. The insurance company requires a medical check from their own doctor.
"Jeff Peters as a Personal Magnet" by O. Henry
Jeff Peters relates a scheme he was involved in while posing as a medicine man. After being shut down by the constable, he meets Andy, a man with a similar trade. They want to go in on something together. Jeff gets an emergency summons from the mayor; he is sick and the local doctor is out of town.
"The Loophole" by Jeffrey Archer
Philip and Michael are having lunch at the Haslemere Golf Club when their conversation becomes heated. Michael is unemployed, having lost his most recent job amid some scandal. Michael defends himself while Philip points out some of his suspicious behavior. Their argument gets the attention of the club president.
"The Ooley-Cow" by Charles E. Van Loan
Perkins is a retired, rich man, who takes up golf to get some exercise. He's given the nickname "Ooley-cow" because of his similarities to a cow.  He's immediately noticed by Uncle Billy and Old Man Sprott, two confidence men. They're accomplished players, but they keep that as quiet as possible. They play with Perkins, always making side-bets on the game. They milk him for a lot of money. Eventually, something makes Perkins suspicious.
Read "The Ooley-Cow"
Other Stories of Deception, Lies or Secrets
"Mr. In-Between" by Walter Mosley
Master Vincent meets with Clive Ford about a job on the recommendation of his mentor, Crow. A large sum of money is owed and the debtor wants to pay but remain anonymous. Vincent's job is to play in a high-stakes poker game in Brooklyn and win. The game has been fixed so the money will go to him and then to the client, minus Vincent's fee.
This story can be read in the preview of Dead Man's Hand: Crime Fiction at the Poker Table. (21% in)
"Shingles for the Lord" by William Faulkner
The narrator's father is up before daylight to borrow some tools from Mr. Killegrew. It takes him a long time to get back because the old man was out fox hunting. His father agreed to help reroof the church this morning. Now they're late. When they arrive, they find the others waiting. There's lots of talk about how much time they've lost. There's also a discussion about who's going to be responsible for making up the lost work.
This story can be read in the preview of Collected Stories.
"Heavy Insurance" by Theodore Sturgeon
Phil is brought down a gloomy corridor to talk to an acquaintance, Al, through a grated window. Al explains what led him to this point. He was in debt and not earning much money when he saw an opportunity.
"Heavy Insurance" can be read in the Amazon preview of The Ultimate Egoist Volume 1: The Complete Stories of Theodore Sturgeon.
"In the Upper Room" by Terry Bisson
A man prepares to experience a demo version of a virtual vacation. Last year he went on the Amazon Adventure. This year he notices one called Victoria's Palace. In the demo, there's a beautiful woman. Her clothing changes when he enters different rooms, but it's always skimpy. The program isn't complete, so he can get a deal on a partial version.
"In the Upper Room" is the first story in the Amazon preview of In the Upper Room and Other Likely Stories.
"Birds of a Feather" by Robert Silverberg
The narrator and his small staff are on MacTavish IV, recruiting for their zoo on Earth. Regulations limit the circumstances under which aliens can visit Earth. There's a long line of aliens who want a spot on the roster. The narrator runs a tight business and gets his employees as cheaply as possible. One of the interviewees is Gorb of the planet Wazzenazz XIII. He looks and sounds exactly like a human.
This story can be read in the preview of The Robert Silverberg Science Fiction Megapack. (44% into preview)
"The Pelican" by Edith Wharton
A woman gives lectures to support herself and child. Her lectures are of dubious quality, and her audience is more interested in them as social events.
This story can be read in the preview of The Collected Short Stories of Edith Wharton.
"The Sound of Secrecy" by Martin Edwards
Wilf sees Lina at the funeral of their old friend, Edward. He can recognize her even after all these years. Lina drove Edward to murder. Wilf thinks back to when they were all together at Bletchley Park, a code-breaking facility used during WWII.
This story can be read in the preview of The Book of Extraordinary Historical Mystery Stories. (17% in)
Deception Stories, Cont'd
"Any Other" by Jac Jemc
Bethany is seated in a coffee shop when Keith introduces himself. He tries to convince her to sell a family heirloom, which they've previously discussed. She's still undecided.
This story can be read in the preview of Tiny Crimes: Very Short Tales of Mystery and Murder. (48% in)
"The She-Wolf" by Saki
A man at a dinner party says he has supernatural powers, so some of the guests decide to play a trick on him.
This is the first story in the preview of Complete Humor Satire of Saki.
"Baxter's Procrustes" by Charles W. Chesnutt
The Bodleian Club contains mementos from famous authors and rare books, many of which it printed itself. Its members are avid book collectors. The narrator tells us the story of the book that brought the highest price at auction in the club's history. It was Procrustes, written by one of their own members, Baxter.
This story can be read in the preview of Black Voices: An Anthology of African-American Literature. (Pg 4)
"The Hounds of Fate" by Saki
Martin Stoner is a weary, hungry man wandering aimlessly. He happens upon a farm-house. Thinking he might buy a drink with his last coin, he approaches the door. Before he can knock, he's greeted by an old man who addresses him in a surprising way.
This story can be read in the preview of The Hounds of Fate: 13 Tales of Terror. (Pg 1)
"Mr. Squishy" by David Foster Wallace
A Focus Group is gathered in a nineteenth-floor conference room. The facilitator thanks them for their help in determining what new products get made. On the table is a pyramid of Felonies!, dense, all-chocolate snack cakes. There are many layers of observation and testing going on.
Some of "Mr. Squishy" can be read in the Amazon preview of Oblivion: Stories.
"The Open Window" by Saki
A man is visiting the country for some relaxation. While waiting to be introduced to all the members of the household, a young girl tells him the story of their tragic family history. (Summary & Analysis)
The narrator tells the story of his grandfather who lived in a village that was controlled by the Balek family. The people would bring their flax, mushrooms and herbs to Frau Balek, who would weigh everything on the only scale in the village, and then pay them. (Summary)
The narrator drops in to see Emma, hoping that Mirabella wouldn't be home, but she was. Mirabella was unhappy staying with her own sister, Arabella, and Emma took her in. That was five years ago. Emma was happy and engaged with her interests, but Mirabella's presence interferes, preventing her from taking trips and doing other things. Emma's health isn't as good now, and her doctor has advised a better climate, but she won't put Mirabella out.
Deception Stories, Cont'd
"The Mildenhall Treasure" by Roald Dahl
Gordon Butcher rides his bike to the farm where he left his tractor the day before. Ford hired him but the land belongs to a man named Rolfe. The ground has to be deep-plowed for sugar-beet, which means going down ten to twelve inches. After many hours of work, the plough strikes something and Gordon has to stop to investigate.
Robert and Katherine Tennyson were out with a business friend last night and had a lot to drink. Their three-year-old, Deborah, is allowed to come see them on Sunday morning. Soon after, the cook brings the Tennyson's their breakfast and tells them Mrs. Harley is there to take Deborah out. Deborah doesn't talk much about how she spends her days away from home, which benefits Mrs. Harley. Several times, they've gone to the movies instead of staying outside. Sometimes, on Sundays, she leaves Deborah with Renée Hall, a family friend.
"Two Gallants" by James Joyce
Two men, Lenehan and Corley, walk around Dublin as Corley talks about a maid he is seeing. She takes small items for him from her employer. The men have a plan to get her to steal some money for them.
"The Ant and the Grasshopper" by Somerset Maugham
As a boy, the narrator learned the lesson of the ant and the grasshopper, but he didn't agree with it. The lesson comes to his mind when he sees George Ramsay at a restaurant. There's been more trouble with his brother, Tom, who abandoned his responsibilities and borrows without repaying.
Read "The Ant and the Grasshopper" 
"The Secret of Life, According to Aunt Gladys" by Bruce Coville
When a woman is told her brother called, she gets pale. Her son didn't know she had a brother. Her husband only found out about him from a picture. He's coming to visit. The boy looks forward to having an uncle. The mother wants to avoid the visit.
"The Secret of Life, According to Aunt Gladys" is in Dirty Laundry: Stories About Family Secrets.
"My Lady Love, My Dove" by Roald Dahl
A wealthy couple has guests for the weekend to play bridge. The wife has the idea that they should bug their guests' room.
"Mrs. Bixby and the Colonel's Coat" by Roald Dahl
Mrs. Bixby is given an expensive mink coat by her lover, but she doesn't know how she can explain it to her husband. She comes up with a plan to keep it.
Read "Mrs. Bixby and the Colonel's Coat"
"The District Doctor" by Ivan Turgenev
A doctor makes an urgent house call where a beautiful young woman is in a bad condition. He tries to reassure her family even though a recovery is unlikely.
Deception Stories, Cont'd
"Mrs. Packletide's Tiger" by Saki
Mrs. Packletide wants to shoot a tiger to outshine a rival. She plots to do it in an easy way, but something goes awry.
"I'm a Fool" by Sherwood Anderson
A nineteen-year-old horse groomer buys some fancy cigars and sits in the grandstand at the races. He meets a young woman and they spend some time together.
"Everything is Green" by David Foster Wallace
A man and woman, possibly married, are having a disagreement. He thinks she has done something and she denies it.
"Glove Purchase in Gibraltar" by Mark Twain
The narrator recounts his glove purchase from the previous night. An attractive saleslady shows him gloves that are nothing like what he wants, but her compliments make it hard for him to refuse them.
Read "Glove Purchase in Gibraltar"
"Child's Play" by Alice Munro
Marlene, the adult narrator, tells the story of her time at camp with her friend Charlene when they were about ten-years-old. While sharing information with each other, Marlene tells her about Verna, a girl two or three years older who moved in next to her. Verna was different; she was in a special class at school. Marlene didn't like her. Some unstated tragedy had occurred in her childhood.
"The Rats in the Walls" by H. P. Lovecraft
The narrator restores his ancestral home, Exham Priory, in England. He recounts some of his family history, including an ancestor who was supposedly cursed by God, and tales of murder and infestation by bats and rats. After moving in he hears sounds in the walls.
"The Man That Corrupted Hadleyburg" by Mark Twain
Hadleyburg is an honest and upright town. A mysterious stranger is holding a grudge against a few citizens, but rather that seeking revenge against the individuals he wants to corrupt the whole town. He launches his scheme by dropping off a sack of gold coins at the Richards' home. A note explains that the coins will be awarded to whoever can repeat the wise advice that was given to the stranger years ago.
Read "The Man That Corrupted Hadleyburg"
"A Temporary Matter" by Jhumpa Lahiri
Shoba had a miscarriage six months ago, three weeks before she was due. She and her husband Shukumar get a notice from the electric company saying their power will be off for an hour for five consecutive evenings. While eating in candlelight, they decide to play a game where they will reveal something previously kept secret from each other.
Deception Stories, Cont'd
"Spotted Horses" by William Faulkner
Flem Snopes and a Texan bring some ponies into town to sell. The Texan puts on an auction but it starts slowly. He is a seasoned manipulator, so he finds a way to get things going.
"Chunnel Vision" by Jeffrey Archer
The narrator visits his friend Duncan when he's in New York. The narrator is promoting his new novel while Duncan has an idea for one. They go out to dinner to talk about their writing. They are joined by a woman Duncan is breaking up with.
"The No-Guitar Blues" by Gary Soto
Fausto wants a guitar more than anything. When he finds a lost dog, he is sure there will be reward money that he can use for a guitar, especially if he embellishes the story.
"Madame Zilensky and the King of Finland" by Carson McCullers
Mr. Brook, head of the music department at a New York college, hires Madame Zilensky, a composer and teacher. She's a bit shabby, and her sons are unusual, but her work is excellent. She and Mr. Brook are quite different.
"Absolution" by F. Scott Fitzgerald
Rudolph, an eleven-year-old boy, goes to see Father Schwartz. He wants to confess a sin. He relates the events of last Saturday, when his father ordered him to go to confession. He ended up lying. With this guilt on him mind, he concocted a plan to avoid going to communion the next day.
"Putois" by Anatole France
Zoé and Lucien Bergeret, siblings, reminisce about Putois, the gardener from their childhood home. They recite a long list of features, seemingly word for word, from memory. Lucien's daughter, Pauline, overhears and asks why they know this description by heart. They tell the story of this important figure, who, by the way, didn't really exist.
"The Human Chair" by Edogawa Rampo
Oshiko is a popular writer. Every day she receives letters from admirers and amateur writers looking for feedback. She takes the time to read them all. She starts reading a  manuscript, but it begins with "Dear Madam"—perhaps it's a letter instead. A man, a chair-maker, says he has to confess a terrible crime. He's been in hiding for months, but a change in his thinking impels him to reveal his secret.
---
I'll keep adding deception stories as I find more.