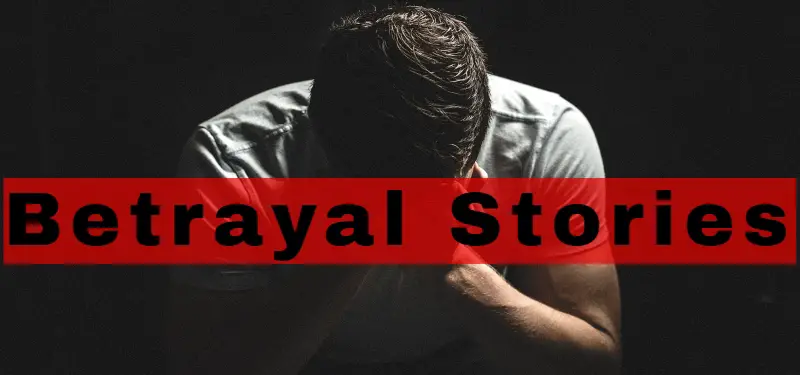 The betrayal stories on this page have characters who betray ideals, values and other people. See also:
Betrayal Stories
I hope you find some great betrayal stories here.
If You Want Something Done Right . . . | Sue Grafton
Lucy is picking up some medication for her husband, Burt, a successful divorce attorney. He needs to stock up while Lucy is away. They were going to go on vacation together for their twenty-fifth anniversary, but Burt pulled out from fear of catching something in India. He also has a history of infidelity. She reaches her breaking point when she hears some news from their own estate attorney.
"If You Want Something Done Right. . . " can be read in the Amazon preview of Deadly Anniversaries: A Collection of Stories From Crime Fiction's Top Authors.
Desperate Men | Louis L'Amour
Four men in Yuma prison get an opportunity. An earthquake has left a hole in the perimeter wall. An escape is still difficult, and not dying in the desert is even more difficult. They talk about how they could get guns, horses and money.
"Desperate Men is the third story in the Amazon preview of The Collected Short Stories of Louis L'Amour: Volume 1.
"In the Cemetery Where Al Jolson is Buried" by Amy Hempel
The narrator visits her friend, who is dying of cancer, in a California hospital. The friend wants to talk about trivial things. The narrator has waited two months to visit. (Summary & Analysis)
Read "In the Cemetery Where Al Jolson is Buried"
"Blood Brothers" by Richard Chizmar
Hank gets a call in the early morning from his brother, Bill. They haven't talked in years; Bill has been in prison. He's in trouble, and asks Hank to come meet him at the bridge at the creek, an old childhood hangout.
This story can be read in the preview of A Time for Violence: Stories With An Edge. (18% into preview)
A man tells a story to an acquaintance about the events during the week before he married. He became fixated on a woman who ran the newspaper stand that he frequented.
This story can be read in the preview of 100 Great American Short Stories. (31% into preview)
"In the Garden of the North American Martyrs" by Tobias Wolff
Mary, a history professor of fifteen years, loses her job when her college closes. She gets an offer from a former colleague, Louise, to interview at a college in New York. Mary accepts the offer, but finds Louise's behavior to be unprofessional.
This story can be read in the preview of Our Story Begins: New and Selected Stories. (17% in)
Betrayal Stories, Cont'd
Lili Rose wasn't allowed to return home until her father was weakened and dying at seventy-three. She was exiled at thirteen, sent to live with an aunt and uncle. She had four older brothers who were often in trouble. Things changed when a local boy was attacked and beaten, and died soon after from his injuries. Lili Rose overheard some conversation. She made a decision that alienated her from her family.
This story can be read in the preview of I Am No One You Know: And Other Stories. (9% in)
"Bug Eater" by Nathan M. Beauchamp
The tribe's men haven't returned after three days and everyone knows there won't be any food. Angi has been breeding generations of beetles, looking for a sustainable food source. She's getting closer, but no one appreciates her work. They're going to have to draw lots. Angi's grandfather urges her to leave while she can.
This story can be read in the preview of OCEANS: The Anthology. (16% in)
Mateo Falcone | Prosper Merimee
It is seventeenth century Corsica in a dangerous region. Fortunato, a ten-year-old boy, is outside alone when he hears gunshots and a wounded man appears. He knows Fortunato's father and asks for help to hide from pursuing soldiers.
Read here (fourth story in Amazon preview)
"Portraits of His Children" by George R. R. Martin
A package is delivered to Richard Cantling's door. It's a painting, obviously from his daughter, Michelle. They've had a falling out, and this is a nice gesture. She had destroyed a self-portrait before storming out. No doubt this is a replacement. Cantling is angered to find the painting isn't of Michelle. It's of someone else he knows very well, although he's never seen the person before.
Some of this story can be read in the preview of Future on Ice. (62% into preview)
"Condensed Milk" by Varlam Shalamov
The narrator is in a Russian labor camp working in a mine. He envies Shestakov, an engineer-geologist who works in the office. While longing for some bread, the narrator is approached by Shestakov. They walk behind the barracks to talk. Shestakov has an escape plan. (Summary & Analysis)
Read "Condensed Milk"
"The Bishop's Silver" by Victor Hugo
While in town running errands, Madame Magloire, the housekeeper, hears about a vagabond who's been spotted and is probably up to no good. She tells the bishop but he seems unconcerned. There's  a loud knock at the door. A tired but fierce looking man enters. Madame Magloire and Mademoiselle Baptistine, the bishop's sister, are frightened. The man is a convict, released only four days ago. He can't find an inn that will take him due to his past. He's looking for a place to stay the night.
This story is an excerpt from the novel Les Misérables. 
Betrayal Stories, Cont'd
Robert and Katherine Tennyson were out with a business friend last night and had a lot to drink. Their three-year-old, Deborah, is allowed to come see them on Sunday morning. Soon after, the cook brings the Tennyson's their breakfast and tells them Mrs. Harley is there to take Deborah out. Deborah doesn't talk much about how she spends her days away from home, which benefits Mrs. Harley. Several times, they've gone to the movies instead of staying outside. Sometimes, on Sundays, she leaves Deborah with Renée Hall, a family friend.
"A Great Day" by Frank Sargeson
Two friends who are out of work go on a fishing trip. They talk about their situations, and a girl who they both know.
"The Death of a Bachelor" by Arthur Schnitzler
A doctor is called to an old friend's place by a servant. He's near death. The servant has to summon to other men as well, a merchant and an author. When the doctor arrives, he finds it's too late—his friend died fifteen minutes ago. The two other men arrive shortly after. After finding out what happened, they begin to wonder why they were called.
Read "The Death of a Bachelor" (PDF Pg. 4)
The Chrysanthemums | John Steinbeck
Elisa is in the garden working on her chrysanthemums when a traveler pulls in looking for work. They develop a rapport and she pays him to do a little job. He expresses interest in her flowers.
Africans | Sheila Kohler
The narrator tells the story of she and her sister, Mkatie, growing up, going to boarding school, and her sister's eventual engagement. Along the way, the family's servant, John—a Zulu, a people known for their loyalty—is an important part of their lives. When Mkatie gets married, John moves in with her and her husband.
Gorilla, My Love | Toni Cade Bambara
The young narrator tells us that Hunca Bubba (Uncle Bubba) is going to start using his proper name. He has met a woman and is going to marry her. The narrator remembers a time when the kids in the family went to see a movie called Gorilla, My Love; they were disappointed when the theatre showed something else instead.
The Difference | Ellen Glasgow
Margaret Fleming receives a letter from a woman, Rose, who says she is in love with Margaret's husband, George, and that George loves her, too. A friend of Margaret's, Dorothy, comes over and they have a debate about philandering husbands and love.
Laura, an American, is in Mexico City after the Mexican Revolution working for the revolutionary cause and its leader, the socialist Braggioni. Braggioni indulges himself and tries to seduce Laura. Her religious and revolutionary ideals are tested.
Betrayal Stories, Cont'd
Naming the Names | Anne Devlin
The narrator, Finn, is Catholic, lives in Ireland, and works at a used book store. She had met a young Protestant man at the book store, and they began a love affair despite them both having other attachments. There are sectarian conflicts in the city between Catholics and Protestants. Finn arranges to meet the Protestant man in the park.
The Cloak | Isak Dinesen
A master sculptor, Leonidas Allori, is arrested for rebellion and high treason. His pupils are devastated, except for one, his favorite, Angelo. He is preoccupied with his master's wife, Lucrezia.
The Memory Priest of the Creech People | Paul Theroux
The Creech choose one person to be Memory Priest—a man who remembers all the names and dates of the people, and entertains and informs them with their lore.
This legend seems like it could be an allegory or parable, but I haven't been able to figure out what it represents.
Read "The Memory Priest of the Creech People"
Strip Battleship | Amy Knox Brown
Michael goes to Miller's store to buy a wedding present for his pledge father, Tom. Tom's fiance, Ann, works there, but it is her day off. It turns out Ann is filling in for someone. It is revealed that Michael has been snubbed by Tom—he and his fraternity brothers have gone to a stag party in Kansas City. Michael thinks about what might have happened between them. He and Ann make plans to get a drink.
Simon and Jeanne are newly married. Simon plans to use Jeanne's large dowry to buy a legal practice. They take a trip to Paris to enjoy each others company and to make the purchase.
Betrayal Stories, Cont'd
Vengeful Creditor | Chinua Achebe
The African government is now offering free primary education, causing a lot of servants and lowly paid workers to return to school. The Emenikes, educated and affluent, are upset when they lose some servants, including their nurse. Things turn around for them when the government suspends the free program due to higher than expected enrollment.
The Outlaws | Selma Lagerlöf
Berg kills a monk and flees into the woods. He develops extreme physical abilities from his new, challenging environment. Tord, an accused thief, has also fled to the woods. They end up in a cave. Tord looks up to Berg. They get by in the forest by hunting, fishing, and gathering whatever they need.
The narrator meets an Englishman while drinking. He has a terrible scar on his face. The narrator asks him how he got the scar. The man reveals he is actually Irish. He tells the story of his time with a group who were fighting for independence. They were joined by a new man, John Vincent Moon, who was inexperienced and immature.
Fat Farm | Orson Scott Card
Mr. Barth, an immensely fat man, enters Anderson's Fitness Center. The receptionist is surprised to see him back so soon—it's only been three years since his last visit. Mr. Barth is a man of pleasure. Food is a major one, but his weight is now interfering with some of his other enjoyments. He's back for his usual procedure, which is illegal, expensive and secretive.
Old Man Morgan, a hoodoo practitioner, is well known by the black community in Eatonville. There are many stories of his curses and kills. He's most renowned for what he did to Beau Diddely, who was stuck on Docia, a chamber-maid, for a while. When things got serious, Beau's attitude changed.
Read "Black Death"
---
I hope you found a great short story about betrayal.