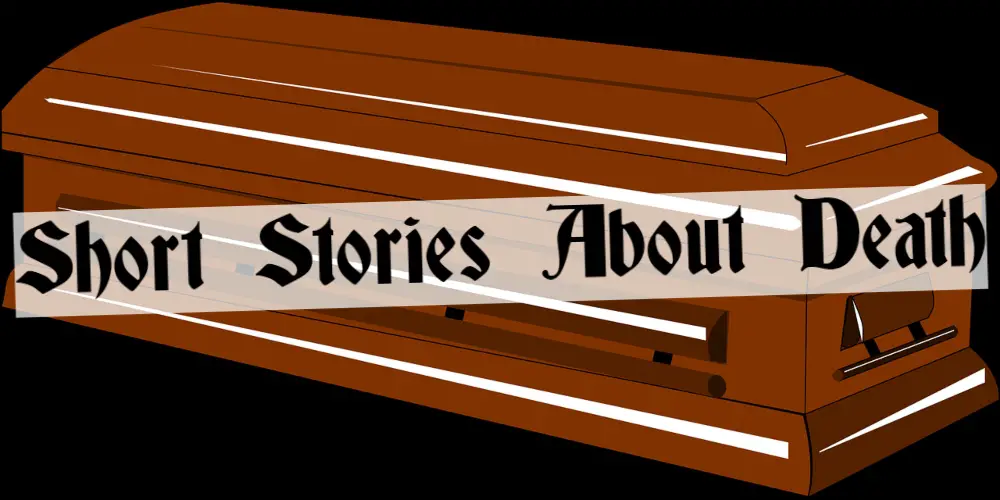 In these short stories about death, the death can be figurative or literal, however, in most cases there is a physical death, or someone is concerned about dying. Often, the effect of death on those still living is explored. In other stories a character is dealing with a significant loss. See also:
Short Stories About Death & Loss
"The Knowers" by Helen Phillips
The narrator is one of those who wish to know. This upsets Tem, her partner, who says it affects him too. The technology has been mastered and it's not very expensive. She decides she's going to do it. When she returns two hours later, Tem is anxious to find out what happened.
This story can be read in the Amazon preview of Some Possible Solutions: Stories.
"In the Cemetery Where Al Jolson is Buried" by Amy Hempel
The narrator visits her friend, who is dying of cancer, in a California hospital. The friend wants to talk about trivial things. The narrator has waited two months to visit. (Summary & Analysis)
Read "In the Cemetery Where Al Jolson is Buried"
"Wild Horses" by Rick Bass
Karen's fiancé, Henry, died the day before they were to be married. He was on a railroad trestle drinking with some friends, including his best friend, Sydney. Henry dove in. His body was never found. Sydney, who breaks horses, visits Karen sometimes. In particular, he goes over once a month, and she hits him until she can't anymore. This relieves her feelings for a while, but they always come back.
This story can be read in the preview of For a Little While: New and Selected Stories.
"The Visit" by Ray Bradbury
A woman arranges a visit with a reluctant young man. He could feel her grief through the phone, and it's an unusual situation. They're both unsure how to handle it. The young man is alive because of her son.
This story can be read in the preview of We'll Always Have Paris: Stories.
A Southern spinster, Emily Grierson, has died. She had been a recluse, so the townspeople are curious about her and her house. The narrator recounts episodes from her life. (Summary & Analysis)
This story can be read in the preview of A Rose for Emily and Other Stories. (18% into preview)
On the African savannah, a man's leg is rotting with gangrene. His wife tries to comfort and encourage him. As he waits for death, he thinks about his life.
This is the third story in the preview of The Complete Short Stories of Ernest Hemingway. (62% into the preview)
Short Stories About Death, Cont'd
Maria and Juan are a young married couple. Maria works hard, is frugal, and is respected in her Mexican town. She is pregnant. Although she doesn't believe in the remedies of the local medicine-woman, Maria feels she needs honey to prevent her child from being "marked" in some way. She goes to her place, where a young beekeeper, Maria Rosa, also lives.
This is the first story in the preview of Collected Stories and Other Writings.
Old Mr. Woodifield visits his former boss at work. When Woodifield mentions their sons who were killed in World War I, the boss becomes disturbed.
This is the second story in the preview of 50 Greatest Short Stories.
"The School" by Donald Barthelme
A teacher relates all of the experiences with death that his class has in a single school year.
This is the second story in the preview of The Scribner Anthology of Contemporary Short Fiction. (41% into preview)
"The Garden-Party" by Katherine Mansfield
The Sheridans, an upper-class family, are making preparations for a garden party. Before it starts, they hear that a working-class neighbor has just died.
This is the first story in the preview of 50 Great Short Stories.
"Taking Care" by Joy Williams
Jones, a preacher, visits his wife in the hospital. She has a problem with her blood. He is also caring for his baby granddaughter, as his daughter has left her with him to go to Mexico to deal with her own problems. The narrative also shows the beginnings of his wife's and daughter's difficulties.
This is the first story in the preview of The Visiting Privilege: New and Collected Stories.
A young boy learns of the death of a priest, Father Flynn, who had been a mentor to him.
This is the first story in the preview of Dubliners.
Stories About Death, Cont'd
"Cargo" by E. Michael Lewis
Tech Sergeant Davis, a Loadmaster, is assigned to a crew headed for Jonestown to evacuate Americans. They'll be taking a C-141 StarLifter, the largest freighter and troop carrier in the military. As Loadmaster, his job is to secure the cargo. There's a last-minute change of plans—the Med crew won't be accompanying them. When they arrive at the airport, there are rows of coffins.
This story can be read in the preview of Flight or Fright: 17 Turbulent Tales. (30% into preview)
"The Man to Send Rain Clouds" by Leslie Marmon Silko
On an Indian reservation, an old man is found dead from natural causes. Two younger men prepare his body for burial according to their customs. One of their wives suggests that the local Catholic priest should be invited to take part in the ceremony.
This story can be read in the preview of The Man to Send Rain Clouds: Contemporary Stories by American Indians.
"Sleeping" by Katharine Weber
Harriet, a young girl, is babysitting Charles. His parents tell her that he won't be any trouble, he will sleep the whole time, and she needn't even open his bedroom door to look at him. (Analysis)
This story can be read in the preview of Sudden Flash Youth: 65 Short-Short Stories. (88% in)
A man who lives in the wilderness prepares his wife's body for burial. There is an incident that night, which the narrator claims explains the mystery of why his cabin had a boarded window. (Summary)
This story can be read in the preview of 100 Great American Short Stories. (80% into preview)
Marissa is driving to Green Harbor on a road that she drove many times with Jonathan. Now, she thinks about her life without him. She doesn't want to speculate about his death. She's on her way to meet Dale. She's looking forward to dating again. Thoughts of Jonathan can be overwhelming, but Marissa's determined to start a new life.
This story can be read in the preview of Twisted: The Collected Stories of Jeffrey Deaver. (22% in)
"My Heart is Either Broken" by Megan Abbott
Lorie is dealing with the loss of her daughter, Shelby, but in a way that people disapprove of. The police and reporters are still asking questions. Lorie and her husband have told the story of Shelby's disappearance many times. There are some inconsistencies with eyewitness accounts.
This story can be read in the preview of The Best American Mystery Stories 2014. (31% in)
Short Stories About Death, Cont'd
"Gardener of Heart" by Bradford Morrow
The narrator returns to his childhood home for the funeral of his twin sister, Julie. He left thirty years ago to pursue a career in archaeology; Julie stayed there her whole life. They were best friends as children, and they always stayed in touch by phone and letters. They had a pact as children that whoever died first would somehow try to wait for the other.
"Gardener of Heart" is in The Uninnocent: Stories.
A boy is in mourning over the death of his mother while his father, Sheppard, is focused on helping others. He takes a special interest in a certain troubled child, Rufus Johnson, inviting the boy to stay in their home. Sheppard believes Rufus has great potential and that he can save him. (Summary)
"Exchanging Glances" by Christa Wolf
A family of refugees travels the German countryside at the end of WWII. They're trying to make new lives for themselves in West Germany. The story is narrated by a young girl.
"The Masque of the Red Death" by Edgar Allan Poe
Prince Prospero and his nobles are gathered in an abbey to avoid a deadly plague that is decimating the general population. The prince holds a masquerade party to entertain his guests and pass the time.
"The Story of an Hour" by Kate Chopin
A woman receives the news that her husband has been killed in a train accident. She processes the news over the next hour, experiencing a range of emotions.
Dr. Groszinger is assisting with an experiment. A manned spacecraft, the first of its kind, is two thousand miles above earth. The lone occupant, Major Allen Rice, was selected from a hundred volunteers for his strength, stoicism, and work ethic. He's as perfect for the mission as the ship he inhabits. Groszinger and the project head, Lieutenant General Franklin Dane, are waiting for Rice's first progress report. They're delighted to make contact with him, but their mood quickly changes. Rice sounds hesitant and soft and is distracted by voices that Groszinger and Dane can't hear.
Stories About Death, Cont'd
"A Shocking Accident" by Graham Greene
Jerome, a nine-year-old boy, is called to the office at school and learns of his father's death. He was killed in the street when a pig fell on him.
"Dancing to the Shipping Forecast" by Dan Powell
The narrator is in a seaside house waiting for someone to come home. Neither the narrator nor the man's family has heard from him since he left.
"Last Night" by James Salter
Marit, a woman dying of cancer, asks her husband, Walter, to help her die quickly. He agrees to give her an overdose of her medication. They have one last night out with a family friend, and then prepare for the end.
A dead woman's adult children, a judge and a nun, sit vigil and read her old letters, which reveal a secret from her past.
"Resurrection of a Life" by William Saroyan
The narrator remembers his life as a paperboy. It was during WWII, so he yelled out the headlines to passersby. His family was poor and he stopped going to school early on.
"The Death of Ivan Ilyich" by Leo Tolstoy
Ivan Ilyich lives simply, focusing on making advancement at work as he's not eager to be around his family. One day while hanging curtains, he falls and hurts his side. When he gets it checked out, the doctor has bad news.
This story is a novella.
Read "The Death of Ivan Ilych"
Short Stories About Death, Cont'd
"Odour of Chrysanthemums" by D. H. Lawrence
The Bates's live in a mining town, and Mr. Bates works at the mine. Mr. Bates is late for supper one evening, so his wife assumes he's drunk and they start without him. After some time passes and he still hasn't come home, she goes looking for him.
"Laura" by Saki
Laura, who expects to die soon, believes she will be reincarnated as something suitable to her behavior and personality, probably an otter.
"The English Pupil" by Andrea Barrett
A famous botanist, Carl Linnaeus, is old and suffering the effects of several strokes. He thinks back on his family, his life, and his students.
"Death" by Dorothy Richardson
An old woman thinks about her life, and experiences pain while on her deathbed.
Two women, married to two brothers, receive the news that their husbands have been killed on consecutive days.
"An Angel in Disguise" by T. S. Arthur
A woman with a bad reputation in her town dies in a drunken fit. The townspeople all begin to wonder what will be done with her three children.
"The Dead Man" by Horacio Quiroga
A man is out working in his banana plantation when he falls on his machete.
"Country Life" by Emil Sher
A couple moves to the country to raise their young daughter, Casey. She becomes friends with an elderly neighbor, Mr. Wiley. They spend lots of time together outside. Mr. Wiley stops by to give them something Casey gave him for Thanksgiving. They're going to be away for a week.
Read "Country Life"
Stories About Death, Cont'd
"The Stone Boy" by Gina Berriault
Early one morning, nine-year-old Arnold goes out with his fifteen-year-old brother Eugie to pick peas. Arnold takes his gun with him to shoot ducks. As he passes through a fence, his gun gets stuck; he jerks it free, causing it to go off.
"Redemption" by John Gardner
Young Jack Hawthorn accidentally runs over and kills his brother with a tractor and cultipacker (a machine that crushes and smooths the ground) on their farm. Each member of the family tries to come to terms with the death.
"The Half-Skinned Steer" by Annie Proulx
Mero Corn is informed that his brother, Rollo, has been clawed to death by an emu. Mero, a retiree, decides that he will drive from Massachusetts to Wyoming for the funeral. On the way, he thinks about his father's girlfriend, who, years ago, had told him a disturbing story about a luckless rancher and a half-skinned steer.
"Lullaby" by Leslie Marmon Silko
Ayah, an elderly Native American woman, reminisces about the losses she has experienced in life.  She remembers getting the news that her son, Jimmie, had been killed in the war. She also remembers a tragic day involving her two youngest children.
"The Living" by Mary Lavin
Two young boys talk about how many dead people they've seen. Realizing that a wake is being held in town, they decide to go and try to see the body.
"The Burial" by St. John Ervine
Mourners are gathering for the funeral procession of a young woman who drowned. They talk about how terrible it is and the conversation also turns to more personal, practical matters.
"The Moths" by Helena Maria Viramontes
The narrator tells the story of when she was fourteen and her grandmother, Abuelita, asked her for help when she started to deteriorate. She agreed because her grandmother often looked out for her. The narrator didn't feel close to her immediate family.
Short Stories About Death, Cont'd
"My Dead Brother Comes to America" by Alexander Godin
An immigrant family arrives in New York at Ellis Island. The father had already come to America and he is waiting for his wife and four kids.
Mr. Sweet, an old man, is a diabetic, alcoholic, and a guitar player. When Mr. Sweet was on the brink of dying—which was often—the narrator's family would "revive" him with love and attention.
"Little Selves" by Mary Lerner
Margaret O'Brien is seventy-five and on her deathbed. She receives some visitors and thinks about incidents from her life. She is concerned that the people she knew will be forgotten.
"Vines" by Kenneth Bernard
A man starts to notice some changes in his body—he smells worse, his feet are colder, and he doesn't feel on top of things. He mentions it to his wife and a friend.
"Teddy's Canary" by K. C. Frederick
The narrator tells a familiar, amusing story to a group of friends about Teddy, a man who has recently died.
Read "Teddy's Canary" (Scroll down over halfway)
"Corners" by Sheila Barry
Mildred and Jessie look over the body of their deceased sister, Marie. Mildred is satisfied with the undertaker's work, but Jessie gets upset.
"The Necessary Grace to Fall" by Gina Ochsner
Howard works for an insurance company, investigating claims made on behalf of the deceased. He becomes fascinated by his cases, especially the possible suicide of a woman he thinks he may have known in high school.
Stories About Death, Cont'd
Koskoosh, an old man and formerly the chief of an Inuit tribe, sits by himself outside of his tribe's camp. They are preparing to leave the area to look for better hunting grounds. Koskoosh isn't going with them; he will wait alone for his death as nature dictates.
"Letter to a Funeral Parlor" by Lydia Davis
The narrator writes a letter to the funeral parlor that just assisted with the arrangements for a close family member. The representative used the word cremains to refer to the deceased.
"Twilight" by Wladyslaw Reymont
Sokol, an old horse, lies dying. He is neglected, aside from an occasional visit from the hunting-dogs. Sokol is miserable and afraid as he dies alone.
Eric is out walking in the country when he is called over by a neighbor, an old man. After making conversation about their community, the old man shows Eric his museum, a collection of items that all have something in common.
"Riding the Whip" by Robin Hemley
The night before his sister dies, a teenager is taken to a carnival by a family friend and her niece, Rita. They have some awkward exchanges as they talk around his sister's condition.
"A Small, Good Thing" by Raymond Carver
A mother and father are preparing for their son's eighth birthday. The son gets hit by a car on his way to school one morning, but seems all right and makes his way home. Shortly after, he loses consciousness.
"The Jjilting of Granny Weatherall" by Katherine Anne Porter
Granny Weatherall is on her deathbed. She thinks about some old love letters she would like to destroy, and her mind returns to the time she was left at the altar by George.
Read "The Jilting of Granny Weatherall"
Short Stories About Death, Cont'd
"The Jade Peony" by Wayson Choy
The narrator, a Chinese-Canadian, remembers when his Grandmama died at 83. The family is waiting for some kind of sign, according to their tradition, that her life had ended well. He relates some experiences with her during her later years, including how they would go hunting in the neighborhood for glass fragments and old jewelry.
"What the Moon Brings" by H. P. Lovecraft
The narrator has a surreal walk in his garden. The moonlight seems to be affecting his perception. Flowers that blow into the nearby stream look like dead faces.
"The Death of Elsa Baskoleit" by Heinrich Böll
The narrator remembers living near a shopkeeper, Baskoleit, a cheerful man with a daughter who danced. When he moves back into town years later, things have changed.
Duncan March was a Canadian living in Tangier. He died several years ago. The narrator hears his story and decides to look into his death. Duncan rented a house. He hired a Moroccan night-watchman, dismissed the cook, and hired another cook recommended by the watchman. He soon experienced digestive problems.
"Down to a Sunless Sea" by Neil Gaiman
A woman walks the docks in London as she has for a long time. You're under an awning to get out of the rain. She sees you and starts talking about her son.
Ray and Mary have been married ten years. They argue now. Ray smokes and Mary has gained weight. Ray waits in the car while Mary goes into the Quik-Pik. It's really hot.
"On the Shore of Chad Creek" by Jack Matthews
Melvin Combs, eighty-three, wakes up to find his wife Maude, eighty-one, has died. They live alone in an isolated spot. He doesn't want to go for help. To get Maude to his car, he has to carry her down a steep hill and over a bridge. He has a drink to prepare himself.
Stories About Death, Cont'd
"Remembering Orchards" by Barry Lopez
The narrator lived with his stepfather from twelve to seventeen, and they weren't close. He was a highly skilled orchardist and farmer, who brought serenity to the home. The narrator talks about his stepfather and his assistant, Ramon. He appreciates his stepfather now, and knows what he's lost.
"Seventy Thousand Assyrians" by William Saroyan
An Armenian man is always on the lookout for fellow Armenians—a generous estimate says there are only two million in the world. He strikes up a conversation with a barber who is Assyrian.
Read "Seventy Thousand Assyrians"
"The Signing" by Stephen Dixon
The narrator's wife dies at the hospital. He kisses her hand and leaves without handling any of the bureaucratic tasks. The hospital sends their security guard after him.
"The Altar of the Dead" by Henry James
George Stransom, fifty-five, commemorates the death of his fiancé at his private church altar. He eventually does the same for all his departed friends. Memories of the dead dominate his thoughts. He makes the acquaintance of a woman whom he has seen at his altar.
Walter and Leota need a room to rest after a long trip. A landlord takes them to a room that's perfectly good except for one thing—there's a tombstone in the middle of it. The previous tenant was a marble-cutter who left it behind after making a mistake. Leota is superstitious and doesn't want to stay.
"The Lake" by Ray Bradbury
The narrator, Harold, remembers when his mother took him to the beach as a twelve-year-old before his family moved. She told him to stay away from the water. When he got out of sight, he went in. He had to look for someone. His young friend, Tally, had drowned there the year before.
Read "The Lake"
Short Stories About Death, Cont'd
"A Natural History of the Dead" by Ernest Hemingway
The narrator furnishes the reader with some facts about the war-dead. He talks about the preponderance of male casualties, the fate of mules, the decomposition of bodies, how people die, and other related things.
Read "A Natural History of the Dead"
"Death of a Traveling Salesman" by Eudora Welty
R. J. Bowman, a traveling salesman for a shoe company, is back on the road after a bout of influenza. He's still not feeling well. He's also lost. He eventually drives to the edge of a ravine and can't prevent his car from going over the edge. He gets out before it rolls down the bank. He starts heading for a house on a hill.
Read "Death of a Traveling Salesman"
"There Was an Old Woman" by Ray Bradbury
A tall, dark gentleman is visiting Aunt Tildy. He came in without even knocking first, along with four other men and a large wicker basket. She remembers seeing that kind of basket years ago when Mrs. Dwyer died. The visitor wants Aunt Tildy to rest, but she wants to get back to her work.
"Doc Mellhorn and the Pearly Gates" by Stephen Vincent Benét
When Doc Mellhorn dies, he's surprised to find himself on the road again. He had served as a country doctor for about forty years, and many were alive because of him. People from all around came to his funeral. That's when things got strange for Doc Mellhorn. He found himself driving his first car, a Model T, on a long road. Things felt a bit different.
Read "Doc Mellhorn and the Pearly Gates"
---
I'll keep adding short stories about death and loss as I find them.