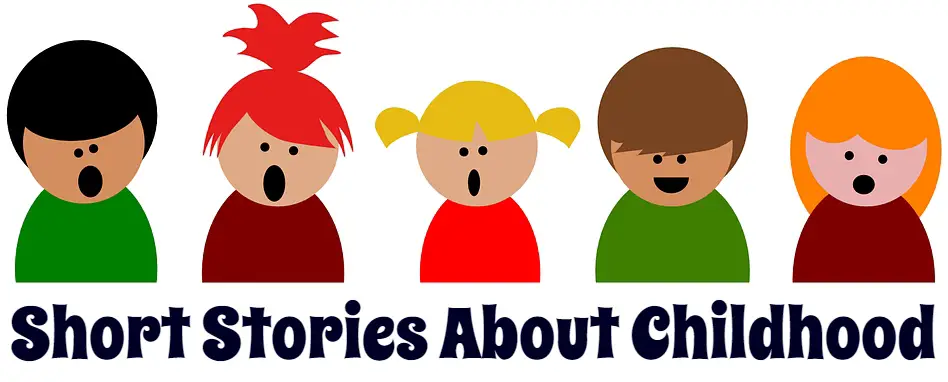 These short stories about childhood feature kids or children, usually preteens, and childhood experiences and perceptions. See also:
Short Stories About Childhood
The Griot of Grover Street: Part 1 by Kwame Mbalia
Fort Jones, a young boy, runs out crying from Aunt Netta's funeral. She was one of the bright spots of the neighborhood, known for her friendliness, singing and desserts. In his haste, Fort crashes into an unusual old man. He was carrying a big glass jar with him. He's concerned that the joy has spilled out. Fort's mother comes along and tell him to help refill the jar.
This story can be read in the preview of Black Boy Joy: 17 Stories Celebrating Black Boyhood.
The Toys of Peace | Saki
Eleanor doesn't want her children playing with toy guns or soldiers. She asks her brother to give her children peaceful toys for Easter. They're not sure what to make of the gift.
This is the first story in the preview of The Toys of Peace and Other Papers.
The Wish | Roald Dahl
A young boy tries to make his way across a carpet, imagining it to be full of hot coals and snakes. (Summary)
"Bugle Song" by Wallace Stegner
A boy is out after breakfast checking his gopher traps. He's won the school prize two years running for killing the most gophers. He also keeps a weasel that he feeds live gophers to. While waiting, he reads his book of poetry.
This story can be read in the preview of Still Wild: Short Fiction of the American West . . . (20% in)
The Story of the Bad Little Boy | Mark Twain
Contrary to what we would expect, a boy fails to learn valuable lessons although he misbehaves constantly.
This is the second story in the preview of Book of Mark Twain's Short Stories.
The Fun They Had | Isaac Asimov
In the year 2157 Tommy finds a real book. It is about how school was in the old days. He and Margie talk about how different school used to be with human teachers.
This story can be read in the preview of 50 Short Science Fiction Tales. (Pg. 25)
"There's Going to Be a Fight in the Cafeteria on Friday and You Better Not Bring Batman" by Lamar Giles
Cornell almost misses his bus stop because he's going over his list of superheroes. He was picked for the game on Friday, where students choose superheroes to face off against each other. The problem is, you can't repeat names, and there aren't many options left. He looks to his brother for help.
Some of this story can be read in the preview of Black Boy Joy: 17 Stories Celebrating Black Boyhood. (60% into preview)
"In the House of the Seven Librarians" by Ellen Klages
The Carnegie Library was a staple of its town for decades. A new, more conveniently placed library was eventually opened. The Carnegie Library was closed, but the seven librarians remained. They continued with their work. The unkept grounds grown until the forest closes in around the building. They live in the same comfortable routine until one day a new resident arrives.
This fantasy story can be read in the preview of Ex Libris: Stories of Librarians, Libraries and Lore. (33% in)
"Child's Play" by Edmund Crispin
Judith has just been hired as governess at the Snyder household. She'll be caring for the three Snyder children—Eve, Tony and Camilla—and Pamela Catesby, who's parents were killed a month ago. Judith has misgivings about Mrs. Snyder and her children, but she likes Pamela immediately. Judith tries to help Pamela acclimate to her new home. She also wants to find out what happened to her parents.
This story can be read in the preview of Bodies in the Library 4. (13% in)
"The Rockpile" by James Baldwin
Johnny and Roy live across the street from a mass of natural rock, known as the rockpile. It's a popular play spot for the neighborhood kids. The boys are warned to stay away from it by their parents, who think it's dangerous. One day while sitting on the fire escape, some of Roy's friends ask him to come with them.
This story can be read in the preview of Going to Meet the Man: Stories. (14% in)
"The Outing" by James Baldwin
The church holds an annual community gathering, usually on the Fourth of July. This year it's a boat trip up the Hudson and a stay at Bear Mountain. Johnnie and Roy, as well as their friend David, are going with their parents. The boys have saved money to get a present for another friend, Sylvia. There are also some church services on the boat.
Some of this story can also be read in the preview of Going to Meet the Man: Stories. (55% in)
"Charles" by Shirley Jackson
Laurie starts kindergarten and comes home every day with stories of a classmate, Charles, who's constantly getting in trouble for being "fresh". Laurie's parents wonder about Charles' parents and worry that he's a bad influence on their son. (Summary & Analysis)
"Balto" by T. C. Boyle
Mr. Apodaca, an attorney, is talking to Angelle, almost thirteen, about how there are two kinds of truths. Her father was arrested and his car impounded. There are witnesses who will have their version of what happened, and Mr. Apodaca wants to be sure Angelle's version is the right kind of truth. Her father had been at lunch with Marcy that day and was late picking her up. He seemed a bit different.
This story can be read in the preview of Wild Child: And Other Stories. (13% in)
An Encounter | James Joyce
Two boys skip school to walk around Dublin. They experience social activities and interact with the people they meet.
This is the second story in the preview of Dubliners.
In the Zoo | Jean Stafford
A visit to a zoo reminds two sisters of a childhood friend, an alcoholic with a lot of animals, who gave them a puppy. Their foster mother had a bad effect on the dog.
A Way Out of the Forest | Maara Haas
Rouga and Arnie, young siblings living in poverty without much adult involvement, make a game out of their situation by pretending they live in a tent in the cold and are waiting for provisions.
First Confession | Frank O'Connor
A seven-year-old boy, Jackie, has to make his first confession before taking Communion. Jackie is concerned because he doesn't like his grandmother, who has recently come to live with him, and an elderly woman has impressed upon him the seriousness of his confession.
Enemy Territory | William Melvin Kelley
Young Tommy is sent on an errand by his mother; he is to take Mister Bixby's hat back to him. This means crossing the street onto the turf of Valentine's gang, a group of neighborhood kids.
My Lucy Friend Who Smells Like Corn | Sandra Cisneros
A young Hispanic girl has a friend named Lucy whom she admires and tries to imitate.
Read here (PDF Pg. 3)
A Child in the Dark and a Foreign Father | Henry Lawson
On New Year's Eve, a father comes home to find his house and children have been neglected by his wife because she's "bad again in the head". His oldest son has done some chores and attempted some housework. The man attends to his wife, children and house.
Read "A Child in the Dark and a Foreign Father"
Games at Twilight | Anita Desai
Some children in Bombay play a game of hide-and-seek. One of the children, Ravi, manages to squeeze into a shed and he's certain that he will win the game.
Celia Behind Me | Isabel Huggan
Celia is a chubby, diabetic young girl. The narrator, Elizabeth, has been ordered by her mother to be nice to Celia. Elizabeth doesn't like Celia at all and tries to avoid being ostracized by her classmates. The mental strain escalates, bringing Elizabeth to a breaking point.
A Visit of Charity | Eudora Welty
A teenage girl makes a visit to an Old Ladies' Home. It is a part of her duties as a Campfire Girl and she will receive points for the visit. She is shown in to a room with two elderly residents. The visit is unnerving.
To Every Thing There is a Season | Alistair MacLeod
The narrator recounts a time when he was eleven, living on a farm, with Christmas approaching. The father hasn't been well for over two years. The family is eagerly awaiting the return of the eldest brother, Neil, who works on a boat.
My Oedipus Complex | Frank O'Connor
An adult narrator talks about his boyhood with his mother while his father was away at war. He was close to his mother, and his father's occasional visits didn't disrupt his routine. He wanted a baby in the house because all the other families had one.
Stolen Day | Sherwood Anderson
The narrator remembers a boy in his area who had inflammatory rheumatism, which prevented him from going to school but didn't interfere with going fishing. The narrator passes him one morning on his way to school. His back and legs begin to hurt; by recess he is aching all over.
Blackberries | Leslie Norris
A mother takes her son to get his first real haircut, and then takes him cap shopping.
Penny in the Dust | Ernest Buckler
A father gives his son a shiny new penny. The boy plays with it outside, burying it and digging it up again, but one time he can't find it.
The Circus | Katherine Anne Porter
A child, Miranda, is taken to her first circus. She's overwhelmed by the sensations of the event and gets frightened.
The Doll's House | Katherine Mansfield
The Burnell children are given a beautiful doll house as a gift. They are allowed to bring their classmates to see it, so they choose who gets to come to their house.
That Summer | Safia Moore
The narrator remembers a summer he was sure someone would die. He is outside with Ivan when Noel comes by asking if they want to see Mrs. Walsh topless. The Walsh's were the only Catholic family in their Protestant neighborhood.
Beauty is Truth | Anna Guest
Jeanie, a high school student, deals with her little brother and her household duties, while thinking about the subject of her writing assignment—truth and beauty and life.
Doe Season | David Michael Kaplan
Andy, a nine-year-old girl, goes out early with her family one morning on a hunting trip. Andy has a way with animals—they're drawn to her. Her father's friend Charlie doesn't understand why she's with them.
The Found Boat | Alice Munro
The Wawanash River overflows its banks every spring. Eva and Carol wade into the water with some boys from school. They find a damaged rowboat. They boys lug it to a backyard and fix it up.
Trying to Save Piggy Sneed | John Irving
The narrator became a writer because of his grandmother's kindness and a retarded garbage collector from his neighborhood when he was young. The man was Piggy Sneed. He lived with his pigs and acted like them too. The children took pleasure in teasing and scaring him.
Read "Trying to Save Piggy Sneed"
Maybe Next Year | Norman Mailer
A boy goes walking in a field and along the train tracks when his parents start arguing. The husband is berated for not making enough money and not spending time with the boy. Many people are out of work; the boy is warned to stay away from the filthy and diseased old men in the area.
Pilon | Sandra Cisneros
The narrator remembers a feeling from her childhood when she was unselfconscious about her body and appearance.
Pretty Dick | Marcus Clarke
It is a very hot day on the Australian plains. Pretty Dick, a young boy, goes to the creek in the morning. Although he knows the area well, he gets disoriented.
The Rocket | Ray Bradbury
Fiorello Bodini wakes at night and goes outside to listen to the rockets flying to Mars, Saturn and Venus. He's a junk dealer, but has managed to save enough money to send one family member on a rocket ride. An acquaintance tells him this is doomed to fail because the rest of the family will resent whoever goes. His children are excited about the possibility.
Buttony | Fiona McFarlane
The children in Miss Lewis's class want to play Buttony, a game they all love. She asks Joseph, a popular, good looking boy, to get the special button from her desk drawer. He handles it reverently. The students line up to go outside so they can start the game.
The Peaches | Dylan Thomas
Dylan, a ten-year-old boy, is spending the summer at his aunt and uncle's farm. He hangs out with his cousin Gwilym, who's almost twenty and wants to be a minister, and his best friend Jack, who's also visiting. Jack's family has more money.
"Drenched in Light" by Zora Neale Hurston
Isie Watts is a young girl, who, along with her brother, Joel, lives with her grandmother and father. She likes talking to passerby as she sits on her gate, and going places with them. Her grandmother tries to get her to work and be serious. After getting in trouble one day, Isie runs off to a carnival.
Read "Drenched in Light"
"Death by Landscape" by Margaret Atwood
Lois, a widow, lives alone with her pictures—paintings and sketches of landscapes. She's drawn to them although they make her uneasy. From nine to thirteen, Lois went to a summer camp where she made friends with Lucy, and they kept in touch by letter over the winters. Lois had an affecting experience in her final year at the camp.
Read "Death by Landscape" (PDF)
---
I hope you found a good short story about childhood.