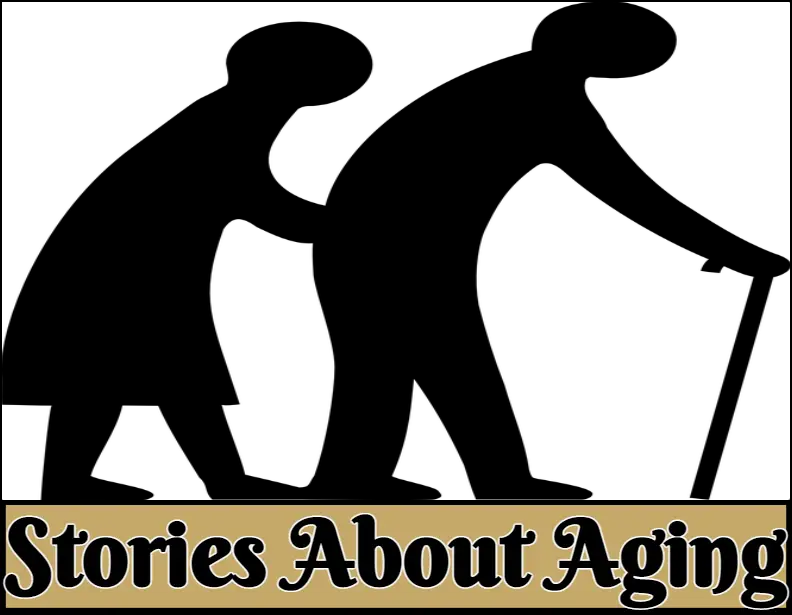 An elderly person, or someone feeling the effects of getting older, is a main character in these stories. They will often deal with the things that affect older people—their worries, fears, limitations, and how they're viewed by others. They could have elderly characters who look back on their lives. Some might have characters who aren't elderly yet, but are getting close. See also:
Short Stories About Old Age & Aging
"At the Door" by Daly Walker
Harold, a ninety-three-year-old, lives alone in an out-of-the-way log cabin. He's awakened one night by a banging at his door. Temporarily disoriented, he thinks it might be his deceased wife, Marge, coming home. He waits, hoping the person will go away, but they're persistent. Harold tries to get a look at who's out there.
This story can be read in the preview of The Doctor's Dilemma: Stories.
"An Hour with Abuelo" by Judith Ortiz Cofer
Arturo doesn't want to visit his grandfather in a nursing home during his summer vacation, but he gives in to his mother's urging. His grandfather's body is giving out but his mind is sharp. He tells Abuelo the story of his life, which included teaching, the army, farming, and a love of books and learning. (Summary & Analysis)
"Season of Disbelief" by Ray Bradbury
Mrs. Bentley, seventy-two-years-old, has saved many little tokens from her life—tickets, scarves, records and the like. She's lived in her current town for five years. She was always on good terms with the local children until they had a disagreement. They didn't believe Mrs. Bentley when she said that she used to be young just like them.
"Season of Disbelief" is the third story in the Amazon preview of Bradbury Stories.
"The Scorpion" by Paul Bowles
An old woman lives in a hollowed out cave that her sons had prepared for her before they left to live in the town. She is content there and doesn't talk to anyone who passes by. The cave is also home to many scorpions.
This story can be read in the preview of The Stories of Paul Bowles. 
"The Queen's Birthday Telegram" by Jeffrey Archer
Albert Webber receives a congratulatory telegram from the Queen on his 100th birthday. It's a prized possession. He's been a local celebrity for the past week. There have been interviews, pictures, and the meeting of some notables, including the mayor who also gave a speech at his party. Albert looks forward to when his wife, Betty, who's ninety-seven, will receive her telegram.
This story can be read in the preview of And Thereby Hangs a Tale.
"A Meeting in Middle Age" by William Trevor
Mrs. da Tanka and Mr. Mileson, strangers, meet and board a carriage together. She is married and has been married two other times. He's a lifelong bachelor. They don't talk much. They've come to some sort of arrangement, brokered by a mutual acquaintance, that isn't immediately clear. We learn some of their personal histories.
This is the first story in the preview of The Collected Stories of William Trevor. (Kindle preview)
"The General's Day" by William Trevor
General Suffolk, an elderly man, prepares for his day and has breakfast. He's going to walk to the village and have coffee at a café, with the hope of meeting a woman. The General used to be an important man. He enjoyed himself with women, money and alcohol. Now, there isn't much in his life.
This is the third story in the preview of The Collected Stories. (Kindle preview)
"A Late Encounter with the Enemy" by Flannery O'Connor
General George Poker Sash is a 104-year-old American Civil War veteran. He gets invited to attend some events because of his age and veteran status. His granddaughter, 62-year-old Sally Poker Sash, prays that he will live to attend her college graduation so everyone will see she has a superior background. (Summary)
"My Man Bovanne" by Toni Cade Bambara
Bovanne, an older, blind man is a guest at a fund-raising event for an African-American political group. Hazel, a relative of one of the group's members, dances with Bovanne, causing a stir at the event.
This is the first story in the preview of Gorilla, My Love.
"The Wedding-Knell" by Nathaniel Hawthorne
The narrator recounts the story of an unusual wedding between a man and woman in their sixties. Rather than being introduced by uplifting music, the wedding was introduced with a funeral knell instead.
This story can be read in the preview of Twice Told Tales.
"In at the Birth" by William Trevor
Miss Efoss is elderly but spry, and has lived a full life. One day, she's contacted by Mr. Dutt. He and his wife are looking for a babysitter. Miss Efoss visits to talk about it. The Dutts assure her that Mickey won't give her any trouble at all. He'll sleep the whole time, and they'll leave contact information in case there's any problem.
This story can be read in the preview of The Collected Stories. (84% into Kindle preview)
"'Taking Mother Out'" by Elizabeth Taylor
Mrs. Crouch is eighty-years-old but seems younger, and she likes to draw attention to her age. Her son, Roy, is flashy and cynical and seems to know everything. An elderly bird-watcher bores the company with his sightings.
This story can be read in the preview of Complete Short Stories. (92% in)
"The Moustache" by Robert Cormier
Mike, seventeen-years-old, is going to Lawnrest Nursing Home to visit his grandmother. She has a chronic circulatory disease and a fading memory. He isn't eager to make the visit, uncertain if his grandmother will be having one of her bad days. (Summary & Analysis)
"Au Sable" by Joyce Carol Oates
Mitchell gets a call from his father-in-law, Otto, in the early evening. This is odd, as Otto never calls until after 11 P.M when the rates go down. He sounds more upbeat than usual. He's often angry about many things and complains a lot. He warmly asks Mitchell about his work, his wife Lizbeth (Otto's only daughter), and the grown grandkids. Otto's glad Mitchell answered; he has something important to tell them and he's rather not say it directly to his daughter.
This story can be read in the preview of Faithless: Tales of Transgression. (6% in)
"Flight" by Doris Lessing
An old man tries to hold on to a beloved bird and a beloved granddaughter. (Summary)
"A Day Goes By" by Luigi Pirandello
A man finds himself in a deserted train station with no memory of how he got there or who he is. He leaves the station, trying to get a sense of his identity and what is happening. (Summary)
This allegory parallels a man's life from birth to shortly before death. More specifically, it is likely an allegory for Pirandello's life.
"Tomorrow and Tomorrow and Tomorrow" by Kurt Vonnegut
In future New York, the extended Schwartz family live together in an apartment suite. A tonic that stops aging, anti-gerasone, has stopped death from old age leading to overpopulation. The family patriarch, Gramps, is 172 years old. He's the only one with his own room, and he gets the best food and chair. He maintains control by threatening to disinherit anyone who bothers him. He keeps saying he will stop taking anti-gerasone to make way for the younger ones, but he always puts it off. One day, his grandson, Lou, makes a smart remark, which Gramps can't let go unpunished.
"The Carnival Dog, the Buyer of Diamonds" by Ethan Canin
Myron Lufkin calls his father, Abe, from medical school and tells him he's not going to be a doctor. Abe doesn't believe in quitting and is stubborn about everything. He believes in a sound and healthy body above all else. We learn about their relationship as Myron grows up.
"Regret" by Guy de Maupassant
A sixty-two year old bachelor thinks about his lonely life, and of a woman whom he has always loved.
"A Visit of Charity" by Eudora Welty
A teenage girl makes a visit to an Old Ladies' Home. It is a part of her duties as a Campfire Girl and she will receive points for the visit. She is shown in to a room with two elderly residents. The visit is unnerving.
"The Old Woman" by Elizabeth Brewster
Florrie moves into a new apartment and is befriended by an elderly woman who lives there. At first she doesn't mind, but the visits become more frequent and begin to put her out.
"The Vase" by Jimmy Glen
A young man packs his rucksack and waits for a ride to the train station. He's leaving home and says goodbye to his grandparents.
"Dr. Heidegger's Experiment" by Nathaniel Hawthorne
Dr. Heidegger invites four old acquaintances over to take part in an experiment. He claims that a friend of his discovered the famed Fountain of Youth and has given him a bottle. The guests are invited to partake of the liquid.
"With All Flags Flying" by Anne Tyler
Mr. Carpenter is an eighty-two-year-old man living in Baltimore. He feels weaker now and decides he can't live alone anymore. He makes the trip to his daughter's place and tells her he's going to live in an old folks' home.
"A Devoted Son" by Anita Desai
Rakesh, who lives in India, is accepted to medical school. He wins a scholarship to study in America, but he doesn't marry an American woman. He is always obedient to and respectful of his parents. His mother chooses an Indian woman for him to marry. Rakesh's father, Varma, retires and his health deteriorates; he needs to be cared for.
"The Watch" by Rick Bass
One summer, Buzbee, a seventy-seven year old man who has lived in a small community all his life, leaves home to live in the woods. His son is lonely and posts a reward for his father's return.
"The Old Bell-Ringer" by Vladimir Korolenko
Mikheyich is the bell-ringer in the church in a small community. He has outlived his peers and many younger family members. As he prepares to ring the bell once more, he thinks about the occasion and his life.
"Diem Perdidi" by Julie Otsuka
The narrator tells us all of the things that her mother can and cannot remember.
"The Actual Thing" by William Maxwell
When Mr. Tupper is in the attic looking for a box with some of his possessions, he notices an odor. He looks behind some books and finds a dead blue jay. It gets him thinking about life and death.
"The Restraints" by Robert Hill Long
An elderly woman remembers her life as a little girl dancing in bars to make money for her father. At night she dreamed of a fancy dress, and sometimes wandered off.
"Solstice" by Richard Terrill
A man visits his elderly mother in a nursing home. She is forgetful and cynical.
"The Window" by Ethel Wilson
Mr. Willy, from England and recently separated, lives alone in a small Vancouver house with a huge window – it covers the whole north wall. He often looks out at the impressive view and thinks about the limitations of his slowly advancing age. There is also someone outside who spends some time watching Mr. Willy.
"The Old Bird: A Love Story" by J. F. Powers
Charles Newman is an older man looking for work. He takes a job as a mail clerk even though he had previously been a white-collar worker. He adjusts to his boss and the work.
"The Great Open Mouth Anti-Sadness" by Ron Carlson
Button lies on a bed after a wedding, slightly drunk, and uses the small distractions in the room to control his sadness.
Read "The Great Open Mouth Anti-Sadness" (This is the whole story)
"Babette's Feast" by Isak Dinesen
Two aging sisters keep their late father's church going and minister to the poor in a town in Norway. At the request of an old beau, they take in Babette Hersant as a maid after she flees Paris.
"Darkening Shadows" by Louis Biro
A director introduces Eugene, a young composer, to the star of their show, Elizabeth Geltz, a celebrated singer. Eugene is warned that Elizabeth likes younger men and will try to trap him.
"Mrs. Cross and Mrs. Kidd" by Alice Munro
Mrs. Cross and Mrs. Kidd live at Hilltop Home, a nursing facility. They have known each other for eighty years. They have stayed fairly close, even though there are many differences between them. Their daily routine changes with the arrival of a new resident, Jack, a fifty-nine-year-old who can't speak due to a stroke.
"Playing with Dynamite" by John Updike
Fanshawe is in his sixties and has slowed down a lot. His wife is a bit younger and spryer. The narrator gives us a look at Fanshawe's childhood, middle years, his marriage, and how his attitude about life has developed.
"The Bear Came Over the Mountain" by Alice Munro
Fiona, seventy-years-old, is preparing to leave home for good. A little over a year ago, she started leaving little notes around the house identifying the contents of drawers. Her husband, Grant, takes her to the facility in January. Fiona remembers many things from her past so he wonders if she really needs to go.
"The Road from Colonus" by E. M. Forster
Mr. Lucas is getting old—slowing down and losing interest in things. A forty year dream of his has been to go to Greece, and now he's there. While traveling with his party on muleback, he pulls ahead of them and arrives at a small inn. It's surrounded by plane trees, including one that is hollowed out and hanging over it, with water flowing from it. Mr. Lucas is struck by the scene.
"Geriatric Ward" by Orson Scott Card
Sandy, twenty-two-years-old, has suddenly started babbling and trembling. Her husband, Todd, is twenty-four and also near the end. He goes to the University to continue the tests. So far they haven't found the cause of humanity's accelerated aging.
---
I'll keep adding short stories about old age and aging as I find more.