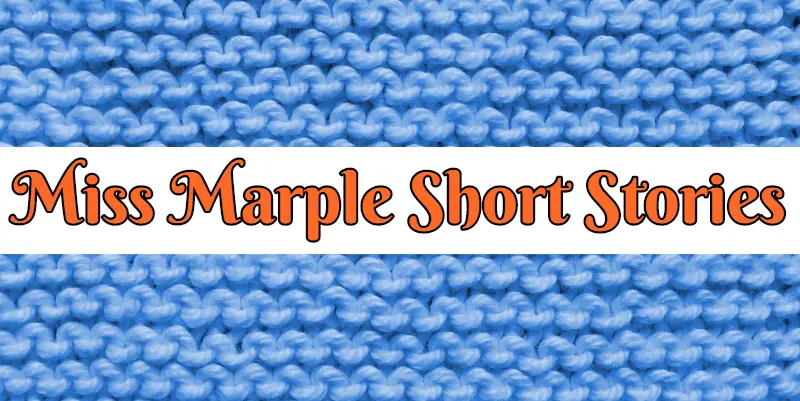 Miss Marple has lived almost her whole life in the village of St. Mary Mead, but, in it, she has observed the full spectrum of human nature. This insight gives her an astonishing grasp of people's motives, allowing her to see much that others miss. This page contains the titles and a teaser for every Miss Marple short story.
See also:
Miss Marple Short Stories
If you love Miss Marple, and love seeing the word "complete" in a short story collection as much as I do, Miss Marple: The Complete Short Stories is the book for you.
Short Stories from The Thirteen Problems
The Tuesday Night Club
A group of friends are socializing at the home of Miss Marple when the conversation turns to unsolved mysteries. Each member of the group believes their profession gives them an advantage in crime solving. They decide to take turns telling a crime mystery of which the teller knows the solution. Then they will put their perceptive powers to the test and try to identify the real culprit.
In the first story, Mr. and Mrs. Jones and Miss Clark get sick after supper, and Mrs. Jones dies. Suspicion falls on Mr. Jones because he was dependent on his wife's money, and due to a letter he wrote. Nothing solidly implicates him for the crime.
This first story can be read in the preview of Miss Marple: The Complete Stories. (Kindle version)
The Idol House of Astarte
Sir Richard Hayden invites a group of friends to a house party. On the grounds, he has built a temple to Astarte. Everyone gets an ominous feeling while walking the moors. At a fancy dress party later that night, a young beauty, Diana Ashley, slips away to the temple. When the group finds her, she is adorned as a priestess and warns them not to approach. When Sir Richard steps forward, he is struck down by an unseen force. When his body is examined, he is found to have been stabbed in the heart, but there doesn't seem to be a weapon.
Ingots of Gold
Raymond visits an acquaintance, John Newman, who bought the salvage rights to a sunken ship from the Spanish Armada. On his way there, he meets Police Inspector Badgworth who is looking into a recent shipwreck where a load of bullion was stolen or lost.
The Bloodstained Pavement
Joyce is painting a picture of the Palharwith Arms, an inn she is staying at, when a couple arrives, and then, a lone woman dressed in scarlet, whom the husband recognizes as Carol, an old friend of his. The three of them talk about rowing to a nearby cave. Joyce realizes that she has unconsciously painted bloodstains on the pavement, and then believes she can actually see bloodstains outside.
Motive v. Opportunity
When Simon Clode's granddaughter died, he was grief stricken. Later, his nephew and two nieces came to live with him, and he drew his will to divide his estate equally among them. When they grew up and left home, he again pined for his granddaughter, which brought him under the influence of a spiritualist, Eurydice Spragg.
The Thumbmark of St. Peter
The husband of Miss Marple's niece, Mabel, dies; the doctor thinks it was from eating poisoned mushrooms. Mabel is cleared of wrongdoing, but the general gossip is that she probably killed her husband. Before he died, he made some rambling statements about fish. Miss Marple is called in to assist.
The Blue Geranium
George Pritchard's wife was difficult and needed to be cared for; they went thru a string of nurses before finding Nurse Copling, who was accommodating. Mrs. Pritchard had an affinity for mystics. Zarida, a fortune-teller, says that there's evil and danger in the house. Shortly after, she gets a letter warning her of blue flowers.
The Companion
Two middle-aged English ladies are staying at the same hotel in Las Palmas as Dr. Lloyd. One of the ladies, Miss Durrant, gets into difficulty while swimming, and the other, Miss Barton, goes to help. She is unable to rescue her companion, and Miss Durrant drowns. One of the eyewitnesses tells a story that casts suspicion on Miss Barton.
The Four Suspects
Dr. Rosen, now living in England, was instrumental in bringing down a German secret society, and expects to be murdered in retribution. He lives in a secluded cottage with four others. When he is found dead at the bottom of the stairs, it's believed he was pushed. All four of the other residents claim to have been out of the house at the time, but no one can vouch for anyone else, leaving open the possibility that any of the four could be the guilty party.
A Christmas Tragedy
While staying at a spa town, Miss Marple meets Jack and Gladys Sanders. Her experience and knowledge of people tells her that Jack is going to kill his wife. Miss Marple wants to help Mrs. Sanders, but isn't sure how. Mr. Sanders suspects that Miss Marple is on to him.
The Herb of Death
Sir Ambrose Bercy has a group of people to his home for dinner. Among the sage leaves that were picked for the dinner was some foxglove. Everyone got sick after eating, but one, Bercy's ward, Sylvia Keene, died.
The Affair at the Bungalow
Jane Helier is on an acting tour when she is called to the police station. There's been a burglary at a bungalow, and a man named Leslie has been arrested. He claims that Jane read one of his plays and invited him to the bungalow to discuss it. He was shown in, met Jane, had a drink, and the last thing he remembers is waking up disoriented on the roadside. When Jane arrives at the station, neither she nor he recognizes the other.
Death by Drowning
Rose Emmot is found drowned in the river by the mill. She was pregnant, so it is assumed she killed herself, unable to face her father with the news. Miss Marple arrives and tells Sir Henry that she knows Rose was murdered, but has no proof to offer. She writes down the name of the guilty party, gives it to Sir Henry, and asks that he ensure an innocent man doesn't hang for the crime. Evidence that Rose was murdered is discovered, and Sir Henry joins the local authorities in their investigation.
Short Stories from The Regatta Mystery and Other Stories
Miss Marple Tells a Story
Mr. and Mrs. Rhodes are staying at a hotel in adjoining rooms with a connecting door. Mrs. Rhodes goes to bed immediately after dinner. Mr. Rhodes, in the adjoining room, starts to work on his book. Before going to bed, he looks in on his wife, finding she has been stabbed in the heart. Mr. Rhodes is not immediately arrested for the crime, but he expects to be very soon. He goes to Mr. Petherick for help; he, in turn, goes to Miss Marple and lays out the details of the crime. (Summary)
Short Stories from Three Blind Mice and Other Stories
Strange Jest
Jane Helier brings in Miss Marple to help her friends with a problem. Charmian and Edward have inherited the fortune of their great-great-uncle. The trouble is, none of his money is in cash or securities, and they can't find it. Before dying, he talked about converting his money into gold bullion and burying it. Charmian and Edward have dug up most of the grounds without success. If they can't find it, they will have to sell the house.
The Case of the Perfect Maid
When a brooch goes missing at the Skinner's place, Miss Lavinia says she will contact the police; the brooch is then discovered at the back of a drawer. The next day, after breaking a plate, Gladys the maid is dismissed. Knowing that it will get around that she was suspected of taking the brooch, her friend asks Miss Marple to visit the Skinners and put in a good word for Gladys. Miss Marple visits the Skinners – Miss Lavinia, a hard worker, and Miss Emily, a malingerer and complainer – to get the full story.
The Case of the Caretaker
While Miss Marple is recovering from the flu, Doctor Haydock brings her a story he has written as a puzzle to get her mind off of herself. In it Harry Laxton returns from abroad with his rich, young bride. He builds a new house where his boyhood house stood. There's local gossip about Harry's past, particularly an affair he had with the tobacconist's daughter. The caretaker of the old house also causes trouble by stalking Mrs. Laxton.
Tape-Measure Murder
When Mrs. Spenlow doesn't answer her door for an appointment for a dress fitting, Miss Hartnell looks thru the window and finds her dead on the floor. When Mr. Spenlow is informed he shows no emotion. His wife had money that is left to him, so he is a likely suspect. He claims he was out, that Miss Marple had called him to come over; she tells the police that isn't so, that she never called him, but he did stop by while she was out.
Short Stories from Double Sin and Other Stories
Greenshaw's Folly
Raymond and Horace are touring the grounds of Greenshaw's Folly, an unusually designed house owned by Miss Greenshaw. She doesn't want to leave her estate to her nephew, instead having decided to leave it to her companion, Miss Cresswell, rather than paying her any wages. Miss Greenshaw asks her visitors to witness her new will. Soon after, a member of Miss Marple's extended family, Louise, is hired to do some work at Miss Greenshaw's. She witnesses a shocking incident at the house.
Sanctuary
When Mrs. Harmon brings flowers to the church, she finds a man inside, bleeding, with a weak pulse. He says "sanctuary" twice and then says something that sounds like her husband's name, Julian. The police are soon contacted by Mrs. Eccles, the dead man's sister, who says he had been in a low state and disappeared yesterday with a revolver. She and Mr. Eccles are eager to visit Mrs. Harmon to get the details of the man's final moments.
---
This is a complete list of Miss Marple short stories.