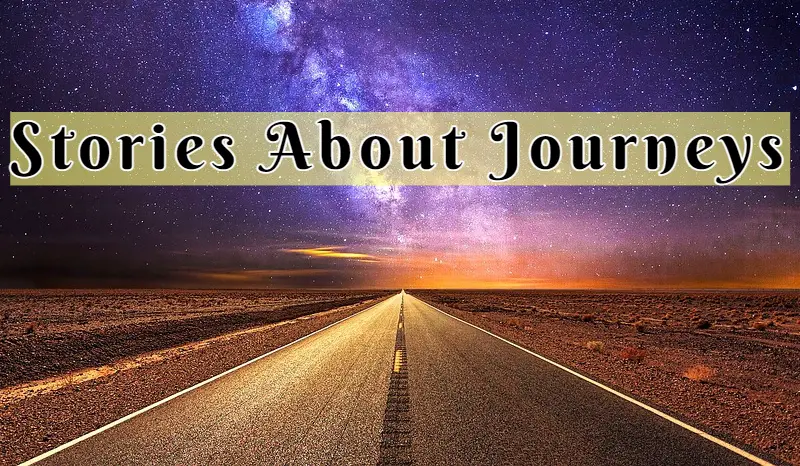 In these stories about journeys, characters make some sort of physical trip or quest and sometimes have a psychological journey as well. See also:
Stories About Journeys
The Outcasts of Poker Flat | Bret Harte
In an effort to improve their town, the citizens of Poker Flat expel a group of undesirables from their midst. They set out for the next settlement, making a difficult mountain journey. On the way, they meet up with a couple headed for Poker Flat, who share some provisions and direct them to a cabin to rest.
This is the first story in the preview of Big Book of Best Short Stories: Western.
"At the Fall" by Alec Nevala-Lee
Eunice, a robotic hexapod, is deep under water along with her toroid companion, Wagner. They discover a fallen gray whale. They use it to recharge. Eunice was part of a five member crew that were mapping, analyzing and observing the underwater ecosystem and bringing their data to the surface. Now they're on a dangerous journey.
This story can be read in the preview of The Year's Top Hard Science Fiction Stories 4. (46% into preview)
"Precious Cargo" by C. H. Hung
The USS Marilyn Barton is a bioship, carrying a large human delegation. One of Marilyn's rooms is sagging and has turned a sickly yellow. Doctor Thrasher is working to fix the problem. The life of the ship and the passengers are at risk. Normally, a bioship knows what is wrong with it, but the deterioration happened too quickly in this case. Marilyn needs to be healthy enough to get everyone to Aurigae Prime.
This story can be read in the preview of Beyond the Stars: Infinite Expanse. (23% into preview)
"20/20" by Linda Brewer
Bill and Ruthie are on a road trip. Bill finds her conversation simplistic; she refuses to argue anything. She says what she sees along the way. (Summary & Analysis)
A Forward Movement | Louisa May Alcott
Miss Tribulation's quest to become an army nurse continues as she boards a night-train in New York. Afterward, she reaches a boat in New London. She relates her interactions with other passengers and the difficulties of the trip.
This story can be read in the preview of 100 Great American Short Stories. (25% into preview)
"Man and Woman" by Erskine Caldwell
A dejected and exhausted man and woman are walking at dawn. When they see a farmhouse in the distance, Ruth believes they'll be able to get something to eat there.
This story can be read in the preview of The Stories of Erskine Caldwell. (29% into preview)
"The Walk Up Nameless Ridge" by Hugh Howey
Over sixty thousand feet up Mount Mallory on the planet Eno, one of the three climbing teams rests. The narrator is ashamed to admit he doesn't want either of the other teams to make it. He wants the glory of being the first to summit this mountain. Governments and alpine clubs gave up conquering it long ago. Now, individuals who have climbed the highest peaks on their own worlds try to immortalize themselves on Mount Mallory.
This story can be read in the preview of Machine Learning: New and Collected Stories. (30% in)
"Tower of Babylon" by Ted Chiang
The Babylonians are building a tower to heaven. Hillalum arrives from Elam as part of the mining crew who will dig through at the top into the vault of heaven. On the ascent, Hillalum learns how the construction of the tower takes place, and what the plans are when the top is reached. There are many workers as well as people who live at various points on the tower.
A lot of this story can be read in the preview of Stories of Your Life and Others. 
"A Newspaper Story" by O. Henry
The movement of a daily newspaper is tracked, along with the uses it's put to. (Summary) It's the newspaper that goes on a "journey" in this story.
Read "A Newspaper Story"
"That Feeling, You Can Only Say What It Is In French" by Stephen King
Carol and Bill, married twenty-five years, are on their second honeymoon, driving to their destination. Carol experiences déjà vu; voices and images keep coming to her mind. Their drive comes to an end and she finds herself at an earlier point in their trip.
"Che Ti Dice La Patria?" by Ernest Hemingway
Two men travel near Savona. They let a man ride on the outside of their car with them into Spezia. They stop to eat at a restaurant where the waitresses are very friendly. They continue through the suburbs of Genoa.
Paul's Case | Willa Cather
Paul gets suspended from his Pittsburgh High School. His father wants him to be a responsible wage-earning family man when he grows up, but Paul is drawn to a life of wealth and glamour, so he decides to go to New York.
Here's Your Hat What's Your Hurry | Elizabeth McCracken
Aunt Helen Beck, a woman in her eighties, outspoken and eccentric, travels around to all her relative's homes to stay for a while.
The Train | Flannery O'Connor
Haze, nineteen, is travelling by train to Taulkinham. The porter reminds him strongly of a man he used to know; he might even be the man's son. He tries to find a way to talk to him.
Falling in Love | Sandra Birdsell
Lureen's boyfriend leaves her as he's done several times before. She tries to go back to her family by bus, but misses her connection, and has to walk thirty miles in the heat.
A Worn Path | Eudora Welty
An elderly African-American woman, Phoenix Jackson, walks through the Mississippi forest to get into town. She encounters many obstacles along the way.
Blue Winds Dancing | Tom Whitecloud
A young Indian-American man, lonely and disillusioned with school, leaves for home to be with his own people again.
The Swimmer | John Cheever
While relaxing at a friend's pool, an affluent man decides to make his way home by swimming the length of the pools in his neighborhood.
The Furnished Room | O. Henry
A young man searches boarding houses looking for the woman he loves, a small-town girl trying to break in to show business.
Greyhound People | Alice Adams
The narrator boards a greyhound express bus to San Francisco with the feeling that she's in the wrong place. On the way, a man angrily demands her seat, a woman tells a boy to be quiet and the boy's mother confronts her, she listens to conversations, and has other interactions.
The Ultimate Safari | Nadine Gordimer
The narrator, a young girl, tells us that her mother and father left one day and never came back. Her village has been targeted by bandits who have taken everything. Fearing for their lives, the girl and her extended family set out on a long and difficult trek through South Africa to a refugee camp.
What I Have Been Doing Lately | Jamaica Kincaid
An unidentified and unnamed narrator answers the door but doesn't find anyone there. After having a look around, the narrator goes on a dreamlike walk.
Stalking | Joyce Carol Oates
A thirteen-year-old girl, Gretchen, is pursuing her Invisible Adversary through the suburbs. She follows it through fields and across roads, and eventually into a shopping center.
Tears of Autumn | Yoshiko Uchida
Hana Omiya is on a ship going from Japan to the United States. She is seasick and nervous; she has some regret about the trip. She's going to America to marry a man she has never met.
The Ugliest Pilgrim | Doris Betts
Violet Karl is traveling to Tulsa, Oklahoma to get healed by a televangelist—she was struck by an axe head as a child which disfigured her face. As she travels by bus, she meets several people who react to her in different ways.
The Facts of Life | Somerset Maugham
Nicky Garnet is a well liked young man who's never given his parents any trouble. An opportunity arises for him to play in a tennis tournament in Monte Carlo. Nicky's father doesn't want him to go unsupervised.
The Hiltons' Holiday | Sarah Orne Jewett
After a long day of hard work, John Hilton talks to his wife about their lives and daughters. He has the idea of taking his daughters on a small trip so they can see the world off the farm.
The Blue Jar | Isak Dinesen
A rich Englishman who only cares about collecting rare China is sailing with his daughter when the ship catches fire. His daughter is left behind in the confusion. She is rescued by a young sailor, and they float in the lifeboat for nine days before being picked up.
By the Waters of Babylon | Stephen Vincent Benet
The narrator, a young man, is the son of a priest, and will one day be a priest himself. The people are forbidden to go east to the Dead Places, or to cross the river to the Place of the Gods, except for a priest. There is another more primitive group called the Forest People. He sets out to the east on a journey.
Read "By the Waters of Babylon"
The Sun-Dog Trail | Jack London
Sitka Charley is relaxing after a day on the Alaskan trail. He and the narrator start talking about a painting, which reminds Sitka of an arduous journey he once made. When he was a letter carrier on Lake Linderman, a young woman hired him to take her to Dawson. Then she hires him to travel with her. She is desperately looking for something but doesn't tell him what.
The Other Side of the Hedge | E. M. Forster
A man stops to rest on the side of the road. He is passed by some people, and also thinks of his brother whom he left behind. He notices a small opening in the hedge that lines the road. He pushes his way through it.
Wild Honey | Horacio Quiroga
Gabriel Benincasa, an accountant, feels a need to leave city life for a while to test himself in the jungle. His godfather warns him that he won't last in the jungle and tries to look out for him.
The Town of Cats | Hagiwara Sakutaro
The narrator used to take many drug-induced voyages. They had a bad effect on his health. He starts taking long walks, ending up in an unfamiliar, charming town. He relates one such walk he took while staying at a resort.
Identities | W. D. Valgardson
Moved by childhood memories, a man leaves his own affluent neighborhood and goes exploring. He ends up in a seedy area. He can't blend in because he's driving a Mercedes.
The Greatest Thing in the World | Norman Mailer
Al Groot, a young adult, enters a lunch wagon and tries to get a deal on a doughnut and coffee. He has been walking and hitch-hiking, trying to get to Chicago. When three men come in for a meal, Al tries to get a ride with them.
The Wisdom of the Trail | Jack London
Sitka Charley is an Indian who has left his own people to learn the white man's sense of honor and the law. He's a member of a traveling party led by Captain Effingwell. Only Sitka and the Captain are armed. Sitka warns two other Indians with their crew to carry out their duties properly.
Read "The Wisdom of the Trail"
Bitter Grounds | Neil Gaiman
The narrator is dead in every way that counts. He starts driving. He throws away his cell phone and withdraws all the money he can. After staying over at a motel, he meets a man in the lobby who's waiting for a cab. He offers the man a ride.
The White Silence | Jack London
Mason, Ruth (his wife), and the Malamute Kid are on the Yukon trail, low on food, with a long trip in front of them. They know they will have to eat some of the dogs. They reach a high bank that proves difficult for the weakened dogs to climb.
The Truth is a Cave in the Black Mountains | Neil Gaiman
The narrator, an unusually small man, is looking for a cave on the Misty Isle. He wants to hire Calum MacInnes as a guide. MacInnes is reluctant to go because of the legends about those who take gold from the cave. It is a long journey.
Read "The Truth is a Cave in the Black Mountains"
Passage | Kevin Jared Hosein
The narrator was drinking at a pub, The Tricky Jester. One of the regulars, Stew, told a story of when he hiked El Tucuche. He claims to have come across a house in the middle of the mountain, and to have seen a young woman there. The narrator works for the Forestry Division, and knows the wilderness well. He has doubts about Stew's story. He decides to check for himself.
The Road from Colonus | E. M. Forster
Mr. Lucas is getting old—slowing down and losing interest in things. A forty year dream of his has been to go to Greece, and now he's there. While traveling with his party on muleback, he pulls ahead of them and arrives at a small inn. It's surrounded by plane trees, including one that is hollowed out and hanging over it, with water flowing from it. Mr. Lucas is struck by the scene.
Rock Springs | Richard Ford
Earl is getting out of Montana—he's had trouble with the law and with women. He leaves in a stolen car with his girlfriend, Edna, and his daughter, Cheryl. He hopes for a new start, but he seems to attract trouble.
Read "Rock Springs" (Pg. 48)
---
I'll keep adding short stories about journeys or quests as I find more.