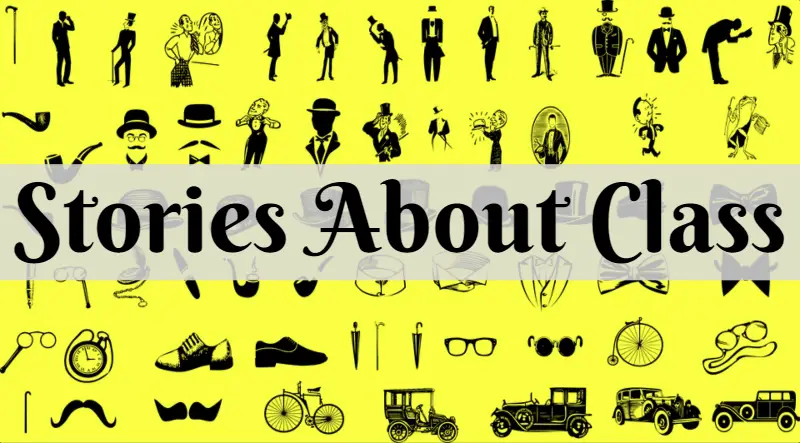 The short stories on this page generally involve interaction between different social classes, or characters that have feelings of class distinction. Some of them have households with servants. The social inequality is often a driving force in the story. See also:
Short Stories About Class
Fat and Thin | Anton Chekhov
Two men—schoolmates as boys—meet unexpectedly at a train station and are delighted to see each other. They talk about their lives; one bit of information changes the thin man's view of his old friend.
"Fat and Thin (Skinny)" is the second story in the Amazon preview of Fifty-Two Stories.
"The Scholarship Jacket" by Marta Salinas
A fourteen-year-old girl in a small town Texas school has been a straight A student for eight years. This means she will be awarded the school's scholarship jacket, but a complication arises. (Summary & Analysis)
"The Falling Girl" by Dino Buzzati
Marta, a nineteen-year-old, let's herself fall off a skyscraper balcony after looking at the rich, important people in the city. She doesn't fall in real-time; she has interactions on the way down and sees others falling as well. (Summary & Analysis)
"The Stolen Party" by Liliana Heker
Rosaura has been invited to Luciana's birthday party. Rosaura's mother works as a maid for Luciana's mother. She doesn't like the idea of her daughter going to "a rich people's party." (Summary & Analysis)
"One of These Days" by Gabriel Garcia Marquez
A corrupt mayor needs treatment for an abscessed tooth. He goes to an unlicensed dentist. The dentist doesn't want to help, and they exchange some words. (Summary & Analysis)
"Jeeves Takes Charge" by P. G. Wodehouse
Bertie Wooster, an idle and upper-class man, tells the story of how he hired his butler, Jeeves, and his first acts in his service. Bertie's fiancée is concerned about a memoir that could prove scandalous, so she asks him to help her get rid of it. Before Bertie leaves to help his fiancee he meets Jeeves and hires him on the spot.
This is the first story in the preview of The World of Jeeves.
The Common Day | John Cheever
Jim and Ellen are at her mother's country house for a vacation. He wants to have breakfast in the kitchen, but Agnes won't allow him in there with the servants and children. Nils, the gardener, talks to Jim about something that's eating the corn. Jim says he'll set some traps. Mrs. Garrison, his mother-in-law, criticizes some of the flowers and wants the lilies moved.
This is the second story in the preview of The Stories of John Cheever. (35% in)
Short Stories About Inequality and Social Class, Cont'd
Boule de Suif | Guy de Maupassant
The Prussian army advances while the French army retreats. Ten passengers are given clearance to board a carriage and leave the city, with the possibility of crossing into England. Among the passengers is Boule de Suif, a prostitute who has to make a moral decision that will affect the whole group.
This is the second story in the preview of Classic Short Stories.
Magic | Katherine Anne Porter
A maid tells her employer the story of a woman who worked in a brothel. She quarreled bitterly with the madam, and said she was leaving, which led to a physical confrontation.
This is the fourth story in the preview of Collected Stories and Other Writings.
The Nose | Nikolai Gogol
A barber, Ivan, cuts into a loaf of freshly baked bread only to find a nose inside. He recognizes the nose as belonging to a regular customer of his, Platon. Fearing he will be in trouble, Ivan thinks about how to get rid of the nose. Meanwhile, Platon wakes up in his home and the absurdities continue.
This is the first story in the preview of Big Book of Best Short Stories: Russian II.
"The Garden-Party" by Katherine Mansfield
The Sheridans, an upper-class family, are making preparations for a garden party. Before it starts, they hear that a working-class neighbor has just died.
This is the first story in the preview of 50 Great Short Stories.
"The Penthouse Apartment" by William Trevor
Mr. and Mrs. Runca are preparing for a visit from the crew of a magazine. Their apartment is going to be featured in it for its beauty. The magazine is sending flowers that Mrs. Runca will arrange herself. The Runca's maid, Bianca, invites another of the apartment's residents, Miss Winton, up to see it. The caretaker, Mr. Morgan, is also there, attending to a pipe.
This story can be read in the preview of The Collected Stories. (67% into Kindle preview)
"The Invisible Country" by Paul J. McAuley
Cameron leaves the clinic with his fee and a tab of painkiller. He rented himself out to grow totipotent marrow in his thigh bones. He heads for a building where he used to rent a cubicle from a man who goes by Lost in Space. Cameron buys a better painkiller from him. There's a messenger from Komarnicki waiting about a job. Cameron gets his gun and heads for Komarnicki's office.
This story can be read in the preview of the anthology Genometry. (20% into preview)
Puppy | George Saunders
Marie is a mother who likes bringing home various animals. Her husband, Robert, just accepts the new guests. Her son, Josh, has a behavioral problem but he is distracted with a new video game. Callie is also a mother with a son, Bo, who is uncontrollable. She is selling a puppy so her husband, Jimmy, won't have to kill it. (Summary)
"While the Auto Waits" by O. Henry
A young man strikes up a conversation with a young woman on a park bench. She complains about her life of wealth and luxury. (Summary)
Short Stories About Inequality and Social Class, Cont'd
Namu, the Dhobi | P. L. Deshpande
Namu, a washerman, cleans the clothes for many in the film industry. He has a habit of losing and damaging his customers articles, and even wearing them. He talks like he's in the film business himself and seems to have no shame.
Read "Namu, the Dhobi" (23% into preview)
"More" by Nancy Kress
Catie is being released from prison after serving a fifteen year sentence for a widely known crime. She's picked up by Wayne, who's fifty now. They're headed for the compound. On the way, she wants to stop to look at a dome, a model C-2 made by HomeWalls. They're designed to enclose an area, making it a great living environment and keeping the less fortunate out. Fifteen years ago, someone had tipped off HomeWalls about their plan.
Some of this story can be read in the preview of Solaris Rising 2.
"Vindica" by Ann Christy
Gordon is cleaning up after another survival party, celebrating sixty days since the doors were closed. He and a few others are responsible for doing all the work at the underground residence, having not paid their full fees before the zombie outbreak. He gets a call from Paul, the organizer of the establishment, to come clean up another mess. Gordon fumes over his situation, but tries not to let on. There are many levels of status within the shelter.
This story can be read in the preview of The Z Chronicles. (24% in)
"Not a Laughing Matter" by Evan Hunter
Blair hates his manager, Mr. Atkins, the most. Blair used to be a successful actor and now he's been reduced to this. Atkins calls him Nick out of disrespect and revels in his fall from grace. Blair's at his breaking point.
This story can be read in the preview of Alfred Hitchcock's Mystery Magazine Presents Fifty Years of Crime and Suspense. (71% in)
"An Upheaval" by Anton Chekhov
Mashenka, the governess, returns to the Kushkins' house after a walk to find everyone upset. In the corridor, she realizes the lady of the house is in her room. (Summary)
"Benefit Performance" by Bernard Malamud
Maurice Rosenfeld, an actor, returns to his small apartment where he lives with his wife and grown daughter. His wife is out working, so he fixes himself something to eat. His daughter's boyfriend, Ephraim, a plumber, is coming over.
This story can be read in the preview of The Complete Stories. (40% in)
"Revelation" by Flannery O'Connor
Mrs. Turpin and her husband are in a doctor's waiting room.  Mrs. Turpin is racist and judgmental, and she attracts the attention of a young woman, who looks at her intently. (Summary)
Short Stories About Inequality and Social Class, Cont'd
"The Package" by Kurt Vonnegut
After a trip around the world, Earl and Maude Fenton return to the country and move into their new mansion. Earl gets a call from an old college fraternity brother, Charlie, one of the rich guys who had everything. Earl had to work his way through college as a waiter, sometimes serving his fellow students, and he remembers the feeling of inferiority. Charlie wants to come by for a visit. Earl welcomes him and is eager to show off his success.
"Lilacs" by Kate Chopin
Mme. Adrienne Farival returns to the convent as she does each spring. She lived here as a girl; now she's an actress and performer in Paris. There's much excitement as she approaches, and Sister Agathe runs out to meet her. Adrienne has a very dignified reunion with the Mother Superior. She presents the gift she has brought—an embroidered linen altar cloth of exceptional quality. Adrienne is assigned to room with Agathe during her stay.
The Social Triangle | O. Henry
Three men get to shake hands with people they really wanted to meet.
The Butler | Roald Dahl
A newly rich man throws dinner parties, but he isn't satisfied that they're really working. His butler explains that the wine is the problem, so the man decides to become an expert.
Read "The Butler" (Scroll down)
How a Muzhik Fed Two Officials | Mikhail Saltykov
Two life-long white collar government workers find themselves transported to a deserted island. Their skills of keeping records and writing reports prove useless in their new environment. They realize that if they could just find a peasant he could look after everything.
Read "How a Muzhik Fed Two Officials"
The Richest Man | Ha Jin
Li Wan, a doctor, is the richest man in town. He is a miser and widely disliked. During China's Cultural Revolution he is accused of destroying a likeness of Chairman Mao. His fortunes change.
The Doll's House | Katherine Mansfield
The Burnell children are given a beautiful doll house as a gift. They are allowed to bring their classmates to see it, so they choose who gets to come to their house.
Short Stories About Inequality and Social Class, Cont'd
The Whore's Child | Richard Russo
The narrator is the professor of a university fiction writing class. An elderly nun who lives nearby, Sister Ursula, shows up in class although she has neither registered nor completed the prerequisite courses. She writes her memoir, beginning with her childhood in a Belgian convent. Her mother was a prostitute, so she becomes known as the whore's child and is mistreated due to her low social status.
Sacre du Printemps | Ludwig Bemelmans
Emil kratzig lives in a society heavily regimented by the government, with many class distinctions in place for the citizens.
Two Thanksgiving Day Gentlemen | O. Henry
An older, upper-class man has a tradition of treating a local destitute man to a hearty Thanksgiving meal. One year, the poor man arrives at their meeting place in a state that puts their tradition in jeopardy.
Someone to Talk To | Deborah Eisenberg
Aaron Shapiro, a concert pianist, goes to Latin America to perform a concert. He learns that the show organizers are affiliated with the military government that is oppressing the native population.
Young Archimedes | Aldous Huxley
A young English couple rent a house in Italy because it has a great view, and a local peasant boy, Guido, makes an excellent playmate for their own son. Guido is a gifted child, with an affinity for music, and a natural understanding of mathematics. The landlady wants to adopt Guido to mold him and make money from his talents.
Bella Fleace Gave a Party | Evelyn Waugh
An elderly, wellborn woman of little means comes into some money, decides to throw a big party, and puts careful thought into the invitation list.
Read "Bella Fleace Gave a Party"
A Lickpenny Lover | O. Henry
A wealthy aristocrat tries to woo a ditsy salesgirl.
Short Stories About Inequality and Social Class, Cont'd
Who Made Yellow Roses Yellow? | John Updike
Fred Platt, from a family with old money, wants to get a job without his father's help. He calls a college friend who's now an executive at a chemical company to ask about a job.
Vengeful Creditor | Chinua Achebe
The African government is now offering free primary education, causing a lot of servants and lowly paid workers to return to school. The Emenikes, educated and affluent, are upset when they lose some servants, including their nurse. Things turn around for them when the government suspends the free program due to higher than expected enrollment.
Swaddling Clothes | Yukio Mishima
Toshiko and her husband had hired a nurse. She gave birth to an illegitimate child in their house; they were unaware of the pregnancy until the birth. The situation has a strong effect on her, making her think about modernization and class differences.
Everything That Rises Must Converge | Flannery O'Connor
Julian, a young man, accompanies his mother on a bus ride. It is the 1960's South, and she doesn't like riding alone because of integration. She is poor but is proud that she comes from a once prosperous pre-Civil War family. She also brags about her son to those nearby.
The Stationmaster | Alexander Pushkin
The stationmaster is a member of the fourteenth rank – the lowest rank among government workers. He has a beautiful daughter, Dunia. The narrator meets the stationmaster during his travels. When the narrator returns years later he asks about the stationmaster and his daughter.
The Displaced Person | Flannery O'Connor
A Polish refugee and his family arrive at Mrs. McIntyre's farm to work for her. The man, Mr. Guizac, proves to be an industrious and efficient worker. The Shortley's, a couple who also work on the farm, become concerned about their position. Mrs. McIntyre rules over her little domain, managing her affairs to give herself the most profit.
Brickdust Row | O. Henry
Blinker is a wealthy landowner and landlord. He decides to go to Coney Island. On the ferry ride, he meets Florence, a young working-class woman.
Short Stories About Inequality and Social Class, Cont'd
Wild Plums | Grace Stone Coates
A young girl is curious about wild plums and wants to go pick them. She is invited by the Slumps, a poor neighbor family, but her mother won't allow her to go.
The Christmas Tree and the Wedding | Fyodor Dostoevsky
At a New Year's children's ball, a guest tries to get into the good graces of the family of a young girl who is said to have a large dowry. He fawns over her and tries to oust her young lower-class playmate.
Barcelona | Alice Adams
An American couple in Barcelona is out on the street when a man snatches the wife's purse. Her husband pursues the thief.
A Shameful Affair | Kate Chopin
Mildred Orme, a young woman, is staying at an acquaintance's country house. She spends her days sitting on the front porch, reading. One day as the farmhands are coming in for lunch, one of her papers blows off the railing. A young man hands it to her; he stays on her mind in the coming days.
The Peasant Marey | Fyodor Dostoevsky
The narrator, a noble, remembers an incident from his childhood. While walking in the woods, he heard someone shouting a warning about a wolf. He ran off in a panic, until he reached a peasant man, Marey.
Jeannot and Colin | Voltaire
Jeannot and Colin are close friends in childhood. One day Jeannot receives a fancy coat and is taken away to a prosperous life – his father has had a business success. Colin is downcast. Jeannot is thrown into the education of a wealthy boy, which, suspiciously, doesn't involve learning much.
The House Behind | Lydia Davis
There is a house in front with spacious apartments inhabited by people with higher incomes, and a house behind with more cramped apartments and lower income residents. The narrator, who lives in the house behind, tells the story of a murder that happened in the courtyard a year ago.
This story is a parable for the resentment that can arise from class differences.
Short Stories About Inequality and Social Class, Cont'd
South of the Slot | Jack London
Freddie Drummond is a professor of Sociology and completely orthodox in his views. He makes visits to the working-class part of town, South of the Slot, as research for his books. In this role he is "Big" Bill Tots. He begins to enjoy these trips more and more. Eventually, Freddie/Bill is a success in both worlds.
Home | George Saunders
A man, Mikey, returns home. The place is untidy, his Ma is watching her language because she works at a church now, and she's living with a new man, Harris, who is unemployed. Mikey had done something while away that got him in trouble. He visits his dysfunctional family.
An Indian Dream | M. J. Akbar
Ashfaq Hussain, a young man, meets Ayesha at a wedding. Her family is wealthier than his. He can't figure out how to get her attention. His friends say he should just visit Lily, a prostitute.
Disappearances | K. J. Orr
A retired man feels impelled to get up early and go to the museum. It's not open yet. He goes to a cafe, busy during the day, but empty now.  He notices the waitress. He starts going there every morning, glad that his former career as a plastic surgeon is unknown to her.
The Peaches | Dylan Thomas
Dylan, a ten-year-old boy, is spending the summer at his aunt and uncle's farm. He hangs out with his cousin Gwilym, who's almost twenty and wants to be a minister, and his best friend Jack, who's also visiting. Jack's family has more money.
The Reunion | Maya Angelou
The narrator, Philomena, is an African American jazz pianist. In 1958, at a Sunday matinee at the Blue Palm Café, she sees Beth, who's seeing a black man. Philomena's family used to work as servants for Beth's family. They were paid very little. When the band leader introduces Philomena, they look at each other with recognition.
Acceptance of their Ways | Mavis Gallant
Lily is a middle-aged English woman living in a boardinghouse on the Italian Riviera, which is all she can afford. She has expensive tastes and wants to live like the upper class. She plans on taking a trip to the French Riviera for a taste of a better life and to be missed for a while.
---
I'll keep adding short stories about social inequality and class as I find more.