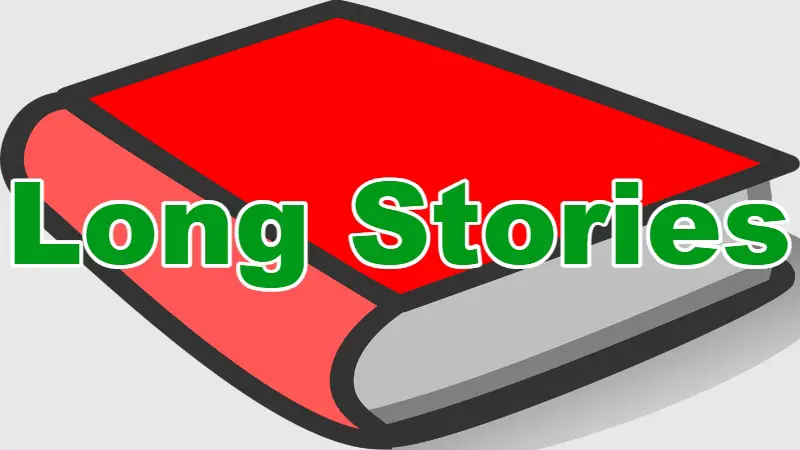 These long stories could also be classified as novelettes, novellas, or long short stories depending on your preference. Regardless of what they're called, they are all longer than a regular short story, being at least 7,500 words. Some of these long stories are available to read online, and are linked to below.
Long Stories to Read
"The Love of a Good Woman" by Alice Munro
A museum in Walley has a box of optometrist's instruments that were owned by D. M. Willens, who drowned in the Peregrine River decades ago. It was found by an anonymous donor. Three boys who were out exploring on a spring morning first spotted the car and the body submerged in the river. In another thread, Enid is providing homecare for Mrs. Quinn, a young woman dying of kidney failure.
This longer story can be read in the preview of Family Furnishings: Selected Stories. (13% into Kindle preview)
The Merchant and the Alchemist's Gate | Ted Chiang
Fuwaad, a fabric merchant, appears before the Caliph to recount a remarkable story. While looking for a gift, he entered a large shop with a new owner. It had a marvelous assortment of offerings, all made by the owner or under his direction. Fuwaad is led into the back where he's shown a small hoop that manipulates time. He also has a larger gateway that people can walk through. The owner tells Fuwaad the stories of a few who did just that.
Most of "The Merchant and the Alchemist's Gate" can be read in the Amazon preview of Exhalation: Stories.
The Gay Old Dog | Edna Ferber (8,300 words)
Jo Hertz is a plump, lonely bachelor of fifty. The narrator tells us Jo's story from the age of twenty-seven when his mother died and she got him to promise to put his life on hold until his three sisters were cared for.
This is the first story in the preview of 100 Years of the Best American Short Stories.
Bartleby, the Scrivener | Herman Melville (14,400 words)
An elderly, Manhattan lawyer tells the story of Bartleby, the strangest law-copyist he has ever heard of. After being hired, Bartleby did good work for a short time. One day, though, he was asked to look over a document, and simply replied "I would prefer not to." This marked the beginning of a trend for Bartleby.
This is the sixth story in the preview of Classic Short Stories.
Long Stories to Read, Cont'd
Boule de Suif | Guy de Maupassant (14,450 words)
The Prussian army advances while the French army retreats. Ten passengers are given clearance to board a carriage and leave the city, with the possibility of crossing into England. Among the passengers is Boule de Suif, a prostitute who has to make a moral decision that will affect the whole group.
This is the second story in the preview of Classic Short Stories.
The Snows of Kilimanjaro | Ernest Hemingway (9,200 words)
On the African savannah, a man's leg is rotting with gangrene. His wife tries to comfort and encourage him. As he waits for death, he thinks about his life.
This is the third story in the preview of The Complete Short Stories of Ernest Hemingway. (62% into the preview)
Second Variety | Philip K. Dick
During a nuclear war between the Soviets and the United Nations, the U.N. authorities are forced to relocate to a moon base, leaving the troops behind. U.N. developers build "claws", a basic robot with churning blades that seeks out warm bodies. U.N. troops are protected by a special radiation-emitting wrist device. After the robots turn the tide of the conflict, the Soviets want to talk to a high ranking officer to discuss a new threat.
This is the first story in the preview of Space Science Fiction Super Pack
"Hester Lilly" by Elizabeth Taylor
Hester Lilly, a young woman and orphan, has come to stay with her older cousin Robert and his wife, Muriel. Muriel didn't want her to come. Robert and Hester have been writing to each other frequently for a while. Muriel is relieved when she sees that Hester is poorly dressed and seems unthreatening. Hester is to do some dictation work for Robert.
This story can be read in the preview of Complete Short Stories. (11% in)
Long Stories to Read, Cont'd
Friend of My Youth | Alice Munro (8,900 words)
The narrator recounts the life of Flora Grieves. She lived on a farm with her sister, Ellie, and her brother-in-law, Robert. She tells us how the house and work was divided, how Ellie and Robert came to be married, and how Flora responded to the many changes in her life.
This story can be read in the preview of Friend of My Youth. (10% in)
"Think Like a Dinosaur" by James Patrick Kelly
Kamala is on the Tuulen station, which is run by the Hanen, a cold-blooded dinosaur race. Tuulen station is home to a teleportation device, a migrator, that can send people to other planets. A perfect copy arrives at the destination, and the equation is "balanced" by killing the original person. A complication arises during Kamala's migration.
The beginning of this story can be read in the preview of A Fistful of Dinosaurs.
"Rachel in Love" by Pat Murphy
Rachel, a small chimpanzee, watches a Tarzan movie on television. She knows her father, Dr. Aaron Jacobs, wouldn't approve, but he's still sleeping. When she gets hungry, she goes to wake him up. He has died of a heart attack. Rachel doesn't know what to do. He is the only person she has ever known.
A lot of this story can be read in the preview of the anthology Future on Fire. (38% into preview)
"Pastoralia" by George Saunders
The narrator isn't feeling his best. He's in his work area, sitting on his haunches, waiting in case someone looks in. No one has looked in for almost two weeks. His coworker, Janet, has been talking English more and more, which is against policy. There's a fresh goat provided for them in the Big Slot each morning along with matches. Others have it harder. He skins it with a flint and Janet makes a fire to cook it. Back when they got more visitors they would throw themselves into their roles more, grunting and tossing dirt. One morning, there's no goat in the Big Slot.
Some of this story can be read in the preview of Pastoralia. (20% in)
Long Stories to Read, Cont'd
Good Country People | Flannery O'Connor (8,800 words)
Mrs. Hopewell is a widow who runs her farm. Her daughter, Joy, has an artificial leg from a hunting accident as a child. Mrs. Hopewell is a Christian; Joy is an atheist with a Ph.D. Mrs. Hopewell likes "good country people", like her hired tenants, the Freemans. She and Mrs. Freeman like exchanging platitudes. Joy is introverted and believes she has life figured out. One day, a traveling Bible salesman calls on Mrs. Hopewell. (Summary & Analysis)
"Everything's Eventual" by Stephen King
Dinky Earnshaw, a nineteen-year-old dropout, has a good job. It doesn't pay a lot, but it comes with a house, a car, and weekly delivery of what he wants. He's not allowed to contact any of his old friends. He's also not allowed to save any money—whatever is left at the end of the week has to be discarded. Dinky has only met his boss, Mr. Sharpton, once. He doesn't see who drops off his pay or the cleaners. Mr. Sharpton recruited Dinky for a special ability he possesses.
A Circle in the Fire | Flannery O'Connor (7,600 words)
Mrs. Cope owns a large farm. She is protective of her property and feels she is good at handling whatever comes up. One day, three boys visit her; the father of one of the boys used to work for Mrs. Cope. That boy, Powell, remembers the farm and has been telling his friends about it. They want to enjoy farm life for a while.
Royal Jelly | Roald Dahl (8,000 words)
A new mother is worried because her baby has been losing weight since birth. Her husband, a bee expert, adds royal jelly to their baby's formula.
Long Stories to Read, Cont'd
Parker's Back | Flannery O'Connor (8,200 words)
Parker is dissatisfied with his life. He's not sure why he's still with his wife—a deeply religious woman—and she's pregnant. His main focus has been to get tattoos; there's no room left on the front of his body. While driving a tractor, he has an experience that proves to be a turning point for him.
Revelation | Flannery O'Connor (8,700 words)
Mrs. Turpin and her husband are in a doctor's waiting room.  Mrs. Turpin is racist and judgmental, and she attracts the attention of a young woman, who looks at her intently. (Summary)
A Bottle of Perrier | Edith Wharton (8,950 words)
Medford, from the American School of Archaeology at Athens, goes to visit his friend, Henry, an amateur archaeologist living in the desert. When he arrives, Henry isn't home. The servant, Gosling, says he was invited to some unexplored ruins. Medford waits for his friend's return.
Parson's Pleasure | Roald Dahl (9,300 words)
An antiques dealer works a con to buy valuable items from unsuspecting country dwellers. On one trip, he makes the find of his life and tries to get it for next to nothing.
Long Stories to Read, Cont'd
The Country of the Blind | H. G. Wells (9,600 words)
Nunez, a mountain climber and adventurer, falls during a climb and ends up finding a village in a nearby valley. The inhabitants have been blind for generations. Nunez has found the legendary Country of the Blind, and, as a sighted man, believes he will rule this people.
The Legend of St. Julian the Hospitaller | Gustave Flaubert (9,800 words)
After Julian's birth, his parents are given two prophecies – that he will become a saint, and that he will attain glory in a royal family. As a young man he is given a third prophecy, that he will kill his parents.
"The Legend of St. Julian the Hospitaller"
William and Mary | Roald Dahl (10,000 words)
Mary Pearl receives a letter from her lawyer following her husband's death. Her husband had been approached by a doctor with an unusual plan for extending his life. He went ahead with it, even though Mary was against the idea.
The Great Good Place | Henry James (10,300 words)
George Dane is a successful writer with much responsibility and work to do. Soon after he feels like he's experiencing a rebirth into a great good place, somewhere charming and peaceful.
Long Stories to Read, Cont'd
The Bruce-Partington Plans | Arthur Conan Doyle (10,900 words)
Holmes is bemoaning the caliber of crime in London when he receives a telegram informing him of an urgent visit from his brother Mycroft. A young man was found dead on the train tracks. He had on him the plans for a top secret government submarine; the most important pages were missing.
Read "The Bruce-Partington Plans"
A Simple Heart (A Simple Soul) | Gustave Flaubert (12,100 words)
After an early romantic disappointment, Felicite is hired as a housekeeper by Madame Aubain. Her work is exemplary and she loves the Aubain children very much. When the daughter takes catechism lessons and her first communion, Felicite becomes involved in religion.
The Fall of Edward Barnard | W. Somerset Maugham (12,250 words)
Bateman returns from a trip to Tahiti and goes to see Isabel with news of his friend Edward. After becoming engrossed in native life and culture, Edward has decided not to come back even though he was engaged to Isabel.
Read "The Fall of Edward Barnard"
Amy Foster | Joseph Conrad (12,600 words)
A country doctor tells the narrator the story of a passive and dull woman, Amy Foster. She fell in love with a man from Europe who was shipwrecked off the coast of her town. The doctor tells the history of this man, including the isolation he endured due to the language barrier and how he was viewed as dangerous and insane.
Long Stories to Read, Cont'd
Disorder and Early Sorrow | Thomas Mann (13,100 words)
Professor Cornelius's oldest children plan and throw a party for their friends. Economic times are difficult, but everyone tries to keep up good appearances. The professor is concerned about things that have changed such as his children, his profession, and art and the theater.
Young Archimedes | Aldous Huxley (13,500 words)
A young English couple rent a house in Italy because it has a great view, and a local peasant boy, Guido, makes an excellent playmate for their own son. Guido is a gifted child, with an affinity for music, and a natural understanding of mathematics. The landlady wants to adopt Guido to mold him and make money from his talents.
Sonny's Blues | James Baldwin (13,750 words)
The narrator is a teacher in Harlem; he has managed to keep away from the bad influences around him. His brother, Sonny, is a jazz musician with a heroin problem. They haven't stayed close over the years.
Sandkings | George R. R. Martin (15,000 words)
Simon Kress lives alone outside the city. He likes unusual and exotic pets. After his last trip his animals died. He finds a new shop, Wo and Shade Importers, where he is shown sandkings, an insect-sized life-form with a hivemind that fights wars with other colonies.
---
I'll keep adding long stories to read online as I find more.