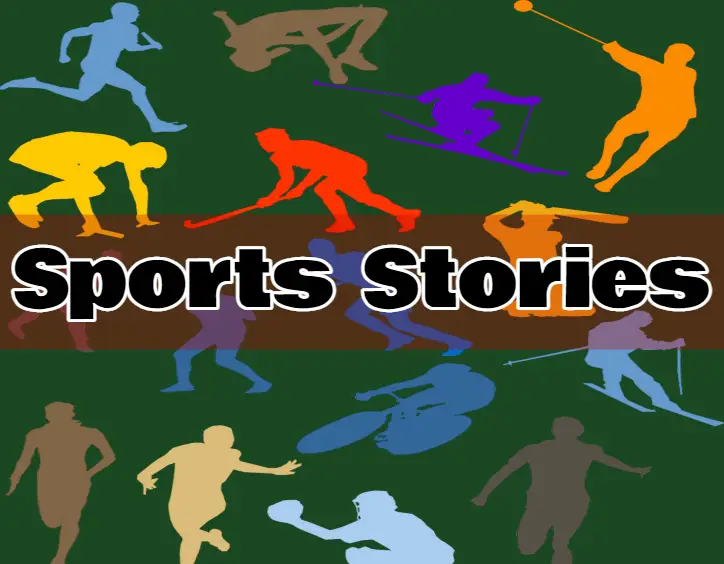 These sports short stories set in the world of sports and athletics. There won't be play-by-play action in all of them. Sometimes the characters just talk about a sport.
The stories about games have their own section at the bottom. Stories with PDF links are noted below. Here are two anthologies to consider (Amazon):
The following sports also have their own pages:
Sports Short Stories
"The Croxley Master" by Arthur Conan Doyle
Robert Montgomery is at his desk, feeling despondent. He's assisting Dr. Oldacre in his practice. Montgomery is earning his medical degree. His final year at the University is approaching, but he doesn't have the money to pay for it. He decides to ask Dr. Oldacre for a loan. He refuses the request. An irate man enters the office looking for a prescription. A confrontation ensues.
Read "The Croxley Master" (This story is in Tales of the Ring and Camp: Boxing and War Stories.)
"Border Guards" by Greg Egan
Jamil is wandering home when he hears the shouts of a game from behind the library. He joins the quantum soccer match. The city paints the wave function of the ball and enables him to identify the players. New entries are allowed at any time, so Jamil integrates into the game.
Some of this story can be read in the preview of the anthology Beyond Singularity. (67% into preview)
"Amigo Brothers" by Piri Thomas
Two seventeen-year-old boys in a poor neighborhood train together as boxers. They are best friends, and successful fighters. They know that eventually they will have to fight each other to see who will be the Boys Club's Golden Gloves representative.
Read here (PDF)
"The Thrill of the Grass" by W. P. Kinsella
A little while into the 1981 MLB strike, the narrator comes home from work, stops into the stadium parking lot, and sees some sort of a magical door on the side of the building. He loves being inside, but is upset by the artificial turf. He has an idea to change it.
Read "The Thrill of the Grass" (PDF)
"The Slump" by John Updike
A professional baseball player is in a hitting slump. He tries to figure out what his problem is. He considers physical and philosophical reasons, and tries to work through it.
Find a Short Story About Sports
"How to Transform an Everyday, Ordinary Hoop Court Into a Place of Higher Learning and You at the Podium" by Matt De La Pena
It's summer and school is over. You did well even though all you really care about is basketball. All your free time is spent practicing. You want to be even better next year, in high school. You overhear people talking about a high-level game that's played in Balboa Park.
The beginning of this story can be read in the preview of the anthology Flying Lessons & Other Stories.
"The Loneliness of the Long Distance Runner" by Alan Sillitoe
A teenager is sentenced to a school for delinquents for robbing a bakery. He turns to long-distance running and excels. He's offered a reduced workload for the remainder of his sentence if he wins a prestigious race for his school.
"The Assault on the Record" by Stephen Hoffius
A fifteen-year-old boy decides he wants to set a world record. He and a group of friends plan to run a one hundred-mile relay.
"Raymond's Run" by Toni Cade Bambara
A young girl, Hazel, trains for a May Day race while looking after her older, mentally challenged brother, Raymond. Hazel is known as the fastest runner in her neighborhood and is determined to live up to her reputation.
Read here (PDF)
"Return to Return" by Barry Hannah
Baby Levaster remembers times with French Edward, a professional tennis player. They met as high school athletes when Levaster was the better player. That soon changed when Dr. Word, a tennis coach, started focusing on Edward. They have a hostile relationship.
Find a Short Story About Sports
"Dougie Mortimer's Right Arm" by Jeffrey Archer
Bob Kefford has stroked Cambridge to a rowing victory for three consecutive years. His father tells him he must present a memento to the University Boat Club to remember him by. Bob hears about a bronze arm of Dougie Mortimer, a famous alumni, and thinks this would be an ideal item.
"Night Run" by Shannon O'Cork
Brad has reached the eight mile of a twelve mile race. He's in the lead, but he hears the footfalls of someone gaining on him. Only Patterson could challenge him at this point, but Patterson must be dead by now. Brad maintains his pace and thinks about his grudge against Patterson.
"Night Run" is in Tales From Ellery Queen's Mystery Magazine.
"Running Blind" by Thomas Fox Averill
A blind man starts running with his friend. They start with one mile. He stays close, his hand at his friend's elbow. The blind man makes progress.
"Bounce-Back" by David Lubar
There's a ping-pong tournament next week at the YMCA. Tyler and Bobby want to win the big trophy. Tyler finds the ping-pong table in his basement and starts practicing right away.
"Mixed Doubles" by Irwin Shaw
Jane and Stewart Collins, six years married, play tennis against Mr. Croker and Eleanor Burns. Jane is sensibly dressed and a bit self-conscious because Eleanor is young and pretty. Stewart is elegant and graceful, while Mr. Croker is round and turns purplish during play. The game goes well for Jane and Stewart for a while.
This story is in More Sports Best Short Stories.
Short Stories About Games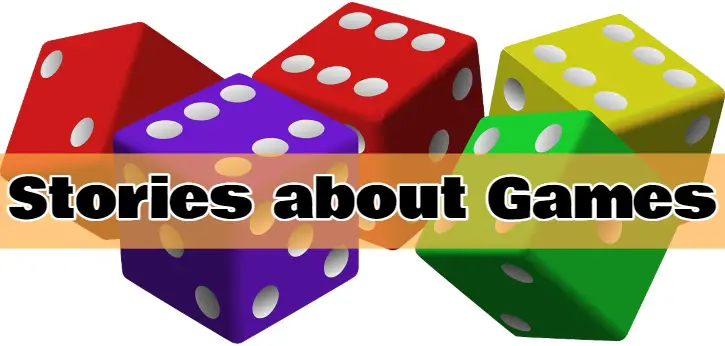 "Rules of the Game" by Amy Tan
Lindo is a mother and a Chinese immigrant. Her daughter, Waverly, is American born. Their mother/daughter relationship is explored as the daughter learns to play chess, and progresses from her first tournament at age eight and continues as she becomes a stronger player. (Summary and Analysis)
Read "Rules of the Game" See also:
"The Prize of Peril" by Robert Sheckley
Raeder is holed up in a dingy apartment. A bullet smashes through the widow. Gunmen have the exits covered, and he knows he's dead this time. Raeder is a contestant on a television show. He can hear the live commentary on his pocket television set. If he can survive for the agreed upon time, he will win two hundred thousand dollars.
This story can be read in the preview of Dangerous Games. (22% in)
"Will the Chill" by John Shirley
Tondius Will, a champion waverider, doesn't want to do any interviews. The biocyber computer reminds him that his sponsorship depends on doing media. He reluctantly agrees, but his attitude is poor. He focuses on his athletics rather that on cultivating a persona that will drive public interest in the events. The reporter wants to find out more about Will to keep the audience interested.
This story can be read in the preview of Future Games. (12% in)
"What We Talk About When We Talk About Anne Frank" by Nathan Englander
Mark and Lauren, ultra-orthodox Jews from Jerusalem, are visiting the narrator and his wife, Deb, secular Jews in New York. The men gently argue some social issues. They drink and then get high, continuing to discuss life and Jewish matters. Mark tells a  story about Holocaust survivors. A game that Deb used to play comes up in conversation.
"The Most Dangerous Game" by Richard Connell
Raisnsford is on a ship headed for the Amazon. He's a big-game hunter. While on the afterdeck smoking his pipe, he hears the sound of gunshots in the distance. When he investigates, an accident puts him in a dangerous situation.
Read "The Most Dangerous Game"
"Buttony" by Fiona McFarlane
The children in Miss Lewis's class want to play Buttony, a game they all love. She asks Joseph, a popular, good looking boy, to get the special button from her desk drawer. He handles it reverently. The students line up to go outside so they can start the game.
"The Hitchhiking Game" by Milan Kundera
A young couple is driving together on the first day of their vacation. The woman is shy and "pure", while the man is confident with women and has had many casual relationships. When she gets back in the car after a stop, they start to role play a hitchhiker game. It opens her up, changing her boyfriend's view of her.
Short Stories About Games, Cont'd
The neighborhood children are playing a wonderful game, the most exciting game they've played in years. It's called "Invasion". Only the young children, those nine and under, are playing. The older children don't care for it and the adults go about their day as usual. Mrs. Morris overhears some of the activity.
Read "Zero Hour" (PDF)
"A Way Out of the Forest" by Maara Haas
Rouga and Arnie, young siblings living in poverty without much adult involvement, make a game out of their situation by pretending they live in a tent in the cold and are waiting for provisions.
"Games at Twilight" by Anita Desai
Some children in Bombay play a game of hide-and-seek. One of the children, Ravi, manages to squeeze into a shed and he's certain that he will win the game.
Read "Games at Twilight" (PDF)
"Dominoes" by Jack Agueros
In Spanish Harlem, four men play dominoes on the sidewalk as they often do. They attach a great deal of importance to the game.
"End of the Game" by Julio Cortazar
Three adolescent girls play a game by the train tracks. The chosen girl wears ornaments and poses as either a "Statue" or an "Attitude" as the train goes by. One of the girls, Letitia, has a disability that makes the game a bit harder for her. One day a passenger on the train drops a note out the window for the girls.
"A Temporary Matter" by Jhumpa Lahiri
Shoba had a miscarriage six months ago, three weeks before she was due. She and her husband Shukumar get a notice from the electric company saying their power will be off for an hour for five consecutive evenings. While eating in candlelight, they decide to play a game where they will reveal something previously kept secret from each other.
---
I'll keep adding short stories about sports and games as I find more.