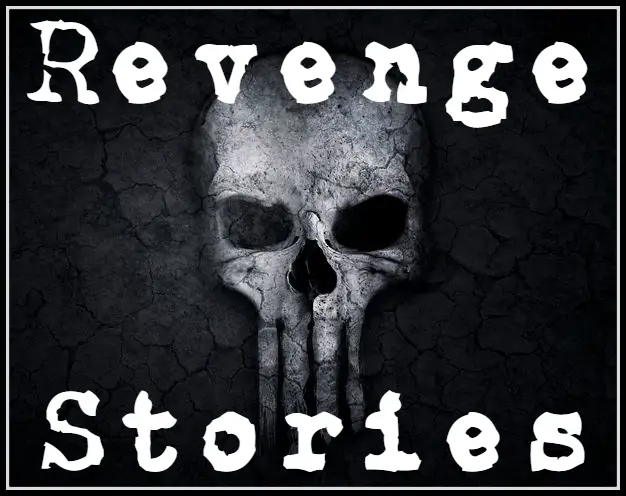 Here you can find a revenge short story with a character who seeks vengeance against someone who wrongs them, whether the slight is real or perceived.
Short Revenge Stories
"Glazed" by Anuta Reah
Anthony is having an affair with his lawyer, Olivia. She thinks it's time he ended things with his wife, Molly. Anthony owns a chain of stores. His cornerstone products are the ceramics that Molly makes. Their son, Dominic, has Down Syndrome. Molly cares for him while Anthony is distant. Some news makes Anthony think about what he wants.
"Glazed" can be read in the preview of Getting Even: Revenge Stories.
"The Cask of Amontillado" by Edgar Allan Poe
The narrator, Montresor, tells the story of how he sought revenge against a man, Fortunato, who insulted him. He was careful to hide his feeling of ill-will toward the man. They meet one evening at a carnival, after Fortunato has been drinking. Using Fortunato's knowledge of wine as bait, Montresor gets him to insist on a visit.
Read "The Cask of Amontillado"
"How Quini the Squid Misplaced His Klobucar" by Rich Larson
The narrator wants Nat to help him rip off Quini the Squid, a man who runs a large criminal empire. They both hate him for different reasons. Nat had a relationship with him that was abusive. The narrator was blamed for someone else's mistake during a job, resulting in a beating and no pay. The dual motives of profit and revenge make it an appealing job for both. Quini is in possession of a valuable piece of art. They'll be able to practice their theft in a virtual environment.
This is the first story in the preview of The Year's Top Hard Science Fiction Stories 5.
"The Viaduct" by Brian Lumley
Two boys, John and David, are walking along the beach on a warm spring day. They head for the viaduct. On the way, they have an encounter with Wiley Smiley, the village idiot. The boys bother him before going on their way. When they reach the viaduct, they remember something they were going to do.
"The Viaduct" can be read in the Amazon preview of The Mammoth Book of Nightmare Stories: Twisted Tales Not to be Read at Night.
"Nightmare" by Barb Goffman
Mary Ellen is jolted out of sleep by a recurring childhood nightmare—a fire-breathing dragon closes in on her. She goes out on the front porch, careful not to wake her mother or older brother. The combination of the rain, the dream, and an image of her brother brings an old memory to the surface.
"Nightmare" is the first story in the Amazon preview of Don't Get Mad, Get Even.
"An Act of Vengeance" by Isabel Allende
Dulce Rosa is the daughter of Senator Orellano, the most powerful man in the province, and enjoys the advantages of her position. She's charming and good-looking but also develops a reputation for great beauty. Eventually, the tide of the Civil war turns and Tadeo Cespedes marches against the province. There's no way her father's defenses can hold out.
"An Act of Vengeance" can be read in the Amazon preview of Short Stories by Latin American Women: The Magic and the Real.
A man has been watching Dolan, a crime boss, for seven years. He follows him as much as his schedule as a teacher allows. He's gotten to know the man's routine well. Dolan is always accompanied by two large guards. Dolan had the man's wife killed because she witnessed something and was going to testify. He's been trying to come up with a plan for revenge. One day, while driving he thinks maybe he could trap Dolan with false "Detour" signs.
This longer story can be read in the preview of Nightmares & Dreamscapes: Stories.
Find a Short Story on Revenge, Cont'd
"Patton Bounty Hunter: The Beginning" by Kurt James
A man and his dingo forge through the snow. They're headed for Ridgway, Colorado, on a tip from a Mexican bandit, Lucille. He's looking for Cash Jackson, the man who killed his wife. He's driven by hatred and revenge.
This story can be read in the preview of Patton Bounty Hunter: Short Story Collection 1.
Abner Snopes is being tried in a small-town court for allegedly burning down his landlord's barn. He's kicked out of town, and finds a new job working as a sharecropper.
This story can be read in the preview of Collected Stories.
"Hot Springs" by James Crumley
Benbow and Mona Sue are hiding out at a mountain cabin. They're waiting for her to give birth. Then they'll go to Canada; no one will follow them there. Mona Sue warns that R. L. is coming. Benbow took off with his money and with Mona Sue.
This story can be read in the preview of The Best of the Best American Mystery Stories: The First Ten Years. (18% in)
"Haircut" by Ring Lardner
A barber talks about the local practical joker after he was recently killed.
This is the fourth story in the preview of 100 Years of the Best American Short Stories.
"Solomon Wept" by S. A. Cosby
Parrish, wearing a wig and heavy makeup, checks her purse for the gun before going in to the bar. She's meeting a couple who's names she got from Curtis, her old pimp. It took her a year after getting out to find him. Parrish is looking for her baby.
This story can be read in the preview of When a Stranger Comes to Town. (15% in)
Maria and Juan are a young married couple. Maria works hard, is frugal, and is respected in her Mexican town. She is pregnant. Although she doesn't believe in the remedies of the local medicine-woman, Maria feels she needs honey to prevent her child from being "marked" in some way. She goes to her place, where a young beekeeper, Maria Rosa, also lives.
This is the first story in the preview of Collected Stories and Other Writings.
Miss Strangeworth, an elderly woman, lives on Pleasant Street in a house her grandfather built. She is known for the beautiful roses she grows. She's on friendly terms with many people in town, and she observes what is happening.
This is the first story in the preview of Dark Tales.
Find a Short Story on Revenge, Cont'd
There is an age-old rivalry between the Metzengersteins and the Berlifitzings. Shortly after Frederick, the last Metzengerstein, inherits the family estate, the Berlifitzing stable burns down. A horse turns up at Frederick's place, presumably from the Berlifitzings, even though the grooms claim no knowledge of it. He keeps it.
This is the second story in the preview of Complete Tales and Poems.
"Part-Time Job" by P. D. James
When the narrator was twelve years old, he vowed to kill his school bully, Keith Manston-Green. He was tormented by him for six years. When school ended, he kept track of Keith's movements and carefully planned his revenge.
This story can be read in the preview of The Detection Collection. (22% in)
"A Jury of Her Peers" by Susan Glaspell
When a farmer in Dixon County is found dead in his bed—strangled—his wife is held on suspicion of murder. The local authorities investigate while two of their wives collect some items for the accused.
This story can be read in the preview of A Moment on the Edge: 100 Years of Crime Stories by Women.
"The Catbird Seat" by James Thurber
Mr. Martin, head of the filing department at a law firm, decides to kill Mrs. Barrows, an annoying and overbearing adviser to the founder. She always asks him silly questions with odd expressions. Worst of all, Martin suspects she's planning a reorganization of his department.
This story can be read in the preview of The Thurber Carnival. (34% in)
"Axiomatic" by Greg Egan
A man goes into The Implant Store. They sell tiny chips that can rewire the brain, giving people particular experiences or beliefs. He's here for a special order. He looks around, giving himself a chance to leave without it. After five years, he still mourns and loves his deceased wife, Amy, but he knows he's not doing this for her.
This is the second story in the preview of The Best of Greg Egan. (28% into Kindle preview)
"Spurs" by Tod Robbins
Jacques is a dwarf employed by a circus. He has no friends. He becomes infatuated with a fellow performer, Jeanne, a bareback horse rider. One day, Jacques inherits an estate after his prosperous uncle dies. He uses this gain to attract Jeanne.
"Spurs" can be read in the preview of The Best American Noir of the Century.
"Blue Book Value" by S. A. Cosby
Trey is out hunting on land owned by the aunt of his friend, Randy. He winged a huge buck and is following the trail. This kill could carry his family through the winter, so he doesn't want to lose it. He has an encounter with the wounded animal, and also finds something unexpected.
This story can be read in the preview of the anthology Collectibles. (70% into preview)
Find a Short Story on Revenge, Cont'd
"The Hounds of Fate" by Saki
Martin Stoner is a weary, hungry man wandering aimlessly. He happens upon a farm-house. Thinking he might buy a drink with his last coin, he approaches the door. Before he can knock, he's greeted by an old man who addresses him in a surprising way.
This story can be read in the preview of The Hounds of Fate: 13 Tales of Terror. (Pg 1)
"The Revenge of the Dog" by Luigi Pirandello
Three years ago, a foreigner with a wooden leg informed Jaco Naca that he was the owner of some land. The man was interested in it and offered to pay the official appraisal price. They made the deal. A year later, Jaco was upset to see that two small villas had been built on the property, which would bring their owner a nice income.
This story can be read in the preview of Stories for the Years. (38% in)
"30 and Out" by Doug Allyn
Jax Ladart has been hired onto the force back in his home county. He's fresh out of the army, the Military Police. He's checks in with Sgt. Charles Marx, from Major Crimes, who's due to retire soon. Marx had helped Jax out years ago, but Jax doesn't remember him. His attitude about crossing the line has changed. The DEA have requested assistance with locating a motor home in the woods.
This story can be read in the preview of The Mysterious Bookshop Presents the Best Mystery Stories of the Year: 2021. (28% in)
"The Odour of Sanctity" by Kate Ellis
Vicky and her class of young students arrive at Bickby Hall for their history trip. She's greeted by Muriel, in full Elizabethan costume. Muriel looks worn out; she's concerned about her daughter, Francesca. They begin touring the house. Muriel's presentation is interrupted in the Great Hall by a terrible scream. Two boys think they saw something outside.
This story can be read in the preview of The Mammoth Book of Locked-Room Mysteries & Impossible Crimes. (43% in)
"Boxing Unclever" by Robert Barnard
Sir Adrian Tremayne, a former stage actor, relates to the dinner table a story of Christmas reconciliation from ten years ago. He was visited by Angela, an actress, and Daniel, a critic, who had both wronged him. There were also other actors and people in the business invited. To defuse suspicion, Tremayne also invited some "outsiders", those not in the business.
This story can be read in the preview of The Big Book of Christmas Mysteries. (61% in)
"Swiftwing 98" by Peter O'Donnell
Inspector Lestrade gives his new Detective Sergeant an assignment—prevent a woman, Eva Kossuth, from being murdered. She defected from Hungary and is coming to live in England. Her country believes she's been a spy for the west. She'll be arriving today by train, and they need to be prepared.
This story can be read in the preview of Daggers Drawn. (24% in)
"Kings and Queens" by Elsie Chapman
Ming goes to her family-owned restaurant after school. There's a lot of prep to be done for an engagement dinner they're hosting tomorrow. Ming's older sister, Yun, is upstairs in bed, unable to move; she was shot. Someone calls in a "special" order. As a member of the Kings and Queens, Ming understands what this means.
Some of this story can be read in the preview of Hungry Hearts: 13 Tales of Food & Love. (70% into preview)
Find a Short Story on Revenge, Cont'd
Lionel hears that his friend Janet has said something unflattering about him behind his back. He devises a plan to publicly embarrass her.
Some of this story can be read in the preview of Mark Twain's Medieval Romance. (70% in)
Ronnie is thirteen and big for her age, while her friend Sarah is twelve and smaller. Ronnie causes trouble at school. Once she tried to get Sarah to corroborate a false story about a teacher, but she refused. Sarah does almost everything Ronnie says. Ronnie pinches her and rubs her face in the dirt. They sometimes go to an abandoned warehouse to hang out and look for things. Ronnie insists they go there now. Along the way, she says negative things about the people living in the area.
"The Right Kind of House" by Henry Slesar
A man from New York, Mr. Waterbury, driving a fancy car, enters Aaron Hacker's real estate office in Ivy Corners. He's looking to retire to a quiet town. He saw a house on the outskirts that seems right to him. Hacker is disappointed to find it's the house of old Sadie Grimes. He's had the listing for five years and knows it won't sell due to the exorbitant asking price and her unwillingness to negotiate. Mr. Waterbury thinks if spoke to her personally they could work something out.
"Heading Home" by Ramsey Campbell
You were obsessed with your research, paying little attention to your wife. You can hear your wife and the young man talking somewhere above. You must have been thrown down the stairs into the cellar. They must think you're dead. You strain every muscle—at least the ones you can still use—to climb the stairs.
"Vengeance is Mine Inc." by Roald Dahl
The narrator and George talk about their lack of funds and the expense of living in New York. They talk about Lionel Pantaloon, a newspaper columnist who says insulting things about socialites. They realize that the people mentioned in his column would be upset with Pantaloon and want to get revenge. This gives them an idea for a potentially profitable business.
"April 2005: Usher II" by Ray Bradbury
William has a new house built on Mars. It's desolate and horrible, just as he wanted. Back on Earth, all fantasy and horror stories were banned, resulting in the loss of William's extensive library. He has a plan for revenge. Recreating the house from Poe's The Fall of the House of Usher is a big part of it.
"The Way Up to Heaven" by Roald Dahl
Mrs. Foster is always punctual while her husband seems to take pleasure in delaying her for her appointments. Mrs. Foster plans to fly to see her daughter and granddaughters in Paris. On the morning of her trip, her husband stresses her unbearably by making her wait for him.
"In the Kindergarten" by Ha Jin
A kindergarten teacher, low on money, organizes her students to pick purslanes (an edible weed), with the promise that they'll be served them at dinner. Shaona, a new student who's having trouble fitting in, notices that the teacher gives a lot of the purslanes to someone else.
Find a Short Story on Revenge, Cont'd
A widow's son is murdered by a man who then flees to Sardinia. The boy's mother vows to take revenge against her son's killer.
A famous gorilla from the movies is making a tour of some small theatres. Enoch Emery goes to meet it, with the plan of insulting it. When he gets embarrassed at the event, he decides to do something about it.
"Wasps' Nest" by Agatha Christie
John Harrison is out in his garden when he gets an unexpected visit from his old friend, the detective Hercule Poirot. Poirot explains that he has come to investigate a murder that hasn't yet happened; he's going to stop it, and he would like his friend's help.
A man's landlady tells him part of the story of an old dilapidated house involving a Spanish prisoner of war. It's unclear what became of him so the man tries to get the rest of the details from the housekeeper.
"Mother Sauvage" by Guy De Maupassant
The narrator's old acquaintance tells him the story of Mother Sauvage. Her son went to war fighting the Prussians. Meanwhile, Prussian forces occupy her home territory, and she has four soldiers assigned to live in her home. Both sides understand the situation, and she treats them well. When she gets news of her son's death her attitude toward them changes.
"The Five Forty-Eight" by John Cheever
When Blake steps off the elevator after work, he sees a woman he knows but doesn't want to speak to. He realizes she is stalking him. He thinks about their brief relationship, and believes she will be easy to shake.
"The Limitations of Pambe Serang" by Rudyard Kipling
The narrator relates the story of Pambe Serang and a man who wronged him, Nurkeed. They were both aboard a ship, the Saarbruck. After Nurkeed had been drinking, he stole some of Pambe's food. In the ensuing confrontation, Pambe gets stabbed and vows to settle the matter later.
"An Official Position" by Somerset Maugham
Louise Remire is serving 12 years in a penal colony for the murder of his wife. He is the colony's executioner and this position of power and his attitude make him unpopular with the other inmates.
"The Outstation" by Somerset Maugham
Mr. Wharburton, an Englishman, runs an outstation in a remote part of Borneo. He meets his new assistant, Cooper, a man much different from himself. Cooper is irresponsible and treats the locals with disdain.
Find a Short Story on Revenge, Cont'd
A family lives in a futuristic house that automatically meets all their needs, including a nursery for the children that can create any scene they want. The parents are thinking about reducing their reliance on technology by taking a break from the nursery and all the automation, but the children are against the idea.
"Silence" by Tadeusz Borowski
A man is seized in a German barracks and dragged into an alley. The mob is broken up when they are warned of an approaching company of American soldiers.
Delia supports her abusive, cheating husband by washing clothes. He comes up with a plan to get rid of her, so he can take up with his mistress.
"Vision Out of the Corner of One Eye" by Luisa Valenzuela
A woman on a bus gets fondled by the man next to her.
"Water" by Fred Leebron
The narrator describes a former lover and friend who are now together. While watering the friend's plants, he also takes the opportunity to do something else.
"The Shot" by Alexander Pushkin
A regiment of Russian soldiers often goes to the home of Silvio, a mysterious man, to play cards and drink. A young soldier insults Silvio, but he lets it pass; he doesn't challenge him to a duel as honor demands. This lowers his esteem in the eyes of his guests.
"The Cone" by H. G. Wells
Raut, an artist, is sitting with Mrs. Horrocks in her home. Raut asks if her husband knows about them, but she assures him he doesn't. As they talk about their feelings for each other, they hear the door click shut. Mr. Horrocks stands in front of them. They aren't sure how much he has heard.
"Miss Awful" by Arthur Cavanaugh
Robert is a third grade student who finds out his teacher, Miss Wilson, is going to be away for a while. He likes Miss Wilson because she is fun and lenient. The substitute teacher, Miss Orville, is strict about completing schoolwork and maintaining order in the classroom.
"The Sun-Dog Trail" by Jack London
Sitka Charley is relaxing after a day on the Alaskan trail. He and the narrator start talking about a painting, which reminds Sitka of an arduous journey he once made. When he was a letter carrier on Lake Linderman, a young woman hired him to take her to Dawson. Then she hires him to travel with her. She is desperately looking for something but doesn't tell him what.
Find a Short Story on Revenge, Cont'd
"Laura" by Saki
Laura, who expects to die soon, believes she will be reincarnated as something suitable to her behavior and personality, probably an otter.
"The Man That Corrupted Hadleyburg" by Mark Twain
Hadleyburg is an honest and upright town. A mysterious stranger is holding a grudge against a few citizens, but rather that seeking revenge against the individuals he wants to corrupt the whole town. He launches his scheme by dropping off a sack of gold coins at the Richards' home. A note explains that the coins will be awarded to whoever can repeat the wise advice that was given to the stranger years ago.
Read "The Man That Corrupted Hadleyburg"
"Captain Rogers" by W. W. Jacobs
After a long walk, a stranger enters town and goes to an inn, The Golden Key. He demands to speak to the landlord, whom he calls Rogers. The landlord says his name is Mullet. The stranger says there is a hundred guineas on the head of his old shipmate, Rogers, and demands clothes, food, lodging, and money. The landlord reluctantly starts to accommodate his visitor.
"Benny Wins Powerball" by Erin Gough
Benny wins the Powerball lottery. He lives with his grandmother; his older brother, Big Dave; and sister, Jube. Benny's siblings view him as an unlucky loser. Even though there was no prior agreement to share any winnings, they are expecting a fair cut.
"An African Story" by Roald Dahl
An old man thinks he hears a noise. He comes outside and listens. He hears the high-pitched yelp of a dog coming from the shed of his neighbor, Judson.
"Hop-Frog" by Edgar Allan Poe
The king loves jokes, especially practical jokes. His court jester, or "fool", is a dwarf and a cripple named Hop-Frog. The king treats him badly, but Hop-Frog does his best to get by. A great state party is approaching, so the king turns to his "fool" for some costume advice.
"Neck" by Roald Dahl
Lady Turton behaves indiscreetly at a dinner, paying undue attention to a male guest. Her husband is aware, but he doesn't take any action.
"The Lost Legion" by Rudyard Kipling
Thirty years ago, an Indian regiment fleeing from the English were massacred by an Afghan tribe. Now the Government decides to move on its leader, Gulla Kutta Mullah, and his band of outlaws. They live in a valley with natural defenses—a single narrow entry surrounded by high hills.
"William and Mary" by Roald Dahl
Mary Pearl receives a letter from her lawyer following her husband's death. Her husband had been approached by a doctor with an unusual plan for extending his life. He went ahead with it, even though Mary was against the idea.
Find a Short Story on Revenge, Cont'd
"The Truth is a Cave in the Black Mountains" by Neil Gaiman
The narrator, an unusually small man, is looking for a cave on the Misty Isle. He wants to hire Calum MacInnes as a guide. MacInnes is reluctant to go because of the legends about those who take gold from the cave. It is a long journey.
Read "The Truth is a Cave in the Black Mountains"
A young girl is killed by dogs. Some men in the village look for the dogs and shoot them. They turn their attention to other dogs that might also be dangerous. Their enthusiasm for making the village safe gets out of hand.
Bernice, a young woman, is visiting her cousin Marjorie. Marjorie is a big hit with all the young men while Bernice is struggling. After a disappointing evening dance, Bernice overhears Marjorie talking about how socially inept she is.
"The Murder" by John Steinbeck
Jim is married to Jelka, a foreign woman. She is perfectly agreeable and caters to all his needs. She doesn't speak much. Jim feels there is a barrier between them.
"Chocolate" by Manju Kapur
Abhay tells his wife Tara that she's fat. She would like to be slim, but her husband makes it hard by always bringing her chocolate. They have difficulty conceiving. Tara begins to think Abhay is having an affair.
"A Teacher's Rewards" by Robert Phillips
Raybe Simpson, now an adult, visits his old third grade teacher, Miss Scofield. They talk about the old days and how some things have changed. He mentions a few times that she used to rap his knuckles in class.
Read "A Teacher's Rewards" (spoilers in side notes)
"White Weeds" by Charles W. Chesnutt
On the afternoon of his wedding day to Miss Tracy, Professor Carson urgently seeks the advice of his university's president, Trumbull. Carson has received an anonymous letter that makes a shocking claim about his fiancée. He doesn't have much time to decide what to do.
"The Men Who Murdered Mohammed" by Alfred Bester
Henry Hassel comes home to find his wife in the arms of another man. He could get his revenge immediately but he has a more intellectual plan. He gets a revolver and builds a time machine. He goes into the past.
"Ruthless" by William de Mille
Judson and Mabel Webb are preparing to leave their mountain cottage for the winter to return to the city. When they left last winter, someone broke in and stole some of Judson's liquor. He expects the thief to return, so he prepares a surprise.
Find a Short Story on Revenge, Cont'd
"The Chef" by Andy Weir
Doris wakes up in a hospital. Her doctor tries to find out what she can remember. She knows there was an explosion, and that she had been visiting her father, but is hazy on the other details. She can remember that she's a professional chef, and she tells the doctor about her work.
"The Two Kings and the Two Labyrinths" by Jorge Luis Borges
A Babylonian king tells his guest, an Arab king, to enter his labyrinth. The Arab king gets out and tells the Babylonian king that he also has a labyrinth, and he will see to it that he gets to walk in it.
Read "The Two Kings and the Two Labyrinths"
"The Lumber Room" by Saki
The children, other than Nicholas, are being taken to the beach as a treat. He's in disgrace for refusing to eat his breakfast. He has to stay home with his aunt. She forbids him from entering the gooseberry garden as well. Nicholas uses her preoccupation with enforcing this rule to do something else.
Read "The Lumber Room" (PDF Pg. 12)
"The End" by Jorge Luis Borges
Recabarren lies on his back in bed, paralyzed. Outside, a man plays the guitar. Through the window, Recabarren sees a horseman approaching. The guitar player knew he would come. He's been waiting a long time.
"The Indian's Hand (Vengeance)" by Lorimer Stoddard
The men leave the village with their carts and horses on a hunting trip. Two old men remain behind for protection but it's unnecessary. It's broad daylight, the wild animals are far away, and they haven't had an Indian attack in twenty years. A woman in black remembers the attack.
"The Coffin" by Ray Bradbury
Charles Braling is old and dying. He spends days building his own coffin. His younger brother, Richard, criticizes it for its peculiarities. They hate each other. Richard is bad with money and lives off of Charlie. He's not going to miss his brother. The work continues for two weeks.
"Smart Ice-Cream" by Paul Jennings
The narrator brags about being the smartest kid at school. He likes making fun of other students. One day, another boy gets a perfect score in math class. The narrator is upset, believing the boy must have cheated. He decides that Mr. Peppi, an ice-cream seller, is the cause of the problem.
"The Utterly Perfect Murder" by Ray Bradbury
On his forty-eighth birthday, the narrator gets an idea for a perfect murder. He decides to kill Ralph Underhill for what he did when he was twelve. He boards a train. The trip gives him time to think about his past.
Read "The Utterly Perfect Murder"
"The October Game" by Ray Bradbury
Mich puts the gun away. He wants his wife, Louise, to suffer more than that. It's the last evening of October. They're preparing to host a party. Their daughter, Marion, gets her costume ready. Mich thinks about why he's unhappy, and what he's going to do.
Read "The October Game"
"Black Death" by Zora Neale Hurston
Old Man Morgan, a hoodoo practitioner, is well known by the black community in Eatonville. There are many stories of his curses and kills. He's most renowned for what he did to Beau Diddely, who was stuck on Docia, a chamber-maid, for a while. When things got serious, Beau's attitude changed.
Read "Black Death"
"The City" by Ray Bradbury
A city has been waiting twenty thousand years for a particular type of visitor. A rocket lands and a party disembarks. The city's various automated functions start working to analyze the visitors. The landing party is armed and they proceed cautiously.
---
---
I'll keep adding short stories about revenge as I find more.