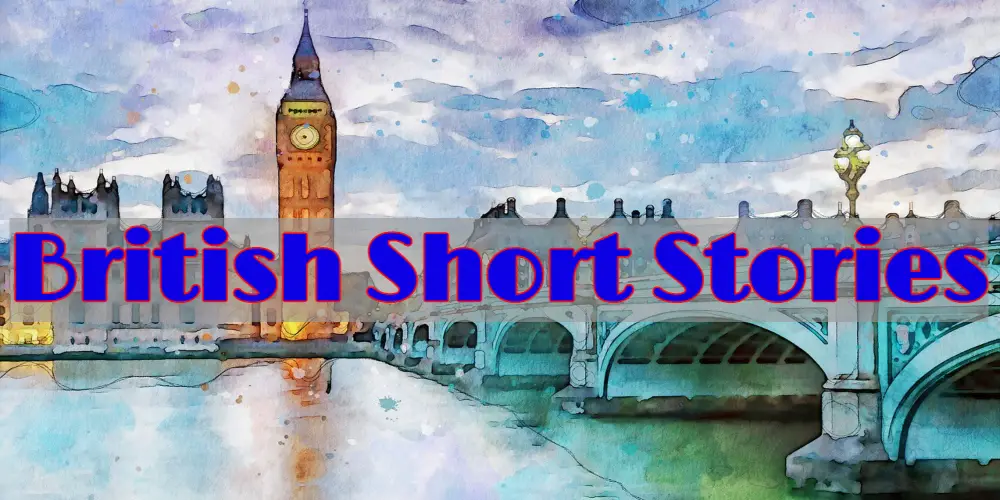 The short stories on this page were written by authors from the United Kingdom. Most, if not all, were born in the UK, but I might include some who lived there for a long time and became citizens. It does not include Irish stories. See also:
British
Short
Stories
(UK)
The Chinese Statue | Jeffrey Archer
The narrator is at an auction at Sotheby's. The next item is a magnificent little Chinese statue. Curious about it, the narrator researched its history. He relates how it came to be up for auction. It all started over a hundred years ago. Sir Alexader Heathcote, ambassador to China, was shown the little masterpiece by a craftsman outside Peking.
Read "The Chinese Statue" (first story in preview)
"Kew Gardens" by Virginia Woolf
In a botanic garden in July, the narrator focuses on a few conversations taking place between people walking by a flowerbed—a couple who've been married some time, two men, two elderly women and a young couple. Interspersed with this are descriptions of the garden and an accounting of the slow progression of a snail that seems to have an end goal.
This story can be read in the preview of The Complete Works. (32% in)
Clean Sweep Ignatius | Jeffrey Archer
The new Nigerian Financial Minister, Ignatius, sets his sights on eliminating all corruption. He does so well that the President gives him the special task of uncovering all Nigerians who are keeping their bribe money in Swiss accounts. (Summary)
Read "Clean Sweep Ignatius" (Page 9)
The Blue Cross | G. K. Chesterton
Valentin, head of the Paris police and famous investigator, is in London on the trail of criminal mastermind Flambeau. While having breakfast at a restaurant, Valentin gets his first lead when he learns that two clergyman had stopped in earlier and one of them had made a mess before leaving. Valentin is open to oddities so he follows up on this unusual incident.
This story is the first appearance of the famous Father Brown. It can be read in the preview of Father Brown: Complete Collection.
The Chaser | John Collier
A merchant sells a love potion for a surprisingly low price, but he sells another item at a much higher price to make up for it. (Summary & Analysis)
British Short Stories, Cont'd
The Secret Sharer | Joseph Conrad
The new captain of a ship is taking the night watch when he sees a man swimming to the side of the ship. The man comes aboard. The captain learns the man was under arrest on his own ship and escaped. The captain has to decide what to do with him.
Dusky Ruth | A. E. Coppard
A traveler arrives in a country town and enters an inn. After supper he goes to the smoke-room where a woman is sitting by the fire. Her presence stirs his passion.
Lamb to the Slaughter | Roald Dahl
Mrs. Maloney's husband tells her that he's leaving her. She is dazed by the news, then gets a frozen leg of lamb and strikes her husband with it.
The Crooked Man | Arthur Conan Doyle
Colonel James Barkley is found dead in his home, and his wife, Nancy, is the prime suspect. Holmes is called to investigate.
The Japanese Quince | John Galsworthy
Mr. Nilson perceives a peculiar sensation in his throat, leading him to take a morning walk in the nearby gardens to shake this uncomfortable feeling. During his trip, he sees Mr. Tandram which makes him feel awkward because they have never spoken even though they're neighbors.
A Shocking Accident | Graham Greene
Jerome, a nine-year-old boy, is called to the office at school and learns of his father's death. He was killed in the street when a pig fell on him.
British Short Stories, Cont'd
Young Archimedes | Aldous Huxley
A young English couple rent a house in Italy because it has a great view, and a local peasant boy, Guido, makes an excellent playmate for their own son. Guido is a gifted child, with an affinity for music, and a natural understanding of mathematics. The landlady wants to adopt Guido to mold him and make money from his talents.
The Money Box | W.W. Jacobs
Two sailors between jobs want to save their money. They get some money advice from an experienced sailor, and he offers to hold their money for them, giving them a moderate allowance so they don't waste it all.
Odour of Chrysanthemums | D. H. Lawrence
The Bates's live in a mining town, and Mr. Bates works at the mine. Mr. Bates is late for supper one evening, so his wife assumes he's drunk and they start without him. After some time passes and he still hasn't come home, she goes looking for him.
Through the Tunnel | Doris Lessing
An eleven-year-old boy, Jerry, is vacationing with his mother at the beach. Jerry joins a group of older boys who are swimming, but because he is young and foreign they ignore him. They are swimming through a rocky tunnel and Jerry is also determined to do it.
The Garden-Party | Katherine Mansfield
The Sheridans, an upper-class family, are making preparations for a garden party. Before it starts, they hear that a working-class neighbor has just died.
This is the first story in the preview of 50 Great Short Stories.
An Official Position | Somerset Maugham
Louise Remire is serving 12 years in a penal colony for the murder of his wife. He is the colony's executioner and this position of power and his attitude make him unpopular with the other inmates.
British Short Stories, Cont'd
B. Wordsworth | V. S. Naipaul
In a poor area in Spain, in the 1940's, a young boy lives with his mother. An unusual, older man comes by and asks if he can watch the bees in the family's yard. They talk for a while and a friendship develops.
Blackberries | Leslie Norris
A mother takes her son to get his first real haircut, and then takes him cap shopping.
"The Cloud-Men" by Owen Oliver
The UK has only one newspaper, controlled by the government. This is no time for conflicting opinions. Marriage is mandatory for most adults. There are regulations around where people can live. The cause of all these measures is the Cloud-Men. John and Mary Pender are the only two people who've had a confirmed interaction with them. The newspaper relates their story. It started in late August when thick clouds descended toward Earth, causing a great darkness.
This author wrote several sci-fi stories that are collected in Days of Doom: Apocalyptic Visions & Unearthly Nightmares.
Shooting an Elephant | George Orwell
The narrator is a British colonial policeman in Burma. He gets a report that there's an elephant loose, causing damage in the marketplace. While looking for it, he comes across a dead Burmese man, crushed by the elephant.
The Omnibus | Arthur Quiller-Couch
On a sweltering day in London, eleven people ride an omnibus. A young boy boards the bus, headed for the docks. He's alone and setting out into the world for the first time.
The Reticence of Lady Anne | Saki
Egbert tries to smooth things over with his wife. They had argued, so he tries to get her talking again, but she's uncooperative.
Read "The Reticence of Lady Anne"
British Short Stories, Cont'd
A Lodging for the Night | Robert Louis Stevenson
On a cold snowy night, a group of thieves are gathered in a small house, writing and gambling. Things suddenly take a violent turn.
Read "A Lodging for the Night" (Pg 227)
Bella Fleace Gave a Party | Evelyn Waugh
An elderly, wellborn woman of little means comes into some money, decides to throw a big party, and puts careful thought into the invitation list.
The Treasure in the Forest | H. G. Wells
Evans and Hooker are on a canoe approaching land. They are looking at a rough map they took from a Chinese man. They overheard him talking about a treasure he had found and reburied.
Read "The Treasure in the Forest"
"Jeeves Takes Charge" by P. G. Wodehouse
Bertie Wooster, an idle and upper-class man, tells the story of how he hired his butler, Jeeves, and his first acts in his service. Bertie's fiancée is concerned about a memoir that could prove scandalous, so she asks him to help her get rid of it. Before Bertie leaves to help his fiancé, he meets Jeeves and hires him on the spot.
This is the first story in the preview of The World of Jeeves.
---
I'll keep adding British short stories as I find more.