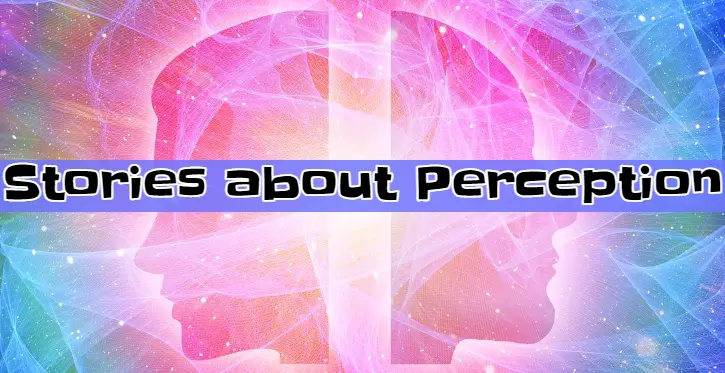 These stories will show characters with different perspectives on events or how they perceive others. Some have characters relating things from their own perspective or will have things that the reader perceives differently from them. Some characters have a changing perspective as they learn more or mature. Stories with characters who are being judged by others are also included. See also:
Stories About Perspective & Perception
The narrator tells the reader to imagine a piece of bread in a few vastly different situations. (Summary & Analysis)
Two men—schoolmates as boys—meet unexpectedly at a train station and are delighted to see each other. They talk about their lives; one bit of information changes the thin man's view of his old friend.
"Fat and Thin (Skinny)" is the second story in the Amazon preview of Fifty-Two Stories.
"Amsterdam in the 90s" by Ed Park
The narrator has trouble remembering whether he took his pills, one in the morning and one in the evening. He's tried the pill sorter, but that brought its own problems. He recounts an incident he witnessed walking home one morning. A long black car barreled around the corner of Ninety-eighth and Amsterdam, running a red light and nearly hitting an old man.
This story can be read in the preview of Dark City Lights: New York Stories. (13% in)
"20/20" by Linda Brewer
Bill and Ruthie are on a road trip. Bill finds her conversation simplistic; she refuses to argue anything. She says what she sees along the way. (Summary & Analysis)
"My Heart is Either Broken" by Megan Abbott
Lorie is dealing with the loss of her daughter, Shelby, but in a way that people disapprove of. The police and reporters are still asking questions. Lorie and her husband have told the story of Shelby's disappearance many times. There are some inconsistencies with eyewitness accounts.
This story can be read in the preview of The Best American Mystery Stories 2014. (31% in)
The waitresses at Mr. Mollendorf's diner are crying. A fellow waitress, Eileen, died during a gallbladder operation. She was only twenty-eight. They try to continue with their work, but no one wants to take over Eileen's tables. The waitresses realize that Eileen's steady customer is going to come in and someone is going to have to tell him.
This story can be read in the preview of The Complete Stories. (63% in)
Short Stories About Perspective and Perception, Cont'd
"The Requiem (Panikhida)" by Anton Chekhov
After a church service, Andrei Andreich, a shopkeeper, is accosted by Father Grigory. Andreich's daughter has recently died, and the priest is upset over the way Andreich described her in his commemoration.
This story can be read in the preview of Stories of Anton Chekhov.
"Haircut" by Ring Lardner
A barber talks about the local practical joker after he was recently killed.
This is the fourth story in the preview of 100 Years of the Best American Short Stories.
"So Much Water So Close To Home" by Raymond Carver
Claire's husband doesn't want to answer the phone and doesn't want to be judged by anyone. His name and the names of three friends are on the front page of the paper. While they were on a fishing trip, they found a dead woman. They reported the incident to the police, just not right away. (Summary)
Read "So Much Water So Close To Home"
"Night Club" by Katharine Brush
A maid in a night club attends to the women's washroom, helping the customers and getting a glimpse of their lives.
"Sex Education" by Dorothy Canfield
Aunt Minnie tells a story of something frightening that happened in her youth. She tells it three times, spaced several years apart, with a changing perspective on what happened.
During a heat wave, a young woman suns herself on the top of a building. On a nearby roof top, three men are working. They all have different reactions to her.
"The Hitchhiking Game" by Milan Kundera
A young couple is driving together on the first day of their vacation. The woman is shy and "pure", while the man is confident with women and has had many casual relationships. When she gets back in the car after a stop, they start to role play a hitchhiker game. It opens her up, changing her boyfriend's view of her.
Short Stories About Perspective and Perception, Cont'd
"Ghost Boy" by Elinor Nash
Jake is a young teenager who is focused on the sounds in his home. He perceives his mother, father, and sister in an unusual way. He suffered a bike accident which has affected him a great deal.
"Invitations" by Carol Shields
On Monday the narrator receives an invitation to an art exhibition. She is pleased and thinks about what she will wear. On Tuesday she receives an invitation to a cocktail party for the same evening.
"The Stone Boy" by Gina Berriault
Early one morning, nine-year-old Arnold goes out with his fifteen-year-old brother Eugie to pick peas. Arnold takes his gun with him to shoot ducks. As he passes through a fence, his gun gets stuck; he jerks it free, causing it to go off.
After six years a woman and man meet again in a cafe. He talks about his life away from her and of shared experiences. She compares his recollections with her own. They fall into their old pattern.
"Moving Pictures" by Charles Johnson
A man is in a movie theater waiting for the show to start. He thinks about the power of movies, and the status of filmmakers compared to novelists. We learn of the man's background, including a failed marriage and financial issues.
"The Worm in the Apple" by John Cheever
The narrator tells us about the Crutchmans, a family that is very happy and moderate in all their habits. The narrator believes they can't be as happy as they seem; surely there is a worm in the apple. We are given the history of Larry, Helen, and their two children in the hope of finding their hidden pain.
"The Amish Farmer" by Vance Bourjaily
Vance is a writing teacher at a university. He tells his class a story, the point of which is to show the importance of point of view. Ten years ago, his friend Noel called, saying someone had just tried to kill him. Noel and his wife, Dawn, lived on an Amish farm. There was an attraction between Dawn and their Amish landlord, Daniel.
Short Stories About Perspective and Perception, Cont'd
"Blow-Up" by Julio Cortazar
Roberto Michel ruminates over how and why he should tell his story. When he takes a walk along the river he sees a woman interacting with a teenage boy. As a photographer, he takes a picture of the scene, knowing what is going on. Later, he's able to examine it more closely.
"No One's a Mystery" by Elizabeth Tallent
The narrator, an eighteen-year-old woman, is riding in a pickup truck with Jack, a married man. When he sees his wife's car in the distance, he pushes her down out of sight. They talk about the future of their relationship. They have a different take on where it will go.
"Love Letters" by Patricia Zelver
Emily's daughter, Rebecca, turns fifteen. Her aunt sends a card saying she'll send along her mother's old love letters. Emily doesn't remember the letters. Her husband is a Social Scientist and her grown sons are moving to a commune.
"The Demon Lover" by Elizabeth Bowen
Mrs. Drover goes to her shut-up house to get some things. It has been abandoned because of WWII. It's dusty and cracked from the bombings. She's surprised to see a letter for her on the hall table. She takes it upstairs to read.
Read "The Demon Lover"
"Snow" by Ann Beattie
A woman remembers the time she was with her lover in the country. She realizes that he interpreted the same events differently.
"Roog" by Philip K. Dick
Early in the morning, a dog watches the activity around his house. He sees a "roog" approaching the gate. The dog tries to defend its home and warn those inside. The owners, the Cardossis, don't respond to his warning.
Read "Roog"
---
I'll keep adding short stories about perspective and perception as I find them.