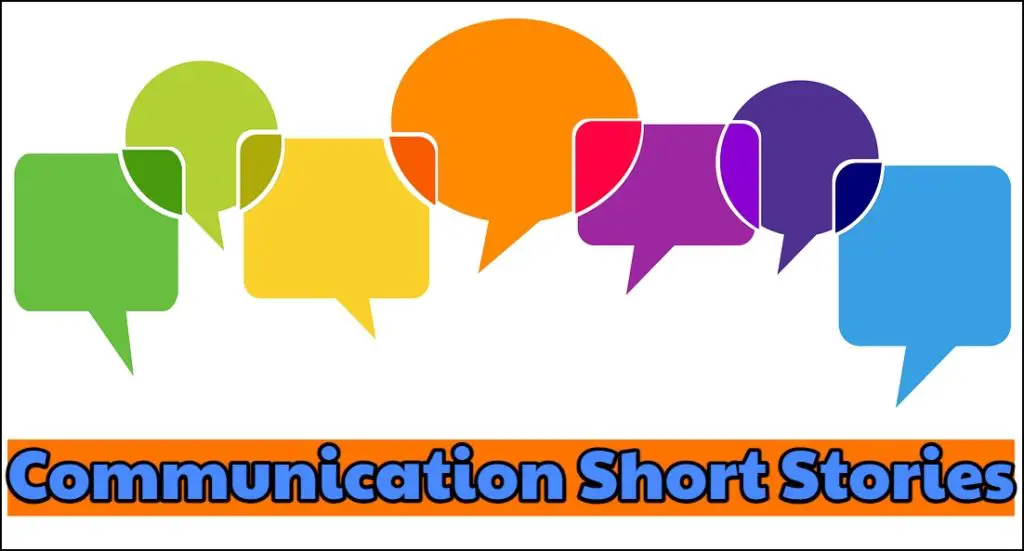 These stories about communication contain miscommunication, characters that leave important things unsaid, people with different styles of communication, conversations that aren't completely clear, and characters who have various other communication problems.
Communication Stories
"Stabbing in the Street" by Elizazar Lipsky
Wiley, the assistant district attorney, gets a call in the early morning. There's been a stabbing, and there are witnesses. The victim, an Englishman, is at the hospital. Wiley goes to the station. Present are three of the victim's associates, a woman, and the perpetrator, who doesn't speak English. Wiley tries to find out what happened.
This is the first story in the preview of The Best of Manhunt 2.
Sadako's father is visiting from San Francisco. They talk at the breakfast table. Her husband has gone to work and the baby is napping. Sadako tries to encourage communication but her father and husband are reluctant. (Summary and Analysis)
Denis Grigoriev is brought before a magistrate after being spotted by the watchman stealing nuts from the rails. Grigoriev is questioned about his crime, and he explains himself.
This story can be read in the preview of Stories of Anton Chekhov.
Mrs. Faniglia receives a letter from KidLuv, makers of the I CAN SPEAK™ device for babies. She returned the one she purchased, so an associate addresses her concerns. The device doesn't read the babies mind. It recognizes aural patterns and then makes it seem like the baby is speaking. The mask doesn't look like your baby, but the upgraded version does, which they are pleased to offer her at no extra charge.
This story can be read in the preview of In Persuasion Nation. (30% in)
George Fisher lies awake thinking about an accident he saw earlier. A man was hit and killed by car. He was stoic during his final minutes of life. George has sleepless nights sometimes where he imagines himself saying things he doesn't actually say to people.
This story can be read in the preview of The Complete Stories. (22% in)
A man and woman who aren't on speaking terms use a young boy to run messages to each other in a park.
This is the third story in the preview of The Selected Stories of O. Henry.
A married couple have just moved to the country. The husband comes back from the store with some rope but he has forgotten the coffee, which his wife wanted. The rope sets off a discussion and argument about many things.
This is the fifth story in the preview of Collected Stories and Other Writings.
Stories About Communication, Cont'd
What We Talk About When We Talk About Love | Raymond Carver
Two married couples sit at the McGinnis's table, drinking and talking about real love. They use their own, and second-hand experiences, to try to define it. (Analysis & Themes)
Read "What We Talk About When We Talk About Love"
"The Eyes Have It" by Philip K. Dick
While reading a paperback novel, the narrator discovers an alien threat to Earth. The author casually describes beings with inhuman abilities. The narrator's panic increases as their unusual abilities accumulate.
This is the first story in the preview of Philip K. Dick Super Pack.
"Maggie Meriwether's Rich Experience" by Jean Stafford
Maggie, an American abroad, is invited to a party at a Baron's. Her escort assures her everyone speaks English and she'll fit in just fine. She understands French, but is experiencing a block when it comes to speaking it. She realizes early on that it's going to be a difficult evening.
This story can be read in the preview of The Collected Stories of Jean Stafford. (28% into preview)
"Frozen Daiquiris" by KM Rockwood
Penelope, newly rich, is hosting the annual gala of the Ladies' Society in her new house. To get everything ready, she acquires Suzie, a humanoid robot. She doesn't complain or need any breaks, but there are problems. Suzie can be rude and she takes instructions literally.
This story can be read in the preview of The Best Laid Plans: 21 Stories of Mystery and Suspense. (31% in)
"Brazzaville Teen-ager" by Bruce Jay Friedman
Gunther's father is uncommunicative. He believes that his father would open up if he was in a bad situation, but when he gets a potentially fatal disease, Gunther finds that his father remains stoic. Gunther gets the irrational idea that performing an embarrassing, self-esteem damaging act will save his father.
This story can be read in the preview of The Collected Short Fiction of Bruce Jay Friedman. (25% in)
"Call Me" by Judy McCrosky
Shawna and George communicate mostly through their answering machines. When they meet in person it is in dark and loud environments.
"Call Me" is in Breaking Free: A Cross-Cultural Anthology, as well as Inside Stories 1 (Second Edition).
"Dark, Dark Were the Tunnels" by George R. R. Martin
Greel is in the tunnels, farther than anyone has been in generations. He's a scout for the People. The taletellers say the People came from these tunnels. Ahead, the tunnels are on fire. Greel's eyes hurt. When he touched some of the fire, it wasn't hot. He's unsure now what it is. His mind-brother, H'ssig, is nearby. He reaches out to him for assistance.
"Dark, Dark Were the Tunnels" is one of the stories in Wastelands: Stories of the Apocalypse.
Stories About Communication, Cont'd
"Hateship, Friendship, Courtship, Loveship, Marriage" by Alice Munro
Johanna goes to the train station and arranges to send a load of furniture to Gdynia, and to buy a ticket for herself to the same place. Johanna is the housekeeper for Mr. McCauley and his granddaughter, Sabitha. Sabitha's mother is dead and her father, Ken, lives elsewhere. Johanna and Ken have corresponded a bit through Sabitha's letters. Johanna is making big plans although nothing definite has been agreed to.
Some of this story can be read in the preview of Hateship, Friendship, Courtship, Loveship, Marriage. (20% into Kindle preview)
Charlie remembers the last time he saw his father. They met for lunch when Charlie was passing through New York as a boy. His father is a successful businessman, and Charlie hasn't seen him in three years. (Summary & Analysis)
"The Great Silence" by Ted Chiang
A parrot muses over humanity's desire to communicate with an extraterrestrial species, referencing the creation of the Aricebo radio telescope. It talks about the Fermi paradox as the reason for the silence. The parrot presents its own species as the thing that humanity is really looking for.
"The Cactus" by O. Henry
A man returns home after attending the wedding of his ex. He thinks about their courtship, and how much she adored him; he wonders why things went wrong.
At a train station, a man and woman have a casual conversation which transitions into something serious. It's not explicitly stated what they're talking about.
"The Reticence of Lady Anne" by Saki
Egbert tries to smooth things over with his wife. They had argued, so he tries to get her talking again, but she's uncooperative.
"Who Said We All Have to Talk Alike" by Wilma Elizabeth McDaniel
Neffie is a fifty-one-year old widow living in a small Southern town. She takes a job in California, watching two little girls while their mother works. Her Ozark dialect proves to be a problem.
A man gets a letter from Jimmy—someone that he had previously fallen out with—and tells his wife he's going to send it back unopened. She wants to know what the letter says.
Stories About Communication, Cont'd
A historian writes while his wife works around the house and goes about her daily routine. The man is much more comfortable with books and writing than he is with his wife.
"A Horse and Two Goats" by R. K. Narayan
Muni lives in poverty in a tiny village in India. While Muni is out grazing his two remaining goats, a well-off American stops his car and approaches. Neither speaks the other's language, but they try to converse.
"That in Aleppo Once…" by Vladimir Nabokov
The narrator writes a letter to his Russian friend working as a novelist in America. He chronicles his failed marriage, including a separation that occurs during a train trip and his jealousy.
"The Woman Who Came at Six O'Clock" by Gabriel Garcia Marquez
A prostitute goes to a diner every day at 6 PM. One day when she gets there, she tells the owner, Jose, that she didn't arrive at her usual time. She claims that it's quarter to 6, although the clock says it's 6 PM. She and Jose talk about what time it is and she mentions some hypothetical situations that might arise in her line of work. It's not directly stated what her purpose is.
"If You Eat, You Never Die" by Tony Romano
Lucia gets a visit from her son Jim's wrestling coach. Coach is stressing the importance of Jim making weight for his matches, while Lucia sees Jim as underweight as it is. Coach tries to get Lucia to see things his way.
A country doctor tells the narrator the story of a passive and dull woman, Amy Foster. She fell in love with a man from Europe who was shipwrecked off the coast of her town. The doctor tells the history of this man, including the isolation he endured due to the language barrier and how he was viewed as dangerous and insane.
"Why I Live at the P.O." by Eudora Welty
The narrator's sister, Stella-Rondo, comes home with her husband and two-year-old daughter for a visit. The family's communication is dysfunctional, with much petty arguing.
"Here We Are" by Dorothy Parker
A newly-married couple is riding a train. They talk about their wedding and what they're going to do. Everything that comes up leads them into a petty disagreement.
This can be read as a short story or a play.
Stories About Communication, Cont'd
"Some Like Them Cold" by Ring Lardner
After a chance meeting with Mabelle at a Chicago train station, Charles, now pursuing a songwriting career in New York, writes to Mabelle. They correspond, presenting themselves as people of good character, ideal choices for marriage, and generally flirting.
"The Appalachian Trail" by Bruce Eason
A woman tells a man that she plans on walking the Appalachian Trail. He isn't enthusiastic about it, and tries to persuade her to give up the idea.
"The Burlington Northern, Southbound" by Bruce Holland Rogers
A man writes a poem for a woman he is unable to talk to. He compares her to a train.
Read "The Burlington Northern, Southbound"
"Wrong Channel" by Roberto Fernandez
Barbarita goes to the doctor so she can get her green card approved. Her friend Mima comes with her to translate. It doesn't go smoothly.
"Blackberries" by Ellen Hunnicutt
A man returns to his campsite with freshly-picked blackberries. His wife starts talking about being out of milk, and a theater tour in New York. He talks about frying up some cattails and other things they can do where they are.
"A Primer for the Punctuation of Heart Disease" by Jonathan Safran Foer
The narrator explains the meaning of many different unusual punctuation marks that are used in communication, mostly with family.
Read "A Primer for the Punctuation of Heart Disease"
"Travelogue" by Dorothy Parker
A woman talks to a young man at a party who has been in Arabia for almost two years. She loves traveling and wants to hear all about his trip.
"The Voice" by Silvina Ocampo
The narrator, a young woman, goes to her boyfriend's house with her new cat. She doesn't want to marry Romirio. She can't stand his voice.
"Howleglass (Eulenspiegel) and the Merchant" by Anonymous
A rich merchant encounters Howleglass and hires him as his cook and servant. Howleglass follows orders precisely.
"The Fable of the Preacher Who Flew His Kite, But Not Because He Wished To Do So" by George Ade
A preacher realizes that his parishioners aren't impressed with his sermons. He has a clear, straightforward style. His congregation thinks he's common. He decides to dress up his sermons.
Read "The Fable of the Preacher…"
"Midnight Mass" by Joaquim Maria Machado de Assis
Mr. Nogueira relates a conversation he had with a thirty-year-old woman when he was seventeen. He doesn't fully understand it to the present day. He was staying with Mr. Menezes, a notary, and his wife, Conceição, in Rio de Janeiro. Menzes goes to the "theater" once a week, really a rendezvous with another woman. On Christmas Eve, Mr. Nogueira is planning on going to a midnight mass. While staying up and waiting, Conceição joins him.
"Servants of the Map" by Andrea Barrett
Max is a surveyor in the Himalayan mountains. His wife, Clara, had given him letters to take with him, to be opened on certain days. He writes to her about his experiences but leaves out the things that would worry her—the daily hardships, the exhaustion, the loneliness, the teasing from his fellow travelers, and the bodies they find.
---
I'll keep adding short stories about communication as I find more.