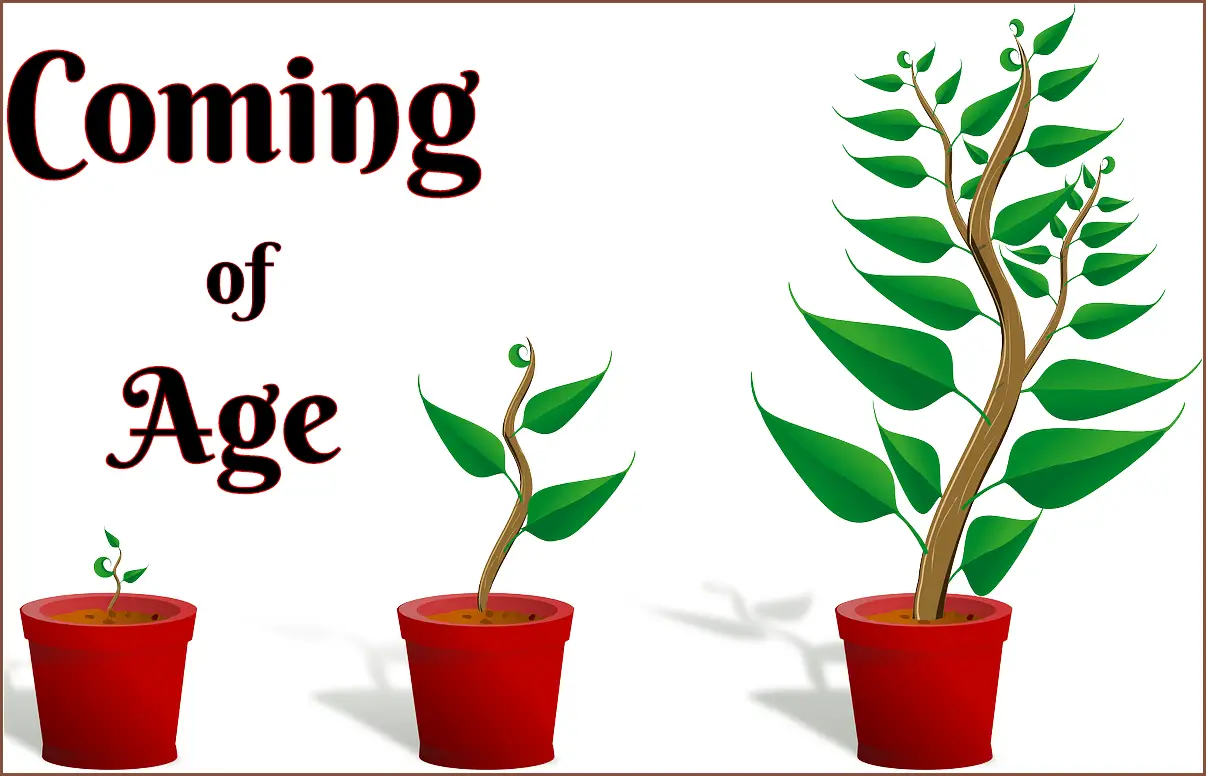 In a coming of age short story, the protagonist, usually an adolescent, experiences a significant event—a turning point or illuminating moment—that brings a more adult understanding of the world. The incident causes a loss of innocence; the protagonist can no longer live completely sheltered as a child. Sometimes the protagonist is older, and we see how they've matured.
If you're looking for an anthology, there are many relevant volumes to choose from. The links will take you to Amazon for the current price.
Coming of Age in America: A Multicultural Anthology, Coming of Age Around the World and Coming of Age in the 21st Century: Growing Up in America Today all feature writers from a variety of backgrounds. The anthology Into the Widening World: International Coming-of-Age Stories, has relevant narratives by authors from 22 countries. Another one with stories less than 1,000 words is Sudden Flash Youth: 65 Short-Short Stories.
See also:
Coming of Age Short Stories
An inner-city class goes on a field trip to an expensive toy store. The children try to understand the differences in people's wealth. (Summary & Analysis)
"The Lesson" is the first story in the Amazon preview of The Penguin Book of the Modern American Short Story.
Myop is a ten-year-old girl who is out exploring the woods behind her family's sharecropper cabin on a beautiful summer day. As she starts to head home she makes a shocking discovery. (Summary & Analysis)
"The Flowers" is the fourth story in the above preview of The Penguin Book of the Modern American Short Story. (88% in)
In this prose/poem hybrid, a mother gives her daughter some advice about how to behave and on becoming a woman. (Summary and Analysis)
"Girl" is the sixth story in above preview of The Penguin Book of the Modern American Short Story. (93% in)
"Marigolds" by Eugenia W. Collier
Lizabeth recalls a time when she was fourteen, in Maryland, during the Depression. A woman in her neighborhood, Miss Lottie, lives in a dilapidated home, but has a colorful marigold garden. She's an outcast, and the children make her a target of taunts. (Summary & Analysis)
This is the first story in the preview of Breeder and Other Stories. 
"Sleeping" by Katharine Weber
Harriet, a young girl, is babysitting Charles. His parents tell her that he won't be any trouble, he will sleep the whole time, and she needn't even open his bedroom door to look at him. (Analysis)
This story can be read in the preview of Sudden Flash Youth: 65 Short-Short Stories. (88% in)
Alison Pope, a teenager, daydreams about turning down potential suitors. She looks down on the boy next door, Kyle, whom she used to hang out with as a kid. There is a knock at Alison's back door. Meanwhile, Kyle, who lives in a regimented household, comes home and finds the chore that's been left for him. Eventually, he notices a van pull up outside. (Summary)
This is the first story in the preview of Tenth of December: Stories.
Coming of Age Short Stories, Cont'd
Three young men are out late driving, drinking and using drugs. When they get to Greasy Lake they see a parked car. Thinking a man they know is in the car with a girl they decide to harass him a bit. It turns out to be a stranger who gets upset at the interruption; the confrontation escalates quickly.
This story can be read in the preview of Greasy Lake and Other Stories.
"The Old Chief Mshlanga" by Doris Lessing
A girl grows up on a  white farm in South Africa. She's used to black servants, and being able to treat black people with little respect. When she was fourteen, she was out walking with her rifle and dogs. Walking toward her was a group of three Africans. They didn't immediately stand aside, as was the custom. She found out the identity of the oldest member of the group.
This is the fifth story in the preview of African Stories.
"A Sunrise on the Veld" by Doris Lessing
A fifteen-year-old boy wakes up at 4:30 AM to go hunting. He's excited and energetic, loving life and feeling he is in control of everything.
This is the sixth story in the above preview of African Stories.
Gan and his family are humans living in the Preserve on another planet. It's ruled by the Tlic, an insect-like species. On the last day of Gan's childhood, the family is visited by T'Gatoi, a Tlic politician in charge of the Preserve. Humans and the Tlic have an arrangement—they're protected in the Preserve in exchange for incubating the Tlic eggs. Gan has been chosen by T'Gatoi.
Most of this story can be read in the preview of the anthology Invaders!
"Rachel in Love" by Pat Murphy
Rachel, a small chimpanzee, watches a Tarzan movie on television. She knows her father, Dr. Aaron Jacobs, wouldn't approve, but he's still sleeping. When she gets hungry, she goes to wake him up. He has died of a heart attack. Rachel doesn't know what to do. He is the only person she has ever known.
This sci-fi story can be read in the preview of The Year's Best Science Fiction: Fifth Annual Collection. (27% into preview)
"The Scholarship Jacket" by Marta Salinas
A fourteen-year-old girl in a small town Texas school has been a straight A student for eight years. This means she will be awarded the school's scholarship jacket, but a complication arises. (Summary & Analysis)
Coming of Age Short Stories, Cont'd
"The Moustache" by Robert Cormier
Mike, seventeen-years-old, is going to Lawnrest Nursing Home to visit his grandmother. She has a chronic circulatory disease and a fading memory. He isn't eager to make the visit, uncertain if his grandmother will be having one of her bad days. (Summary & Analysis)
"The Treasure of Lemon Brown" by Walter Dean Myers
Greg Ridley is a fourteen-year-old student in danger of failing math. His father tells him he can't play basketball anymore. While out walking one night, Greg takes refuge in an abandoned tenement building. He finds a local homeless man there, Lemon Brown. (Summary & Analysis)
A teenage boy in small-town Kentucky loves horses and horse racing. He tries to make sense of an incident that affected him deeply. (Summary)
Rosie's mother, Tome Hayashi, has been writing haikus and submitting them to a daily newspaper that publishes some once a week. Until the dinner dishes were done, Tome did the housework and helped with the tomato harvest, along with the hired Mexican family, the Carrascos. Afterward, she would write at the table, sometimes until midnight. When there's company, Tome talks poetry with the interested party and her husband talks to the other. Rosie has become friends with the Carrasco boy, Jesus, who goes to the same school as her. Both mother and daughter have significant experiences.
"Yoneko's Earthquake" by Hisaye Yamamoto
Marpo, a twenty-seven year old Filipino man, works as a hired man for the Hosoumes. He's an excellent worker and multi-talented besides. He tells the Hosoume girl, Yoneko, about Christianity, which she was already interested in, as her cousins from the city go to a Baptist church for Japanese people. One early spring evening while Mr. Hosoume is out on an errand, there's a tremendous roar and the house starts shaking. The family and Marpo huddle together outside. Mr. Hosoume returns later in the evening, escorted by two strangers, as he was in a car accident.
"The Intruder" by Andre Dubus
Kenneth is a thirteen-year-old boy who likes to take his gun out to shoot tin cans and pretend he's a military captain.
"The Man Who Was Almost a Man" by Richard Wright
Dave Saunders, a plantation worker, is annoyed that he's treated like a boy. He thinks that he would be a man if he could buy a gun, so he goes to the local general store.
Coming of Age Short Stories, Cont'd
"A Company of Laughing Faces" by Nadine Gordimer
Seventeen-year-old Kathy is taken by her mother to an affluent society party to meet people her own age and have some fun. She has trouble fitting in and has some eye-opening experiences.
"Where Are You Going, Where Have You Been?" by Joyce Carol Oates
A rebellious fifteen-year-old girl encounters an older man in a parking lot. He later shows up at her place when she's home alone to ask her to go for a ride with him.
At a summer camp, three girls spend time together and learn how to swim.
"The Bass, the River, and Sheila Mant" by W. D. Wetherell
A fourteen-year-old boy who loves fishing spends his summer vacation at his family's cabin. He's infatuated with seventeen-year-old Sheila Mant, from the cabin next door. He watches her longingly for some time before asking her to a concert.
"Eleven" by Sandra Cisneros
An eleven-year-old girl tells the story of something unjust and humiliating that happened at school.
"American History" by Judith Ortiz Cofer
A fourteen-year-old Puerto Rican girl, Elena, lives in a rundown apartment building. A new family moves in to the house next door, including Eugene, a boy that Elena wants to get to know.
"A Day in the Dark" by Elizabeth Bowen
The narrator, Barbie, looks back on a day when she was fifteen. In a small town, she goes to the home of a prominent woman on behalf of her uncle, to return a magazine and ask that she lend her uncle a farming tool.
"Thanks for the Ride" by Alice Munro
Two young guys drive into a small town looking for some girls to spend the weekend with. They meet Adelaide and then go to the home of her friend Lois, and meet her family.
Coming of Age Short Stories, Cont'd
"Raymond's Run" by Toni Cade Bambara
A young girl, Hazel, trains for a May Day race while looking after her older, mentally challenged brother, Raymond. Hazel is known as the fastest runner in her neighborhood and is determined to live up to her reputation.
Eighteen-year-old Leila, a country girl, goes to her first society ball with her cousins, city girls with more social experience.
"I'm a Fool" by Sherwood Anderson
A nineteen-year-old horse groomer buys some fancy cigars and sits in the grandstand at the races. He meets a young woman and they spend some time together.
"Four Summers" by Joyce Carol Oates
The narrator, Sissie, relates her experiences over four summers, from childhood to nineteen-years-old.
"Lost in the Funhouse" by John Barth
A family goes to a funhouse with a neighbor girl, Magda, whom the two boys in the family are attracted to. The thirteen-year-old boy, Ambrose, comes to some realizations about himself. A narrator interrupts the story to comment on it and on storytelling.
"Debbie and Julie" by Doris Lessing
Julie is a pregnant teen living with Debbie, a prostitute, in her London apartment. Debbie has been very helpful but she's extended a trip with a man and is out of town when Julie's water breaks. Julie follows the plan of going to an unlocked shed where she can give birth.
Miranda, nine-years-old, goes out hunting with her twelve-year-old brother, Paul. Before they start, they stop at some empty graves on the family's land. They dig for a while, each of them uncovering an item to take with them. Then they set out in search of a rabbit or bird.
Coming of Age Short Stories, Cont'd
A young man, Robin, arrives by ferry in a New England city. He is looking for Major Molineux, but when he asks people if they know where he is, he gets anger or silence from the strangers.
Read "My Kinsman, Major Molineux"
"The Haunted Boy" by Carson McCullers
Hugh, a high school student, comes home from school one day with his friend John. He calls out to his mother, but there's no answer. John notices that Hugh is worried and asks him about it. Hugh gives some background on his mother.
"Champion's Son" by Jack Schaefer
The narrator's father is a former roping champion. He likes telling his schoolmates about his father's abilities and the record he held. A rodeo and fair is coming up. It will be headlined by the new roping star, Cal Bennett.
"Dead End" by Rudolfo Anaya
Maria likes Frankie and he has noticed her. Maria's friends tell her to do herself up more to attract him. She's torn between her interest in Frankie and her desire to focus on her education.
"Into the Game" by Rita Williams-Garcia
The narrator and his two friends take the subway into the city to "get into the game"—to step into life because they're a year older now. They are uncomfortable with girls. One of them embarrassed the group with his dancing at a party.
"Peter Two" by Irwin Shaw
Peter, thirteen-years-old, watches action programs on T.V. where the hero always overcomes danger no matter what the odds. He thinks back on an incident from school when he defended a weaker student. Peter feels he will become a hero whom others can turn to for help.
"The Parsley Garden" by William Saroyan
A boy, Al, is humiliated after being caught shoplifting. He's determined to regain his self-respect.
Coming of Age Short Stories, Cont'd
"Boys and Girls" by Alice Munro
The narrator relates a time from her childhood. Her father is a fox farmer; he raises foxes , skins them, and then sells the skins to fur traders. The narrator helps her father with some of the related chores. She prefers this work to helping around the house. She keeps hearing that she will soon do more around the house and behave in a more girl-like way.
"The Found Boat" by Alice Munro
The Wawanash River overflows its banks every spring. Eva and Carol wade into the water with some boys from school. They find a damaged rowboat. The boys lug it to a backyard and fix it up.
Caline is sleeping in a field near her isolated home when she is awakened by a stopping train. This has never happened before. She has a brief meeting with some of the passengers. She wants to find out where they're from and where they're going.
"The Turkey Season" by Alice Munro
The narrator looks back on her time as a fourteen-year-old working a Christmas job at the Turkey Barn. She was a gutter. The foreman, Herb, taught her the job. He was a good worker and a bit of a mystery.
"The Moths" by Helena María Viramontes
The narrator tells the story of when she was fourteen and her grandmother, Abuelita, asked her for help when she started to deteriorate. She agrees because her grandmother often looked out for her. The narrator doesn't feel close to her immediate family.
"One Holy Night" by Sandra Cisneros
The narrator relates her experiences with Chaq, a man who claimed to be descended from Mayan kings. She was selling produce from a cart when she met him. She's much younger, but she's attracted to this mysterious man. He seduces her.
Coming of Age Short Stories, Cont'd
"A Revolutionary Tale" by Nikki Giovanni
Kim is a young African American woman who is explaining to someone why she's late. She says it's really the fault of her roommate, Bertha. Kim relates the personal evolution she has undergone. She began as a conservative. Then she met Bertha, who is a revolutionary.
"Across the Bridge" by Mavis Gallant
Sylvie remembers when she was walking in Paris with her mother. She revealed that she didn't love her fiancé, Arnaud, and instead wanted to marry a man she'd been corresponding with, Bernard. Thinking the match is a sure thing, her mother suddenly throws the wedding invitations into the river.
". . . And the Earth Did Not Part" by Tomás Rivera
The protagonist is an adolescent Chicano boy. He was angry when his aunt and uncle contracted tuberculosis and lost their kids. He's angry again now as his father is down with sunstroke. His parents call on God for help, but he has no faith.
Read "…And the Earth Did Not Part" (PDF Pg 15)
"So On He Fares" by George Moore
Ulick, ten-years-old, lives with his mother in a cottage in Ireland. His father, a soldier, is away from home. Ulick wants to watch the boats pass, but his mother is controlling and strict, confining him to the garden. He dreams of running off.
"Through the Tunnel" by Doris Lessing
An eleven-year-old boy, Jerry, is vacationing with his mother at the beach. Jerry joins a group of older boys who are swimming, but because he is young and foreign they ignore him. They are swimming through a rocky tunnel and Jerry is also determined to do it.
"Approximations" by Mona Simpson
Melinda, a teenager, relates events from her childhood. She and her mother, Carol, ice-skated regularly. She didn't know her father until she was seven. He calls and invites her and her mother to go with him to Disneyland. He's a waiter, and lives with three roommates. Soon after, Carol marries Jerry, a professional skater.
"In Dreams Begin Responsibilities" by Delmore Schwartz
The narrator dreams he is in a movie theatre in 1909. He watches a movie about his parents' courtship. He reacts strongly to several parts of the film.
Read "In Dreams Begin Responsibilities"
---
I'll keep adding short stories about coming of age as I find more.