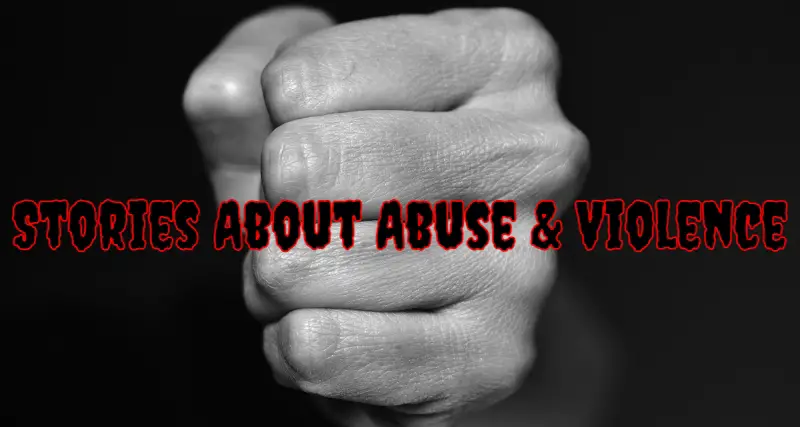 These short stories about violence have all forms of abuse—physical, sexual, psychological & emotional. Also included are stories where people are harassed or neglected. The stories about animal abuse or cruelty are in a separate section at the bottom. See also:
Short Stories About Abuse or Domestic Violence
"Nightmare" by Barb Goffman
Mary Ellen is jolted out of sleep by a recurring childhood nightmare—a fire-breathing dragon closes in on her. She goes out on the front porch, careful not to wake her mother or older brother. The combination of the rain, the dream, and an image of her brother brings an old memory to the surface.
"Nightmare" is the first story in the Amazon preview of Don't Get Mad, Get Even.
"A Jury of Her Peers" by Susan Glaspell
When a farmer in Dixon County is found dead in his bed—strangled—his wife is held on suspicion of murder. The local authorities investigate while two of their wives collect some items for the accused.
This story can be read in the preview of A Moment on the Edge: 100 Years of Crime Stories by Women.
"All the Signs and Wonders" by Denise Mina
Claire pulls a knife on William Halligan. He doesn't think she's going to do anything, because she has no reason to. He doesn't know her history, though. She's killed the king before. The change happened when she was fourteen. She walked in on her father kicking her mother in the stomach. Normally, she would have left, but that time was different.
This story can be read in the preview of Invisible Blood. (21% in)
From childhood to the age of nineteen, Alyosha works hard on his family's farm. Then, he's sent to town to work for a merchant. He is overworked and mistreated his whole life, but he bears it well.
This is the third story in the preview of Classic Short Stories.
"The Devil's Club" by Peggy Rothschild
Jessie doesn't like visitors or talking about her past. The man at her door, Al, has managed to track her down in Alaska. He insists on coming in. He wants money.
This story can be read in the preview of Heartbreaks & Half-Truths: 22 Stories of Mystery and Suspense. (58% in)
An orphan apprenticed to a shoemaker surreptitiously writes a letter to his grandfather, asking to be taken to live with him, so he can escape his life of deprivation and mistreatment.
This is the third story in the preview of Great Short Stories of the Masters.
Marie is a mother who likes bringing home various animals. Her husband, Robert, just accepts the new guests. Her son, Josh, has a behavioral problem but he is distracted with a new video game. Callie is also a mother with a son, Bo, who is uncontrollable. She is selling a puppy so her husband, Jimmy, won't have to kill it. (Summary)
Find a Short Story About Abuse or Violence, Cont'd
"What We Talk About When We Talk About Love" by Raymond Carver
Two married couples sit in the McGinnis's apartment, drinking and talking about real love. They use their own, and second-hand experiences, to try to define it. (Analysis)
Read "What We Talk About When We Talk About Love"
"The Washing" by Christopher Fowler
Linda and Miguel are new to the building. She becomes acquainted with the woman who lives above her, Pippa. Pippa tells her about some of the other residents. She points out that you can figure out a lot of what is going on by paying attention to the clotheslines. One of the residents, a pretty woman named Maria, marries an older man who controls her movements.
This story can be read in the preview of Invisible Blood. (52% in)
"Memories of Youghal" by William Trevor
Miss Ticher, an elderly woman, is relaxing on a hotel terrace when she's joined by an untidy man, Quillan. He's a private detective who's watching a couple in the hotel. He starts telling Miss Ticher his history, which included the death of his parents when he was only five months old and his difficult upbringing. He has a lot of unhappy memories. Miss Grimshaw, returning from her walk, is annoyed to find a strange man talking to her friend.
This story can be read in the preview of The Collected Stories. (40% into Kindle preview)
"Lamb of God" by Patricia Abbott
Kyle's mother first tried to kill him when he was nine. He was afraid every day. She had a mental imbalance and was always trying to keep him close to God.
This story can be read in the preview of Kwik Krimes. (30% in)
"The Goblin Hunter" by Chris Beckett
Sergei is showing a newcomer, Janet, a little bit of Lutania. It's very quiet; the native creatures use telepathy to communicate. They live in the sea, which is just a meter below the ground's surface. They emerge at night from small ponds. Janet looks forward to seeing an indigene, but Sergei warns her it's not usually pleasant. They're able to bring people's dark thoughts to the surface. A local girl, Anna, is particularly sensitive to them. She suffers terrible abuse from her family. They also uses her sensitivity to hunt the indigene.
Some of this story can be read in the preview of Solaris Rising 3. (65% into preview)
An unidentified narrator, a child, tells their story through diary entries. The child is chained up in the basement, and has to keep out of sight or be beaten.
Read "Born of Man and Woman" (first story in Amazon preview)
"Keela, the Outcast Indian Maiden" by Eudora Welty
Little Lee Roy is sitting on his porch. His children are out picking plums. Two white men approach his place. One of them points to Lee Roy and asks if he's the one. The younger of the two men is still talking excitedly. He used to sell tickets for a circus show—Keela, the Outcast Indian Maiden—where the subject would eat a live chicken.
Read "Keela, the Outcast Indian Maiden" (fifth story in Amazon preview)
Find a Short Story About Abuse or Violence, Cont'd
"Hot Pants" by Elaine Kagan
Lucinda visits her father in a group home for people with dementia. She works as a waitress at Sorrentino's, a popular restaurant. She needs the job to pay for everything, which is why she stays there despite a problem with Sal.
This story can be read in the preview of At Home in the Dark. (22% into preview)
"The Proof of the Pudding" by Peter Lovesey
Frank brings a big turkey home on Christmas morning. His wife, Wendy, pretends to believe his story about winning it in a raffle. Challenging him will only result in a beating. Frank has just returned from the war. His brother Ted was killed in action. Their son, Norman, is called downstairs. Frank presents his son with a gift, meaningful to him but underwhelming to the boy. Wendy's present to Frank is met with anger, and he roughly pushes her against the cupboard. Wendy has to prepare dinner for their guests.
This story can be read in the preview of The Big Book of Christmas Mysteries. (72% in)
"The Boy Who Disappeared Clouds" by Lawrence Block
Jeremy is in Ms. Winspear's sixth grade class. She's concerned about him, knowing he comes from a rough home. He doesn't have friends and doesn't seem to have any hobbies. She'd like to help him in some way. Her boyfriend, Cory, says she should teach him how to disappear clouds.
This story can be read in the preview of Enough Rope. (48% in)
"Spurs" by Tod Robbins
Jacques is a dwarf employed by a circus. He has no friends. He becomes infatuated with a fellow performer, Jeanne, a bareback horse rider. One day, Jacques inherits an estate after his prosperous uncle dies. He uses this gain to attract Jeanne.
"Spurs" can be read in the preview of The Best American Noir of the Century.
"Wilderness" by Dean Koontz
Addison, a boy of eight, has a lonely life. He lives with his mother in an isolated house surrounded by forest. He's never seen another person. His mother banishes him from the house for days at a time. He's comfortable in the woods and with the animals.
The beginning of "Wilderness" can be read in the Amazon preview.
Sir Matthew Roberts has been engaged to defend Mary Banks at her murder trial. She maintains her innocence, claiming a blow from her husband caused blindness and that she was in the hospital at the time of his death. Sir Matthew believes a manslaughter plea is preferable. (Summary)
A six-year-old girl recounts an experience at a creek with a stranger. A man with a fishing pole arrives and starts talking to her. He says that in the city kids have two dads, one who goes to work and one who stays home to play. He could be her second dad. They get closer and he says they should keep their meeting a secret. She tells a similar story two more times, adding more details.
This has been printed as a short story in its own right, but it's part of the novel Expensive People.
Find a Short Story About Abuse or Violence, Cont'd
John Dykstra, a suspense novelist, drives home from a writer's meeting. He thinks about who he is at different times—John Dykstra or his writing alter-ego Rick Hardin. He had several beers before leaving and desperately needs to stop somewhere. He pulls off at a rest stop he's used before. There's only one other car there. As he walks toward the men's room he hears a commotion from the women's room.
"The Gold of Tomas Vargas" by Isabel Allende
Tomas Vargas is a miserly, adulterous, and abusive man who is disliked by everyone in town. One day a young woman, one of Tomas's affairs, comes looking for him. His wife is furious and finally takes a stand against him.
"Galloping Foxley" by Roald Dahl
A man's morning routine commute to work is disturbed by a new train passenger. He eventually identifies the newcomer as an old school mate.
Delia supports her abusive, cheating husband by washing clothes. He comes up with a plan to get rid of her, to take up with his mistress.
"Woman Hollering Creek" by Sandra Cisneros
Cleofilas marries Juan Pedro and leaves her family in Mexico to live in small-town Texas. She soon finds herself trapped in a lonely, unsettling life with an abusive husband.
"Customs of the Country" by Madison Smartt Bell
A young mother tries to get her life back together after her husband is sentenced to twenty-five years in prison and her son, Davey, is taken from her when she injures him.
"The Answer Is No" by Naguib Mahfouz
A new headmaster is appointed at a school. One of the female teachers is dazed after hearing the news; he had been her private tutor when she was fourteen.
Find a Short Story About Abuse or Violence, Cont'd
"Skipper" by Alden Nowlan
Ethel and Rupert have five sons. Skipper is the youngest son, and Ethel wants to keep him from his father's world, the world that claimed her other four sons—working at the mill, getting drunk, and abusing his family.
The king loves jokes, especially practical jokes. His court jester, or "fool", is a dwarf and a cripple named Hop-Frog. The king treats him badly, but Hop-Frog does his best to get by. A great state party is approaching, so the king turns to his "fool" for some costume advice.
"The Whore's Child" by Richard Russo
The narrator is the professor of a university fiction writing class. An elderly nun who lives nearby, Sister Ursula, shows up in class although she has neither registered nor completed the prerequisite courses. She writes her memoir, beginning with her childhood in a Belgian convent. Her mother was a prostitute, so she becomes known as the whore's child and is mistreated due to her low social status.
"A Municipal Report" by O. Henry
The narrator goes to Tennessee for a meeting with Azalea Adair. He represents a literary magazine that is interested in publishing Adair's work. Adair is poor and frail.
"Created He Them" by Alice Eleanor Jones
Ann Crothers is up early to get the children out of the way and prepare her husband's breakfast. She's careful about everything she does because she knows her husband will complain. Food and other supplies are low.
"The Moths" by Helena María Viramontes
The narrator tells the story of when she was fourteen and her grandmother, Abuelita, asked her for help when she started to deteriorate. She agrees because her grandmother often looked out for her. The narrator doesn't feel close to her immediate family. Her father is angry and abusive.
"One Holy Night" by Sandra Cisneros
The narrator relates her experiences with Chaq, a man who claimed to be descended from Mayan kings. She was selling produce from a cart when she met him. She's was much younger, but she was attracted to this mysterious man.
Find a Short Story About Abuse or Violence, Cont'd
"Graveyard Shift (Day of Reckoning)" by Richard Matheson
Luke sends his father a note saying the Widow Blackwell has been murdered. Her son, Little Jim, is scared and hiding. He tells his father to send the sheriff and coroner right away. In the next letter, Luke's father, Sam, informs the Widow Blackwell's brother of the tragedy.
"The Chef" by Andy Weir
Doris wakes up in a hospital. Her doctor tries to find out what she can remember. She knows there was an explosion, and that she had been visiting her father, but is hazy on the other details. She can remember that she's a professional chef, and she tells the doctor about her work.
"The Child Who Favored Daughter" by Alice Walker
A girl gets off the school bus and walks toward her house. Her father sits on the porch watching. He knows about the letter. She's sure of it, but she doesn't know how he knows about it. He has a shotgun within reach. He thinks back to his own sister and how things went for her. His daughter reminds him of his sister.
"Hey, You Down There" by Harold Rolseth
Calvin and Dora Spender need a new well. They're digging one, but so far it's still dry. Dora is careful to do everything Calvin says, because he's unpleasant and violent. She has to do a lot of work. They get a surprise while digging.
"Peter Two" by Irwin Shaw
Peter, thirteen-years-old, watches action programs on T.V. where the hero always overcomes danger no matter what the odds. He thinks back on an incident from school when he defended a weaker student. Peter feels he will become a hero whom others can turn to for help.
"In a Grove" by Ryunosuke Akutagawa
A woodcutter finds the body of a samurai in an out-of-the-way grove. It had a single sword cut to the chest, and the blood was dried. There was no weapon present, only a rope and a comb. Further testimony reveals an assault on the samurai's wife.
Read "In a Grove"
Animal Cruelty Stories 
"The Cats of Ulthar" by H.P. Lovecraft
In the town of Ulthar, an old couple takes pleasure in killing any cats that stray onto their property. The townspeople are afraid of them and stay away, but when a kitten from a group of travelers goes missing, they take action.
This story can be read in the preview of The Great Old Ones: Complete Lovecraft. (select in table of contents)
"The Revenge of the Dog" by Luigi Pirandello
Three years ago, a foreigner with a wooden leg informed Jaco Naca that he was the owner of some land. The man was interested in it and offered to pay the official appraisal price. They made the deal. A year later, Jaco was upset to see that two small villas had been built on the property, which would bring their owner a nice income. He devises a revenge which involves mistreating a dog.
This story can be read in the preview of Stories for the Years. (38% in)
"A Dark-Brown Dog" by Stephen Crane
A dog follows a small boy home, even though the boy tries to scare the dog away with beatings. They become close, but the other members of the family continue to treat the dog badly. (Summary)
The Lucas Farm is the largest and richest in the neighborhood. A old white horse, Coco, is kept because it was a favorite of the mistress. A teenager, Zidore, is assigned to care for it. His fellow farmhands laugh at him over this undesirable job. He takes his frustrations out on Coco.
"Shooting an Elephant" by George Orwell
The narrator is a British colonial policeman in Burma. He gets a report that there's an elephant loose, causing damage in the marketplace. While looking for it, he comes across a dead Burmese man, crushed by the elephant. This escalates the situation and he's not sure if he will be able to avoid shooting the elephant.
"The Stray Dog" by Sadeq Hedayat
A Scottish setter hangs around the town square. It suffers from hunger and fatigue. People kick it and throw rocks at it to drive it away. The dog still has memories of its old, happy life but they're fading.
Read "The Stray Dog"
"In the Zoo" by Jean Stafford
A visit to a zoo reminds two sisters of a childhood friend, an alcoholic with a lot of animals, who gave them a puppy. Their foster mother had a bad effect on the dog.
"The End of Old Horse" by Simon J. Ortiz
Two brothers, Native American boys, go to a creek to fish and keep cool on a hot day. On their way, they see Old Horse, a dog, tied up, straining excitedly against his rope. They tell the owner, but he says to ignore it.
"Twilight" by Wladyslaw Reymont
Sokol, an old horse, lies dying. He is neglected, aside from an occasional visit from the hunting-dogs. Sokol is miserable and afraid as he dies alone.
---
I'll keep adding short stories about domestic violence and abuse as I find more.