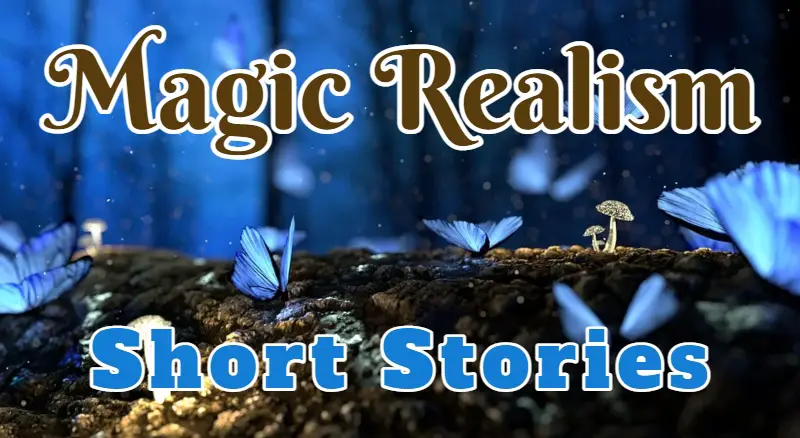 In magical realism short stories the world is largely realistic—the world we live in—but also contains at least one element of magic or fantasy. This element is often a manipulation of time, space or identity. The fantasy element doesn't feel like the focus of the story, and a reader often experiences a temporary confusion as they wonder if it is "really" happening in the story or not. See also:
Here are some magical realism short stories that fit the genre quite well. You'll find the best known examples as well as some newer short stories that capture the feeling of magical realism.
Magical Realism Short Stories
"Selkie Stories Are for Losers" by Sofia Samatar
The narrator hates stories about selkies, mythological shape-shifters. Her mother left the family. The narrator works as a waitress at Le Pacha to help pay the bills at home. Her first night was difficult. She left her keys inside after it closed. The only other waitress, Mona, helped her get back in. They also took some wine. Mona cries a lot and is afraid her mother will take her to Egypt.
This story can be read in the collection Tender: Stories. (13% into preview)
"Axolotl" by Julio Cortazar
A man goes to a zoo aquarium and stands for hours watching the axolotls (a larval salamander). He says he has become one of them. He explains how this transformation took place.
This is the first story in the preview of Blow-Up: And Other Stories.
During the American Civil War, Carter Druse, fighting for the North, falls asleep at his sentry post but wakes in time to catch a spy for the South.
This story can be read in the preview of The Devil's Dictionary, Tales, & Memoirs.
Magical Realism Short Stories, Cont'd
"The Faery Handbag" by Kelly Link
Every week, Genevieve goes to The Garment District, a huge vintage clothing warehouse. She's looking for her Grandmother Zofia's faery handbag. It's big, black and hairy, and fairies live in it. Grandmother Zofia said it was two hundred years old, and that Genevieve would take over its care.
This story can be read in the preview of Magic for Beginners: Stories. (22% into preview)
"A Very Old Man with Enormous Wings" by Gabriel Garcia Marquez
In a small town, an old man with wings washes up on shore. There are many ideas about what he is and where he's from. A couple takes him and locks him up on their property.
This is the eleventh story in the preview of The Big Book of Modern Fantasy. (78% into preview)
"The Nose" by Nikolai Gogol
A barber, Ivan, cuts into a loaf of freshly baked bread only to find a nose inside. He recognizes the nose as belonging to a regular customer of his, Platon. Fearing he will be in trouble, Ivan thinks about how to get rid of the nose. Meanwhile, Platon wakes up in his home and the absurdities continue.
This is the first story in the preview of Big Book of Best Short Stories: Russian II. (5% into preview)
"State Change" by Ken Liu
Rina checks her refrigerators every night, especially the one by her bed that holds her ice cube. It seems like it's getting smaller. When a child is born, their soul materializes in the form of an object that must be kept close to the body. Rina lives cautiously and stays detached from others.
This story can be read in the preview of The Paper Menagerie and Other Stories. (32% in)
Magical Realism Short Stories, Cont'd
"The Travellers Stay" by Ray Cluley
A couple, Matt and Ann, along with Ann's teenage son, John, arrive at the Travellers Stay, a run-down motel. A woman sits on the porch, smoking and drinking. She helps them get a room, but her attitude is unusual. Everyone is stressed, and Ann and John in particular aren't pleased with the accommodations.
This story can be read in the preview of Body Shocks: Extreme Tales of Body Horror. (32% in)
"The Prophet's Hair" by Salman Rushdie
A famous relic is stolen from a mosque. Hashim, a wealthy money-lender, finds it floating in the water. He knows he should return it, but decides to keep it instead. The family's life is thrown into chaos. (Summary)
The Westcott's live in an upscale apartment and enjoy music. Mr. Westcott buys his wife a new radio—big, ugly, and able to pick up conversations from neighboring suites.
This story can be read in the preview of The Stories of John Cheever. (49% in)
"The Curious Case of Benjamin Button" by F. Scott Fitzgerald
Mrs. Button goes to the hospital for the birth of her first child. Mr. Button soon follows to see how everything went. Doctor Keene is upset and cuts ties with the Button family. The nurses are startled and unhelpful. Mr. Button is finally led to his newborn and discovers the reason for everyone's shock.
This story can be read in the preview of F. Scott Fitzgerald Short Stories.
Magical Realism Short Stories, Cont'd
"The Stick" by Kōbō Abe
On a hot day, a man and his kids are on the roof of a department store. He spots an opening at the railing and wedges himself in. He lifts his kids up to see the roads below. They soon get bored but he keeps looking, as do many other adults. When his son calls out to him, he gets irritated. He leans away from the voice over the railing and finds himself floating in the air.
"Journey to the Seed" by Alejo Carpentier
An old man wanders around a demolition site, muttering a string of incomprehensible phrases. The roof has been removed and, by evening, most of the house is down. When the site is deserted, the old man waves his walking stick over a pile of discarded tiles. They fly back and cover the floor. The house continues to rebuild. Inside, Don Marcial lies on his deathbed.
"TV People" by Haruki Murakami
A man is home on a Sunday evening not feeling particularly well, which is common for him on Sundays. The rest of the family is out and he's lying on the sofa. Without making any noise, three "TV People", people of a reduced size, enter his home carrying a TV. They set it up while ignoring him completely. It doesn't pick up any channels, but they don't mind.
"The Night Face Up" by Julio Cortazar
A man on a motorcycle has an accident. After he's given an anesthetic at the hospital, he dreams he's a Motecan Indian fleeing from Aztec warriors centuries ago in Mexico.
Magical Realism Short Stories, Cont'd
"The Metamorphosis" by Franz Kafka
A man wakes up one morning to find he's been transformed into a giant insect-like creature. Otherwise, he still feels like his old self.
"The Handsomest Drowned Man in the World" by Gabriel Garcia Marquez
A drowned man washes up on the beach. While carrying him into the village, the men notice he is heavier and taller than any man they've seen. While the women clean him up to prepare him for burial, they see that he's an amazing specimen, the most impressive man they've ever seen.
"The Rememberer" by Aimee Bender
A man experiences rapid, reverse evolution. He goes from man to ape to sea turtle, losing about a million years a day.
Read "The Rememberer" (Pg 3)
"The Paper Menagerie" by Ken Liu
The narrator, Jack, remembers when he was a young boy. His mother folded origami animals for him. She was able to breathe life into them. His mother was a mail-order bride from China. As Jack grows up, he draws away from his mother, preferring American toys and food. He won't answer her if she speaks Chinese. He's embarrassed by his mom.

"Maria Times Seven" by Martha Batiz
Doña Toña gives birth to seven healthy baby girls, naming them all Maria. She doesn't sleep for a month as she tries to feed and care for them. People point out that she seems to be getting smaller. The seven Marias have an unusual connection—whatever happens to one seems to happen to all.
Read "Maria Times Seven"
The narrator's universe, a Library, is made up of endless galleries full of books. He has been looking for one in particular. It contains every possible book that could ever be written. As a result, most of its contents are complete nonsense.
"The Aleph" by Jorge Luis Borges
After the death of the woman he loves, the narrator begins visiting her father and first cousin, Carlos Daneri, every year. Daneri speaks on a variety of subjects, all of which the narrator views as meaningless. In particular, he reads and praises his own poetry. When he runs into a problem with his landlords, he reveals something shocking about his house.
"The Kugelmass Episode" by Woody Allen
An unhappily married humanities professor, making no progress with his analyst, seeks help from a magician/entertainer. The magician says he can send the man into the world of any book he wants.
---
I'll continue adding magical realism short stories as I find them.