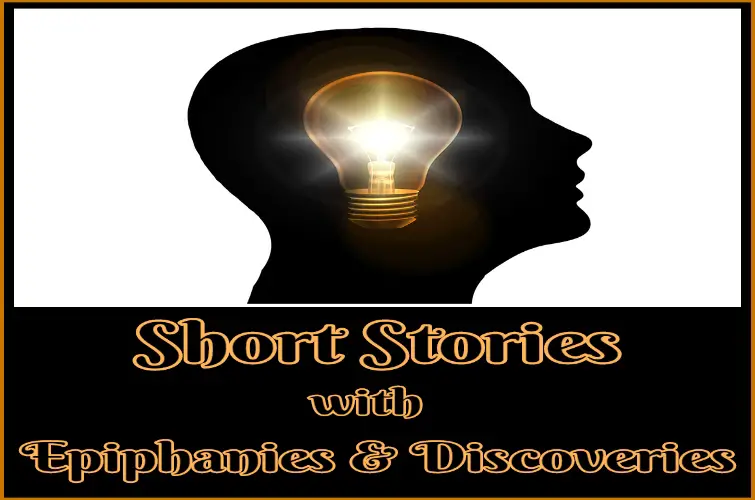 In these epiphany stories and stories about discovery, people discover something about themselves or about life, or find out something important that they didn't know. Stories with a directly stated epiphany are marked with an *.
Epiphanies are most associated with James Joyce who adapted the word, giving it a literary meaning. An epiphany is the sudden revelation of the essential nature of something, a spiritual manifestation; it's a moment of discovery or recognition, when a character realizes something important about life or what it means to be a person. See also:
Discovery & Epiphany Stories
"The Moustache" by Robert Cormier
Mike, seventeen-years-old, is going to Lawnrest Nursing Home to visit his grandmother. She has a chronic circulatory disease and a fading memory. He isn't eager to make the visit, uncertain if his grandmother will be having one of her bad days. (Summary & Analysis)
"Marigolds" by Eugenia W. Collier
Lizabeth recalls a time when she was fourteen, in Maryland, during the Depression. A woman in her neighborhood, Miss Lottie, lives in a dilapidated home, but has a colorful marigold garden. She's an outcast, and the children make her a target of taunts. (Summary & Analysis)
This is the first story in the preview of Breeder and Other Stories. 
"Sleeping" by Katharine Weber
Harriet, a young girl, is babysitting Charles. His parents tell her that he won't be any trouble, he will sleep the whole time, and she needn't even open his bedroom door to look at him. (Analysis)
This story can be read in the preview of Sudden Flash Youth: 65 Short-Short Stories. (88% in)
The Enormous Radio | John Cheever
The Westcott's live in an upscale apartment and enjoy music. Mr. Westcott buys his wife a new radio—big, ugly, and able to pick up conversations from neighboring suites.
This story can be read in the Amazon preview of The Stories of John Cheever. (49% in)
"The Stolen Party" by Liliana Heker
Rosaura has been invited to Luciana's birthday party. Rosaura's mother works as a maid for Luciana's mother. She doesn't like the idea of her daughter going to "a rich people's party." (Summary & Analysis)
"The Flowers" by Alice Walker
Myop is a ten-year-old girl who is out exploring the woods behind her family's sharecropper cabin on a beautiful summer day. As she starts to head home she makes a shocking discovery. (Summary & Analysis)
"The Flowers" is the fourth story in the Amazon preview of The Penguin Book of the Modern American Short Story. (88% in)
Epiphany Stories, Cont'd
*A&P | John Updike
Three young women wearing bathing suits enter a grocery store. Sammy, a nineteen-year-old cashier, watches them as they move through the aisles. He focuses in particular on one he calls Queenie, who looks like the leader of the group. The other employees and customers also notice the girls. (Summary & Analysis)
Fat | Raymond Carver
A waitress serves the fattest person she has ever seen. He orders a lot of food and points out that he doesn't always eat like this. Her coworkers make fun of the man. (Summary)
This is the first story in the preview of Will You Please Be Quiet, Please?
*An Hour with Abuelo | Judith Ortiz Cofer
Arturo doesn't want to visit his grandfather in a nursing home during his summer vacation, but he gives in to his mother's urging. His grandfather's body is giving out but his mind is sharp. He tells Abuelo the story of his life, which included teaching, the army, farming, and a love of books and learning. (Summary & Analysis)
My Old Man | Ernest Hemingway
The narrator tells the story of being with his father in Italy and France when he worked as a jockey. His father had an argument with some people after winning a race in Italy. In France he eventually buys his own horse to train and ride.
This is the third story in the preview of 100 Years of the Best American Short Stories.
"Sunday in the Park" by Bel Kaufman
Morton and his wife sit on a park bench while their young son, Larry, plays in the sandbox with another boy. Everyone is contented and happy until the boy suddenly throws a shovel full of sand at Larry. (Summary & Theme)
Desiree's Baby | Kate Chopin
Desiree had been adopted as a toddler. She is now an adult with a baby of her own. She and her husband, Armand, are very happy. After a while, there are some whispers about the baby's background. (Summary & Analysis)
This story can be read by selecting it in the table of contents of The Awakening, and Selected Short Stories.
Stories About Discovery, Cont'd
The Ice Palace | F. Scott Fitzgerald
A southern girl, Sally Carrol, goes swimming with some friends. Rumor has it she is engaged to a northerner. She feels tied down and wants some adventure. Sally Carrol goes to visit her fiancé's family and hometown in the winter.
This story can be read in the preview of Babylon Revisited: And Other Stories.
"The City Born Great" by N. K. Jemisin
A homeless, black man stands on a rooftop and yells—singing to the cityscape. As he leaves, he hears something basso-deep that feels both distant and intimate. He also hears a growl that could be police sirens. Later, he meets Paolo at a café, who buys him breakfast. Paolo is trying to explain something important about the city, but the man doesn't care. A cop comes in but doesn't seem to notice him. He takes off.
This is the second story in the preview of How Long 'Til Black Future Month? (50% into preview)
"The Overcoat" by Sally Benson
Mrs. Bishop can't afford a taxi home from her bridge night. She's annoyed at not having more money. She plans to confront her husband about it. On the subway, she sympathizes with a man in a worn out overcoat. (Summary)
Read "The Overcoat"
"State Change" by Ken Liu
Rina checks her refrigerators every night, especially the one by her bed that holds her ice cube. It seems like it's getting smaller. When a child is born, their soul materializes in the form of an object that must be kept close to the body. Rina lives cautiously and stays detached from others.
This story can be read in the preview of The Paper Menagerie and Other Stories. (32% in)
Our Lady's Juggler | Anatole France
A poor but adept juggler travels and puts on performances. Eventually, he joins a monastery and sees the monks using their abilities to praise God, making him wonder what he has to offer. (Summary)
Araby | James Joyce
A boy wants to go to a bazaar to get something for his crush, the older sister of a neighbor friend.
*The Dead | James Joyce
The main character attends his aunt's annual dinner and dance along with other family and friends.
This one is on the long side for a short story; I think its 15,000+ words, but it feels like it's about half that.
Epiphany Stories, Cont'd
*The Subversive | Bruce Jay Friedman
The narrator tells us about his old friend Ed Stamm, the most all-American person he's ever known. He met him in the Air Force. Ed had winning manners and everyone liked him.
This story can be read in the preview of The Collected Short Fiction of Bruce Jay Friedman. (14% in)
"Calved" by Sam J. Miller
A father sees his son, Thede, after being away on a job for three months. Thede has changed; he's a teenager so he's grown some, but more importantly his demeanor is different. His eyes are flat and joyless. They have trouble connecting. Thede's mother says he's having some trouble at school with bullies. The dad has a sentimental gift for Thede that he hopes will turn the tide.
This story can be read in the preview of The Best Science Fiction of the Year: Volume 1. (32% in)
"The Payoff" by Susan Perabo
Anne and Louise make clay projects in art class. After softball practice, Louise wants to go back in and get hers because it's cooled down now. The side doors are still open, but the students are gone. They go down to the basement to the art room. Louise looks through the window and pulls back in surprise. Anne looks and is also jolted by what she sees—Ms. McDaniel and the principal.
Almost all of this story can be read in the preview of Why They Run the Way They Do: Stories. (14% in)
*"The Lame Shall Enter First" by Flannery O'Connor
A boy is in mourning over the death of his mother while his father, Sheppard, is focused on helping others. He takes a special interest in a certain troubled child, Rufus Johnson, inviting the boy to stay in their home. Sheppard believes Rufus has great potential and that he can save him. (Summary)
"Uncle Wiggily in Connecticut" by J. D. Salinger
Mary Jane arrives late for her visit with Eloise. The former college roommates drink, smoke and make idle chatter. After a while, Eloise's daughter, Ramona, enters with her imaginary friend, Jimmy Jimmereeno. Mary Jane asks about him. The conversation eventually turns to Eloise's old love, Walt Glass, a young soldier who was killed in an accident.
"Blow-Up" by Julio Cortazar
Roberto Michel ruminates over how and why he should tell his story. When he takes a walk along the river he sees a woman interacting with a teenage boy. As a photographer, he takes a picture of the scene, knowing what is going on. Later, he's able to examine it more closely.
Appointment with Love | Sulamith Ish Kishor
A returning lieutenant arrives at Grand Central Station to meet up with a woman he has never seen. They have been corresponding for 13 months during his tour of duty, and her letters have been a source of strength and encouragement. He feels he is in love with her, but he is also anxious to find out what she looks like.
Stories About Discovery, Cont'd
*The Bridge | Nicolai Chukovski
Kostya is seventeen, awkward and shy, and his family has little confidence in him. He is going to Siberia to work for his uncle, but his grandmother and aunt don't think he is rugged enough for the change. He takes his bicycle out for his last ride before leaving.
Astronomer's Wife | Kay Boyle
A plumber comes to the Ames's home to do some work. Mr. Ames is still sleeping, so Mrs. Ames deals with the plumber and compares him to her husband.
Regret | Kate Chopin
An unmarried, fifty year-old country woman is called on to look after a neighbor's children for a while. She gradually adjusts to their presence and needs.
Cathedral | Raymond Carver
A woman and a blind man have kept in contact for ten years, mailing tapes to each other. His wife has recently died, so he's going to visit her family. On the way, he's going to spend a night at the woman's place with her new husband. Her husband isn't looking forward to the visit.
A Little Cloud | James Joyce
Thomas Chandler visits his friend, Ignatius Gallaher, a celebrated writer, well traveled, and free. Chandler feels inferior to his friend, and constricted by his family.
This story can be read in the preview of Dubliners. (select in table of contents)
The Father | Raymond Carver
A family is gathered around a baby in a basket, doting over him and admiring his little features. They try to figure out who the baby looks like. (Summary and Analysis of "The Father")
"Revelation" by Flannery O'Connor
Mrs. Turpin and her husband are in a doctor's waiting room.  Mrs. Turpin is racist and judgmental, and she attracts the attention of a young woman, who looks at her intently. (Summary)
Epiphany Stories, Cont'd
"De Daumier-Smith's Blue Period" by J. D. Salinger
John Smith applies as an instructor at a Montreal correspondence art school. He embellishes his credentials and adopts the name Jean de Daumier Smith. The job turns out less glamorous than he expected. He finds himself dissatisfied with the student work that he encounters. He is impressed by the work of a nun, Sister Irma.
The Necessary Grace to Fall | Gina Ochsner
Howard works for an insurance company, investigating claims made on behalf of the deceased. He becomes fascinated by his cases, especially the possible suicide of a woman he thinks he may have known in high school.
*The Father | Hugh Garner
Johnny's father goes with him to a Boy Scout banquet, but his behavior at the event causes some embarrassment.
*All the Years of Her Life | Morley Callaghan
Alfred, an adult, is caught stealing from his place of work, a drugstore. His boss calls his mother in to talk before calling the police, but she persuades him not to take the matter further. Alfred is fired.
Contents of the Dead Man's Pocket | Jack Finney
Tom is working at home in an apartment on a project for work, which he believes could lead to a raise. His wife is going out for the evening, but Tom is too focused on his task to go with her. After she leaves, a breeze from the hallway blows a piece of paper full of Tom's vital notes out the window. It rests outside on a ledge.
*Ha'penny | Alan Paton
The narrator works at a youth reformatory in South Africa. He likes making small connections with the boys in his care – a nod, or a look – which he believes helps them to break away from their misbehavior. One of the boys, Ha'penny, talks a lot about his family, inciting the narrator to look into the boy's background.
*Jacklighting | Anne Beattie
A group of family, friends, and acquaintances gather at Spence's Virginia home on the birthday of his deceased brother, Nicholas. Spence is depressed. The narrator remembers Nicholas and hears about the lives of the others. She also deals with turmoil in her own life.
Stories About Discovery, Cont'd
*Blackberries | Leslie Norris
A mother takes her son to get his first real haircut, and then takes him cap shopping.
Great Moves | Sandy Asher
Annie has been asked to the Valentine's Day dance by the two most popular boys at school and she can't decide whom to go with. When they approach her friend, Brenda, for advice they turn their attention to her, with both boy's now wanting to go with Brenda.
* Marriage Is a Private Affair | Chinua Achebe
A young man from the Ibo tribe in Nigeria who lives in the city, returns home to tell his father he's engaged. His father is dead set against the marriage and cuts off his son.
Read "Marriage is a Private Affair"
*The Poison of the Blue Rose | Yasmin Marri
The narrator loves the silence of her house. She gets a visit from her friend Gulab Bibi, who has been getting letters from Rafiq. She wants to be with him but her parents have already arranged a marriage.
*Peter Two | Irwin Shaw
Peter, thirteen-years-old, watches action programs on T.V. where the hero always overcomes danger no matter what the odds. He thinks back on an incident from school when he defended a weaker student. Peter feels he will become a hero who others can turn to for help.
Invitations | Carol Shields
On Monday the narrator receives an invitation to an art exhibition. She is pleased and thinks about what she will wear. On Tuesday she receives an invitation to a cocktail party for the same evening.
*Imagine a Day at the End of Your Life | Ann Beattie
The narrator, a retired man, talks about his wife, who is a mystery writer, and his grown children.
The Legacy | Virginia Woolf
Gilbert Clandon's wife, Angela, died six weeks ago. He is waiting for a visit from Sissy Miller, his wife's former secretary. He has a keepsake of his wife's to give her. She had little tokens prepared to give all her friends in case of her death. Gilbert finds it strange that Angela had everything so organized.
Epiphany Stories, Cont'd
The Stolen Party | Liliana Heker
Rosaura has been invited to Luciana's birthday party. Rosaura's mother works as a maid for Luciana's mother. She doesn't like the idea of her daughter going to "a rich people's party."
The Strength of God | Sherwood Anderson
Reverend Curtis Hartman is the pastor of a Presbyterian Church. Not being a natural speaker, he puts much work into his two Sunday sermons which includes earnestly praying for God's help. One Sunday morning while in the bell tower he looks out the window. He can see a woman in the upper room of the house next door.
*Caline | Kate Chopin
Caline is sleeping in a field near her isolated home when she is awakened by a stopping train. This has never happened before. She has a brief meeting with some of the passengers. She wants to find out where they're from and where they're going.
The Innocent | Graham Greene
The narrator takes Lola, a woman recently met, to the country town where he was born. He immediately regrets it; she is out of place. His thoughts eventually go to a girl he loved as a young boy.
*The Outsider | H. P. Lovecraft
The narrator lives in a castle and has never seen sunlight or had contact with others. His only company and knowledge of the world is from antique books. He decides to free himself from his prison and explore the outside world.
Another Part of the Sky | Nadine Gordimer
Collins is the white principal of a South African reformatory for black youths. In his quest to reach the inmates, he's made a major change—he replaced the high walls surrounding the grounds with pathways and flower beds. One of his boys has run off, and is the primary suspect in a beating and robbery.
The Sin Eater | Margaret Atwood
The narrator talks about her therapist, Joseph. He told her about a Wales tradition where a person known as a Sin Eater would be called to eat a meal over a dead body. This would transfer the dead person's sins to the eater, thus clearing the person's way to heaven. When Joseph has an accident, the narrator finds out about his life from his ex-wives and other patients.
Madame Zilensky and the King of Finland | Carson McCullers
Mr. Brook, head of the music department at a New York college, hires Madame Zilensky, a composer and teacher. She's a bit shabby, and her sons are unusual, but her work is excellent. She and Mr. Brook are quite different.
*A Painful Case | James Joyce
Mr. Duffy begins an innocent relationship with a married woman, Mrs. Sinico. After spending a lot of time together, Mrs. Sinico takes Mr. Duffy's hand.
This story can be read in the preview of Dubliners. (select in table of contents)
Stories About Discovery, Cont'd
The Second Tree from the Corner | E. B. White
Mr. Trexler regularly visits a psychiatrist because of dizziness, despondency, anxiety and tension among other things. The doctor assures him he's just afraid, and will be fine. He continues to go to therapy, without an amelioration of his symptoms.
The Adulterous Woman | Albert Camus
Janine, a woman in her forties, is riding a bus with her husband, Marcel, on a business trip. She thinks about her marriage. She notices that a French soldier sitting across from her is looking at her a lot.
Read "The Adulterous Woman" (PDF Pg. 4)
All Shall Love Me and Despair | Jean Thompson
Scout and his girlfriend, Annie, have left Chicago for the Oregon coast. Scout is a drug addict. He eats badly during the trip, and is ill. Annie thinks highly of Scout, despite everything. Annie has a realization about the relationship.
Remembering Orchards | Barry Lopez
The narrator lived with his stepfather from twelve to seventeen, and they weren't close. He was a highly skilled orchardist and farmer, who brought serenity to the home. The narrator talks about his stepfather and his assistant, Ramon. He appreciates his stepfather now, and knows what he's lost.
The Wife's Story | Ursula K. Le Guin
A wife tells the story of her husband. He was a good husband and father, well liked and respected. Something happened that she can't believe. Everyone says it was because of the moon and the blood.
*The Student | Anton Chekhov
Ivan, a young clerical student, is returning home after shooting. Not wanting to go home, he stops at a camp fire where two widows warm themselves after supper. He tells them the story of Peter's denial of Jesus.
Read "The Student"
"The Wives of the Dead" by Nathaniel Hawthorne
The narrator relates a story that generated some interest about a hundred years ago in the Bay Province. Two women, married to two brothers, received the news that their husbands had been killed on consecutive days. Many guests came to offer condolences, and in their shared grief, they comforted each other.
---
I'll keep adding epiphany stories and stories about discovery as I find more.