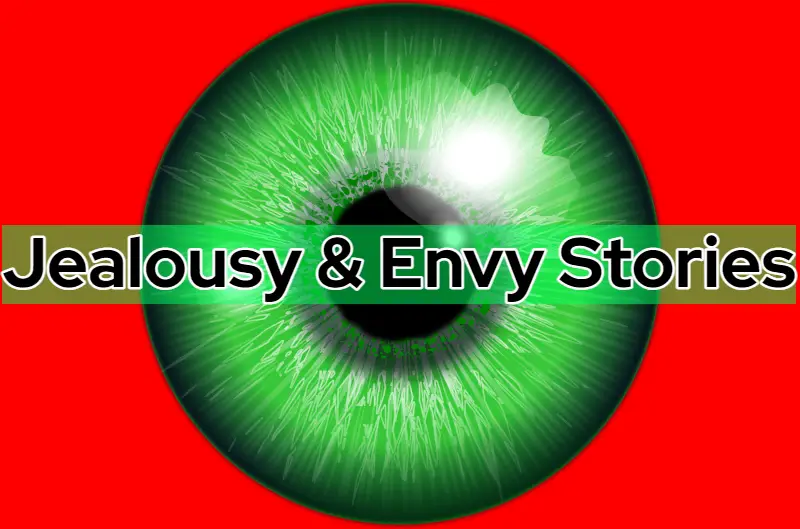 These short stories about jealousy & envy have characters who are worried about losing something or someone, or characters who have a strong desire for what someone else has.
The first group is classed as jealousy and the second as envy. I realize the words are often used interchangeably and there is some overlap in their meanings, but I've divided them more strictly based on the above descriptions. Some stories have characters who display jealousy and envy. See also:
Stories About Envy
Neighbors | Raymond Carver
Bill and Arlene Miller look after their neighbor's cat and plants while they're away. The Miller's think their neighbor's lives are more interesting than their own. When Bill goes over to feed the cat and water the plants, he ends up staying in their apartment longer than necessary. (Summary)
This is the second story in the preview of Will You Please Be Quiet, Please?
The Idea | Raymond Carver
A woman is sitting in her kitchen in the dark looking out the window. The house she's watching has the bedroom shade up and the light on. She's been watching a man in this house for some time. He comes out on his back porch. The woman excitedly calls her husband to come look.
This is the third story in the above preview of Will You Please Be Quiet, Please?
"The Piano Tuner's Wives" by William Trevor
The piano tuner, a blind man, married Violet when he was young. They had a full life together. Two years after her death, he married Belle, when he was an old man. Belle wanted to marry him the first time around, but he chose Violet. She used to drive him around for his work, and would describe everything to him. Everyone in the area is aware of the circumstances around their union. Belle feels the lingering presence of her old rival.
This is the first story in the preview of Selected Stories.
"Ricochet" by Angela Noel
Owen sets up the gun in his cottage. His brother Huw will be over later and everything will be settled then. There's nothing else for him to do at this point. He's lost too much. (Summary)
"Cal" by Isaac Asimov
Cal is a robot and his human master is a writer of crime fiction. Cal was designed to perform mundane tasks, and that's all his master requires of him. Cal wants to write, like his master. They talk about the possibility, but Cal's understanding is limited. The Three Laws of Robotics also prevent him from creating many situations that would arise in crime fiction. His master comes up with something.
Some of this story can be read in the preview of Gold, Asimov's last collection. (20% into preview)
"Condensed Milk" by Varlam Shalamov
The narrator is in a Russian labor camp working in a mine. He envies Shestakov, an engineer-geologist who works in the office. While longing for some bread, the narrator is approached by Shestakov. They walk behind the barracks to talk. Shestakov has an escape plan. (Summary & Analysis)
Read "Condensed Milk"
"The Man Child" by James Baldwin
Eric, eight years old, is from a line of farmers. His father often drinks at the tavern with Jamie, a neighboring farmer and friend. Jamie was forced to sell his farm, and Eric's father bought it. Jamie's wife left him and he has no children. He spends a lot of time at Eric's home. They celebrate Jamie's thirty-fourth birthday together.
Stories About Envy, Cont'd
"A Great Day" by Frank Sargeson
Two friends who are out of work go on a fishing trip. They talk about their situations, and a girl who they both know.
The Tarn | Hugh Walpole
Foster has visited Fenwick to "put things right"—he heard Fenwick had some kind of grudge against him. Fenwick hates Foster but assures him everything is fine. Making conversation with him increases his irritation until he has to act.
The Richest Man | Ha Jin
Li Wan, a doctor, is the richest man in town. He is a miser and widely disliked. During China's Cultural Revolution he is accused of destroying a likeness of Chairman Mao. His fortunes change.
All Summer in a Day | Ray Bradbury
Humans are living on Venus. The children are eagerly awaiting an event that scientists have confirmed: it will stop raining for two hours, the only break from rain in seven years. The kids speculate about what the sun is like. One student remembers the sun from earth, but the others don't believe her.
A Queer Heart | Elizabeth Bowen
Hilda gets off the bus, having just arrived home from her trip to town. She's a heavy-set woman in her sixties, sociable and friendly. She knows the rest of her day won't be as pleasant. Her older, envious sister, Rose, is staying with her, and her daughter, Lucille, is critical.
The Last Tea | Dorothy Parker
A young man arrives late for a lunch date. The woman has been waiting but pretends she was also late. The man is feeling the effects of staying up late and drinking the night before. He met a woman, Carol, at a party and raves about how wonderful she is.
Spring Storm | Mori Yoko
Natsuo is waiting for the elevator in her lobby. She's very excited, having recently auditioned for a play. She's eager to get home to tell her husband about it.
Stories About Jealousy
"Hester Lilly" by Elizabeth Taylor
Hester Lilly, a young woman and orphan, has come to stay with her older cousin Robert and his wife, Muriel. Muriel didn't want her to come. Robert and Hester have been writing to each other frequently for a while. Muriel is relieved when she sees that Hester is poorly dressed and seems unthreatening. Hester is to do some dictation work for Robert.
This longer story can be read in the preview of Complete Short Stories. (11% in)
Stones in My Passway, Hellhound on My Trail | T. C. Boyle
An accomplished blues musician, Robert, is playing in a club. There is a flashback to his youth when he saw a dog die. Between sets he spends time with Beatrice; another woman, Ida, looks at him intently.
A Funeral | August Strindberg
Some men sitting in a tavern discuss the funeral procession going on outside. A clerk has died. He labored for his mother and sisters. When he told them he was getting married, they made things difficult for him.
The Shawl | Cynthia Ozick
Rosa is on a death march to a concentration camp with her niece, Stella, and her baby daughter, Magda, who she keeps hidden under a shawl.
The Difference | Ellen Glasgow
Margaret Fleming receives a letter from a woman, Rose, who says she is in love with Margaret's husband, George, and that George loves her too. A friend of Margaret's, Dorothy, comes over and they have a debate about philandering husbands and love.
The Golden Honeymoon | Ring Lardner
The Frost's travel to Tampa to celebrate their 50th anniversary. They gently spar with each other about a few things. When they arrive, they have a chance meeting with someone from their past.
Stories About Jealousy, Cont'd
The Daffodil Sky | H. E. Bates
A man returns to a town after many years away. He's looking for Cora Whitehead, a woman he used to see. We hear the story of their relationship and of a decision he made that changed everything irrevocably.
Martyrdom | Yukio Mishima
In a Japanese boarding school, a boy, nicknamed the "Demon King", is the leader of a clique. An outsider, Watari, steals a book of his, leading to a confrontation between the two. It causes a change in their relationship.
Here We Are | Dorothy Parker
A newly-married couple is riding a train. They talk about their wedding and what they're going to do. Everything that comes up leads them into a petty disagreement.
This can be read as a short story or a play.
Double Game | Alberto Moravia
Umberto and Peppe have been friends a long time. Peppe feels inferior as Umberto has many abilities. They are both attracted to Clara.
A Telephone Call | Dorothy Parker
A woman frets over a late phone call and wonders if she should call him instead.
The Girls in Their Summer Dresses | Irwin Shaw
Michael and Frances are a married couple walking in Manhattan. Frances notices that Michael looks at a lot of women as they walk. She points it out to him and they talk about it.
Read "The Girls in Their Summer Dresses"
The Confession | Guy De Maupassant
A woman makes a death-bed confession to her older sister about something that happened over 40 years ago.
Stories About Jealousy, Cont'd
The Hidden Woman | Colette
A husband and wife talk about the possibility of going to a costume ball where licentious behavior is common. The man says he has to make an out-of-town call on a patient; the woman demurs because of all the strangers there who could touch her.
That in Aleppo Once… | Vladimir Nabokov
The narrator writes a letter to his Russian friend working as a novelist in America. He chronicles his failed marriage, including a separation that occurs during a train trip and his jealousy.
And Sarah Laughed | Joanne Greenberg
Sarah has been preparing the farmhouse for her son Abel and his new bride, whom the family hasn't met yet. Sarah's husband Matthew is deaf, as are all of their children. They didn't learn sign language and their home has always been silent.
Read "And Sarah Laughed" (Pg 23 of document)
The Gesture | Gil Brewer
Nolan lives on a private island with his wife, Helen. A photographer, Latimer, is visiting, shooting a picture story of the island. Nolan likes having Helen isolated; he doesn't like other men looking at her beauty. Latimer and Helen are spending time together. Nolan knows he has to do something.
Metonymy, or The Husband's Revenge | Rachel de Queiroz
A sickly man with some property finds a woman to marry. She is poor and emaciated. She thrives in her new situation. This, combined with her husband's indifference to life, creates distance between them. One day she meets a sergeant.
Read "Menonymy, or The Husband's Revenge"
A Cup of Tea | Katherine Mansfield
Rosemary Fell has been married two years and is very rich. One winter afternoon she visits a little antique shop she likes. The proprietor shows her a little enamel box that's very expensive. Outside the shop, she's approached by a young woman asking for the price of a cup of tea. Rosemary sees it as a opportunity for a charitable adventure.
Read "A Cup of Tea"
---
I'll keep adding stories about jealousy and stories about envy as I find more.