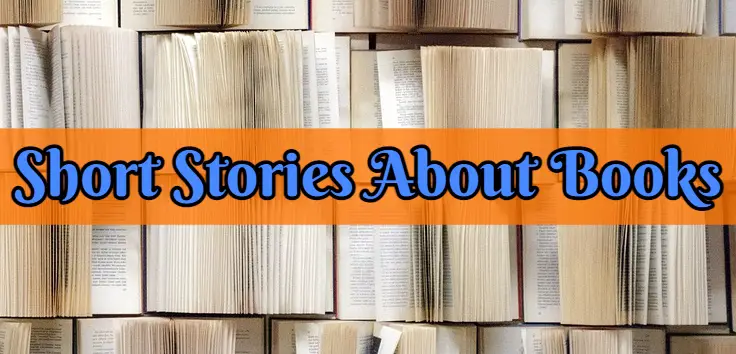 Books, reading, or libraries play an important part in these stories, or they are important to a main character. As a reading fan, I'm a bit of a sucker for stories that feature books or libraries. If you are too, you're sure to find something interesting here. Hope you enjoy!
Short Stories About Reading or Books
Baxter's Procrustes | Charles W. Chesnutt
The Bodleian Club contains mementos from famous authors and rare books, many of which it printed itself. Its members are avid book collectors. The narrator tells us the story of the book that brought the highest price at auction in the club's history. It was Procrustes, written by one of their own members, Baxter.
This story can be read in the preview of Black Voices: An Anthology of African-American Literature. (Pg 4)
An Hour with Abuelo | Judith Ortiz Cofer
Arturo doesn't want to visit his grandfather in a nursing home during his summer vacation, but he gives in to his mother's urging. His grandfather's body is giving out but his mind is sharp. He tells Arturo the story of his life, which included teaching, the army, farming, and a love of books and learning. (Summary & Analysis)
In the House of the Seven Librarians | Ellen Klages
The Carnegie Library was a staple of its town for decades. A new, more conveniently placed library was eventually opened. The Carnegie Library was closed, but the seven librarians remained. They continued with their work. The unkept grounds grown until the forest closes in around the building. They live in the same comfortable routine until one day there's a change.
This fantasy story can be read in the preview of Ex Libris: Stories of Librarians, Libraries and Lore. (33% in)
A Continuity of Parks | Julio Cortazar
A man relaxes with a novel that he had started earlier. In it a woman and her lover are scheming against her husband. The man reading becomes immersed in the story. (Summary and Analysis)
"The Bookstore at the End of America" by Charlie Jane Anders
Molly owns a bookstore on a hill that's right on the California/America border. It has two entrances and two cash registers for two different kinds of currency. The stores look quite different, catering to the different tastes of each clientele. It has a tremendous amount of books, including variations for the other audience.
This story can be read in the preview of A People's Future of the United States. (23% in)
Find a Short Story About Books or Reading, Cont'd
Feld is a shoemaker who wants his daughter, Miriam, to marry Max, a young man pursuing his education. After Feld tries to set them up, his assistant, Sobel, quits. Sobel and Miriam share a love of reading. (Summary)
A group of women are having tea talking about the praiseworthy qualities of men when one of them, Polly, burst into tears. Her father left her a fortune on the condition that she read all the books in the London Library. After extensive reading she's come to a conclusion—for the most part, books are very bad. Her companions object, but when she reads a few passage aloud, they have to agree with her assessment. This gets the women thinking about how they've taken it for granted that their duty is to bear children. They decide to postpone that and form a society of women who ask questions and learn about the world.
This story can be read in the preview of The Complete Works. (71% in, or select Monday or Tuesday in TOC, then the title)
"The Bookmaking Habits of Select Species" by Ken Liu
The narrator describes how five different alien species pass on their wisdom by making books.
This story can be read in the preview of The Paper Menagerie and Other Stories. (14% in)
The narrator comes across a bookshop where he doesn't think there'd be much demand for books. He talks to the owner about the public's taste and looks around. The owner shows him a book of music and starts playing a selection from it on an old piano.
Miss Adams, the head librarian, stays late to get everything in order. She hears knocking at the front door; a man in uniform wants to come in. She tells him they're closed. He asks her if she remembers him.
Ed Has His Mind Improved | Walter R. Brooks
The narrator tells the story of Willie Pope, who told everyone he had a talking horse, Ed. Of course no one believed him. Willie soon teaches Ed to read. Willie likes things that improve the mind; Ed likes more entertaining stories. Ed becomes a voracious reader. When Willie has to go away on business, Ed runs out of books.
Find a Short Story About Books or Reading, Cont'd
The Kugelmass Episode | Woody Allen
An unhappily married humanities professor, making no progress with his analyst, seeks help from a magician / entertainer. The magician says he can send the man into the world of any book he wants.
The Public Library | Isaac Babel
The narrator describes some of the employees and patrons of a public library where books reign supreme.
The narrator's universe is a room containing every possible book. Most of them are complete nonsense, but it must also contain all the world's wisdom and accurate prophecy.
A General in the Library | Italo Calvino
Officials in Panduria decide that books are a threat because they might point out that generals make mistakes and war isn't always glorious. General Fedina is sent to examine all the books in Panduria's biggest library. The librarian, Signor Crispino, helps the General and his staff go through the books.
Read "A General in the Library"
Community Life | Lorrie Moore
Olena, a librarian, meets Nick, a political campaigner, and they start a relationship. She misses her parents who were killed in a car crash. Olena keeps to herself a lot, while Nick interacts with many people.
Forewarned | Saki
Alethia has limited interaction with others. Her ideas about life and people were acquired through reading novels. She is going to visit her aunt and cousin. She uses her knowledge from novels to make assumptions about the people she will meet.
Find a Short Story About Books or Reading, Cont'd
The Caxton Private Lending Library & Book Depository | John Connolly
Mr. Berger leads a dull life. He does his job, has a few interactions with coworkers, and reads. He spends his time enjoying the many books he has. There is a shakeup at work which coincides with the death of his mother. Mr. Berger uses the changes to pursue his desire to write.
Cosmic Corkscrew | Michael A. Burstein
The narrator is sent back to 1938 to make a copy of a rejected story by an unnamed writer. Unknown to Dr. Scheihagen, the narrator adjusts his arrival to three days earlier. He wants to make contact with the writer.
The Bookbinder's Apprentice | Martin Edwards
Joly, a visitor in Venice, is reading when he is approached by an older man, Sanborn, who admires the book. He invites Joly for a drink where he is introduced to another man, Zuichini, a skilled bookbinder. Joly is leery of his companions but accepts their hospitality.
Time Enough At Last | Lynn Venable
Henry Bemis wants to read a whole book. He hasn't been able to because he just doesn't have the time. His wife and his work at Eastside Bank & Trust take up every moment. One day at work, he sneaks away to the vault with a magazine in his pocket. His timing turns out to be fortuitous, as he hears a thunderous crash from above.
". . . all the noise in the world crashed in upon his ear-drums. . .  Then the concrete floor was rising up at him and the ceiling came slanting down toward him . . ."

—Time Enough at Last
---
I'll keep adding short stories about reading, books and libraries as I find more.