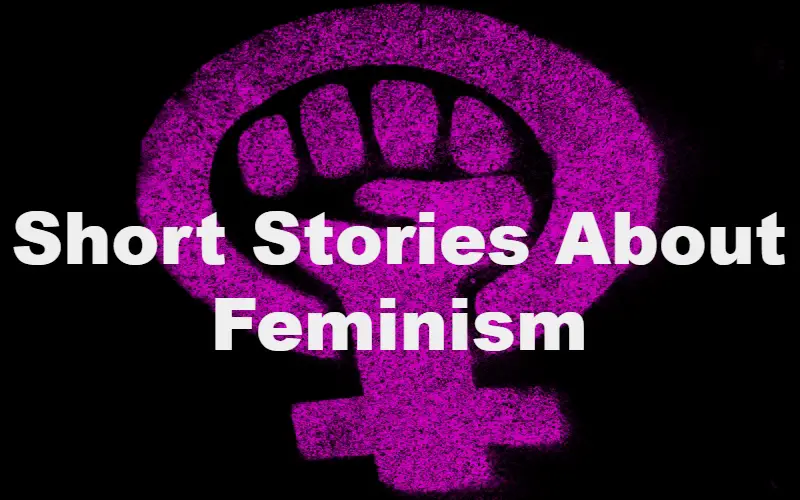 The feminist short stories compiled here will feature female characters who want equality. They could also have characters living with inequality or living stereotypical female lives, or have women who come to realize what they want. The feminism in some of the stories is overt and in others it is subtle.
The stories can also be interpreted from other perspectives, but each story supports a feminist analysis. Aimed at younger readers, Stay True: Short Stories for Strong Girls, (Amazon) is an anthology of stories featuring strong heroines. See also:
Feminist Short Stories
"The She-Wolf" by Barbara Walker
Lupa and her father live in a wretched hut and barely get by. Their main source of food is their cow which produces milk, butter and cheese. When the cow dies, their situation becomes dire. Lupa's father decides to sell some things he had wanted to keep. (Summary)
"The She-Wolf" is the first story in the Amazon preview of Feminist Fairy Tales.
"The Forbidden Words of Margaret  A" by Timmel Duchamp
Margaret A is in prison. While the government allows the press access to her, they control and censor it. A reporter who's had contact with Margaret A has prepared a report detailing the experience. This reporter entered journalism for the chance to meet her. It was a difficult process.
"The Forbidden Words of Margaret A" is the first story in the Amazon preview of Sisters of the Revolution: A Feminist Speculative Fiction Anthology.
"My Flannel Knickers" by Leonora Carrington
The narrator is a saint, living on an island given to her by the government upon her release from prison. Her flannel knickers, which she hangs up everyday to dry, are well known in the area. Her appearance is undistinguished, but many people want to see her after reading about her in the Tourist Guide. She relates what led her to this unusual situation.
This story can also be read in the preview of Sisters of the Revolution, above.
"The Yellow Wallpaper" by Charlotte Perkins Gilman
A woman's husband, a doctor, confines her to the upstairs bedroom of their summer house. He diagnoses her with a "hysterical tendency" and "nervous depression". She chronicles her confinement in her journal; the treatment doesn't have a positive effect on her condition. (Summary)
This story can be read in the preview of The Yellow Wall-Paper and Other Stories.
Get The Yellow Wall-Paper and Other Stories Free on Audible
Feminist Short Stories, Cont'd
The narrator relates information about a species of angel that used to inhabit earth. Almost every household had one. They were virtuous and well-behaved, and their presence improved every facet of life. They handled numerous daily tasks and made things more comfortable. Despite this, humans didn't always treat the angels that well.
"Sultana's Dream" by Rokheya Shekhawat Hossain
The narrator is relaxing one evening and thinking of the condition of Indian women. She has a surreal experience as her friend, Sister Sara, suddenly appears and invites her for a walk. It turns out to be morning, and the streets are full of people, but only women. Some of them make jokes about the narrator being mannish—she's shy and timid. She realizes her companion isn't Sister Sara. They continue through Ladyland, and the narrator learns more about it.
This is the second story in the preview of The Big Book of Science Fiction.
"I Stand Here Ironing" by Tillie Olsen
While a remarried mother of five irons, she thinks about how she raised her first child, Emily, and what she would do differently.
Some of this story can be read in the preview of Tell Me a Riddle, Requa I, and Other Works.
"A Jury of Her Peers" by Susan Glaspell
A farmer in Dixon County is found murdered in his home. His wife is the primary suspect and she is held on suspicion of the murder. While the authorities investigate the scene, two of the men's wives collect a few items for the accused.
This story can be read in the preview of A Moment on the Edge: 100 Years of Crime Stories by Women.
"Wants" by Grace Paley
A woman runs into her ex husband outside a library where she is returning books that are eighteen years late. They gently argue about their life together and what made things go wrong.
This story can be read in the preview of Enormous Changes at the Last Minute: Stories.
Short Stories About Feminism, Cont'd
"Daughter of the Book" by Dahlia Adler
Rebekah, seventeen, learns how to sew from Mrs. Samuels. Rebekah yearns for a more thorough education, but this isn't allowed for girls. She tries to learn what she can from Caleb, a young man studying to be a rabbi. The many rules surrounding propriety and women's education make it difficult.
This story can be read in the preview of The Radical Element: 12 Stories of Daredevils, Debutantes & Other Dauntless Girls. (18% in)
"The Story of an Hour" by Kate Chopin
A woman is given the news that her husband has been killed in a train accident. Over the next hour, she thinks about what her life will be and experiences a range of emotions.
Read here (Includes Summary & Analysis)
Aylmer, an accomplished scientist, marries the beautiful Georgiana. She has a small birthmark on her left cheek. Most men have viewed it positively while women have been critical of it. Aylmer becomes fixated with removing the mark.
This story can be read in the preview of Mosses from an Old Manse. (5% in)
Someone has been persuading all the animals to give up their names. Most accept it without much resistance. It makes them feel closer. (Summary & Analysis)
"Unpopular Gals" by Margaret Atwood
Three women you might recognize tell their side of the story. They know from painful experience that life isn't fair, and they feel they've been misrepresented.
This story can be read in the preview of Good Bones and Simple Murders. (65% in Kindle preview)
Feminist Short Stories, Cont'd
"A Subject of Childhood" by Grace Paley
Faith's boyfriend, Clifford, is with her at her home along with her children. He play-fights with the kids. This leads to an argument and he accuses Faith of being a bad mother.
"Don't Call Me by My Right Name" by James Purdy
Lois Klein has been married for six months. She feels she has given up a lot of her identity for her husband. She tells him that she wants to go back to using her maiden name.
"A Story for Children" by Svava Jakobsdottir
A woman devotes herself to her home, husband, and children. She has a lot of work to do and is subject to the many whims of her kids. Eventually, her brain and heart are affected by the demands placed on her.
"The Friday Everything Changed" by Ann Hart
In Miss Ralston's small-town classroom, the boys always carry water from a pump at the railway station to the school. Carrying the water is a status symbol and a break from the daily routine. One day one of the girls challenges this tradition.
Delia's husband is abusive and a cheater. She supports him by washing clothes. He schemes to get rid of Delia so he can take up with his mistress.
The protagonist's father died when she was young. Her family is supported by her uncles. She becomes a journalist and is eventually very successful.
Short Stories About Feminism, Cont'd
"Weekend" by Fay Weldon
Martha and Martin go with their kids to their cottage for the weekend. Martha prepares for the trip and gets the kids ready herself. She works outside the home and seems to do everything inside the home as well. The weekend isn't really a vacation for Martha.
"Bluebeard's Daughter" by Louis Couperus
Fatma is the daughter of Bluebeard, a notorious pirate, now deceased. Fatma has married several times. Her father was known for killing his wives, so people get suspicious of her as well.
"Solitude" by Miguel De Unamuno
When Solitude is born her mother, Sanctuary, dies in childbirth. Her father sends her to another village to grow up; she returns when she is older but is treated badly, like her mother had been.
"Rappaccini's Daughter" by Nathaniel Hawthorne
While studying at the university in Padua, Guasconti notices Beatrice, the daughter of Rappaccini, a renowned expert on poisonous plants. He has been using his daughter in experiments, making her immune to all poisonous plants. As a side effect, she can't touch a person without harming them.
"Lust" by Susan Minot
The female narrator reminisces about all the men she has had in her life. She realizes that it was different for a girl—society has expectations for women that don't apply to men.
Feminist Short Stories, Cont'd
"Building Bridges" by Andrea Davis Pinkney
Bebe lives with her grandmother, Mama Lil. Bebe gets an opportunity to work on a renovation project on the Brooklyn Bridge, but Mama Lil has old-fashioned ideas about what women can do.
The narrator relates a time from her childhood. Her father is a fox farmer; he raises foxes , skins them, and then sells the skins to fur traders. The narrator helps her father with some of the related chores. She prefers this work to helping around the house. She keeps hearing that she will soon do more around the house and behave in a more girl-like way.
"Chocolate" by Manju Kapur
Abhay tells his wife Tara that she's fat. She would like to be slim, but her husband makes it hard by always bringing her chocolate. They have difficulty conceiving. Tara begins to think Abhay is having an affair.
"A Sorrowful Woman" by Gail Godwin
One evening a woman gets sick of seeing her husband and children. The family is supportive, letting her rest and taking over her duties.
"Created He Them" by Alice Eleanor Jones
Ann Crothers is up early to get the children out of the way and prepare her husband's breakfast. She's careful about everything she does because she knows her husband will complain. Food and other supplies are low.
---
I'll keep adding short stories about feminism and gender equality as I find more.