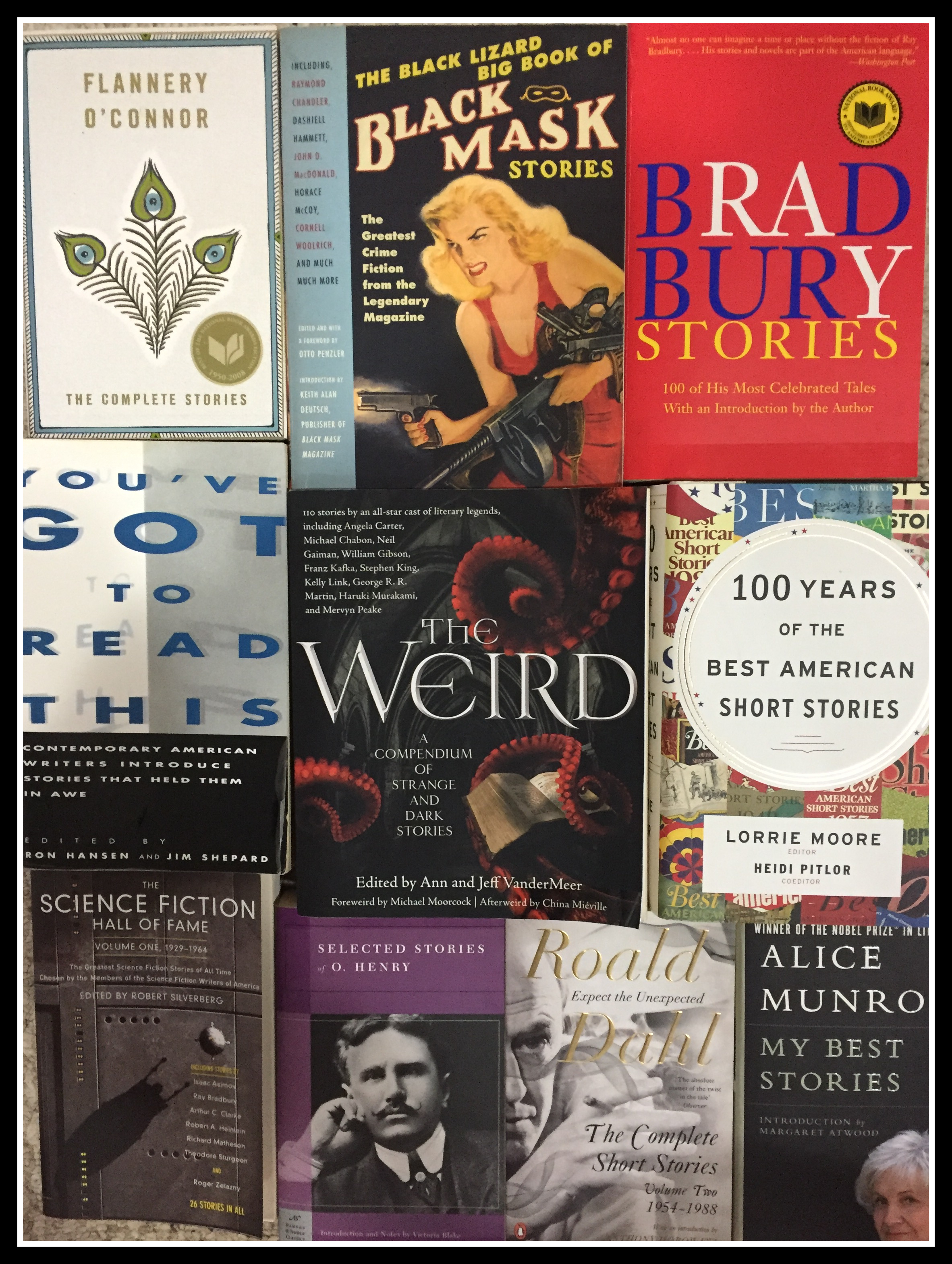 As someone who is always buying a new short story collection or anthology, I'd like to mention some of the ones I've found. Whether you love short stories or want to get an overview of them, any of these books will provide you with a great variety of stories.
I own many of these, and the others are on my to-buy list. I hope you enjoy browsing these titles, and find a collection you didn't know existed.
Best Short Story Anthologies & Collections 
The links will take you to Amazon if you want to see a picture or the current price.
100 Years of the Best American Short Stories: has 40 stories from 1917-2014. The highlights for me were The Gay Old Dog, Friend of My Youth, The Third and Final Continent, & The Semplica-Girl Diaries, but that's just scratching the surface of what's in this book. As a bonus, it just looks really nice. Perfect for displaying on a shelf.
The Weird: A Compendium of Strange and Dark Stories: I don't read a lot of this kind of story, but this anthology looked interesting. I wasn't disappointed by this book. It's where I first read The Summer People, Sandkings, and The Long Sheet, so I'll always appreciate it. And it's one of the biggest anthologies you'll ever find. You can get more information on it here.
You've Got to Read This has 35 stories, each introduced by a well-known writer who was held in awe by it. A highlight for me was the discovery of Paul Bowles with A Distant Episode. Damn.
A Treasury of Short Stories is an old one and looks really charming. With 70 stories you're sure to find lots that you like. It's memorable for some stories I'd never seen before, like A Passion in the Desert, Our Lady's Juggler, The Saint Joseph's Ass, Young Archimedes, Bella Fleace Gave a Party, & The Voice in the Night.
The World of the Short Story has 62 entries including many rarely anthologized titles. There's lots to explore here. I have a lot more to read in this one but so far the highlights are The Jewbird, The Dead Man, & The Door.
The Art of the Tale & The Art of the Story:  With 81 and 78 stories respectively, these anthologies draw stories from all over the world from famous and lesser-known writers. These two volumes will keep you in short stories for years and will expose you to many new authors.
The End of the World: This one caters to a specific taste. If you're into apocalypse stories this volume, and the next one, will give you plenty to read. Includes stories from Neil Gaiman and George R. R. Martin.
Wastelands: More stories of the apocalypse to satisfy fans of this branch of sci-fi. There's also a volume 2 and a third: The New Apocalypse. I'm not sure why, but there's something appealing about this type of story.
Roald Dahl: The Complete Short Stories Volume 1 & 2: This two volume set is awesome. If you haven't read much Dahl you're in for a treat with The Landlady, Beware of the Dog, Taste, Dip in the Pool, Lamb to the Slaughter, The Way Up to Heaven, William and Mary and so many more. If you like stories that are surprising, unsettling and sometimes shocking, this collection is for you.
If you're a Bradbury fan, there are two volumes that will keep you busy for a long time. Bradbury Stories and The Stories of Ray Bradbury each contain 100 stories with no duplicates. I've found many great stories in these books, and I still have lots left to read.
I love Flannery O'Connor. You can get all 31 of her short stories in The Complete Stories. It includes all of her frequently anthologized classics, of course, but also her earliest efforts as a burgeoning writer. One of the best single-author collections ever.
The Science Fiction Hall of Fame Volume 1 has 26 classics of the genre that still hold up today. I didn't read much sci-fi before, but after enjoying some good ones from this book, I'm more open to reading this type of story now. Great as an introduction to the genre, or for a big sci-fi fan who wants to know the standards. There are two more volumes that contain classic novellas.
Thriller: Stories to Keep You Up All Night is an anthology with tales from some of the genre's best know writers. If you like this type of story, this book is a great chance to find a new writer or character. There's also a second volume available.
The CWA Anthology of Short Stories: Mystery Tour is a gem for mystery/crime fans, and another great opportunity to discover a new favorite author. Contains 28 selections from well-known crime writers.
The Oxford Book of American Short Stories has almost 60 stories from a wide range of authors. From classic writers like Poe and Melville to more modern ones like Lorrie Moore, David Foster Wallace and Stephen King, this anthology offers a broad look at American short fiction.
Alice Munro is one of the best short story writers ever. Family Furnishings: Selected Stories looks like a great collection. I have My Best Stories, but I definitely want to read more Munro. Every time I finish one of her stories I think I have to stop reading everything else until I finish all of them. But of course, I always get distracted with something. Too much interesting reading is a good problem to have.
The Big Book of Black Mask Stories is a huge anthology that collects the best crime selections from the now defunct magazine. For fans of noir and the hardboiled, this book will be a treat.
You can probably read all of O. Henry's stories online, but if you're like me, you'd rather have the book. 100 Selected Stories will keep you going for a long time. It includes Henry's most recognizable stories and many others.
Looking for some new modern authors? The Best American Short Stories 2019 and The O. Henry Prize Stories 100th Anniversary Edition offer many new stories judged to be of the highest quality from the previous year.
If you want an introduction to the short story or to read some of the finest examples of the form, The Art of the Short Story is an excellent anthology of standards. This is one of my favorite short story books. As a bonus, it includes commentary on story writing from some of the masters.
Anthologies of Very Short Stories
Even though my reading experience tells me the shortest stories aren't always the best ones, I'm still drawn to this type of anthology. When I get a regular anthology I always read the shortest selections first. They have the possibility of giving the best return for the least invested time. I'm a sucker for them. If you are too, here are some books to check out.
Science Fiction for the Throne: One Sitting Reads has 40 stories grouped by subject or theme. A similar anthology is 50 Short Science Fiction Tales. Lots of quick reads to fill a spare five or ten minutes in both of them.
Flash Fiction: 72 Very Short Stories got me started with this type of story. I liked enough of them to buy the similar books Flash Fiction Forward and Flash Fiction International. These are great if you want a variety of genres and authors. A word of warning, though: really short doesn't mean really simple. Because they're so compressed, some of the stories require more thought than those of regular length. The writer leaves out things that would normally be made clearer.
---
I'll add more of the best short story anthologies as I find them.