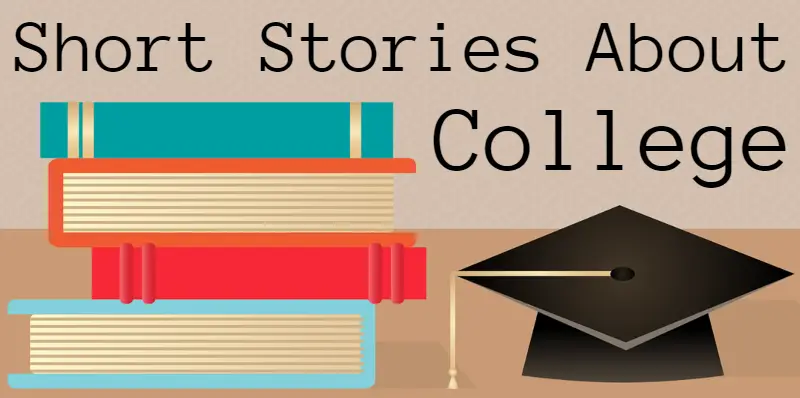 Here are some short stories set in the world of academe. They feature college or university students and professors. Usually, at least part of the action will be set on campus. See also:
Short Stories About College or University
"Requiem for a Homecoming" | David Morrell
Ben, a screenwriter, returns to his alma matter as a guest-of-honor and for some fundraising. He meets up with his old friend Howard, now a professor at the school. Ben brings up the murder that happened in the library during their final year. The main suspect was Wayne McDonald, an assistant professor who died a week later in a car accident. Ben questions Howard about some of the details.
"Requiem for a Homecoming" is the first story in the Amazon preview of The Darkling Halls of Ivy.
"In the Garden of the North American Martyrs" by Tobias Wolff
Mary, a history professor of fifteen years, loses her job when her college closes. She gets an offer from a former colleague, Louise, to interview at a college in New York. Mary accepts the offer, but finds Louise's behavior to be unprofessional.
This story can be read in the preview of Our Story Begins: New and Selected Stories. (17% in)
"The Whore's Child" | Richard Russo
The narrator is the professor of a university fiction writing class. An elderly nun who lives nearby, Sister Ursula, shows up in class although she has neither registered nor completed the prerequisite courses. She writes her memoir, beginning with her childhood in a Belgian convent. Her mother was a prostitute, so she becomes known as the whore's child and is mistreated due to her low social status.
"Of This Time, Of That Place" | Lionel Trilling
Joseph Howe is an English instructor at Dwight College. One of his students, Ferdinand Tertan, is intelligent but mentally erratic. Howe, who is also a poet, is attacked in a literary journal as an irresponsible writer.
"The Banks of the Vistula" | Rebecca Lee
The narrator has been in college for three weeks. She has been called to see her Linguistics professor. She plagiarized her first paper and assumes that is the reason for the summons. He thinks her paper reads like Soviet propaganda–an important subject for him.
Find a Short Story About College Life, Cont'd
"Strip Battleship" | Amy Knox Brown
Michael goes to Miller's store to buy a wedding present for his pledge father, Tom. Tom's fiance, Ann, works there, but it is her day off. It turns out Ann is filling in for someone. It is revealed that Michael has been snubbed by Tom – he and his fraternity brothers have gone to a stag party in Kansas City. Michael thinks about what might have happened between them. He and Ann make plans to get a drink.
Thurber relates the unusual experiences he had in university, starting with Botany class. He was unable to see thru a microscope, which enraged his professor. He continues with an athlete's difficulties in economics and his own troubles in gym.
"Ralph the Duck" | Frederick Busch
The narrator is up early to let his out his sick dog. His wife, Fanny, is sleeping on the couch because of something he did. He's a campus security guard, and part-time student—one of the perks of the job.
The narrator sees the name Springheel Jack in the newspaper. It reminds him of his time eight years ago at New Sharon Teachers' College when a female student was found murdered in a campus parking lot.
The narrator is going to college. She lives in a rooming house with a few other students. Every other Sunday she goes to dinner with her mother's bachelor cousin, Earnest. Her new roommate, Nina, has a complicate history. Her movements are watched by Mrs. Winner on behalf of Mr. Purvis, who has helped her out.
"The Rags of Time" | Barry Targan
Thomas Wilkins, an English professor, becomes fixated on a student, Fay Lester. She's beautiful and has the reputation of ruining a career at her previous college. At home, his moody, adolescent son, Neil, causes some disturbance in his otherwise temperate life.
Find a Short Story About College Life, Cont'd
"A Gentleman's C" | Padgett Powell
An English professor's father is enrolled in his class. He feels his father had been hard on him so he returns the favor by giving him a C.
"Oh, the Wonder!" | Jeremy Larner
Willie is a philosophy student at Columbia. He's behind on his papers and studies. He's engaged to Sarah, a student in Philadelphia. He's afraid of everything.
"The Amish Farmer" | Vance Bourjaily
Vance is a writing teacher at a university. He tells his class a story, the point of which is to show the importance of point of view. Ten years ago, his friend Noel called, saying someone had just tried to kill him. Noel and his wife, Dawn, lived on an Amish farm. There was an attraction between Dawn and their Amish landlord, Daniel.
"No Trace" | David Madden
Ernest Foster is inspecting his son's dorm room before the police and other authorities get a look. It's dirty, has revolutionary-type items and has a hippie-vibe. He finds his son's relationship with his roommate puzzling. The odor that assaults him from the closet makes him picture his son at graduation with a grenade in his hand.
"Madame Zilensky and the King of Finland" | Carson McCullers
Mr. Brook, head of the music department at a New York college, hires Madame Zilensky, a composer and teacher. She's a bit shabby, and her sons are unusual, but her work is excellent. She and Mr. Brook are quite different.
---
I'll keep adding short stories about college and university as I find more.