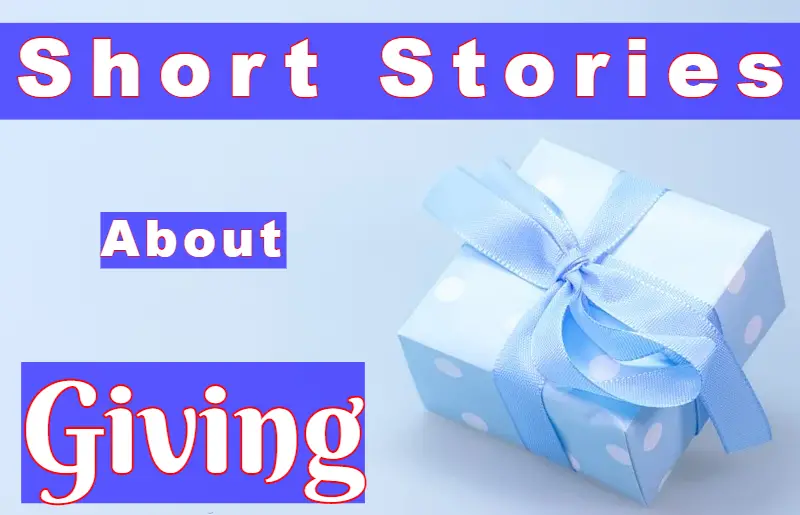 Giving and a desire to give are an important part of the plots of these stories. They also feature characters who have a generous spirit or show generosity to others.
"The Darling" by Anton Chekhov
Olenka falls in love with Kukin, a theater owner who complains to her of the difficulties of his profession. They marry and she helps with the theater. She tells people it's the most important thing in the world. When Kukin goes to Moscow on business, she has a difficult time getting by without him. He gets delayed. Olenka's known for her giving nature.
This is the ninth story in the preview of Classic Short Stories.
"The Rocking-Horse Winner" by D. H. Lawrence
A middle-class woman, successful but perpetually short of money, lives with her two children. She is unlucky, but her son isn't: when he rides his rocking-horse, he's able to work himself into a state where he can pick the winner of a horse race.
This is the first story in the preview of Big Book of Best Short Stories.
"The Model Millionaire" by Oscar Wilde
Hughie and Laura are in love. They can't marry because Hughie has no money. One day he visits his friend Alan at his studio. Alan has just finished painting a beggar. Hughie feels bad for the pitiful man and wants to do something for him.
This is the first story in the preview of 50 Greatest Short Stories.
"The Gift of the Magi" by O. Henry
A poor, married couple tries to figure out how to get each other a nice Christmas present.
This is the first story in the preview of The Gift of the Magi and Other Stories.
"A Grain of Mustard Seed" by Ellis Peters
When they lived in Lahore, the narrator's father, a Hindu, had a Muslim friend, Mahdar, who was a struggling shoemaker. Her father gave him some business and recommended him to others, which allowed him to get out of debt and save some money. Her father believed in God, and believed that people were inherently good. The troubles surrounding the partition of India, when hostilities broke out between Muslims and the Hindu/Sikh populations, caused a major change in their relationship.
This story can be read in the preview of The Lily Hand and Other Stories. (29% in)
"The Listerdale Mystery" by Agatha Christie
Mrs. St. Vincent and her daughter, Barbara, have come down in the world. They're even having trouble paying for their current place. A young man wants to call on Barbara, but they're embarrassed to have him in their humble home. When Mrs. Vincent looks through the morning paper, she's surprised to read an ad for a perfect house at a low rent.
This story can be read in the preview of The Golden Ball and Other Stories. (9% in)
"Poor Man's Pudding and Rich Man's Crumbs" by Herman Melville
In the first section, set in America, Poet Blandmour enthusiastically explains how nature provides everything the poor man needs, including the various and healthful uses for rain, snow and herbs. The narrator looks into the matter himself, visiting the house of a poor wood-cutter and his wife. In the second section, it's about a year later and the narrator sails to London, where a friendly man shows him British charity. Yesterday, many notables attended the grand Guildhall Banquet to the princes. Today, the leftovers will be made available to the poor.
"A Work of Art" by Anton Chekhov
A doctor saves the life of a boy, the only son of his mother. They are poor bronze dealers, so they have no money to pay. To express their deep gratitude, the boy presents the doctor with an antique bronze work of art. It's not to the doctor's taste.
"The Spirit of Giving" by Maxine Chernoff
A woman sends her anthropologist sister an Eskimo calendar which she ends up not liking.
"A Christmas Memory" by Truman Capote
A young boy, "Buddy", lives with various relatives including his elderly distant cousin who is his best friend. The family is poor, but "Buddy" and his cousin save their pennies each year for some special holiday food and to buy a present for each other.
"If Not Higher" by I. L. Peretz
Rabbi Nemirov disappears every Friday morning, causing concern and curiosity among his followers. One of them decides to find out what the rabbi is doing by hiding in his room and then following him.
"Christmas Gift" by Robert Penn Warren
A ten-year-old boy has to go into town to find a doctor for his sister, who is having a baby.
"Baker's Helper" by Cynthia Anderson
A young woman goes to Jimmy's bakery every day to look at the freshly-made products. She is very thin and never eats anything.
"The Son from America" by Isaac Bashevis Singer
A Jewish man who went to America when he was fifteen returns to his home village in Poland forty years later. He has become a millionaire and has been sending his parents money every month and now plans on helping them more.
"Neighbour Rosicky" by Willa Cather
Anton Rosicky is a sixty-five-year old Nebraska farmer. He is told by his doctor that he has to stop doing heavy farm labor. Anton reflects on his life of hard work and his family.
"No Room at the Motel" by Lee Child
It's snowing when Jack Reacher gets off a bus. Lots of travelers are stopping so he gets a motel room while he still can. He goes to a diner for a cheeseburger. It starts filling up. People are getting desperate for somewhere to stay.
"The Surgeon" by Roald Dahl
Dr. Sandy is in his office with a recent patient, a young man who was in a serious car accident. It's been seven weeks and the man is recovered. He's a Saudi Arabian Prince. He wants to give the doctor a sum of money, but the doctor doesn't accept any payment beyond his regular salary. The Prince accepts this but insists that the doctor takes a gift from the King. Refusing would be a grave insult. He takes a velvet pouch from his jacket.