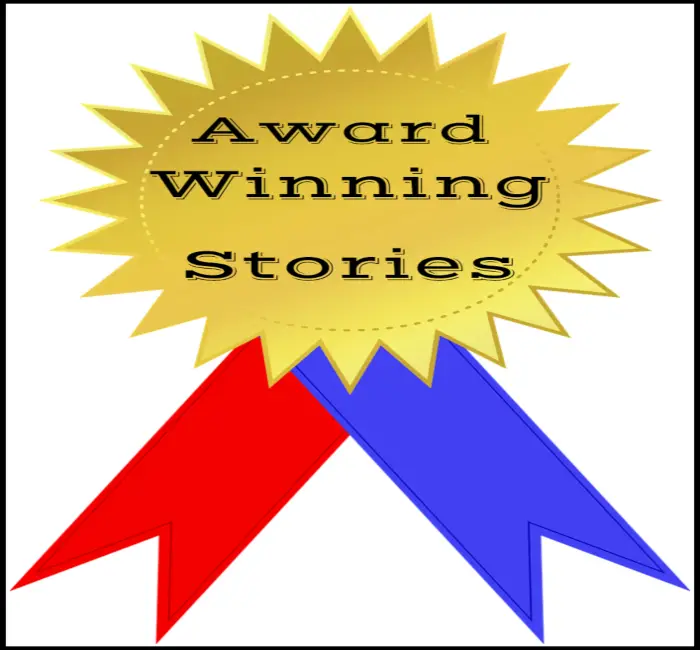 This page contains short stories that have won awards or prizes. There are headings for each award, with stories arranged from newest to oldest.
O. Henry Award Winners
Buttony | Fiona McFarlane (2017)
The children in Miss Lewis's class want to play Buttony, a game they all love. She asks Joseph, a popular, good looking boy, to get the special button from her desk drawer. He handles it reverently. The students line up to go outside so they can start the game.
Too Good to Be True | Michelle Huneven (2017)
Harriet, a recovering addict herself, volunteers to drive Gayle to her A. A. meeting. On route, Gayle points out some places that played a part in her old life. She lived on the streets for almost two years. After some outside attempts at forcing recovery that didn't take, Gayle decides to get clean.
Train to Harbin | Asako Serizawa (2016)
The narrator tells of a time forty years prior in 1939 when Japan and China were at war. He was a doctor, recruited by his country for some patriotic service. His group's goal was to preserve lives. He hasn't fully come to terms with his past. The fact that it was wartime doesn't settle things in his mind.
Winter, 1965 | Frederic Tuten (2016)
A writer has a story accepted by the Partisan Review. His acquaintances acknowledge his success  in the months leading up to the publication date. When the big day finally arrives, he rushes to the newspaper shop, grabs a copy of the periodical, and scans the table of contents.
A Ride Out of Phrao | Dina Nayeri (2015)
Shirin, an Iranian, runs into financial difficulties while living in America. She joins the Peace Corps and moves to a village in Thailand where she teaches English to children. Her grown daughter, Leila, lives in New York and quickly adapted to American life. Shirin had difficulty with this. They had a falling out.
BBC National Short Story Award
The Edge of the Shoal | Cynan Jones (2017)
A man is out fishing in a kayak. He catches only one, which is unusual. He's near the bay where he and his father used to cook their food. It's been a long time since he's been out in the boat. He has his father's ashes with him.
Disappearances | KJ Orr (2016)
A retired man feels impelled to get up early and go to the museum. It's not open yet. He goes to a cafe, busy during the day, but empty now.  He notices the waitress. He starts going there every morning, glad that his former career as a plastic surgeon is unknown to her.
Kilifi Creek | Lionel Shriver (2014)
Liana, a young woman traveling in Africa, arranges to stay with an older couple in Kilifi. She thinks nothing of imposing on their hospitality. She's been swimming in Kilifi Creek, a large river by American standards. On the fourth day of her stay, she swims a different route and ends up a bit farther out than she expected.
Mrs. Fox | Sarah Hall (2013)
A husband and wife are close and live comfortably. One morning the wife, Sophia, is vomiting in the toilet. She looks a bit feverish, but says she's fine and goes to work as usual. That night, she's well again. The next morning, she's not quite herself.
The Not-Dead and the Saved | Kate Clanchy (2009)
A mother and son are in the pediatrics unit. He views people who are kept alive by technology as "Not-Deads", because they're alive but not in a full sense. He's waiting for a transplant.
The Orphan and the Mob | Julian Gough (2007)
The narrator relates the day of his eighteenth birthday. He says his failure to urinate immediately after breakfast led to his orphanage being burnt down. A letter arrived for him that morning. Before he could read it, Brother Madrigal took it, saying he could read it that evening.
An Anxious Man | James Lasdun (2006)
Joseph and Elise Nagel are on a family vacation. Joseph is distressed because their investments have gone down badly over the past four days. They argue about their situation. After an inheritance left them with a sizable sum of money, Joseph began to think they had to raise their standard of living.
Commonwealth Short Story Prize
Passage | Kevin Jared Hosein (2018)
The narrator was drinking at a pub, The Tricky Jester. One of the regulars, Stew, told a story of when he hiked El Tucuche. He claims to have come across a house in the middle of the mountain, and to have seen a young woman there. The narrator works for the Forestry Division, and knows the wilderness well. He has doubts about Stew's story.
Cow and Company | Parashar Kulkarni (2016)
An office manager orders a junior officer to have a cow in their lobby by noon. A small group goes out looking for one. Back at the office, the managing director asks about the price of their chewing gum. They're trying to figure out a direction for their business.
Let's Tell This Story Properly | Jennifer Nansubuga Makumbi (2014)
Nnam's husband Kayita has died. They lived in Manchester. He had two children in Uganda before he married Nnam. Arrangements were made to hold the funeral in Uganda. Kayita's relatives in Uganda are a bit uncooperative.
Other Award Winning Short Stories
"The Women in the Club" by P. Jo Anne Burgh (2022)
Every year in May, Ellen Simmons sends out the cards. This year, the ribbon is blue for all their sons. Ellen receives many friendly return cards. Sometimes she gets threatening ones as well. It's Mother's Day, and Ellen's grown sons and their families start to arrive.